Praise for A Foreign Affair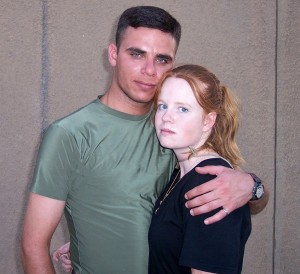 Love is blind…A Foreign Affair by Amanda Matti http://www.eastcountymagazine.org/
A Foreign Affair, by Amanda Matti (W & B Publishers, Kernersville, NC, 2016, 343 pages).
Book Review by Dennis Moore
December 1, 2016 (San Diego) – Amanda Matti, an El Cajon (San Diego) resident who served six years in the United States Navy, including a 2005 deployment to Iraq in support of Operation Iraqi Freedom, has written a riveting true story of romance and war; A Foreign Affair. Matti provides graphic details of her experience in a war that many in this country felt never should have been.
---
In a different kind of Romeo and Juliet, Amanda Matti's memoir, A Foreign Affair reads more like a novel than a true account. Written in first person, we view the world through a young Navy woman's perspective with humor, courage, amazement, discovery, charity, hope, and, of course, love. Amanda's determination to shake up her mundane life and to escape a hopeless relationship leads her to Iraq on a volunteer mission for the NSA and into a battle taking place in her heart, not in the warzone. When Amanda first arrives at her new home away from home, she sets eyes on an Iraqi national who is an interpreter working for the Americans, but there are rules. Dating or becoming involved with an Iraqi is frowned upon and discouraged, but love doesn't play by anyone's stipulations or control.
Amanda and Fahdi soon find themselves in a twisted set of circumstances where misinterpretation and false judgments place them in a legal quandary involving espionage charges. Their story grips you in a vice of nerves, wondering if Amanda and Fahdi will survive not just the danger of a country in turmoil, but their own crusade against two government entities who install every obstacle to keep these two apart…wondering whether their ending will end like Shakespeare's tragedy or triumph with a new beginning. When I closed this book, it took me a minute to remind myself this story was real, not a Hollywood master plot.
— Linda Kasten, author of Castle of Cards and literary agent, Loiacono Literary Agency
Hometown girl, Amanda Matti, is recognized for her service and her new memoir, A Foreign Affair 
"Amanda Matti says that the universe has a way of balancing things out. If the pain you suffer is equal to the joy you experience, then Amanda and her husband Fadi are living proof of that. Their amazing love comes with a heavy cost. As a young NSA agent, Mandy is bound by policy to avoid personal relationships with Iraqi nationals, but true love doesn't always come when or where it is convenient. Mandy and Fadi fell deeply in love.
"When jealousies and resentments lead to the exposure of their relationship, both the U.S. and Iraqi governments work to keep the two lovers apart. Threatened with espionage charges and faced with imprisonment and torture, the two fight their way through the hardships to finally have what everyone wants in life—happiness. Matti tells the riveting story of life in war-torn Iraq and the battle to keep from losing the one person she loves more than life itself. It is a heart-wrenching tale of devotion and perseverance that reminds us that even in some of the darkest places love can find a way."
— Caroline McGinness, author of Bank Notes: The True Story of the Boonie Hat Bandit
---
A Foreign Affair – Romeo and Juliet in a combat zone.
Sometimes you have to risk everything to be with the one you love. In this sweeping firsthand account that spans continents and oceans, rules and regulations, imprisonment and torture, and even the threat of death, former NSA agent Amanda Matti writes from the heart about the summer she deployed to war-torn Baghdad where she fell in love with her handsome Iraqi translator, Fadi Matti.
Accused of espionage, the two lovers are told to break it off. Disobeying orders, they risk their careers and their very lives to be together. Knowing this is a true story makes the stakes even higher.
Kathleen M. Rodgers – author of the award-winning novel The Final Salute and Johnnie Come Lately
Author of the Amazon best-selling novel, THE FINAL SALUTE
Ranked #1 in Amazon's Top Rated War Fiction – 2012
JOHNNIE COME LATELY, forthcoming from Coffeetown Press 2/1/15
---
An absolute MUST READ that would make an excellent movie!
A Foreign Affair is an authentically-written true story of falling in love. It happens when you least expect it and in the most dramatic settings. Amanda and Fadi are such an inspirational couple and wonderful parents. What God brings together, let no man tear asunder. When He intends for you to be together no man, no ruler, no agencies—no matter how powerful—can keep you apart.
1 Corinthians 13New International Version (NIV)
13 If I speak in the tongues[a] of men or of angels, but do not have love, I am only a resounding gong or a clanging cymbal. 2 If I have the gift of prophecy and can fathom all mysteries and all knowledge, and if I have a faith that can move mountains, but do not have love, I am nothing. 3 If I give all I possess to the poor and give over my body to hardship that I may boast,[b] but do not have love, I gain nothing.
4 Love is patient, love is kind. It does not envy, it does not boast, it is not proud. 5 It does not dishonor others, it is not self-seeking, it is not easily angered, it keeps no record of wrongs. 6 Love does not delight in evil but rejoices with the truth. 7 It always protects, always trusts, always hopes, always perseveres.
8 Love never fails. But where there are prophecies, they will cease; where there are tongues, they will be stilled; where there is knowledge, it will pass away. 9 For we know in part and we prophesy in part, 10 but when completeness comes, what is in part disappears. 11 When I was a child, I talked like a child, I thought like a child, I reasoned like a child. When I became a man, I put the ways of childhood behind me. 12 For now we see only a reflection as in a mirror; then we shall see face to face. Now I know in part; then I shall know fully, even as I am fully known.
13 And now these three remain: faith, hope and love. But the greatest of these is love.
Amanda and Fadi are living proof of this.
Men can have affairs and/or marry a foreign girl, but Amanda was discriminated against, arrested, and held against her will by the US govt. Fadi was captured and tortured. Both endured great mental and physical torture because of lies. Their love prevailed. God bless them and their families.