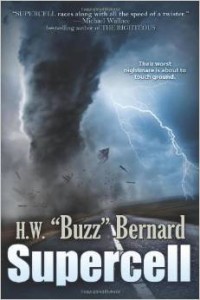 SUPERCELL is the best book I have read in a long time!  I followed the "story" with a visual picture of the area under consideration.  Buzz is a true artist and worthy of his award.
Virginia Wilson


---

Buzz makes me question every strong wind that blows through Texas now. I watch the skies! We just had an E3 and E4 in Garland and Roulette. Horrific! It was just like the book! A solid path of destruction. Supercell was ever so accurate and most eye-opening. I expected to hear that the crazy brothers were looting.
---
Supercell is truly SUPER!
I'm a huge fan of disaster novels, and an even bigger fan of Buzz Bernard.  He can't write fast enough for me.  Eyewall, Plague, and now, Supercell.  The writing is so intense that you don't dare put the book down until the end, and then you still want more.  Edge of your seat drama.  Each of his books would make block-buster movies.  Can't wait to see what the next disaster is…Blizzard!
Barbara Collins – Independent Reviews
---
By John House
SUPERCELL is another awesome thriller by Buzz Bernard. Superb writing mixed with believable characters (you'll fall in love with Stormy, the dog), knowledge of the subject matter (bad weather) equals a best seller.
Don't turn the page unless you plan to stay up the rest of the night.
Buzz puts you in the center of the SUPERCELL resulting in an experience you won't soon forget.
If you aren't familiar with Bernard's talent then check out EYEWALL and PLAGUE and join the rest of us looking forward to BLIZZARD.
---
Thrilling Read: Perfect for Storm Enthusiasts
By Lizard19
Hurry! An EF-5 tornado is barreling down on you! Do you know what to do to remain safe? Luckily for you, all you have to do is turn the page: you're out on the Great Plains with Chuck Rittenburg and his motley storm chasing crew attempting to film one of nature's most beautiful—and dangerous—phenomena.
Jerry Metcalf, of Global-American Cinema, drops by Chuck Rittenburg's grubby apartment in Norman, Oklahoma, in the hopes of dragging Chuck out of his self-imposed retirement. Once a nationally acclaimed storm chaser, Chuck stopped chasing—recreationally and professionally—when a couple was tragically killed on one of his Thunder Road Tours storm treks. So when Metcalf offers him $500,000 to help track down a supercell storm, one that must include an EF-5 tornado, Chuck immediately turns him down. Yet, Chuck, though rundown, is still intelligent. He contacts Metcalf, in the hopes that maybe this opportunity, but more importantly, the money, could help get his life back on track, redeem himself in the eyes of his estranged son, Ty. Chuck states that he will chase for one million dollars, and with reluctance, Metcalf agrees. There's still a catch, though: Chuck only has two weeks to find this perfect storm…or he doesn't get any of the money.
H.W. "Buzz" Bernard, talented author of Supercell and two other novels, thickens the plot by introducing two brothers who, under the guise of paramedics, chase storms to steal from the wreckage. In order to stop these bandits, an FBI agent, Gabriela Medeiros, tags along on Chuck's filming expedition pretending to be a journalist. Not only is Chuck now attempting to find the film crew the perfect storm, but he's also trying to meet up with the wanted criminals, too. Bernard most definitely tried to give his main character as difficult a situation as possible, which was enjoyable for me as the reader because it kept me wondering if Chuck was going to be able to handle everything tossed his way. It added to the suspense.
Speaking of suspense, upon reading the novel, I often times found Bernard's writing style to be formulaic. What I mean by this is that there was a clear pattern to how the plot would rise and fall as it built up to the climax. Chuck and the crew would go through a series of advancements and setbacks in a sort of obvious way. At times, I found myself thinking, "Okay, here's another setback, but the next reversal will be one forward." Yet, Bernard was able to make the ending of the novel unclear through the use of a complex plot line that finally comes together at the climax in an unsuspected way.
Once the plot pattern was established, though, I decided to Google Bernard. I had a feeling he might have been a scientist and, sure enough, he had been a meteorologist who had minored in creative writing. His ability to explain meteorological terms succinctly and clearly made for smooth reading and added realism to the piece. For example, Chuck explains CAPE and CIN to Gabi and his son, Ty: "'It's CAPE and CIN,' Chuck said, and spelled out the acronyms. 'CAPE stands for Convective Available Potential Energy. It's a measure of how much energy—fuel—there is in the atmosphere for thunderstorm development. The more energy there is, the bigger and nastier the storms are likely to be.'" Bernard peppers the novel with explanations such as these and through these simple definitions of more complex theories, the reader can understand what is going on without being bogged down by the science aspect. I really appreciated that about Bernard's style.
Overall, I thought that Bernard was able to craft quite the thriller novel through the blend of science and creative writing. Personally, this book was exceptionally thrilling because Bernard and I are sort of opposites: whereas he was a professional scientist who did writing on the side, I am a writer whose minoring in meteorology. Anyone who finds tornadoes and massive storms fascinating will surely enjoy this book, as I have. It's like taking a walk on the wild side—but a heck of a lot safer.
---
By B.F. Spink
Buzz Bernard knows weather, but better still Buzz Bernard knows how to wrap a twister of a story inside a real-live twister of a tornado. Protagonist Chuck's life is broken, and he's accepted his beer-for-breakfast as the highlight of his day when out of nowhere comes a million-dollar offer that just might repair a lot of that brokenness. There are conditions, of course, and the odds are against Chuck finding what this Hollywood hotshot wants him to find in an impossible time frame. But throwing caution and his steady job as a janitor to the, ahem, wind, Chuck decides to chase the pot of gold at the end of the tornado-to-end-all-tornadoes. There's a chance this might help him fix the sadness of a seemingly impossible-to-resolve conflict with his son. And, of course, along the way, a potential love interest jumps into the fray, a female agent chasing bad guys who chase storms. Add in the point man from Hollywood who holds the key to the golden money just happens to be in line for Jerk of the Year, and you have a cast of characters that Bernard, ahem, spins into conflicts, messes, disappointments and, ultimately not what the reader expects at the end. Bernard is a master of suspense (read Plague if you haven't already), and he uses knowledge gained in the weather industry to take us a lot more up-close-and-personal with Mother Nature than most authors can do. The result is that Supercell is a page turner, Grade EF-5. What's EF-5, you say? It's covered in Supercell.
---
I love the weather facts you learn from this book, much better than fiction. Buzz does a great job keeping you on the edge of your seat and hurrying to the end to see how it all turns out. Eyewall was just as good. I would recommend his books to everyone, for the story and for the science.
---
Thriller that you can't put down!
Excellent book with great character development. Keeps you on the edge of your seat and is a fast read. Makes you feel like you are right there with the tornadoes and feeling everything that these characters feel.
---
By Carole Gates
This was an author that I had never read before. I really enjoyed the book and it kept me interested until the end.
---
I enjoyed every word of this gripping tale
By Candi Deal
I enjoyed every word of this gripping tale. The main characters are well-developed and believable — couldn't help but pull for Chuck to make it. Although his "woe-is-me" attitude got a bit irritating at times, he did have some redeemable qualities that made me root for his success. Happy when everything finally resolved for him in the end.
I knew little about tornadoes and had no prior interest but learned much through the author's easy-to-understand language. He explained a scientific phenom in a way that kept me engaged. I also enjoyed how he worked in some tornado history.
---
I Think I Have A New Favorite Author!
Buzz Bernard has a way of gripping me from page one. Eyewall was my introduction to his exceptional talent for keeping the reader waiting with bated breath for the next chapter. His descriptions of catastrophic events are spell-binding, making it easy for the reader to actually visualize the action. I loved Supercell as much as I loved Eyewall, but in a different way. I was so impressed with both these books that I recently ordered Plague, and I've already begun reading it on my Kindle. Which incidentally has become my new best friend.
---
By Jamie D
This book was actually pretty interesting. The pace of the book kept it moving and enough action to not have many dull moments. It's the stormy of a storm chaser, his son, and an FBI agent that go to hunt tornadoes and a pair of murderous thieves that prey on those affected by tornadoes.
---
Good book, would recommend.
---
This was a very different and fast paced novel that held my interest. The characters and plot were believable and you got drawn in. I would read others related to this.
---
Very descriptive. you could really picture the way these …
By BLONDIE
very descriptive. you could really picture the way these storms develop.
---
By JLD
Super Cool Supercell! I really enjoyed the book Supercell. Besides good character development and an exciting story, the book really explained a lot about weather patterns and storm development – and I'm a geek for that sort of stuff.
---
By CLahners
I love novels about storms of all kinds and I wasn't disappointed by this one. It even threw in some family, love interests and suspense to boot. Some of my favorite things to read. You won't be sorry buying this book.
---
By M. Baylor
fast read
---
Wasn't the type of book I normally read but really enjoyed. Will be following the other offerings from Mr
Well written. Interesting Characters with just enough weather science to make it real. Wasn't the type of book I normally read but really enjoyed. Will be following the other offerings from Mr. Bernard now that I discovered him.
---
By Redheads R Us on June 26, 2014
Format: Kindle Edition Verified Purchase
Loved it! Could hardly put it down! The story was well written and flowed well. Highly recommend…you won't be disappointed
---
By infinite
The writing about tornados and storms was informative and, in my completely uninformed opinion, excellent. Needs a lot of work on dialogue and relationships with the characters. I felt the author was more comfortable with the science than the humanity.
Still and all, it was a good read and I enjoyed it.
---
By HollyW0607
I really enjoyed this book. My daughter-in-law is a meteorologist and a certified storm chaser who lives in the Texas panhandle so I had some weather background going in, but you don't have to know anything about storms and tornadoes to appreciate the book. It's a fast read, has humor and good character interaction, and the characters are likeable. I'm going to read Bernard's other books as soon as I can, I enjoyed this one so much.
---
Great author will be buying more from him soon I really think you will like his books as much as I do. Don't hesitate to buy his stuff
---
As the weather channel was warning of tornadoes all around, I was engrossed in this novel. Well written novel with good characters.
---
By Sunny61
Thought this book was quite well done. Somewhat scary at times and quite realistic. The closest I'd like to be to a Supercell!!!!
---
If you like weather stories, this is a good read.
Interesting story with good detail about super cells and the making of tornadoes….good flow….main character likeable though flawed….a bit off – putting back story about his gay son and the father's extreme religiosity with regard to homosexuality but not other so-called human transgressions. A good easy read overall.
---
Everything you could ask for in a book!
I always wanted to "chase" just once, and not because I'm crazy (although it's been suggested) or an adrenaline junkie. It's raw nature. And this book delivers it with a human element as well. A grand read!
---
By Becky
I really enjoyed this book. I couldn't put it down. It was so exciting that I could not wait to read what was going to happen on the next page. Very entertaining. REALLY liked it.
---
Not only a 'thriller' but a story of redemption and family reunification. Why not a 5? – a little Southern Baptist bashing.
---
By Noblenorm
I fail to understand the need for graphic expletives. What is the need by so many authors to color their writings with garbage? Is there a fear that their stories will not stand on its own. Sad. A good tale distorted by
---
Buzz Bernard is an amazing writer, I didn't want to put the book down until I finished it. In fact I didn't want it to stop. This man knows how to write and keep a book interesting. I have also read his other book Eyewall I don't have the words to praise him enough. Hope he comes up with more like these.
---
Interesting Storm Chasing Information
By G. Roche
Found the book very informative about the lives of storm chasers. The story itself was pretty fast moving and for the most part believable. The wrap up at the end was a little far-fetched, but all in all a very entertaining and fast moving book.
---
Loved this book, easy read and entertaining…..educates you about tornadoes and enlightens one on the life of a storm chased!
---
Reading it in the springtime when this was totally able to happen made it a fun and interesting read for me! I liked the twists to it, no pun intended! The story line evolved and spread beyond the storm chasing. I would look forward to a continuation of this storyline……….
---
By Richard
Thriller/Suspense.
Excellent book with murder, suspense, and killer storms. But it was the dog that put this one on my favorite's shelf.
5 stars.
---
I probably should not have read this book before heading across tornado alley in our RV (we missed the Moore, OK, tornado by just a few hours last year) but I did. I found it very interesting and exciting and really enjoyed learning more about tornadoes, how they are tracked, and what makes chasers tick.
---
Great suspense and learning curve
Sure learned a lot about weather and tornadoes but also very entertaining story lines. I only selected it because it already had 5 stars from other readers and was not disappointed.
---
Supercell is a well-paced, good read. Decent character development and good plot. The author did not feel the need to overwhelm the reader with scientific jargon, and where it is used is carefully explained so that the importance of it to the story makes sense to the reader.
Enjoyed this book and will be looking for others by Buzz.
---
By bookaddict
I enjoyed Supercell. It had a lot of information regarding storms, weather and tornadoes. Fun to read during a storm! That said, the characters were a bit over the top, and the relationships were predictable. I think the encounter with Monty was almost funny, it seemed so far reaching. That said, I did enjoy reading it, kept my interest all the way through. Seemed like Storm-chaser lite, I guess, with that, I would recommend if that's what you're looking for.
---
By Doublemorgan
A thriller. Of a unique sort. So very nice to see that a good story teller with a good imagination can still be found. Wish there were more of them. Do not hesitate to read this very good book
---
By JohnM
Anxious to read more of his books. Good mixture of intrigue and human interest. I can't think of more words
---
The first few pages were not very good in my opinion but I'm glad that I didn't give up because man did the story really suck me in after that. This author is a master at telling a story so you feel like you are right in the middle of all of the action. I highly recommend it. I could hear and feel the wind blowing.
I only gave it 4 stars because some of the language is vulgar. There aren't like any graphic sex scenes or anything like that but some of the word choices were crude. Also, some of it reminded me of Twister the movie but I think any book about Tornadoes will do that.
---
By JayWalkerNC
I can't say that I "loved it" but I can say that I liked it a lot. Mr. Bernard has a wonderfully descriptive writing style. His scenes are vivid and sometimes frightening. He really seems to be using all things at his disposal and under his control, as he writes. The adjectives are varied and sometimes intense. His use of sentence length also intrigues me. As things get more dangerous, his sentences seem to become shorter – much like the breathing pattern we might adopt in a moment of fear or suspense. It also sounds like he is very well versed in the subject matter. He shares a lot of information – but never in a didactic or professorial way. He's just a damn good writer. I am now interested in getting more of his books and comparing them to my perception of this book, the first one of his novels that I have read. Give it a shot. I think you'll really like it and be glad that you did.
---
By Peggy Taylor
I enjoyed this book immensely. I couldn't put it down. Fun characters and fast paced action. I recommend this book!
---
By Polly B
I was happily surprised by this writer. He is knowledgeable about storms and people. I would recommend this to people even if they don't have an interest in weather.
---
By Anne Mcbre
This book is for people interested in tornados and their causes. Lots of technical details. And the human interest parts are interesting although not completely believable.
---
By Barb Nelson of Cleveland. OH
I loved Supercell. Love disaster movies & books. Could have done w/o the python scene, though. Like the movie Twister.
---
I love stormy weather related books. This book was a winner in all respects as far as I am concerned. Good job Buzz!
---
Always a winning combo in my book, pun intended. I thought, this would be something different, give it a shot. So much more. Likeable characters with real emotions and attitudes. Lots of sub-texts but woven smoothly into a very gripping story. I learned one very important thing, I do not want to live anywhere that has tornados. After finishing book I was talking to a friend who said a friend of theirs had done this really dumb thing and paid a whole lot of money to go on a tornado chasing tour. Whoever heard of such a thing? Me, me. Enough action for the guys and enough touchy-feely for the ladies..
---
I did not think I was going to like this book, glad I read it. Kept me hooked. Great story line, not too technical, and fun to read.
---
By T. Heyer
Supercell is the second book I've read by H.W. "Buzz" Bernard. The other is Eyewall. Both are fast-paced, high-octane reads. Lots of action and twists and turns. It won't take long to feel like you're part of the action. Hold on tight and don't get blown away.
---
By PSR9877
Good story. Constant action. You can't help but root for the underdog. Easy read. Enjoyable storyline. Tad more character development would have been appreciated.
---
By Ashley
I chose to read this book because it sounded really good. I really liked this book and I would recommend this to my Dad.
---
By CJ Whelan
Great, fast paced read. Entertaining writing style, kept story moving with excellent but not overdone detail keeping one visually engaged in the scenes throughout. Story was predictable in a good way that builds trust and repeat readership.
---
Buzz on to This Book for a Great Read!
By Jan
This book was extremely hard to put down. It was a great book from beginning to the end. The characters are well thought out and well portrayed! The story line was very interesting, but just a little hard for me to follow at times in the scientific description. In general, though, this was not an issue at all as it was kept to a minimal amount and generally done so the lay-person could read and understand the science involved. In general, this was such a wonderful book that I surely would recommend it to anyone wanting a fast reading book that is hard to put down. All in all, a great read!
---
Supercell enjoyable and informative
I enjoyed this well written book that was most informative. It was apparent that the author did great research on the subject.
---
I liked the story and the characters until the end… Lots of fast 'finishing up' happened to make the story end 'correctly'.
---
By JoPfef
Read and enjoy! I'm a weather junkie, so this book really appealed to me. LOTS of great info on storms, while telling a great stormy story. Even a little love story tucked in for fun, from an unsuspected angle. And, of course, the obligatory bad guys. Couldn't put this one down!
---
By paul buckner
Great characters, great action, well written and well researched. I won't go into details, you can read the other reviews for those. If you like thrillers with lots of detail you should read this book
---
Being a lover of severe weather, I saw this on the "splash" page of my Kindle a couple days ago & knew I had to read it. Even as a fictional tale, Buzz does a great job of explaining the nature of tornadoes. I've been in a few of them & I recognized right away what he was talking about. The tornado facts themselves are worth the read but Buzz also delved into the lives of the characters that made the story more interesting…and I've told him on Facebook that I'd love to read a sequel.
---
Entertaining, informative and laugh out loud
By Johnny Rose
This novel has it all. It is highly entertaining, informative, with laugh out loud scenes. This author, "Buzz" Bernard, is the one to track! I just hope he will bring all of the characters back in another novel…….just saying.
---
By Susan
I purchased this book because I thought it would be interesting with the weather aspect since my husband is a weather forecaster. I got caught up in the story right away and read my husband excerpts. The weather terminology and application is spot on and he especially loved the "nymph cumulus and P-squared" terms and will probably share them with his fellow weather trainers and students. The action is non-stop and the story is entertaining and engaging. The deeper truths were not neglected either in the relationship between Ty and Chuck. I highly recommend this book.
---
By mamacat
Well worth the price! This is a good clean fun adventure. The characters are stereotypes, but the story itself is well written and lucid. I will definitely read more by Mr. BERNARD.
---
A Supercell review from an old guy that saw Storm chaser and stayed at a Holiday Inn Express
By W. McLeod
This was a good novel, far better than I expected. The atmosphere was great, the dialogue was good and the touch of romance was well done. The father's realization that his son's gayness was a human condition, rather than a lifestyle choice, was a little like the middle ages, but I had a neighbor when I was in college 50 odd years ago who was gay, and his parents rejected him because they believed he was evil.
He succeeded young.
---
Good story line and well written. I liked the book overall. Unfortunately, I was not fond of the main character.
---
By Marie W.
I have read many books in my time but i couldn't put this book down. I now have a new author.
---
Great story! Fast paced and riveting with a touch of humor. I felt like I was with the crew chasing down a super storm. Riveting.
---
Exciting tornado chasing while trying to catch a murderer
Supercell brings the excitement of tornado chasing to life with great suspense and many surprises. The sub-plot, with an FBI agent trying to catch murderous looters, just adds to the thrills. Loved this book. H.W. "Buzz: Bernard brings his background in weather to a great plot and well-drawn characters. The balance of science, mystery and thrills reminds me of the best writing from Sebastian Junger and Michael Crichton. Let's hope there are many more to come from this great author.
---
By Jon K. Hauck
Read all of hi spooks and this is at the top. Excellent and highly recommend to anyone. Thanks again buzz.
---
IT'S BEEN QUITE THE CHALLENGE…
to see if I could go to sleep after reading "just a few chapters" of this third new book by H.W. Buzz Bernard. I lost.
I stayed up all night AGAIN (which is becoming so A-typical when reading Buzz's books), the Kindle is now recharging and I think I MUST recharge myself as well to pick it right back up when I awaken. IT IS FABULOUS, SLICK, THE 'BANTERING' IS SO SMART AND FUNNY, AND THE SIDE ELEMENTS just add to this masterpiece of awesome writing! Now, then, I have a quandary: I'm going to foam a little at the mouth while waiting for the next one…but it won't be too long. The 'word' is that Blizzard has been started.
If you haven't read Buzz's books, you are seriously losing out.
I think SUPERCELL is his best yet—which is saying a lot considering I didn't know how he was going to top Eyewall and Plague—but he's done it!
---
By M. Griffith
Another fast paced page turner. Excellent writing, great plot line and you fall in love with the characters. I love this book and can't wait for his next one. This one will certainly be on the top 10 best seller list.
---
Supercell – a superb, thrilling, read
Keeps you interested from the get-go and gets increasingly exciting as one approaches the last half of the book. It is spectacular in its description of what happens before, during, and after an F-5 tornado – the most devastating of them all. And what happens to the several characters in the book who are very well defined.
You really care about the good characters. Human emotions run very high among them as the main character – a well-known and once respected storm chaser, now down on his luck, gets another chance from a movie company who is willing to pay him a million dollars to lead them to film an F-4 or F-5 tornado – in a 14 day time frame. His interactions with all of them, from Metcalf, the movie guy, whose offer was what it was all about, to his estranged son, who he has not been in touch with for more than 8 years, to an attractive FBI women, who engaged him to help her find two rogue chasers wanted for robberies and murders after storms, struck to an old friend and owner of a grille right in the middle of Tornado Alley in Oklahoma are described in always entertaining, sometime humorous, often very graphic and detailed manner.
The technical stuff was right on and presented in an easily understandable way. All in all, a thrilling read you can't put down.
David Spiegler, Meteorologist and Owner of DBS Weather Impact Corp.
---
By gary wilson
Was ready for a dull, boring read with snippets of action. Very pleasantly surprised and found myself unable to
Put it down. I WILL read Mr. Bernard's other books. Very good job writing, technical meanings, words, and total
knowledge of materiel were tremendous. Great read!
---
By L Willeke
I've read so many books lately that just have been 'ok' that this was a pleasant surprise. This story is nonstop….I was not bored at any point. It is well written, characters are perfect, I'm sad to be done. You will not be disappointed!!!
---
Absolutely gripping and I live in tornado alley so I …
Absolutely gripping and I live in tornado alley so I was familiar with the areas in the book. The author did his homework. This novel was realistic and it was hard to put down. Has "Buzz" been in a tornado? He wrote from experience.
---
I've read all three of Buzz Bernard's books. He …
I've read all three of Buzz Bernard's books. He is a masterful storyteller and certainly know his stuff with these weather related stories, with his past profession of weatherman. I look forward to reading more of his books.
---
This novel was well written and had good character development. It was very educational regarding the formation of tornados.
I read it in two days and was sorry to see it end.
---
Good read. The writer definitely understood the science involved…
By Janet
Good read. The writer definitely understood the science involved with tornados. Would definitely recommend it.
---
By Veronica
This book was relatively well written and over all a good time killer. The characters are believable and fun to watch, but the main character gets hammered into the dirt quite a bit; so much in fact that at times it is almost painful to read because you want him to succeed. If you've got some time to kill and want a fun ride, this is a good book to pick up.
---
Very entertaining. Captures your imagination. liked it very much.
---
By K. Carling
Great story line and hard to put down. Great entertainment.
---
By bonny french
Had not read this author before now but will do so again.
---
Well written. It kind of sucks you in like the storm.
---
Thoroughly engaging, more than I had hoped for.
---
Kept me on the edge throughout the entire tale.
---
Very good book, well written.
---
Great book