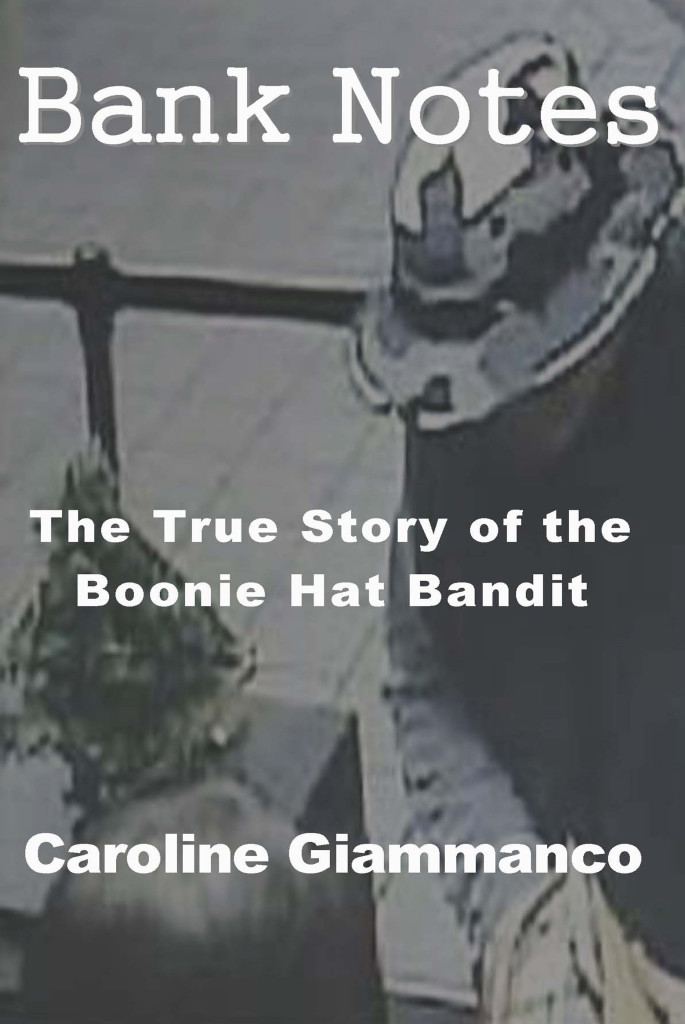 In Bank Notes: The True Story of the Bonnie Hat Bandit, Caroline Giammanco gives a detailed, precise, and often brutal account of a man's journey through a corrupt judicial system, as well as the dismal state of correction facilities. Caught up in a financial quandary during the 2008 mortgage crisis and stock market crash, Keith Giammanco finds his respectable and upstanding life in financial turmoil. In a desperate attempt to hold onto his image and lifestyle he created for himself and his two daughters, he remedies his situation with nonviolent bank robberies.
Caroline documents Keith's capture and subsequent dealings with less-than honest lawyers, judges, and corrections employees with extreme clarity and blunt truths, enough to make the reader shake his head at the injustice consuming our justice system. It will also have the reader shuddering at how lawyers and judges play with peoples' lives. This is a case about crime, stigma, survival, redemption, growth, love, forgiveness, frustration and every emotion in between. This should be required reading for all law students and legislative members if the system is ever to be "corrected" and rights restored to all Americans. Caroline's execution of a complicated story makes this a fast read and an enlightening one. She is to be commended for her bold move to expose a broken system.
Linda Kasten, author of Castle of Cards and agent with Loiacono Literary Agency
---
Review by a Missouri House of Representatives Member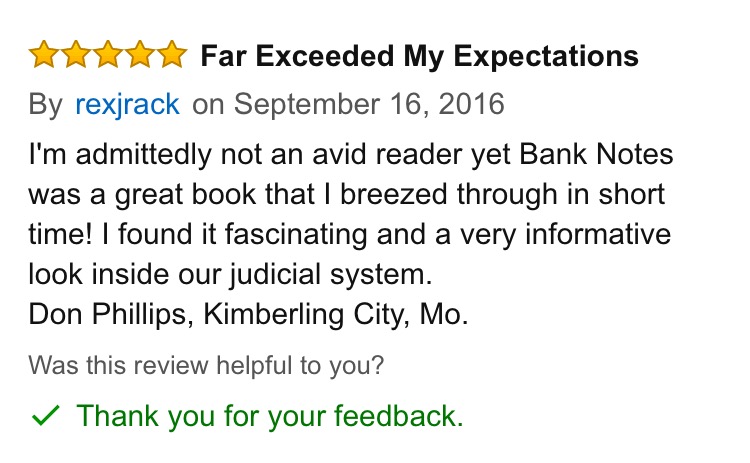 Bank Notes is an eye-opening true account of how the recession of 2007-2008 led a mild-mannered middle class father to become one of Missouri's most notorious criminals. It follows the Boonie Hat Bandit through federal and state proceedings and into the world of prison. A gripping must read. Insightful and thought-provoking, Bank Notes delivers.
Representative Bryan Spencer District 063, Republican
Earlier tonight, I finished reading Bank Notes by Caroline Giammanco. What an engaging work this was. It's more than the story of an apprehended bank robber, told mostly in his own words–it's a scathing, fact-cited indictment of the criminal justice system of the State of Missouri. It's a story of how we must not take the freedoms afforded by our Constitution for granted, but above that, way above that, it's a story of how true love, the support of family, and belief in oneself is absolutely the most important thing in the face of insurmountable adversity. It's thoroughly researched from start to finish, and although maybe a bit self-serving, Caroline does a phenomenal job in standing up and painting a complete picture, from beginning to end, that allows us to think about our own way, our own personal freedoms, and that none of these should ever be taken for granted. It's a total package, a great read that's never preachy and respects the intelligence of the reader. I would strongly recommend reading this. The language is simple for all of the technical complexities involving the legalities of Keith's defense. This, my friends, is courage defined.
A most appreciated review of Bank Notes: The True Story of the Boonie Hat Bandit by Caroline Giammanco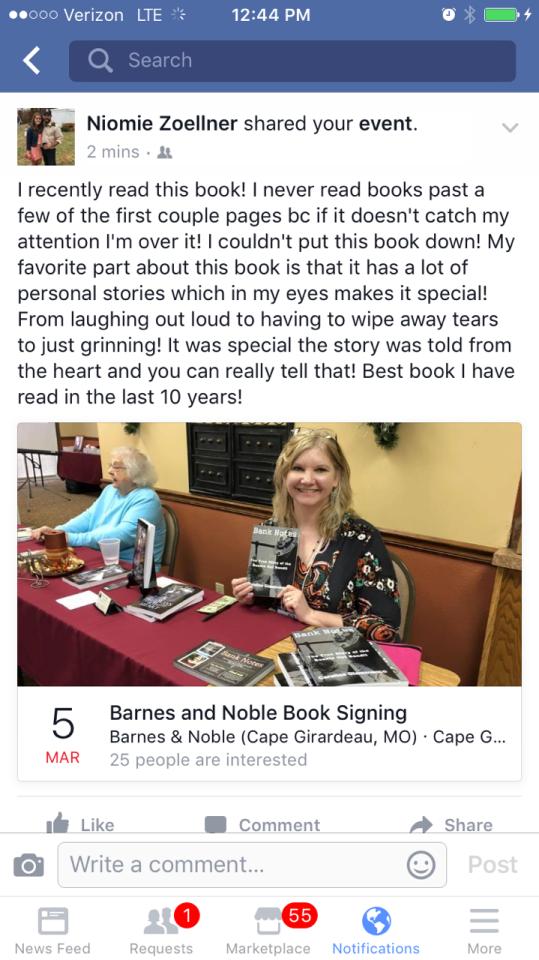 Come on admit it, this country loves an "Insider Trade" deal. Boy do I have one for you. Before I invite you inside my virtual office and shut the door, let me tell you why I have such a vested interest in this author and her story. I admit I am a close friend of Ms. Caroline for over thirteen years. I helped edit the book this summer. While I will have no financial gain, I sure do want this book to be a best seller. Are there other deeper and darker reasons; of course; why would I invite you over to a closed door session?
Where to begin? Begin with the inner workings of Ms. Caroline's mind. She has always been a survivor from her hungry, neglected childhood to her reaching out for love in all the wrong places, at least with all the wrong types- she survived and achieved. She paid her own way through college and became an expert in her field to the point when I met her, she ran the whole department in our high school. Anything she touches, or attacks I should say, she does to the best of her ability and then goes back over and does it even better. Her secret writing project for the past two years is a prime example.
In order to understand how exceptional this project is, and the courage it takes to expose eyewitness information she has on the Missouri justice system and team up with, unbelievably, the Boonie Hat Bandit to write their story, is to share the fear for her life and the safety of her love, still incarcerated. Despite the danger, both agreed they had to let the outside world know what the view is from inside the courts to inside the prison walls. For this reason alone, the book is well worth reading.
Let me let you in on another dirty little secret- these two are so in "sync" with each other's writing you can't tell where one stops and the other starts. They are the ultimate writing team when it comes to smooth transitions and dramatic revelations. They tell a great tale of woe with such class you won't want to put the book down. Taking turns, each shares a part of their heart and soul as you follow the Bandit's descent into hell and Ms. Caroline's close escape from hers.
Behind different closed doors, separated physically for years, they face a reality not many would choose to endure. They are willing to share this reality with readers across the world in hopes of making a difference, regardless of the consequences. Another little secret: every statement, every experience, every feeling is from firsthand knowledge of either the bandit or Ms. Caroline. There is no fiction in this book, no poetic license; even though it is shocking at times, there is no question it is true.
Final tip from the "Inside Trader", this book is well written, honorably honest, intended for someone who just wants a good read, to the advocate for prison reform and for reasonable justice for those trapped inside. If you have ever been tempted to use inside information to cut a great deal, this is the time to do it. I sure am.
– Norma L. Garrett
---
The Boonie Hat Bandit is a must read for Criminal Justice students. Having worked with the Colorado Department of Corrections (DOC), as the Chief of Staff; Inspector General; Director of Prisons; and as an under-cover police officer inside a prison as an inmate. This book portrays the reality of a first time offender and his struggles through the criminal justice system. I would also recommend the book as a text book for Correctional Training Academies to depict
how inmates manipulate DOC Staff.
---
You can't get any better than a true bank robbing/true love story…and it does not have an ending!! Love prevails. I sure hope Keith gets out early so they can really have happiness before it is too late. To reform!