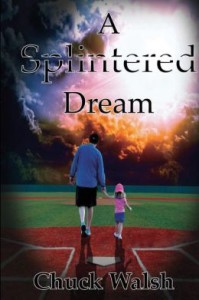 Amazon A Splintered Dream Reviews
A Splintered Dream is the come-back-kid of all stories. Cape Jeffers every woman's 'dream man,' every man's icon—baseball, fame, love and fortune found, lost and given back a hundred fold. In the same league as The Natural with Redford and The Rookie with Quaid. Unforgettable.
---
Terrific Baseball, Love and Triumph Story – The love of a child can do miracles in a fathers life
By scheartbeat
A Book for men, women, boys and girls. This is a story of America's favorite past time, baseball coupled with love, sacrifice, tragedy and trump. The characters and descriptions, like all of Chuck Walsh's books, draw you in from the beginning. Cape, Casey, Jules and Carnie are unforgettable characters, each in their own way. You will fall in love with Cape Jeffers instantly because he's every girls' dream and every guys' envy. He's a good ole Southern boy who loves God, his family, his friends, his town and his country, a rare breed. When Cape meets Casey, the girl of his dreams by running into her and knocking out the contents of her purse, the romance is sparked and their journey begins. After a wonderful fantasy romance filled with humor, something tragic happens and he doesn't know if he can recover. With his rare talent, he has the pressure and the weight of his teammates, town and himself on his shoulders to make it to the Big League. The choices he makes are not easy, but ones he feels necessary to rebuild his life. I've read all Chuck Walsh's books, but this one is my favorite. Great Read! Highly recommend for vacation reading.
---
Great story , family, dreams, determination and baseball. How can you go wrong? Well, could have had the Cubs winning the World Series.