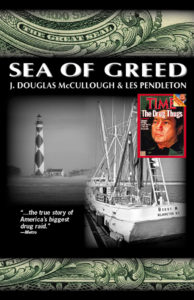 Ann Marie Ackermann has left a new comment on your post Q&A with J. Douglas McCullough
I used to work as an attorney, and I appreciate it when a judge takes the time to write a book. His or her research and analysis of the evidence is bound to be good.
---
As a documentary film maker, I found Sea of Greed to be a gripping retelling of the events that led to the invasion of Panama, and the biggest drugs bust in American history. Judge J. Douglas McCullough tells us of the overthrow of dictator, Manuel Noriega, through the key players' dialogue, enabling the reader to feel they are actually there and in the moment as the story unfolds. It's an effective way to relay the events so that the reader is immersed in the characters and locations. Starting with an abandoned ship in the Beaufort Inlet of North Carolina, where a boat load of marijuana is found, new facts are revealed, as the dialogue is based on real people and documented case files. I love True Life Stories, and this is so real I felt transported to 'real time.' Judge McCullough is the perfect guide, as he was the federal prosecutor who brought Noriega to justice and he had access to reports from federal agents and key witnesses. Helpful chapter notes at the end cite transcripts and interviews supporting the dialogue and giving authenticity to the book. The storytelling is so visual, it would make a great documentary or film.
Tony Lee Moral, Documentary Filmmaker and Author
---
By N.F
This book is not just about the prosecution of Noriega. It's a page-turner of the coke soaked, or in this case the pot soaked, 80s. And for those who are from Eastern NC, you will undoubtedly recognize many familiar place names, like Wilmington, Sneads Ferry, New Bern, etc. As a kid in the 80's and 90's who grew up in Eastern NC, many of my classmates' parents were in jail, and now I think I know why…lol! This book is perfect for an airplane flight (preferably to the Caymans), or for anytime you might want to spend a moment or two digging into a good read. It's fast, and not overly complicated, but not overly simplistic either. I read it very quickly, and enjoyed it immensely. Although, it reads a bit like a movie script or a fast-paced and very long newspaper investigation, a reader should find this book well worth their time.
---
My husband was given Sea of Greed for Christmas and he read the entire book in a matter of days. Mind you he never reads books!!! He reads articles, online clips, blogs, newspaper excerpts…..and he was so intrigued by Sea of Greed that he could not put it down. Living in Carteret County the majority of his life, he said he distinctly remembers events and people from the book. Wow!!!
Thanks,
Trent Webb
---
Reality is scarier than fiction.
I lost I dear friend, Sonny Owens, a helicopter pilot, in the invasion of Panama. That is what made it personal. To read the true story about the events leading up to that brought all the memories back. It makes you think about the root causes of the US's military actions and the flesh and blood sacrificed for democracy and world freedom. What taints it is the greed on both sides–money, drugs, the lack of morals and values.
My hat is off to Douglas McCullough for daring to bring this information forward and in such a readable way; like a movie unfolding. Oh, I could most definitely see this as a movie. Hell, it had real movie stars in it! Five stars all the way!
---
By
Very interesting story that took place in the area I am very familiar with.
---
WHAT A READ!!
What a read!
Outstanding presentation. This is a book that once begun, must stay with it to the conclusions.
I highly recommend this book to anyone who appreciates history, drug busts, small sea coast towns, foreign countries, FBI and other "undercover" work, federal prosecutions, romances, and interloping intrigues.
Bobby H. Griffin
---
Loved the book, could not put it down, read the book in three days. Tells a story that has not been public until now. How cool to know why Noriega was indicted, and it all started with a lucky seizure of 29,000 lbs. of marijuana.
---
Great Book
Accurate, interesting book of a small town drug bust. The trail from a small NC town to Noriega is a great read.
---
Great book !! If you are from NC you will enjoy this book. Will make a great movie.
---
This is great read! The true story at its best. A lot of facts that we never new