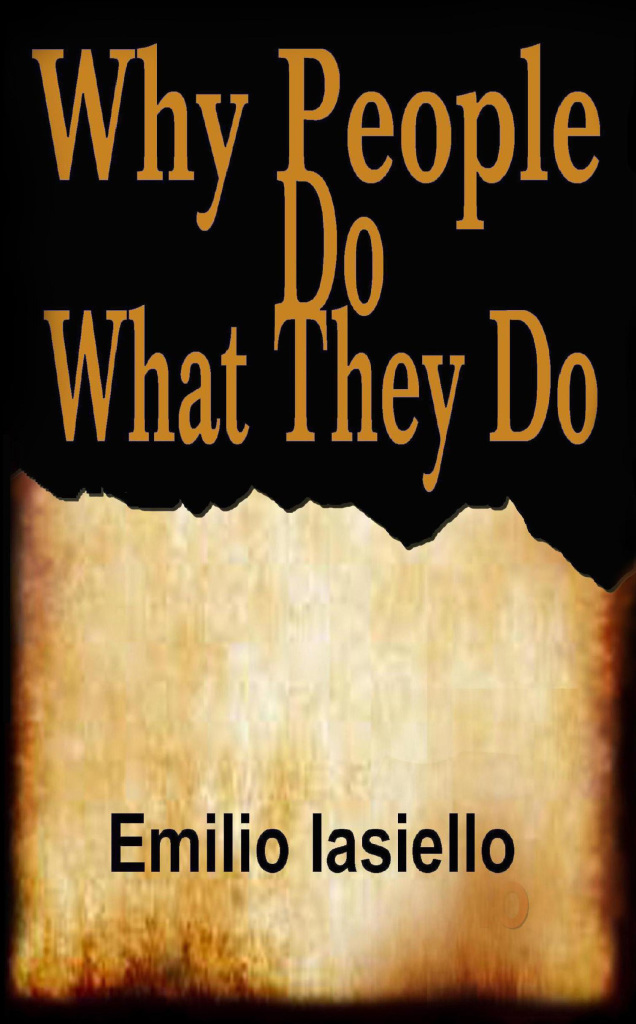 Amazon Why People Do What They Do Reviews
I love reading Short Stories, and this collection by Emilio Iasiello, is a lucid and penetrable read. From the opening "Sharks" story, I was immediately pulled into the character's psyche because of Iasiello's crisp and vivid language, and the terrible phobias that lurk within all of us. Having a childhood fear of water, I immediately identified with the central character's plight. By the end of reading the short, I felt I was literally swimming with sharks, which is a metaphor for so many of our human fears. The collection of stories are told in the first person, from a variety of characters, all of whom are battling their inner demons. Isaiello opens the dark cupboard of human guilt and fear with his collection of short stories that will remain in your consciousness long after reading.
Tony Lee Moral, author of Playing Mrs. Kingston
---
Those dark interstices we all explore
By Grady HarpHALL OF FAMETOP 100 REVIEWERVINE VOICE
Emilio Iasiello lives in Arlington, Virginia. He has access to not only observing the lives of everyday people and how wrong turns or ill-timed reactions of minor crises jumble life into a incubus/succubus for even a moment, but he also possesses a rich imagination that allows him entry into spaces few of us would elect to step. He has written screenplays (The Legends of Nethiah, Dead of Knight, Chasing the Green (also his novel), P.J., The Good Thief) and has published poems in literary journals and magazines. But none of that prepares the reader for the myriad experiences he takes us in this collection of short stories, WHY PEOPLE DO WHAT THEY DO. Even the title is intriguing.
Each of these stories deals with obsessions, phobias, fears, temptations, addictions – all of those aspects that skew normal life into situations that in retrospect were very wrong ideas or happenings. He opens with a brief story SHARKS that in any other author's hands would have been simply a shocker, but in Iasiello's deft verbiage he makes this odd tale so accessible to the psyche that we find ourselves identifying far too closely with the characters.
That approach to writing is what makes Iasiello's gift so particularly special: out of very common and ordinary descriptive settings and character building emerge fantasies so odd that the reader is left with the head scratch of `they did what?' In other times Poe and de Maupassant did this. And now Emilio Iasiello steps comfortably into that realm. He is worth watching very closely. Grady Harp, January 14
---
Good Read on the Darker Side of Life
By JGlo
With this collection, Iasiello shows his writing talent has range, from his collaboration on the biographically-based Chasing the Green (book and screenplay), to this collection of believable short stories which illustrate some of life's darker conundrums. The collection explores … why people do what they do. It might even make you wonder … why you do what you do!
I recommend this if you like this genre, and hope Iasiello continues to develop his writing talent.
---
By Jeanie
Just the title caught my eye. Why do we do what we do? Some say it is choices based on opinions we have formed along life's journey. When I read each of the short stories, I keep asking myself, "What would I do in this situation?" Time after time, Iasiello made me question motives, reasons, and what could they have done differently. My hat is off to him! Yes, I recommend this book! Get it for your doctor's office, the lab waiting room, give it as a gift for any occasion. It makes you think and re-think.
---
Filled with Soul-stirring Scenes
By Carme
In my humble opinion, the best thing a short story can do is pull you in, make you feel, and complete that experience before your metro stop. You should be able to recommend that short story to your friends and know that they will feel the same. Each of the ten stories in Why People Do What They Do hit these marks.
Some of the stories generate the strong emotions and underlying meaning of small moments from a dinner conversation ("Just Us") to a lovers' quarrel ("Say Something"). Others impart truly haunting realizations from survivors experiencing the circumstances of death ("Pretty Things," "Rain"). In all of the stories, though, I was transported, not to a different world, but to a part of myself I hadn't visited in a long time or maybe not ever.
---
By Stak
This is a terrific collection of short stories by a talented author. Each story is unique and compelling – you will not be disappointed!
---
The best thing about this book was how it make me relive my memories and seemingly simple interactions I have had along the road of life. Each story drew me in, and though I wanted an "end" to them, after each one I wondered about the choices I would make or what I imagined would happen next. I would like a second volume of stories!
---
By S.L. Shelton
This was a wonderfully disjointed romp through superbly detailed beauty and wretchedness. I loved being tossed back and forth by the shifting moods and the building tension. Wonderful! Bravo!
---
The title grabbed me as did the first paragraph. Emilio is a great writer.
His style of writing seduces the reader immediately. His ability to transfer the emotions of his characters is wonderful. I'm looking forward to reading more of his work.
---
By Saved
Looking at the table of contents and swiping at a few of the pages, I thought I could whip through these short stories in no time. Then I began to read them, and I soon realized how spare and fine Emilio Iasiello's writing is, how clear and explosive the imagery. It was as if I were watching a movie rather than reading a book. Like Mozart who wasted no notes, Mr. Iasiello doesn't waste words. And he weaves memorable stories with them. He creates moments in time that reveal the complexity of life.
WHY PEOPLE DO WHAT THEY DO anthologizes stories of characters who are on the way down or already there; characters whose actions are extreme and inexplicable, characters who are drawn to addictive personalities; who are on the verge of self-destruction, but who cannot stop their fall. Their responses to life are bizarre, abrupt, befuddled. In their world, there's lots of agony but little ecstasy.
In the title story, the narrator, drawn to the unfathomable personality of his alcoholic brother, relates an incident in a pawn shop.
"See, my brother is prone to this type of violence. It follows him like a tail of toilet paper he can't shake off his shoe." ("Why People Do What They Do," loc. 242)
These are stories of violence, of choices that hint at cataclysmic consequences. They are filled with eccentric twists; they tell of drunken dinner parties.
In my favorite story, "Pretty Things," there is a scene where Marla powders and rouges her dying mother's face.
"When she was finished, Marla stepped back to appraise her efforts. The pale complexion had been replaced with a healthy, albeit artificial, glow."
A nurse comes into the room.
"'You do this?' the nurse asked, looking at the patient. "She looks good." Marla shrugged. She wanted to tell this woman everything, but didn't know where or how to begin." ("Pretty Things," loc. 1293)
At the end of the story, there is only a sad, wrenching demise.
This is not the stuff of light entertainment. It is the work of a major writer. I will keep returning to these stories and savoring the power of their beauty and perception, for that's where the stories' redemption lies.
If you look for a read that gives new and lasting insight into the human condition, if you long for wisdom, if you choose stories that are hard to stop reading, you will love WHY PEOPLE DO WHAT THEY DO.
---
By Susan
It is an exceptional real life series of problems people face and how they have to deal with them. It leaves the reader pondering with the fact that just maybe one or more of these stories are part of their life and just how are they handling it?
---
By OpusXV
A raw, sometimes uncomfortable, examination of the dark, twisted and beautiful world of our more primal, instinctual nature. The effectiveness of these short stories manifests itself not only in the all too familiar nature of the situations in which his protagonists face, but also in the decisions and consequences that arise when a person succumbs to base instinct. These are not stories of heroes or villains, saints or sinners; they are the stories of the everyday human experience. The reader should walk away from them feeling as if they have just taken a very hard and long look at themselves in a mirror.
As readers we are empathetic; each of us has lived at least one of these experiences, which makes us wonder if the author is drawing from a vast reservoir of his own life situations. But, there is no doubt that the "hard punch to the gut" that one feels when they read them is a not too subtle reminder of the many decisions we have made in our own lives that have – for better or for worse – defined or contributed to who we are today. And the question of morality that remains really is one for the reader, and the reader alone based upon their unique life experiences.
I think the author has made a bold statement about the permanent acceptance of duality in people and the universality of temptation, vice, lust, weakness, and ultimately, the need to feed the base instinct that can disrupt the strongest moral compass. The stories do not require you to accept or judge; they merely require you to understand that the human experience is fallible, vulnerable, and strangely beautiful even in its darkest moments.