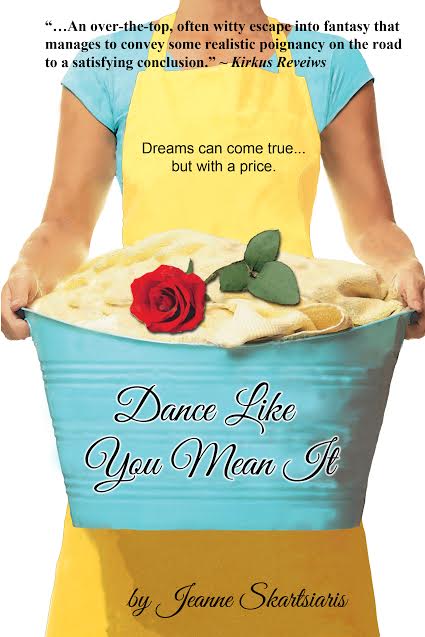 ---


This author participates in our Review Exchange and Book Donation Program. Click here to learn more.
BOOK REVIEW
Reviewed by Courtney Talbott for Readers' Favorite
Dance Like You Mean It by Jeanne Skartsiaris is a fun, quick read sure to please fans of women's fiction. Cassie Calabria is a wife, mother, nurse, and all around people pleaser. She feels content, but somewhat stuck in the everyday, and so she decides to try her hand at writing a romance novel after reading an article about how in demand they are. To her surprise, not only is her novel published, it is a runaway success. Now she is dealing with her newfound fame while simultaneously trying to juggle a floundering marriage, a troubled daughter, and her own desire for anonymity. Can she pull it all together and live the kind of life that she writes about? The reader will enjoy the ride to find out.
Jeanne Skartsiaris's Dance Like You Mean It is a fun romp through a midlife journey, and readers will certainly be cheering Cassie on. What starts as a frothy confection about a housewife's everyday frustrations becomes something more poignant as we see what happens when her book forces her to wake up to the realities of her life. Her husband is cheating on her, her teenage daughter won't talk to her and then ends up in her own ER, her mother is mysteriously ill, and Cassie is just trying to keep her head above water. I really enjoyed the parts that focused on Cassie and her life. The tone of the book is conversational, like chatting with a friend over coffee. I didn't connect as much with the parts of Wild Rose, her fictional romance novel, but I understood that freewheeling Rosemary was needed as a foil for Cassie's structured life. Overall, I enjoyed this book very much and I am pleased to have spent time with Cassie and her family.
_________________________________________________________________
KIRKUS BOOK REVIEW
An emergency room nursing supervisor writes a romance novel, even as her own life spins out of control.
Skartsiaris' (Surviving Life, 2016, etc.) third book offers a bit of a change-up on the standard romance genre, weaving together two stories that intersect in the chaotic world of the protagonist, Cassie Calabria. Cassie is approaching middle age, with her marriage stagnating. Her older daughter, Ashley, is 15 and an expert in distancing herself from her mother with silence and/or the perfected eye roll. Cassie has always wanted to be an author, and she decides that a romance novel is just the thing. In between managing life-and-death emergencies in the ER and running her household, she begins writing Wild Rose, under the pseudonym Cardia Loving, and she sets it in the 1970s ("when promiscuity was a badge of honor"). Rosemary "Rose" Christi is Cassie's younger, more beautiful, sexier alter ego. Chapters of Cassie's first-person narrative alternate with chapters of Wild Rose. While Rose gallivants around as a photojournalist, Cassie deals with a husband who wants a separation. The author artfully employs the use of humorous juxtaposition: Cassie trying to keep her daughter from experimenting with sex while simultaneously writing all manner of steamy adventures for Rose; Rose meeting a handsome film star at the beach and immediately engaging in hours of torrid sex, while Cassie frantically mops urine off the ER floor when she meets her real-life movie idol. When Wild Rose surprisingly becomes a best-seller, Cassie's real and imaginary lives begin to collide, as she struggles to keep her pseudonymous identity a secret from family, co-workers, and adoring fans. In this amusing tale, both Cassie and Rose are strong female characters. Despite melodrama in the life of the former and the wildly exaggerated exploits of the latter, they come across as likable and self-sufficient (At one point, Cassie muses: "I chose nursing to help people, to be an angel of mercy, and the math was easier than medical school"). But the male characters are rather two-dimensional, serving more as foils or window dressing. Although the narrative contains plenty of graphic sex, it is generally mild for the genre. Still, the novel ultimately delivers a rewarding ending.
An over-the-top, often witty escape into fantasy that manages to convey some realistic poignancy on the road to a satisfying conclusion.
***
Dance Like You Mean It by Jeanne Skartsiaris is a novel women will embrace, especially those who are closet writers, authors, journalists, wives, and mothers. It is a struggle between doing what you are passionate about and having success, and being able to take credit for it even though it compromises the morals and values you and your family hold dear. To be proud of a best-selling steamy novel or stay anonymous and not be able to stand in the spotlight? Can you have both and not feel ashamed or guilty? Just how different are Cassie, the author, and Rosemary, the protagonist? Read and relate. Most authors write either from experience, history, or fantasy, which has been hidden from all except God Himself. Cassie let's her desires and imagination soar, and it surely does…right to the top of the charts. But what now? The best of both worlds!