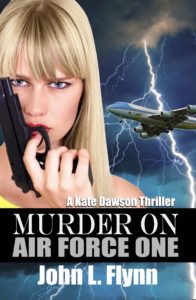 Murder on Air Force One  Amazon Reviews
After visiting SpyCon 2018, I picked up John Flynn's Murder on Air Force One featuring Kate Dawson. I decided to read a few pages to see how it goes. Mistake. The book mark was not used for long.
The gripping story got me. Reading on, the grip continued to increase as the story unfolded.
100 pages. 200 pages. Before I knew it I was reading the ending.
Technical accuracy proves years of research and preparation went into this writing, necessary for me to enjoy reading. The story closely parallels real-world current events. Character Kate Dawson is admirable in many ways, yet human.
What can I say but now I have to read the rest of the series!
-Robert Loiacono
________________________________________________________________
If Wonder Woman Weren't a DemiGod, She'd Be Kate Dawson.
In John Flynn's third Kate Dawson thriller, he takes his SFPD Inspector deep into the heart of the Secret Service, investigating the murder of a Fox News reporter aboard Air Force One. Despite being assigned a new partner who behaves like a dick, the usual intra-departmental rivalries, and the conflicting agendas of the SFPD and a much more powerful federal government . . . nevertheless, she persists! Doggedly pursuing clues that only a woman would ever notice (one of them involves lipstick). Soon enough, she becomes the target of a Russian hitman, as the case escalates into a faked terrorist attack. Oh, and Kate finally seems to have a viable romance going . . . or does she? Once again, Dr. Flynn has given us an un-put-down-able wild ride! Keep 'em coming!
— Rosanna Tufts, host of "The Tufts Get Going!" on BlogTalkRadio
_________________________________________________________________________
Kate Dawson does it again, and by the skin on her teeth. Put in a situation never before experienced in investigating a homicide within the upper echelons of the US government, she has to deal with road blocks, diversions, thought-to-be-lost cold war documents, and protecting those she loves from morg's frig. Absolutely love Kate, flaws and all. Looking forward to more!