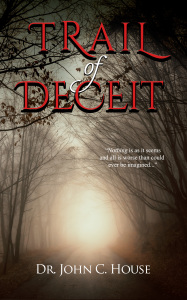 TRAIL OF DECEIT – Kirkus Reviews  Amazon Reviews
John House's novel, Trail of Deceit, is a suspense/thriller set on the Appalachian Trail. Four college friends decide to hike part of the AT. Little do they know that they are being stalked by two- and four-legged predators. A page-turner that elicits gasps on every page. You catch yourself saying, "No, don't!" out loud. Trail of Deceit makes you realize that what we take for granted—a nice hike in the woods on a beautiful day with friends—can turn into a wicked nightmare. John House did a jam-up job in convincing me to be prepared for anything next time I go into the woods. Bravo! (And I LOVED the ending!)
__________________________________________________________
TRAIL OF DECEIT by Dr. John House, a drama set on the Appalachian Trail, has more twists and turns and switchbacks than the trail itself.  Dr. John House propels this page-turner forward with crisp, evocative writing and short chapters supporting numerous scene changes.  The book starts out as a seemingly clichéd tale–four college-age kids out to hike a section of the trail find themselves stalked by a killer–but ends up as anything but.  In fact, like me, you may actually find yourself rooting for the "bad" guy by the end of the story.  Well, almost.  Dr. House puts a clever spin on what could have been an ordinary novel and turned it into an outstanding read.
Buzz Bernard, author of EYEWALL, PLAGUE, SUPERCELL and soon-to-be-released, BLIZZARD
_____________________________________________________
Having lived in Georgia, House's works are naturally stories rich in character. From the Marshes of Glynn to the North Georgia Mountains, House gives us the ability to fall through the pages of his books, into a time and place like no other.
His experiences flow within the text, whether it be hiking adventures, medical knowledge or military training. So, when you open to that first page expect to be captivated, entertained and unable to rest until the last word.
Of course, then you will want the next one.
___________________________________________________
There's a train wreck on the horizon. Can you look away? John House masterfully spins us into a world where horrible events are sure to unfold. After the first word the reader is left to wonder just how horrific this train wreck is going to be. I even wondered if I wanted to read about it because the nightmares of horror movies past all have the opportunities to rise from the ashes in this setting. But fortunately House pulls back a bit on the terror — just enough to keep the reader reading, leading us to go ahead and turn that next page even though we know the bad guy is still out there. Does it arrive? How much is too much?
Four college kids take a hike on the Appalachian Trail. The weather is unpredictable. One student is a coddled homebody who has no business being on such a trip, but peer pressure always wins out. Besides with three other people, what could go wrong? In the middle of nowhere with help unavailable, we have the classic setting of "kids-in-the-horror-movie-with-a-killer-stalking-them."
I recommend Trail of Deceit if only to learn the original story as it was written because Hollywood is sure to beat a path to the authors door for this one.
________________________________________________________________