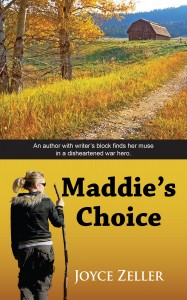 By Faith D. Flaherty on December 1, 2013
Format: Paperback
Inheriting half a ranch in Arkansas, for New York author Maddie Taylor, was an opportunity she couldn't believe. She was suffering from writer's block. Her condo was being remodeled. Her boyfriend needed to move on. She was hoping to live upstairs in the ranch house for three months, (A stipulation in Jonah Spartman's will). She couldn't pass it up.
The novel, Maddie's Choice by Joyce Zeller, opens with this situation. As the story proceeds, Maddie meets Gideon Spartman, the other half owner. Gideon was prepared to hate Maddie and hoped to drive her off. The trouble is, they were made for each other. Jonah Spartman's will was a set-up.
They are both attracted to each other. Gideon is an Afghanistan veteran who suffers from Traumatic Stress Disorder, and at first thought Maddie a gold-digger. Maddie thought Gideon a big lout, albeit a fine specimen of sexual masculinity.
Maddie's retreat from New York is far from idyllic. She finds herself mothering two needy teenage boys, whom she grows to cherish. Ranch life is hard. Her writing isn't progressing as well as she hoped. Her agent is making demands. Add to the mix, money problems, drug dealers, cattle rustlers and carnal desire.
Did I mention the fact that this is a Western romance novel? It's set on a ranch with horses and cattle and cowboys. It's also a racy romance. I'd rate it "adult only." Sex hovers expectantly just about every time Maddie and Gideon are together. They finally do consummate their relationship explicitly. This book is not for impressionable teens.
Maddie's Choice is an easy read. In 265 pages, the author, Joyce Zeller, managed to express the ever present struggle of balancing family, work, love and hate. for
I'd like to thank Tribute Books […] for providing me with a complimentary review copy.
***
By Kathleen M. Rodgers on November 3, 2013
Format: Kindle Edition
One glance at the cover of Joyce Zeller's novel, Maddie's Choice, and I was smitten. First by the deep golden colors of autumn and the rusty red of the barn, then by this teaser of a blurb: "An author with writer's block finds her muse in a disheartened war hero." As a writer myself – and a sucker for a man in uniform – I thought, "Wow, what's not to love about this book?"
Then I began reading and tumbled "heart first" into the story. What struck me from the first page was the quality of the writing. From pitch perfect dialogue to well-drawn characters and setting, this novel deserves to be read and discussed by a wide audience. Besides the sexy romance, this smartly written tale tackles tough subjects like war-related PTSD, cattle rustling, drug dealing, grief, and the universal search for meaning in one's life and livelihood. Throw in a couple of orphaned brothers, a chocolate eating Bull named Big'Un, and saucy humor throughout, and you've got yourself a winning combo of a novel.
In this one sentence, the author paints the picture of a small town diner that serves the rural working class. "The breakfast crowd was almost gone – just a few stragglers in work clothes, plying their gums with toothpicks as they headed for their trucks."
This novel will appeal to a wide audience of readers who enjoy an entertaining story that also makes them think. Novelists in particular might also enjoy reading about a protagonist who makes her living by spinning words into gold. Joyce Zeller is one of those writers. Count me as a fan.
High Recommended!
Kathleen M. Rodgers ~ author of the novel "The Final Salute"
***
Great characters, interesting premise
By Abre-doodle on October 31, 2013
Format: Kindle Edition
Maddie's Choice is a romantic tale about a successful author who has lost her ability to create fresh new stories for her publisher. Through a twist of fate, she finds out that she has inherited half an Arkansas ranch from someone she barely knew, under the condition that she live there for three months. The other half of the ranch is inherited by the rancher's son, whom she knows even less. In need of a break from her stifling city environment, she decides to comply with the terms of the rancher's will and move to Arkansas. The story takes off from there.
The author does a great job of developing credible, interesting and endearing characters, and takes you into the world of cattle rancing, rural culture, and even into the world of an ex-soldier dealing with Post Traumatic Stress Disorder. An interesting read, and a nice romantic story with a happy ending.
***
By Bridget H. on June 25, 2014
Format: Kindle Edition Verified Purchase
I really enjoyed this book and loved the characters. I would definitely recommend this book. With a little bit of mystery and romance, you can't go wrong.
***
By B.G. Murphy on June 18, 2014
Format: Kindle Edition Verified Purchase
Good story line with personal issues with the characters to make it more believable and down to earth. The strength and intelligence of Maddie sets it apart than the every day wimpy woman scenario.
***
By Marilyn on May 30, 2014
Format: Kindle Edition Verified Purchase
This is as about the cost of war to our people who define us. The way it causes mental problems. The drug lords and guzzlers.
***
By KLDB on April 7, 2014
Format: Kindle EditionVerified Purchase
I really enjoyed this book. The characters were complex enough to keep your interest and still lovable. A Great Story!!
***
By Xixao on April 4, 2014
Format: Kindle Edition Verified Purchase
Really enjoyed this read! Heartwarming and sad but touches a very true reality. I wish there was a second part!
***
By Jane Jones on March 30, 2014
Format: Kindle Edition Verified Purchase
At the start of Maddie's Choice, Maddie has the choice of staying in New York City and continue with her depression and writer's block or go to a farm in Arkansas. She picks the fresh air of the farm in Arkansas and finds a new home with a family that needs her. Abe and Mark are boys that need a new mother, as theirs died in a plane crash and their Uncle Gideon needs Maddie, although he isn't ready for her when she shows up and being a writer stands up to him until he gives her respect. Along with facing PTSD, cattle rustlers, biker gangs and a drug ring, a pet bull that loves chocolate, Maddie and Gideon find each other for one of those happy endings we romance lovers like at the end of a good romance story. Maddie's Choice at the end of the story makes this a great book.
***
By needwhiteblouse on March 27, 2014
Format: Kindle Edition Verified Purchase
This book did not grip me like others that I've read. I like a book that keeps me in the mood. This book was a light reading book and I liked the people. Maddie made her choice and I agree with her.
***
By Crafty Lady on March 24, 2014
Format: Kindle Edition Verified Purchase
Best romance story I have read in a long time- it has it all.
Mattie is a romance story writer from New York City. A old friend in Arkansas left her half of a cattle ranch, but she has to live there 3 months to inherit -sexy cowboy with issues, 2 kids, cattle, rustlers, motorcycle gang and a small town. Joyce Zeller has written a story that will keep you reading. I hope there will be another book out soon. I am a fan of hers.
***
A multilayered, character-driven, vividly written novel
By Leiah on March 21, 2014
Format: Kindle Edition Verified Purchase
What do I like the most about this book? Hummm. Maybe it is the setting, the hills of Arkansas, south of Fayetteville? It is gorgeous there. Maybe it is Maddie herself, a gifted New York romance author, suffering from burnout, writer's block and a bad case of boring boyfriend – who suddenly finds herself half owner of an Arkansas cattle ranch? It could, of course, be the ensemble cast of characters, a mix of quirky, scary, funny, kind, and just plain insane that ramble around the property and its environs. Talk about an odd fit – a full on city girl, plopped down amongst the cattle, and trying desperately to understand not only the language (Fetvuhl is "southernese" for Fayetteville) but also the difference between 'cows' and 'cattle' (there really is a difference, of course!) and what in the world a "Wal-Mart' could possibly be? I had giggle fits like mad when Ms. Zeller threw in a "language zinger" or two – though Maddie didn't run across it as much after her first meeting with one of her most touching characters, Fayrene, which was sort of a shame. It is a character-driven novel, beautifully layered and widely ranging.
This is, overall, a gently comic contemporary romance, but I admire and respect Ms. Zeller for writing a book that is much more than a simplistic little novel. Those parts are good, many funny and sweet. The children are heart wrenching, having lost all their family except for a distant and deeply troubled uncle. And Maddie's relationship with the big, scary Angus bull is hysterical. The part that is absolutely fantastic however, raising the book from a five star romance to a ten-plus star smash hit? The stories within the story – important, heart wrenching stories of poverty and brutality, drugs and 'cook houses' and the power of motorcycle gangs in a poverty stricken area. But most of all, what touched me the deepest – the horrors suffered by victims of PTSD, those men and women who return from the mindless, rampant cruelties of war broken and tortured in body, mind, and spirit. Ms. Zeller was in the Army herself, and speaks to the pain of the victims with a breadth of knowledge and a depth of compassion rarely seen in literature. My soul throbbed in sympathy for Gideon, breaking my heart as I watched his torment, his shame, the depth of his agony. Not overdone, but certainly a strong enough theme to make this book much more than the sum of its parts.
Overall, even if you don't like "romance" novels, if you are interested in solid writing with an eye to the craft, believable story line, and a variety of themes, this is a highly recommended read. I will absolutely be placing more of Ms. Zeller's work onto my TBR pile (and somewhere near the top!)
***
By Lynn Smith on March 21, 2014
Format: Kindle Edition Verified Purchase
What a wonderful book. Loved Maddie and Gid. The children played a pretty big part in the beginning but towards the end it was almost like they were forgotten about.
***
By gran2zach on March 20, 2014
Format: Kindle Edition Verified Purchase
I absolutely loved this story. I loved how Maddie got through to Gideon despite his reluctance. I hope there are more stories like this to come.
***
By Dianne Ascroft, historical fiction writer on January 6, 2014
Format: Kindle Edition
I recently read Maddie's Choice by Joyce Zeller to review as part of the author's current blog tour.
The novel's Amazon blurb says: "Romance writer Maddie Taylor is fed up with New York City. She is getting nowhere with her latest manuscript and does not believe true love exists outside of her imagination. When a friend, Jonah Spartman, dies and wills her half of his Arkansas cattle ranch, she sees the chance for a new beginning. Jonah has also left behind two orphaned great-grandsons desperate for affection and an accounting book in the red. The other half of the failing ranch belongs to Gideon Spartman, Jonah's grandson, who believes all capacity for love was torn from him during his tour of duty in Afghanistan. Rugged and sexy, Gideon is the enthralling physical manifestation of the hero in Maddie's current manuscript. He is far from happy to be sharing an inheritance that is rightfully his. As she senses the need behind Gideon's rough and unwelcoming exterior, Maddie acknowledges her own yearning for love and family. Jonah's will requires Maddie to stay on the ranch for three months. When that time is up, will she return to her comfortable but emotionally barren existence or embrace the challenges of her new life, which include cattle rustlers and drug dealers? Maddie's Choice proves to be far from simple."
I found this novel an entertaining read. It falls very firmly into the romance genre and conforms to the expectations for the genre. There's no doubt that the developing romance between Maddie and Gideon is its driving force and it was satisfying to find a happy ending when I reached the last page.
The one element of the novel that particularly caught my attention was the characters. Creating characters that readers care about is Zeller's forte. Maddie is believable. She's feisty yet not invincible and readers empathise with her insecurities and emotional vulnerability. At first I found Gideon emotionally remote and rather two dimensional but as the story develops and he grapples with his post-traumatic stress disorder, his emotional armour cracks and he becomes more three dimensional. Many of the minor characters also made an impression on me during the short periods they appear in the story: they were unique and memorable. The only character who jarred with me was Matt, one of Jonah's orphaned great-grandsons. His impulsive comments are the catalyst that triggers several important events in the plot but, even considering his emotional neediness, he did not seem true to a boy of his age. He seemed younger than his physical age.
The plot moves along at a fast pace and there's a lot thrown into it: from cattle stealing and drug dealing in Arkansas to tackling post-traumatic stress disorder and writer's block. A few titillating but tasteful sex scenes added to the mix.
I found the quick pace of the book satisfying until the last few pages. There is a sense of urgency and a lot of action in the final scene but I felt that it needed to be expanded to do justice to the conclusion. The bad guys were dealt with and dispatched a bit faster than I believed possible and Gideon suddenly overcame his PTSD in order to rescue Maddie from the villains. In earlier scenes we learned that Gideon is severely afflicted by the disorder so I wasn't convinced that he could overcome it so easily, even for Maddie. The final scene was told completely from Maddie's perspective. I think it might be improved if Gideon's viewpoint were included so that readers would understand how he managed to conquer his mental torment and rise to the occasion.
The setting grabbed my attention almost as much as the characters did. Maddie's New York and the Spartman ranch are both well drawn. When Maddie arrived in Arkansas I felt like I was there: the new places and people she encountered reminded me of towns and rural areas I've visited in America and Canada. Zeller has a flare for creating a very real setting and she convincingly portrays the life of a working ranch.
Maddie's Choice is a fast read, written in a simple, direct style. Readers who enjoy action packed romances will enjoy this story.
***
zeller paints a vivid picture with words.
By Max Boydstun on December 11, 2013
Format: Kindle Edition Verified Purchase
A great tale set in "real" America. The chapters fly by as you are drawn into a story with twists and turns like an Arkansas road.
***
By TicToc on December 1, 2013
Format: Paperback
Posted first on Blog Critics as Book Review: Maddie's Choice by Joyce Zeller.
Chance encounters are often just that. Yet there are times of serendipitous interactions, when a reason exists unknowingly that will change a person's life forever. An unexpected meeting that changes both parties, setting in motion a chain of events unexpected in the beginning.
In Maddie's Choice by Joyce Zeller, you will find yourself charmed by the interaction of characters that are thrown together due to an encounter in the past. Maddie is a writer finding that depression and anxiety have become a part of her life. Unhappy with her writers block and unsure how to resurrect her flailing abilities, she receives a letter giving her half a cattle ranch from a man she had met many years before during a sudden storm. Having kept in touch over the years she had no idea of his intentions.
Needing the opportunity to get away, she is convinced that the break will jump start her writing. She has no intention of accepting the boon; she just wants to take a peak. Unprepared for what she finds when she gets there, her heart and temper get the best of her.
Gideon Spartman has his own dilemma. A Black-ops veteran with his own ghosts, he finds himself the guardian of two young boys, and half owner of a ranch he doesn't want. He is furious about the will leaving a stranger part of the property and makes sure to let Maddie know of his feelings as soon as he meets her.
The chemistry is undeniable though, and flames leap to the surface of a story that is heartbreaking as well as dangerous. Cattle rustling is destroying the very fabric of the small, sleepy, town's livelihood and the stakes have just gotten higher.
The tension and anger simmer below the surface but the attraction sizzles off the pages in this unforgettable story of love and courage.
If you are a fan of Westerns, packed full of action you will enjoy this work. The Romance aficionado will find the heartbeat of the story holding them hostage even as mayhem breaks loose, cementing a set of feelings long denied.
Zeller has given us a romance with teeth and put it in a setting full of possibilities and excitement. The characters are not without flaw and the interaction of people and events take you there, among them.
***
By lost island of book reviews on December 1, 2013
Format: Paperback
This book is great! I enjoyed the idea of it being a writer who learns to deal with life and finds herself so fixed on her books, she forgets to have an outside life. It will get you hooked on the idea of the story, and the storyline keeps you interested.
The book was not exactly what I expected, but led me on a journey which was unexpected which is a nice thing! I enjoyed the ride the book took.
I encourage you to find this book and read it for yourself. You will find yourself connecting to the characters and rooting for them throughout the book.
***
City-Girl Writer vs. War-Vet Rancher
By kathleen gerard on November 24, 2013
Format: Kindle Edition
Zeller has written an intriguing Western-themed, contemporary love story, blending well-defined, wounded characters–from two different worlds–mired in the pull and tug of romantic attraction. Zeller also weaves in a suspenseful subplot regarding small town life and the harrowing struggles of a beef cattle farm in financial crisis.
***
By Simone Lilly-Egerter on November 23, 2013
Format: Kindle Edition
I received a free copy of this novel in exchange for my honest review. Gideon Spartman tried his best to run away from his past. He and his brother were raised by their grandparents after their parents dropped them off one day at the ranch and never returned. Gideon fought for his grandfather's acceptance but Jonah only had room in his heart for Gideon's brother Zeke. Now Jonah has passed away, leaving Zeke's boys without a guardian. Gideon, having just left the army is forced to return to the ranch, not only run it but also raise his nephews. Jonah has also left half of the ranch to romance author Maddie Taylor. A woman he has only met once during a blizzard. His requirement, she has to stay there for three months. When she meets Gideon, it's an instant attraction. Will Maddie be able to go beyond his rough exterior to find that soft spot in his heart?
This was a sweet romance. Maddie is a great main character; she had to overcome quite a bit to open herself up to the possibility of love. All of the characters were easy to connect with and you'll find this book difficult to put down. This was a heartwarming story with a mystery in the background. You never know if you can love someone unless you make yourself open to the idea.
***
By N. Medina on November 22, 2013
Format: Kindle Edition
For as long as she can remember, Maddie Taylor has wanted nothing more than to write books to her heart's content. It's the only thing that keeps her sane. She's good at writing romance novels, and does her best to engage her readers. Bringing new worlds to life is something that never gets old for her, until the moment she develops writer's block. It's then that everything changes.
Maddie's world is further turned topsy-turvy when she discovers that the late Jonah Spartman has left her half of his Arkansas cattle ranch. In her mind, his doing so is just what she needs to kick start her brain, and get the writing flowing again. Granted, she doesn't quite understand as to why he willed her half of the ranch to begin with. Never-the-less, it's a blessing in disguise. One she aims to make the most of.
Arriving at her new destination, Maddie soon realizes that life on a ranch is far from what she's used to. Not to mention, that everyone sees her as some sort of threat. Determined to not let her current obstacles bring her down, she dives head-first into the situation. Her goal is to make everyone see that she's not the bad woman they've made her out to be.
As her life starts taking on a different turn, Maddie comes to accept the changes cropping up around her. She can definitely get used to living on a ranch, most especially when there's so many nice people around to share her life with. Yet there's one thing she never counted on. Gideon Spartman makes her feel things she never felt before. Things she wants so desperately to experience, even though she won't admit that to herself. Still, there's something about him that draws her interest, and she's intent on finding out just what it is before she ends up going back home once her time in the country is said and done.
A heart-warming story, Maddie's Choice is one of those books that will make its way deep into your heart. Wound with such emotion, Joyce has created a story that definitely captures the reader's interest. We're thrust in Maddie's turbulent world as she tries to make sense of who and what she is. The character's plights are certainly believable, and the feelings injected throughout the story pour off the page. I enjoyed the story very much, and look forward to more of Joyce's stories soon enough.
Please Note: I received a complimentary copy of this book in exchange for an honest review.
***
By Gina on November 12, 2013
Format: Kindle Edition
This is one of those books that you stay up late reading because you just can't let go of the characters and the story.
Gideon is a man that has seen a lot in life. He suffers from PTSD. He is sure that love is not an option for him in any aspect. That was true until the day Maddie walked into his life. No matter how hard he tried, he could not deny his attraction to her.
Maddie suffered from low self-esteem. She is tired of her boring solitude life. She sees the opportunity to going to Jonah's ranch as just the thing she needs. Maddie does not know how true that really is.
I loved to read how they each came out of their comfort zone to see if love is possible. You never know what you will find if you just open yourself up.
I highly recommend this book and give it a 5 out of 5.
***
A fantastic story, a great read
By Pam Babcock on November 8, 2013
Format: Paperback Verified Purchase
I was drawn into this book immediately. The story was fun, it had suspense, mystery and of course, love. I couldn't put it down. I was sad when it ended as I wanted it to keep going. I highly recommend it.
***
By Lynette355on November 6, 2013
Format: Paperback
You never know where your life is going to end up at. No matter if your set in your ways and have it all mapped out. Life is always going to throw you a curve ball that you never expected. Somewhere, something or someone is going to make you look up and realize that there is a chance to go off the path and find a new and exciting turn. This is what I liked about Maddie's Choice by Joyce Zeller. Maddie thought she had it all planned out when from out of nowhere her life took a big left turn. A turn that lead her to a life in the country and with new responsibilities. More so it shows her that her love life is fixing to really take a new turn of events too. I got into this story line because I know that love can come out of nowhere when you least expect it. Also that love is worth fighting for, whatever the demons may be. Maddie and Gideon learn that too. If your looking for a good romance with some real life experience in it then pick up this one. I don't think you will be let down.
***
Maddie's Choice is a wonderful dive in romance with likable characters and a page turning plot
By Erika on November 5, 2013
Format: Paperback
Maddie and Gideon are a wonderful couple, but neither is currently living a lifestyle that lends itself to finding and staying in love. Fate places them together in an unlikely circumstance that has them fighting attraction beyond the physical. The romance novelist and the war hero must learn to rely on each other as they conquer life and new adventures out west.
Maddie's Choice is a delightful romance with likeable, fallible characters that quickly engage the reader. One of the biggest positives of this novel is the author's development of both the leading male and female characters. Often in romance novels there is a tendency to have a very well developed female character reacting to a dark, mysterious stranger. That's not the case here. Although Gideon is certainly sexy enough, his character is well rounded and contains enough human elements to make him truly vulnerable and likeable.
Another pitfall in many romances is plot twists and turns that can become distracting from the primary romantic plot. Maddie's Choice does enlist the use of a mystery of stolen cattle and drug running, but the additional plot lines serve well to develop the romantic plot line and further engage the reader and do not undermine the romance. As an avid romance reader, I don't mind telling you that I finished this entire book in one setting and would be delighted to read additional books by this author.
***
Maddie's Choice by Joyce Zeller
By Star @ The Bibliophilic Book Blog on November 4, 2013
Format: Paperback
Maddie Taylor is a well-known romance author and she's tired of the big city, her writer's block, and her passive aggressive boyfriend. When she gets notification that an old friend, Jonah Spartman, died and he's willed her half of his Arkansas ranch. The only catch is she has to stay there for three months or she forfeits her half of the ranch to Gideon Spartman, Jonah's grandson, who was willed the other half. Along with Gideon and the ranch hands, are Jonah's two great-grandsons, Mark and Abe. Both boys are in desperate need of attention and love now that their parents and their grandpa are gone and all they have left is an uncle with severe PTSD. Will Maddie choose the ranch or will she go back to NYC? Maddie's Choice has characters you quickly get attached to, like Maddie herself, and Gideon's nephews, Mark and Abe. Ms. Zeller has written a sweet romance with two people who are burned out in different ways. Together they find inspiration to heal not only themselves, but the ranch as a whole. I was quickly caught up in the story and I highly recommend Maddie's Choice!
***
By Jbarr5 (julie Barrett) on October 3, 2013
Format: Kindle Edition
Maddie's Choice by Joyce Zeller
I wanted to read this book after reading the synopsis. Sounded like a book that would explain about how a cattle ranch runs, something I'll probably never see in my lifetime.
The story starts out with Maddie and how she lives in a condo in NYC. She had once traveled and at a diner sat and talked to Jonah and they kept in contact with one another over the years. Next thing she knows she's a published writer and things are not going so well in the boyfriend department.
She gets a letter from a lawyer that Jonah has left her half his ranch. She goes to Arkansas and stays for some time til her condo is refurbished. She finds the boys, Abe and Mark and their Uncle Gideon who's now back home from the war with PTSD.
She is able to cross paths with Gideon and she stays out of his way while writing in her new novel. She learns of the boys' birthday, 16th, and wants to throw him a bash and before she knows it the whole will come to celebrate. She has a gift for him that he's been wanting.
Besides the work on the ranch I was able to learn about the new project Jonah was experimenting with. This is amazing because my father was hired to feed the steers here in town due to this new experiment. Liked learning about the cows and their significance.
Things start going bad, rustlers stealing cattle and a bad gang might be connected. Action really heats up when some forces join. Hot steamy sex scenes. This is a great story on many different counts.
Love how she is so strong she is able to pick up where Jonah left off-his dreams of the ranch.
I received this book from Tribute Books in exchange for my honest review.
***
Maddie's Choice should be your choice!!
By Jeanie on September 15, 2013
Format: Paperback
What a story! When you think you have it all figured out, God shakes His head and smiles. This is what happens to Maddie. This is what happens to so many of us. Maddie is a romance author with writer's block who finds out she has inherited a working cattle ranch in Arkansas. What does she know about cows or living outside of NYC? I found all the issues she runs into to be so realistic and ever so profound: orphans, hot ex-Marine, cattle rustlers, drug gangs and TRUE LOVE. God never gives you anything you cannot handle with HIM. I highly recommend this novel for its inspiration and determination alone. My hat is off to Joyce Zeller! MORE~
***
By The Every Free Chance Reader on January 4, 2014
Format: Kindle Edition
Where I stopped reading: Page 90 on my Nook, Chapter 13.
Why I stopped reading: This book just wasn't for me. I know this is a romance book, but I was thinking it was going to be more like chick lit romance, not the "normal" romance-type book. I don't need to hear how hard Maddie made Gideon three times in one thought from him. The romance was cheesy and unrealistic. I don't buy that the rough, cowboy/Army special op., tough guy would tell a woman that she "radiates passion," that it "comes off [her] in sparks." Not realistic at all for me.
The other thing that got me was that the reader would be in one of Maddie's book scenes all of a sudden. Some kind of font change or italics would be nice to let the reader transition a bit easier. I was confused during the first writing scene at the ranch. I thought Maddie was the one running.
It's just not my kind of book. I wish it was but it wasn't.
What others have rated this book: According to Goodreads, the average rating for Maddie's Choice is 4.25. It looks like a majority of readers gave this book 5 stars. There were 3 5-star and 3 4-star reviews on Amazon. At Barnes & Noble, there is 1 5-star and 1 4-star review. Just because I didn't finish this book doesn't mean you may not.
***
By Amazon Customer on December 1, 2013
Format: Paperback
Maddie is a successful romance writer, living in New York, who's dealing with writers block, stress, and depression. She inherits half of a cattle ranch in Arkansas and decides that staying there for a few months while her condo is renovated might be what she needs to get out of her rut.
She's so excited to move out to Arkansas and the ranch that it never occurs to her she might not be welcome. The other co-owner is not happy that she's there or even involved and he's reluctant to be there. Gideon is there only because of family obligations and he's dealing with Post-Traumatic Stress. Unlike Maddie, Gideon is not good with words and he accidentally offends her on several occasions. Then there are times when he deliberately offends her, trying to drive her away. She learns to read him and comes to understand him better. Maddie starts to relax at the ranch, makes friends and becomes involved and Gideon slowly starts to open up and to trust Maddie.
There's a lot of drama in the story – domestic abuse, cattle rustling, meth dealing, PTSD, familial problems, and grief – and sometimes it feels like too much stuffed into one romance novel. Additionally, while I enjoyed learning about cattle and cattle ranching, I wish the information had been incorporated more smoothly instead of via several info dumps that occur under the guise of Maddie learning about them. At times Maddie is unbelievably naive, such as when she is shocked at the fact that Arkansas has violence, and the big city girl meets country life was sometimes written stereotypically but other times her reactions were delightful and I loved that she quickly moved past her preconceptions and saw the life and the people for what and who they really were.
Although Maddie and Gideon are physically attracted to each other from the time they meet, their relationship builds slowly and then picks up steam after Maddie helps him through a PTSD attack. Initially Gideon tries to talk Maddie into a fling and she refuses; later when decides that what he really wants is a relationship, it occurs abruptly. I kept wondering what I'd missed. But, they work well together and they respect each other and their scenes together spark.
Maddie's Choice is a love story, a story of forgiveness, and a look at what really matters and the choices that we make. The more I read, the more I was drawn in and I ended up staying up late to finish. Maddie's Choice was an enjoyable read and a sweet romance.