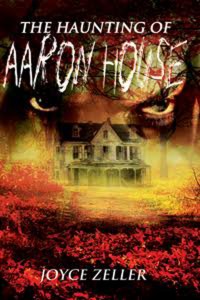 The Haunting of Aaron House Review – Amazon
By LAS Reviewer
Some ghosts are kind and friendly. Others, not so much.
The setting was deliciously frightening. I was especially fascinated by the narrator's description of the house Samantha and Paul rented. I've seen houses with similar designs in real life, and they've always made me shiver. There's something inherently creepy to me about squishing more than one architectural style into the same building, especially when so little care is taken to blend them together in any coherent manner. It seems to give a house more than one personality, and those personalities don't always mesh well with each other.
There were far more reasons for these characters to abandon the old farm house than there were for them to stay there. The warning signs popped up so early in the plot that I had a hard time understanding why Paul and Samantha didn't decide to find a different place to live, especially since they were accompanied by their young son. It's certainly what I would have done if the place I was planning to stay made me as afraid of it as they were on their first visit!
Not every afterlife is a pleasant experience. One of the things I relished the most about this tale was how it explored what the afterlife was like for the ghosts that were connected to the farmhouse. Their backstories were explained early enough for me to understand why they behaved in certain ways but also late enough for me to build anticipation about what their lives might have been like when they were alive.
I would have liked to have more information about Samantha and Paul's marriage. The communication between them left quite a bit to be desired. There were times when I wondered how they'd stayed together for so long because they seemed to have so many problems telling each other what they were really thinking and feeling. It might have made sense for a brand new couple, but it felt odd for two people who are raising a child and who have been together for many years to struggle so much in this area.
The secondary characters were lively and colorful. Seeing how they interacted with the main characters as well as with one another was a highlight of this story for me. Their occasional eccentricities made perfect sense given the culture of Lancaster, the town where this all takes place. I wouldn't have expected anything else from this community.
The Haunting of Aaron House is a good choice for anyone who is in the mood for something romantic and paranormal.
***
5.0 out of 5 starsHaunting of Aaron House
By C. Bearss
The Haunting of Aaron House
By Joyce Zeller
The Haunting of Aaron House is mystery, horror, and romance all wrapped into one. The story begins as Paul Barlowe his wife, Sam, and their son Andy, go to Pennsylvania, to shoot a documentary on local history. From the very start you are thrust into the past to the tormented life of Amalie Broome and her evil husband, Phineaus, from 1867, whose horrific past becomes front and center along with the mysteries of her death and the haunting of the Aaron house. To survive, as well as to keep her family safe, Sam must figure out the past in order to keep it from destroying her present.
I knew this was going to be a good book, when I got chills just from reading the prologue. This author did a wonderful job of giving the reader a full book to read with details and emotions and made it creepy and entertaining all while doing so. The characters were lively and real and I was able to connect to them easily from the beginning. You get a great mystery to follow, along with nice little surprises along the way in the form of ghost sent out to guide our main characters, as well as a bit of fate dropped in now and then. For the romance lover in all of us, there is a small side story going on that you see bloom and grow before your eyes. It fits in with the story well and doesn't feel pushed or forced.
I am very excited by this author. I am not a big gusher when it comes to reviews, but this was such a good book, I loved it. I can't wait to find something new from her.
***
5.0 out of 5 starsThe Haunting of Aaron House
The Haunting of Aaron House kept my interest from the prologue to the epilogue. A documentary film producer, Paul Barlowe brings his wife, Samantha, and their teenage son, Andy, to Pennsylvania to shoot a documentary on local history of Lancaster County. They rent an old house originally built in the late seventeen hundreds and then a major addition in the mid-eighteen hundreds. Samantha Barlowe learns of horrifying deaths occurring in the farm house over a hundred and fifty years ago. Mysterious sightings, paranormal events and evil embodies the house according to local lore. The Barlowes will be drawn into these events that may affect their lives to a possible point of no return to their normal life.
The Haunting of Aaron House kept my interest from the prologue to the epilogue. There was bits of interesting facts and American history throughout the book. The characters are vibrant and some our transformed to a different consciousness due to adversity and/or amorous situations. There is suspense, mystery, horror and romance in this novel. All four are intertwined perfectly by the author.
I recommend this novel to readers of mystery, suspense, horror or romance. The reader will be in for an emotional roller coaster ride. Enjoy the read.
***
I got goosebumps more than once, reading this story about Sam, a woman with psychic gifts, and her encounter with the supernatural in a very old and very haunted house in Lancaster, PA.
Sam goes there with her documentary film-maker husband and their son. She is feeling very drawn there and is having odd dreams. She knows she has psychic gifts, but doesn't pay much attention to them because her husband, Paul, thinks any hint of the paranormal is rubbish. His consciousness is about to be raised. Mine too in many ways. I learned about documentary film-making, as well as Lancaster, Pa. I thoroughly enjoyed the side story about Penny. And a very sexy man. There's a dog too.
The story was beautifully written with a stunning sense of place and great characters. I loved them all. Well almost. You'll have to read it yourself to figure out who isn't deserving of admiration. All in all, I highly recommend this novel. If you like the paranormal, ghosts and spirits, then you won't be disappointed. It was, if anything, a little too realistic and scary at times, but left me with a sense of satisfaction, and admiration for the author, Joyce Zeller