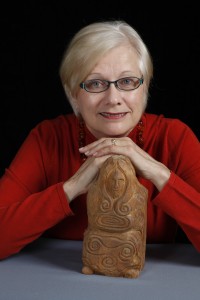 Karen with a carving depicting Sulis, the heroine in The Stonehenge Scrolls.
Represented by Jeanie Loiacono
In 2001, K.P. Robbins closed the Washington, DC, ad agency she founded, moved to Ireland and began to write her first novel, The Stonehenge Scrolls.
Before starting her own business, she was vice-president of advertising and promotion at Mutual Broadcasting and director of advertising and promotion for PBS. In her career in marketing, advertising and public relations, she had written scores of print ads, broadcast commercials, presentations, brochures, direct mail pieces and press releases. Plus she held a degree in journalism. So how hard could it be to make the leap to writing fiction? A lot harder than she thought.
She attended conferences and workshops, joined writing groups, studied, wrote and rewrote. In 2008 she began to be published: a memoir of Ireland in Seven Hills Review and a short story in the Appalachian Writers Guild Anthology. Her story "Resiliency" placed in the top ten in the mainstream/literary short story category in the 2008 Writer's Digest Annual Competition.
In 2009, WashingtonPost.com published her short story called "UFOs Are Welcome," a winner in the Post Magazine's annual fiction contest. The Anthology of Appalachian Writers published another story and invited her to read it at an event promoting the publication.
In researching The Stonehenge Scrolls, mainstream historical (pre-historical?) fiction, she studied books by leading archaeologists, visited Stonehenge several times and toured similar archaeological sites from the same Neolithic period in England, Scotland, Wales, Brittany and Ireland.
A draft of her second novel, contemporary women's fiction, is completed. She has begun a memoir about the year she spent in Ireland as well as research for another historical novel, this one set in California.
A graduate of West Virginia University, she lives with her husband in Harpers Ferry, WV.
---
The Stonehenge Scrolls
If you have ever wondered "how" or "why", this is the story that explains it all.
Published by Muse-It-Up Publishing Muse-It-Up Book Store  The Stonehenge Scrolls
Amazon  B&N  BAM  Kobo  Book Depository  IndieBound  Amazon CA   Amazon AU  Amazon UK  Amazon Germany  Amazon Italy  Amazon France  Amazon Spain  Amazon Japan  HPB        Powell's Books  Smashwords  IDreamBooks  FishPond  Copia  WH Smith  Scribd
The Stonehenge Scrolls Reviews
Although fiction, it has years of research and facts to back it up.
The story follows The Monument Builders and how they succeeded in constructing such incredible feats of art with only man and farm animal power, Mother Earth, and the elements. She opens our eyes to the emotional, spiritual, philosophical, and physical aspects of the endeavors.
Her style of writing allows you to "pass through the stones" to the time of their construction and into the lives of the people who dared to defy, nature, gravity, and physics.
This book explains so much of the stigma, dogma, and mysticism surrounding the structures, as well as the significance of where and why it exists. A true enlightenment.
"A fine saga, The Stonehenge Scrolls is driven by drama and tight, involving writing and is a pick for any who enjoyed Auel's 'Earth's Children' series and similar historical novels."
–Midwest Book Review
Loiacono Literary Agency is not responsible for the scheduling of authors, negotiations, or fees associated with the speaking engagements. You may contact the author directly to check availability@ info@thestonehengescrolls.com .