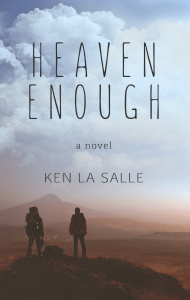 Heaven Enough
Heaven Enough takes you on a thought-provoking journey. Do we love enough, why do we make the choices we make and is there more or did we just settle into our life? Both engaging and entertaining Heaven Enough was the perfect book to curl up with on a rainy day. Just remember to have tissues handy.
---
A Strong Narrative of Redemption and Hope
By DE
In a journey of self-reflection, Ken La Salle asks the one question we never really ask in marriage do we really know the person we love most. In the heart-wrenching and sometimes comical journey of Matthew (Matt) Murphy, Mr. La Salle shows us through tragedy, anger, remorse, and grief one can find their soul and true purpose in life in the least likely places.
Following the death of his wife, Diva, Matt Murphy has more questions than answers. Did she kill herself or was it truly an accident? Why was Diva where she was? Was she meeting someone or planning an escape? These questions became an obsession for Matt at Diva's funeral. He sees people whom he has never seen before, has a confrontation with Diva's friend about how he did not acknowledge Diva's religious heritage, and his brother-in-law Neal is cool to him. When an elderly woman named Jessica explains Diva belong to their poetry club for almost four years and has him read a poem his wife wrote, Matt begins to wonder what else has his wife kept from him.
After a night of alcohol and mind altering drugs with his brother-in-law, Neal presents Matt with some disturbing information on Diva's desktop. Apparently, she planned a trip to do 2600 mile hike called the Pacific Crest Trail. Matt had no idea she wanted to do the hike or why she did not ask him to go with her. Anger, frustration, and guilt take over Matt so much he decides to do the unthinkable. He decides to fulfill her last wish and do part of the hike; thus beginning the arduous journey of self-reflection and physical endurance. From Matt's comical encounter at the hiking store to his obsession with technology, we see a desperate man's attempt for redemption. Matt's comes in the form of a 32-year-old woman, Heather, Matt meets within hours of his starting and his ultimate decision to quit the hike. Although Heather has her own reasons for completing the 2600-mile journey, she aids Matt in seeing the beauty of his surroundings while helping him face his own shortcomings.
Mr. La Salle's expressive-filled writing shows us the frailties of man's inner demons. His option to having Matt believe the worse in his wife without facts exhibits his true understanding of human nature. With the addition of some colorful characters, (Babette comes to mind) we see Matt's transformation from an angry, controlling, and somewhat narcissistic man to a man learning to forgive himself as well as others. Even with the unforeseen ending, Heaven Enough is a strong narrative of redemption and hope one should not overlook.
---
When I first started reading Heaven Enough, I was surprised at the introduction to the story. The first part is Diva's funeral. Ah, but it sets the stage for all that happens from there on out. La Salle does not disappoint. On the contrary, he entices you along with little bits of information that is more like Hansel and Gretel crumbs leading you to the truth, the crux of the whole story. Absolutely awesome writing that leaves you speechless. No, it leaves you muttering 'BRAVO!'
---
"What would it be like if I had heaven enough
The title for Heaven Enough and one of the opening lines of the blurb: "What would it be like if I had heaven enough?" confused me in the beginning, but as I read on it all came together.
Matt Murphy's wife had been run down by a speeding driver. The questions asked when the death of a loved one comes so unexpectedly, may bring to light things you never knew. We all have our secrets and when all of them are brought to light, we can wonder how well we really know someone.
Her brother, Neal, is a monk…but not that kind of monk. He kept saying that to Matt but would never explain further. Well, all kinds of warning signs went up for me and I took great satisfaction in being right. I saw what was in store for Matt and I guess he was too self-involved to see it for himself. I love trying to figure things out before the author gets me there.
It's funny, not funny ha ha, but ironic that a chance encounter could have such a life changing effect. Would you reinvent yourself if the opportunity arose?
When you read Heaven Enough, you will be walking "a mile" in Matt's shoes. Sometimes I wanted to smack him upside the head and tell him to man up and get over it, but his journey of guilt and regret turns into a chance to grow and realize the important things in life.
I like that the story was not lose a wife, meet someone new, and live happy every after. He struggles to make it through the day, and he is not the only one.
I probably would never have read this, except I love Ken La Salle's writing and would give anything he pens a try. The story did slow a bit in the middle, but now that I am finished, I find it added to a sense of reality. The details and information about hiking the trails and foraging for food and water were interesting and pivotal to the story.
Heaven Enough is thought provoking and reflective, bringing forth emotions of sorrow, guilt and, most important, hope. We never know what tomorrow brings, so never give up. It has a touch of religious intonation, but it never got preachy or bothered me in any way. Just seemed to fit right in.
OMG. I sure did not see this one coming and I was shocked, stunned. Then…the ending. Oh man, it caught me so off guard I sat with my mouth hanging open. My emotions ran AMOK as I tried to write notes for this review. I am at a loss for words and cannot express how amazed I was at Ken's writing and where he took the story. Excellent job, Ken, even though I am a bit pissed off at you!!! I NEVER saw that coming. A heartbreaking and uplifting novel that I cannot recommend strongly enough.
This is a book that will stick with me, reminding me of the time I was questioning what was most important to me. I found my answers. Have you?
Thank you, Ken, for asking me to read Heaven Enough! I LOVE, LOVE, LOVE it!
---
I had never heard of this author or book before I was offered the opportunity to read and review it. The "hook" for me was that the wife was a poet, which I have been since the age of ten. On that connection alone, I chose to give this novel a chance, and I am very glad I did.
This book is powerfully written and is very inspirational. It's a beautiful, clever story. Most of the story takes place on the Pacific Coast Trail, where we begin to see a transformation in Matt. There are surprises for the reader, and for Matt along the way. This is a tale of love, romance, sorrow, grief, regret, humor and more.
The ending was very surprising, but one that made a great deal of sense upon reflection.
---
Moving, touching and beautiful. Loved it!!
By Virginia C.
Have you ever read a book that sort of came out of nowhere for you and you are so glad it did? A book you never heard of and no one you know has read? A book you loved and can't believe more people don't know about? Heaven Enough is one of those books for me. I had never heard of it or the author, Ken LaSalle, and then I was asked to review it for Stephanie's Book Reports and here I am recommending it to all of you because I really believe you will enjoy it. I know I did.
Matt's wife, Diva, passes away and Matt realizes that perhaps he didn't know her as well as he thought he did. He is left with so many questions surrounding her death and about who she really was. After finding information on her computer about the PCT (Pacific Crest Trail), Matt decides to hike the trail thinking this is what Diva would have wanted. What he actually learns about himself and his marriage and how he grows as a person while on the trail is remarkable.
Heaven Enough is moving, inspiring and powerful. It's well written, poignant, and beautiful. As well, it's very clever and witty. It will make you think. Ken did a great job with the storyline- there are quite a few surprises and twists I never expected; it's very creative. There is love, there is romance, there is sorrow and grief, there are so many emotions. And there are some great characters in the book that will really touch you- from Heather, to Neal, to Babette- they all are excellent additions to the story.
Heaven Enough is unlike the books I typically read but I am so glad I read it! I highly recommend it. Take a chance and read it- you won't be sorry!!
---
By K
I received this book in exchange for an honest review. I was really surprised by this book. I was instantly hooked into finding out the why and how of Diva's death. But this story was more than that, it was almost like a coming of age tale for Matt. The author, Ken is a great storyteller and Heaven Enough is very well written. The ending was surprising, yet to me perfect for the story. I recommend this 4.5 star book to anyone who likes a story that's powerful and endearing. It'd be a great weekend at the beach read.
---
An engaging, thought provoking, and well written story.
An engaging, thought-provoking, and well-written story. Matt begins as something of a stereotype (a boring accountant). So the decision to hike the PCT is completely out of character, and yet, because of the shock and grief and guilt he feels over his wife's death, it seems to make sense.
Most of the story evolves on the trail. I recently watched the movie, Wild, which also features a journey along the PCT. Although the trail does change Matt, this tale is quite different from Wild. I never quite knew where Matt's journey was going to lead him, and the ending was surprising, sad, and yet uplifting at the same time. The only criticism I have is that Matt's stuffy accountant personality is overdone in places, but never enough to make me consider quitting, and nowhere near enough to stop me from recommending the book.
Ken La Salle's writing is easy on the eye and the book is well edited. Although it doesn't strictly fit in any one category, there are elements of Romance, Literary Fiction and Inspirational writing in this book. If you enjoy any or all, I think you'll enjoy Heaven Enough.
---
Love it. Would recommend to everyone.