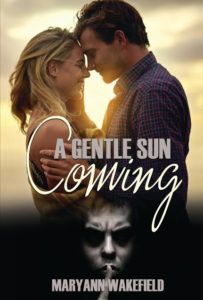 Kade could be any woman. What would you do if a drunk driver killed your whole family? Kade lost it and wanted to be with them. It was not meant to be. When God is not finished with you… But as the old saying goes, "Everywhere you go, there you are." Kade tries to escape this life in more ways than one, but ends up living next door to a psychopath. Talk about from the frying pan to the fire…and she hasn't a clue. Maryann does a great job with weaving an intricate story full of emotions — sorrow, fear, love, desperation. I am looking forward to reading the sequel.
***
I enjoyed this book so much. The characters all come alive, and I found it hard to put it down once I started. Hope there will be more books by Maryann – a talented storyteller!
***
I couldn't put this book down. I finished it in 2 days. It had such a wonderful balance of romance and suspense. I hope you will write more books maybe even a follow up to this one.
***
I want more! A Gentle Sun Coming touched every emotional nerve. I wept, laughed, cheered and my heart raced. Wakefield can write a good love scene! At times, you scream, "No! Don't! Run!" I want more! When is the sequel coming out??
***
Intoxicating!!!!, By Mshro
This book was beautifully written. It has a series of emotions that you can't help but experience with the characters. I recommend this book highly and would even call it a "page turner". The suspense will keep you on the edge of your seat. A great love story and murder mystery wrapped in one.