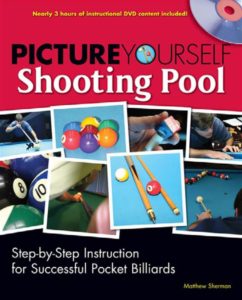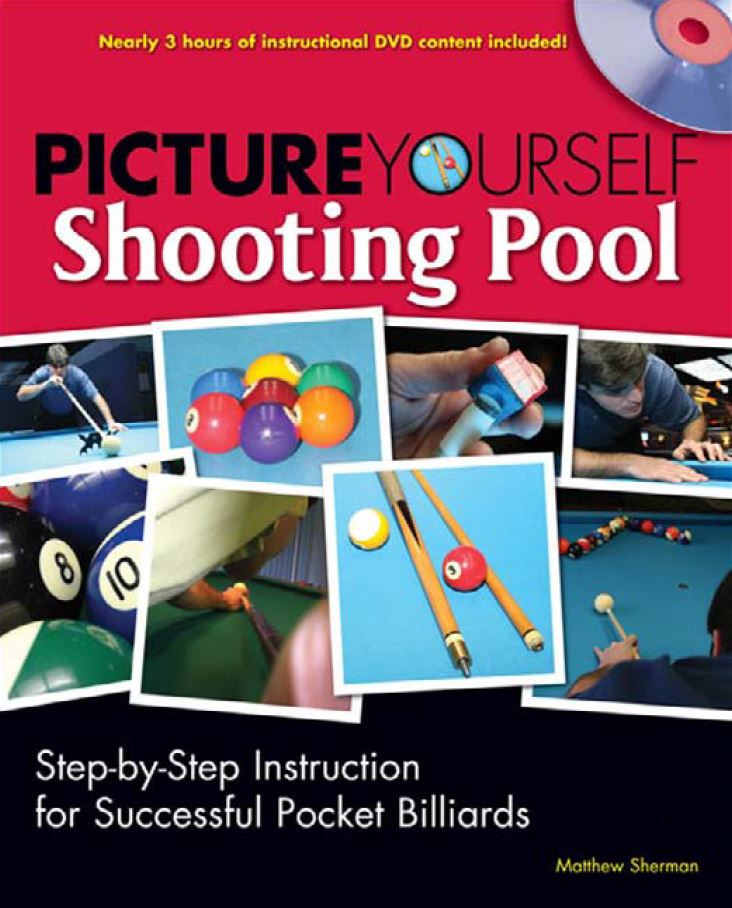 Picture Yourself Shooting Pool Amazon Reviews
Picture Yourself Shooting Pool Like a Pro Reviews
"I've read several books on pool, and for their time, they are good. But this one blows them all away, and I'll tell you why.
It's modern. Beautiful, color photographs and up-to-date terminology and techniques.
Sherman deeply cares about pool, its history, and wanting the industry to succeed. He's a true student of the sport.
It's unbelievably thorough. Sherman goes into great detail on every aspect of the game you can think of. No stone is left unturned.
Conversational tone. Sherman's writing style is like he's having a sit-down conversation with you, and it doesn't read like a manual or an encyclopedia. The book is easy to read and you'll find yourself not wanting to put it down.
The DVD. The DVD is worth the price alone. It's like a video tutorial on everything he teaches, and it's very well done.
This book really has no weaknesses. It's complete, thorough, and contains everything you need to know about pool. This the Billiards Bible, so if you're going to buy one book on pool, THIS IS IT."
Dino, Amazon Reader/Reviewer
~~~
"I recently took up pool seriously in December because I wanted to learn the "right" way of the game, and not just hitting/banging balls around occasionally the way I had been for years with very little success. That started my search thru many books, online instruction, other players' VHS tapes and DVD's to watch, etc. etc. Nothing compares to "Picture Yourself Shooting Pool Like a Pro"…. nothing. In my opinion, especially being a "beginner" again, not knowing anything about the best way to learn pool, this book and the DVD that comes with it are the best teaching tools I have found – and I've spent a good deal on teaching tools at this point. In fact, I found it better than the 2-hr pro instruction I paid for. The author's writing style is a bit humorous, easy to read and the author makes sure we (the readers) understand everything he's explaining – that is, it's not written for only Pros to understand – although Pros will indeed get a great deal out of it as well. In fact, the author cites many ways that "pros" do things and would fare better doing it the way it's explained in the book. It's written for all levels of pool from beginner (me!) to pros. I especially loved the "gift" of the DVD!!! It follows the book and I found it so helpful to actually "see" the instruction being explained and done by him. I would very much welcome and purchase a future pool book from Matt Sherman. In the meantime, I continue to re-read the book as I continue improving, and re-watching the DVD too!"
Mia, Amazon Reader/Reviewer
~~~
"I'm a pool player that picked up a cue stick and started play, getting advice from some people every now and then. I didn't realize until I read this book how many things I needed to change and fortunately they'll be easy to correct as I have not played very much over the years, just an occasional game with friends. Now I'm in a pool league and I have to improve my game and correct the mistakes. This book gets right into the subject matter and lets the reader grasp the concepts put forth in an easy and relaxed, and not too technical, manner. The video is a follow along guide and I found that reviewing the video first helped me understand the text better. The two go well together and I highly recommend this book for the occasional pool player that wants to improve their game. Most of the professional know this material and it seems to come natural to them because of 1,000's of hours of practice. But for those that play once or twice a week or less, get the book and start practicing what you're told to correct."
Golden Web Colorado, Amazon Reader/Reviewer
Having played (figuratively) pool with neighbors, I had to have this book. Holding the cue the correct way and chalking it every time makes a BIG difference. I will take this book with me next time for all to reference. Should be sold with every pool table and be handy at every pool hall. Sherman is a PRO!
— CJ Loiacono