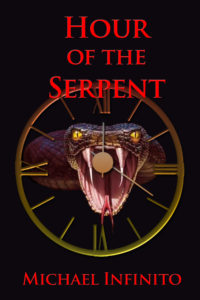 Hour of the Serpent Amazon Reviews
Best horror/thriller since IT by Stephen King!
Hour of the Serpent is absolutely the best horror/thriller I have read in 30+ years. From the first paragraph to the last, he had me glued to the couch and turning pages. Holy smokes! You really do not know what will happen next, and then when it does, you are gasping. Infinito has a way of pulling you into the story; making you feel the sweat trickling down between your shoulder blades. I highly recommend this and his first that I read recently, A Wish to Die For. MORE! MORE!
Hour of the Serpent was a terrifying book. It is not a book you want read at night when you just want a few pages to make you sleepy. It literally gave me nightmares.  Nothing Steven King wrote holds a candle to the terror in this book. It just shows how easily it is too be deceived in the vilest way. It truly asks the question, "How do you tell good from evil"? The author will have a hard time topping this one.
Barbara Collins, independent reviewer
This is the first book in years that I have started and finished in one day. The character development was amazing, and the twists and turns kept me turning the pages eager for more. I will definitely keep my eye out for more books by this author.
Well-Plotted Christian Horror Yarn
By B.F. Spink
Lots of things I liked about Hour of the Serpent, and I'd have given it five stars if not for a high number of punctuation errors (an editor needs to be replaced). The plot drives along with little interruption, and with Evil taking center-stage throughout the story, don't get too attached to the characters; many of them meet unfortunate (and grisly) ends. Man of these result in "I-didn't-see-that-coming" plot twists, which is the main attraction for this fiction reader. I don't want to give away too much about the focal character, J.C., but once his full identity is revealed, the plot speeds up with the stakes raised dramatically. The characters are credible, especially protagonist Tom Drayton, who becomes a reluctant hero, but even he gets an unexpected plot twist at the end. All-in-all, this is one of those Good vs. Evil reads, and at the end we're left to wonder if Good winning this battle was enough, or if there's a 12:20 in Michael Infinito's writing future.
By Elizajen
Judging by the reviews, I wasn't sure which way to go, but I figured for the price, I'd give it a try. First off, let me say that if Amazon allowed me to split stars, I'd probably go with a 4.5. I found the novel gripping, twisty, and hard to put down. You have to enjoy the King/Koontz genre (as I do) in order to appreciate this one. There are some raw and shocking parts, but overall, the book sends a good message. If you're looking for artsy sentences and perfect editing, this one might not be for you. But if you enjoy a well thought out story line, I'd certainly recommend it.
By Tony Pedroza
The book starts off well and engages the reader to continue reading, however at times felt childish and almost too fiction. The sex scenes were awkward and abrupt and the author's choice of words in certain aspects just seemed plain odd. Overall if you're into religion (which I am not) you will more than likely enjoy this book. The battle between good and evil is evident throughout the entire book.
By Kelley Barry
Infinito immediately draws you into this excellently crafted story and keeps you there the entire ride. The reader is systematically introduced to characters who are layered in a way that makes them creepy, yet temptingly believable. Infinito then immerses them into an idyllic Americana setting, with a patent familiarity that ushers his readers into its direct citizenship, making it impossible to put the book down. Hour of the Serpent was smooth, gripping, and real enough to be genuinely frightening. It's one of those story lines that will always be lurking in my shadows.
Too Scared to speed through it
By Darsden
I have been a fan of Michael Infinito, since finding him in the blog world. (I knew him when) He is extremely creative and entertaining in the way he writes. This first chapter, very first page has scared the daylight out of me. I would recommend him to anybody that wants to be scared to death.
I look forward to many more scary and entertaining books from Michael Infinito and really looking forward to the day they make a movie out of one of his books.
Geaux get your read on!
By Teri
This book was fast paced, entertaining, and all out creepy. Just what I expect from Mr. Infinito. I was not disappointed and look forward to his upcoming novels.
Not your typical good vs. evil . . .
After reading Michael Infinito's debut novel A Wish to Die For, I was looking forward to reading additional books by him. Hour of the Serpent was the next in line and it certainly did not disappointment. I was hooked almost immediately after starting the book. This is not your typical will good win out over evil. This books has it all great story line, horror, suspense, characters that you can relate with and lots of twists. When I finished the book I can honestly say that I was a bit scared and had to remind myself that it was just a story. As I said in my review of Michael's A Wish to Die For, I am not usually a suspense/horror reader but after reading these two books I am thrilled that I stepped out of my comfort zone and read these books. Looking forward to reading more from Michael Infinito.
By ChiTown Girl
Michael Infinito is a GENIUS! Hour of the Serpent will keep you on the edge of your seat. Just when you think you know where the story is headed, it does a hairpin turn that makes you gasp out loud. The spiritual element to this story just gilds the lily.
Hour of the Serpent is a MUST READ!
Easy to read, spellbinding, you won't want to put it down. Unexpected twists and turns. Up and coming author. Excellent!
By Gypsy
If you are a Stephen King fan, or if you like scary books, then this book is for you! It is well written with believable characters that you will be cheering on to kill the evil J.C. Will the good win over the evil? Will the world survive? You must read Hour of the Serpent to find the answer!
By BVpattikay
From the first few pages, this book scared the daylights out of me and I loved it! It kept me guessing and had me wondering where the good vs evil would end up. This was terrific storytelling. If you like a good horror story, this book is definitely for you. I highly recommend Hour of the Serpent.
Hour of the Serpent was labeled 'horror' and it lives up to the promise. Infinito writes a different point of view for the battle between good and evil, not explaining too much, so the reader isn't really sure where the bad guys are hiding until Michael is ready. By that time, you're going to just be peaking for one more page to see where the story really goes.
Hour of the Serpent is particularly scary on various levels. There was a time when I was ready to say "Too much." and quit reading, but that seemed like a cop-out for the characters who had to stay and either live with their fate or change it. I don't usually choose horror but am lightly acquainted with the author, so when he brought up the possibility of a review, I figured it would be good just to see if this guy had something going. It would all be measured on story flow and editing, not comparison with other horror writers.
The book intends, IMO, to test the reader's spiritual depth and maturity. Infinito makes no effort to make evil even moderately sympathetic; good has a real battle on the various levels of heaven to win out. So, where are you? Hour of the Serpent is not for the faint of heart. A scary, spiritual book that isn't written by or to be read by goody-two-shoes. The profanity and prurient parts would warm the cockles of a gangsta's heart. But the story is there and it flows through the crevasses of terror in proper order.
So, thank you, Michael, for asking me to review your book. If you hadn't brought it up, I wouldn't have come to the party.
By JewellCart
This novelists and storywriter has come up with some exciting books. This one is for anyone who enjoys reading, mystery and horror!
It will hold your interest from start to finish. I Recommend that all you readers, just check it out! You will really
want to read it all in one day! OR less! Way to go Michael Infinito, Jr.
Shocking twists and a rip-roaring suspenseful read
In his second novel, Michael Infinito does not disappoint. Hour of the Serpent is a page-turning, suspenseful read with a very intriguing premise. This was a book that I simply could not put down. Infinito keeps the pace pretty breakneck. This book is filled with shocking twists and turns that you'll never see coming. Several times I found myself gasping audibly and having to pick my jaw up off the floor! Just when you think you've got it all figured out, the book turns everything you know on its head. These are my favorite kinds of reads. You won't be able to sleep after you've read this–and I think that's a sign of a great writer. Atmospheric, creepy, and pulse-pounding! Don't miss this one!
By Jeane
It took me a while to get into this novel, as I thought it was a Christian novel, which I don't like. But I accepted the basic premise of good v evil and persevered, but it was hard. It's not very sophisticated and reads like an airport novel, which is fine if you want something trashy but I was hoping for more. It is scary in parts – and gory – but gets increasingly ridiculous which really tried my patience. I was glad to finish this.