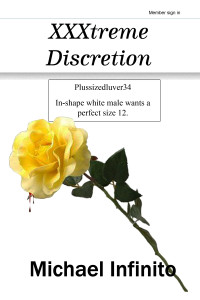 TITLE INFORMATION
XXXTREME DISCRETION
Infinito, Michael
Black Opal Books (328 pp.)
$12.99 paperback, $3.99 e-book
ISBN: 978-1626942417; February 24, 2015
BOOK REVIEW by Kirkus Reviews www.kirkusreviews.com
A psychopathic serial killer who finds his female victims on a hookup website meets brutal justice with the help of a
ghostly boy in this paranormal thriller.
Dwight Barnes, 36, a psychopathic serial killer, likes to cruise the hookup website XXXtreme Discretion to find his  victims. Using handles like Plussizedluver34 and Lovemlarge36, Barnes hunts targets on the heavy side, unable to stop until he finds a perfect size 12. His "dream girl" must also wear a yellow dress, which he will use to clothe his dead beloved, whose rotted corpse he French-kisses in a coffin in his basement. Unfortunately, the insecure women he meets online tend to lie about their weight. When Barnes, the wealthy owner of a New York–based accounting firm, discovers their dishonesty, it triggers outbursts of lust and violence that will leave some readers queasy. (A meat grinder and a hungry dog come in handy.) But screams are futile in the dungeon of Barnes' remote hunting lodge in Pennsylvania. That is, until Monica Ross, a Roxbury, New Jersey, detective, sees that several missing women bear striking similarities. As she zeros in on Barnes, a ghostly boy appears in front of her car in a dark tunnel. As the boy lays in a coma in the hospital, his disembodied voice in the minds of key players will ultimately lead to the killer in a ghastly climax. Along the way, Infinito (The Secrets of Hallow, 2014, 12:19, 2013, etc.) plunges readers elbow-deep into scenes of gore and torture. He also deftly "brings to life" the corpse, which, Son of Sam–like, directs the killer's moves. Though well-paced, the novel's tone sometimes wavers: "Raised by an abusive father who spent more time fucking him in the ass than teaching him about life, Dwight never thought he'd learn how to give his heart to another person." Some readers will also shudder as children are maimed and murdered. In short, this page-turner is definitely not for the faint of heart. Flashes of Psycho on a ride through the gruesome landscape of a corpse-obsessed serial killer, with supernatural boy as hero.
---
From the first page on, XXXtreme Discretion has you reading deep within the lines, trying to figure out what is going to happen next. You scream NO!!! a lot and then get the most unexpected. Michael Infinito is really the next Stephen King. No matter what he does, it seems to never be what you think, and he always holds you to the last word. I am so glad I am married and don't have to think about internet dating. This is a DETERRENT for sure. For those out there who are scouting for a mate, BEWARE of internet dating. OMGOSH! This really does happen.
---
Riveting and unpredictable
By Lisa Prodorutti "Voracious Reader" (Pennsylvania)
I loved this book. It had a great serial killer/detective mystery story to it but also the horror/paranormal elements that make Mr. Infinito's work so compelling. It is extremely gritty and fast-paced. What I love about Infinito's work is that he is never predictable. He always manages to shock which is extremely hard to pull off. A seasoned reader sees most everything coming but in this one, there are a lot of things you won't see coming. Extremely riveting, a nail-biter to the last page with a killer so creepy he makes the Silence of the Lambs killer seem mild by comparison. Really awesome stuff!
---
Another excellent thriller
By Gerald Partsch (Manassas, VA, US)
Michael Infinito has produced another excellent story that you will be compelled to finish before you can put it down.
Anyone who enjoys the works of Stephen King will enjoy this book.
---
This is a well written book. From the moment I picked it up I could not put it down. I read the entire book in a day. I took only a break to cook. Oh, my goodness…chilling, captivated and downright scary in some part. Some parts a little too realistic and could make you shudder so realistic .It made it an excellent book. I grew attached to the characters (the good ones). I wouldn't mind at all if the main character continued in another book. Michael Infinito wrote in a easy understandable way and which made the book just flow. So, much that again I had to start and finish in a half of day. I burned the midnight oil to finish it. There were parts in the book that you just weren't expecting so, hold on. I would highly recommend this to those who like to be on the edge of their seats while reading and keeping an eye peeled…… just in case! Fantastic Book!
---
This book had me riveted to the couch. It took my breath away quite often. I had to stop a few times because I could not handle what was going on. The descriptions and the words had me enthralled. It is an absolute page turner. Definitely not for the weak at heart or stomach. Yet, I read it anyway. Then still wanted more. So, take a peek, if you cannot handle it; put it down…you will continue to read it…you will certainly want to know.. Thanks to Goodreads and the author for the chance to read and review this book. I will look forward to reading more by Michael Infinito.
---
5a great story with a share of horror
By D Cook
Mr. Infinito has done it again, a great story with a share of horror, paranormal activity, mystery and suspense. Once you start reading you won't want to put it down. Anyone who uses a dating site beware of who you choose or who chooses you. Mr. Infinito has a great imagination and is a master story teller. I have read all of his books and have found them all to be well written, great stories. Can't wait for his next book.
---
By Ellen
MY. GOD. That's all I have to say.