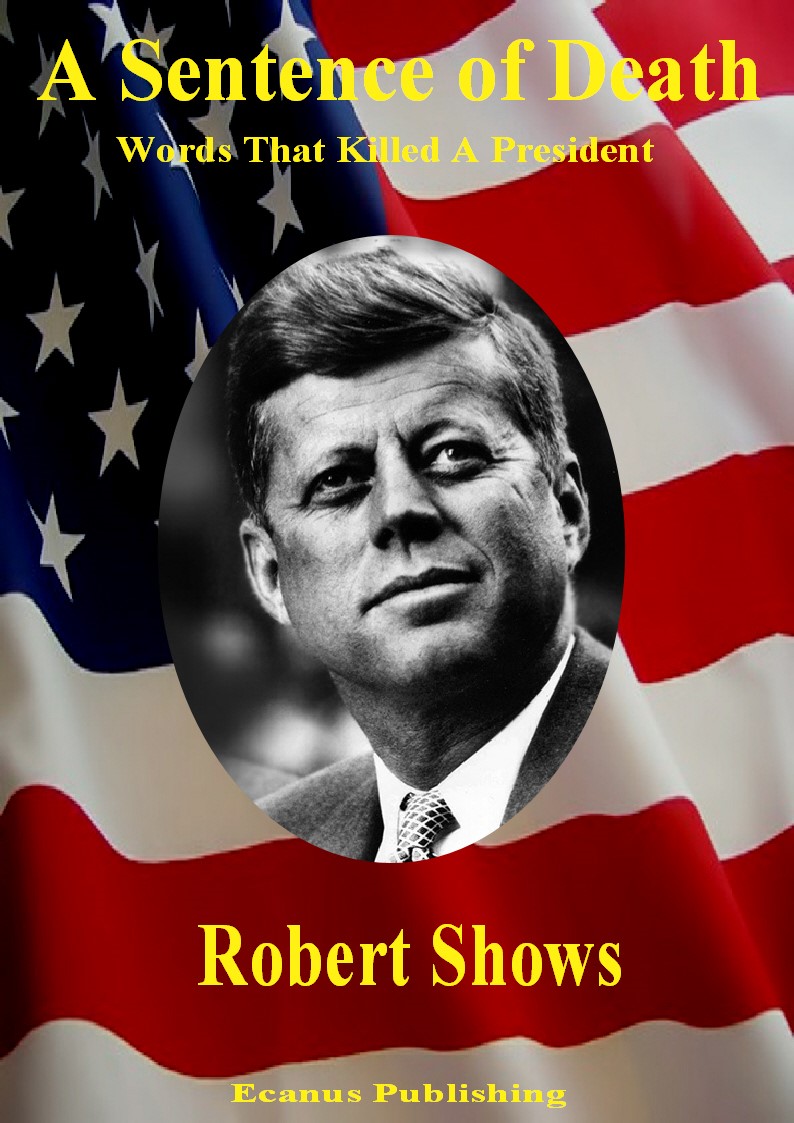 By Jeanie on April 4, 2013
Format: Hardcover
As this is the year of the assassination of JFK, there are books, documentaries and re-showings of movies depicting the event. I have read and watched and pondered all the scenarios, but this is the most believable ever. After 25 years of research, Robert Shows has woven an intricate web of deceit, cover-up and chains of murders. I COULD NOT put it down. You have to read until the last word runs through your brain, then you want to go back and look up the details and Google the facts. It is all there and it is so plausible.
Hats off to Robert Shows. I want MORE!
***
By Gerald L. Taylor on June 17, 2012
Format: Kindle Edition Verified Purchase
Excellent reading!! I was a freshman in high school when President Kennedy was assassinated. This book revealed historical facts and then took you on a journey behind the scenes of maybes….. I felt I was on the outside looking in as the story unfolded. Being from the South, I was able to relate to almost everything in the book….New Orleans, deer camps, Vicksburg, and even the road trip to Washington. Not only is this an EXCELLENT BOOK but it would be a THRILLING MOVIE!!!!!!!!
***
By GeeNorm on August 7, 2012
Format: Kindle Edition Verified Purchase
I am thoroughly enjoying this read. Who doesn't have theories about the Kennedy assassination? The characters are well developed and very believable. The complex plot elements are skillfully interwoven. Since I am still 20% from the end I can't give it away, but that's OK because you really want to read this one yourself.
***
By pitcher on January 5, 2013
Format: Kindle Edition
Really enjoyed the book. Finished in two nights and would recommend this for any interested in JFK. Very informative and really makes you think.
***
By joypotts on September 14, 2012
Format: Kindle Edition Verified Purchase
Awesome read. An ultra-credible conspiracy theory, especially to a 60's young person; then, the development of flaws in the conspiracy cover-up and the chance convergence with the Kilmut family; pure "white-knuckle" excitement as the plot builds to the climax. Extremely well written: Dr. Shows exhibits a knowledge of history, medicine, people, travel, and places. Especially enjoyed the Kilmut's New Orleans trip.
***
By ~erica on September 6, 2012
Format: Kindle Edition Verified Purchase
Great read! I thoroughly enjoyed this book. It was my first "digital book purchase" and I was very pleased. The story is laid out in a very systematic way, but there are enough twists and turns in the plot to keep you glued to the pages. I read this both on my computer and my smartphone. It was a relief to know that it kept track of where I was in the story and I didn't have to "find my place".
Very well written tale. I highly recommend. It is absolutely worth purchasing.
I hope they make it into a movie!
"Things are not always what they seem." Phaedrus, Fables, 1st Century A.D.
***
Polly Marshall's Review of "A Sentence of Death"
By Polly Marshall on April 3, 2013
Format: Kindle Edition
A Sentence of Death: Words that Killed a President (Robert Shows, Ecanus Publishing, 2012)
Another book about the assassination of President Kennedy is apt, for anyone living that awful November day, to produce the yawn factor; not so the version of that event and its aftermath in Robert Shows' novel A Sentence of Death. I have no idea about Dr. Shows' ability in the emergency room, where he practiced for many years, or in his medical office where he still holds forth, but I can testify to his ability as a writer.
This doctor can write, and if you are a fan of the character driven suspense novel, then this history-laced book is for you. It is a page turner, and even though I still can see in my haunted vision the events of that day in Dallas, as I was reading the pages leading up to the sound of the gunfire, I still hoped that someone or something would intervene. The story does not end in Dallas, however, but extends over a period of almost 25 years and finally in Vicksburg.
In between, the reader travels to New Orleans in prose so vivid, you'll want to call and make reservations, to a Davis Island camp in the Mississippi, precious to southerners whose sense of place contains the acknowledgement of evil in our most loved places. This novel is global, however, for those who like to look around and meet interesting characters wherever you are.
The premise that Kennedy's assassination was set in motion by an off-hand remark by the then Assistant Director of the FBI might seem slim, but so were the many ideas of a conspiracy that ultimately destroyed many other lives. That we, after so many years, still argue about conspiracies and cringe when we hear the words Dealey Plaza, certainly shows the power the assassination still has to haunt us. And in this novel, the realization, that one assassination calls for another and another so that no witness can be left behind, says something vital about the perpetuation of any evil act. The easy disregard for human life mirrors today's society and will leave the reader breathless with fear.
The strength of this book is in its characters, all people we have met or think we know: ruthless politicians, hungry for power and filled with such hubris, the arrogance of their crimes against the country and its people seem today taken right out of the news. Mafia figures and people on the fringe who feel a type of misplaced devotion, the Jack Rubys among us, we've learned to live with in a sort of hopeless resignation. But characters in this work, living with regret and remorse after one ill-fated decision and who ultimately have to pay, can still draw from us a knowing sympathy.
And there are the ordinary people, trying to keep marriages together and friendships secured and children safe who grace this extraordinary novel: characters who go about making the movements of life with no idea that they will be thrust into violence but who exhibit courage and skill beyond their own imaginings when confronted with people from our worst nightmare. That the main character is an emergency room doctor will not be lost on us, we who long to be the hero of our own adventure.
So find a place where you won't be disturbed and start reading. You will love this book.
The author had a book signing at Pentimento, my favorite bookstore, on Saturday, March 30.