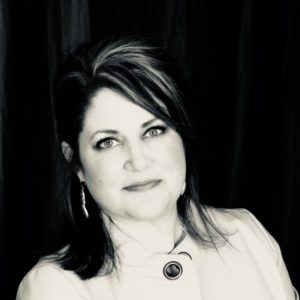 Syd Young  Twitter  Instagram  Facebook  Syd Young Events  Syd Young Media
Syd Young is a lawyer and an award-winning published author and audiobook narrator from the Lone Star State, Texas. This is her first novel. She is a member of Historical Novel Society, Historical Writers of America, and the Writer's Guild of Texas. She has written a book review column for the Paris News since 2010, participated in the Lone Star Book Blogger Tour, wrote a monthly column for Paris Life Magazine and "Inner Landscapes: Writers Respond to the Art of Virginia Dehn" (2013), has been a reading advocate for Lamar County, and is a frequent speaker for inspirational, reading, and non-profit organizations.
As a narrator, Young performed for two audio novels: The Big Inch by Kimberly Fish (Historical Fiction, WWII Texas) and Time and Again by Nancy Fraser (Time Travel/Romantic Suspense).
In the dramatic arts, she has directed Shakespeare in Love (2019), Inherit the Wind, Vagina Monologues, and Five Women Wearing the Same Dress. As an actress, she was "Madame Thenardier" in Les Miserables at Paris Junior College, "Mame" in Mame; Truvy in Steele Magnolias, the Baker's Wife in Into the Woods, "Adelaide" in Guys and Dolls; "Rosie" in Bye, Bye Birdie; and "O-Spot" in Vagina Monologues for the Paris Community Theatre.
During this time, Young graduated Magna Cum Laude from Texas Tech University School of Law and Cum Laude from Wayland Baptist University in English Literature and was also a briefing attorney for the Fort Worth Court of Appeals 1992-93.
I am Houston was the 2017 2nd Runner Up in the Odessa/Permian Basin Writer's Contest.
________________________________________________________________________________
I am Houston (available for acquisition)
In 1809, Cherokee Territory faces obliteration within the heart of the Louisiana Purchase as troubled teen Sam Houston foresees a demise of his own. In desperation, he seeks refuge among the Cherokee, where they transform him into a man, warrior, and statesman. Better yet, they capture his heart, including young Diana Rogers.
When the War of 1812 erupts, Sam is propelled to near suicidal glory, while at the same time his tribe — his new, accepting, and trusting family — is broken under General Andrew Jackson's post war removal treaty. Helping them relocate without loss of life, Sam rises in stature until he is Governor of Tennessee and disaster descends. His only escape is to his tribe in New Indian Territory (present day Oklahoma), yet he fears they'll reject him due to his role in their trail of tears. But what happened to them since then is far worse than he imagined. He determines to help in any way possible and make a new life within their fold, and also with Diana. Enemies question Houston's true intentions, such as debating why Houston, a General, is so near chaotic Mexico's Texas. As external and internal pressures escalate, he must finally stop running and declare who Sam Houston is and for what he stands.
Based upon the true story of a hero who first failed, I am Houston will be loved by readers of Beneath a Scarlet Sky and The Last of the Mohicans. Shedding light on Houston's forgotten Cherokee tribe and the unpopular stand he took for them, I am Houston forecasts Houston saving Texas from Santa Anna with the war cry "Remember the Alamo!" and later resigning as Governor rather than bowing to the Texas secession vote.
Loiacono Literary Agency is not responsible for the scheduling of authors, negotiations, or fees associated with the speaking engagements. You may contact the author directly to check availability @ info@sydyoung.com.