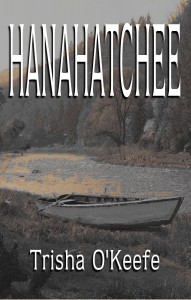 Hanahatchee by Trisha O'Keefe
A South Georgia murder mystery that spans both past and present, across racial divides ever present in Southern heritage.  There is nothing that better describes the legal system in the South.  The characters are so well described that they are probably still alive and well way down south.
Barbara Collins – Independent Reviews
---
A neighbor isn't always a friend.,
By JudyAnn Lorenz "cherokee1234" (Ozarks of SW Missouri, United States)
Set in a golden time between the recovery from the Great Depression and the Murmurs of World War II, the quiet South Georgia country is rattled by murder…again.
Trisha O'Keefe's smooth delivery of a hometown story is more than a typical who-done-it. The question of who-done-it is well hidden and worth reading steadily to learn. I hope you will like the presentation of the story from a newspaper reporter's point of view as much as I did. The news room environment is realistic. The dogged need to get at the truth and facts that are part of a journalist DNA provide a stimulating vehicle for the multiple plots that are entwined to keep the story maze a tight one. The flavor of the culture in the south in 1938 is well-played. Racial differences and some class differences seem painful to watch as we hope we've moved into a more tolerant and wise state of mind. I appreciated the description of cars, roads, housing, sports and social events of the era as added spice for the story.
I really enjoyed this book — spent time reading it when I had other chores to do, but just wanted to get one more twist untangled before I put it down! A delightful labyrinth of connection and support. "We're family." comes from different directions at the right time. The real friends are a surprise.
The story touches painful points in the lives of the characters in terms of race, family acceptance, sexual abuse, murder scenes, and crime, yet the ethics, honor, family solidarity, and community respect triumph. There are moments — tender, humorous, terrifying. These little lights make the story a great one. Other reviewers have written about a bit of 'contrived plot toward the end' and I guess that is accurate. Problematic characters are wrapped in little packages of closure. They aren't the real grist of the story mill; other readers want these characters' condition addressed and prefer a neat wrap-up/epilogue.
I don't want to give you too many details in a typical book review, but I highly recommend that you follow Jordan Tanner as he seeks justice for the innocent. Walk with him page by page and don't cheat yourself by peaking at the end!
I really hope that Trisha O'Keefe has another novel of this quality in the works. I will be reviewing the book at GoodReads and Ozarks Mystique
---
Better than The Green Mile. That says a lot.,
By Carla J. Pantelakis "CJP" (St. Simons Island, Georgia)
Trisha O'Keefe reels you in from the first sentence and does not let you go. I see John Cusak as Jordan and possible Morgan Freeman as Charlie. It is amazing that all this is based on an actual case. It is hard to believe such things went on and were swept under the rug.
This is the best southern fiction I have read all year, and I read A LOT.
Do it again, Trisha! I want more!
---
well written, and enjoyable.,
By G. Klaproth "BMW Rider"(Canton, Ga)
Characters I liked, and a story line which was both well thought out and fun to read. I recommend highly.
---
Wonderful read,
By Sandi
Introduction said fiction but plot, area characters very real and totally believable. Very well written. Could not it down. Great.
---
Worthwhile Read,
Although the background plot toward the end got a bit contrived, the book was saved by the value of the story (much like "To Kill a Mockingbird"), and by the well-developed characters, who resonate long after the book ends.
---
Many twists and turns,
By Gabby
This book has many twist and turns. Just when you feel you have figured out who did what, something else pops out and then you are questioning yourself. Great book.
---
a engaging , entertaining read,
An interesting story line with a lot of twists and turns. The story presented an army of interesting characters. A very good read.
---
Way more than I bargained for!,
Georgia, by the Alabama border, 1937. A body is found in the Hanahatchee River with its throat cut. The elderly black man (Charlie) who found it knows the local sheriff will immediately lock him up for the murder if he reports it, so he phones a white journalist, Jordan Tanner, for help. And all hell breaks loose. This murder is an exact replica of one that happened 15 years ago, for which another black man is on death row, all appeals exhausted. Jordan sets out to prove him innocent – oh, and to get Charlie out of the local jail, since he did report the crime and was arrested as he had anticipated.
The novel offers a look at segregation, racism, the all-powerful rich and helpless poor (irrespective of color), sexual abuse, organized crime and more! And, as often happened in 1937/38, not all of the innocent were spared and not all of the guilty were punished.
One criticism – the organized crime aspect was a bit too much icing on the cake. The story line didn't really need it and it was a distraction.
Highly recommended!!!!
---
Southern true crime fiction at its best…,
By Jeanie
I am from Georgia, been to this area several times. This is a true story based on the conviction of an innocent black man. I could not put it down. O'Keefe painted a picture that left me pondering over it for days. Well done!
---
A Southern Story,
By K. Olson (California)
While I enjoyed this book, I do wish the characters and settings had been described more. It was hard to develop a good mental picture of the story.
---
Awesome
By Lorna
I couldn't put it down. Incredibly well written. I felt like I actually lived through it, it seemed so real.
---
Southern mystery extraordinaire!,
Ms. O'Keefe is a gifted story teller, and you want to just keep reading and reading….This is heartrending in so many places, but true to the time and the South. It is an excellent mystery with true Southern, "down home folks" appeal. If you read one Southern mystery this year, make it Ms. O'Keefe's Hanahatchee!
---
Good mystery,
By Table4two
Overall, I enjoyed the characters, the era, the murders – both past and present. I was intrigued immediately and wanted to know who did it. It's a fast paced story that tugs on your conscience for the social injustice of race and privilege from the 1930s Deep South. My only complaint t is that the writing style is a bit clunky. Sometimes it was difficult to tell which character was speaking. The author needed to guide the reader a bit more. And changes in settings or scenes weren't clear as paragraphs were just carried on versus inserting a doublespace to clue us in that we are headed in a new direction. But still, I enjoyed the story completely.
---
I loved it.,
By David Reeder
I just finished this book and loved it. It was really a couple of stories in one and I really enjoyed the epilogue. I like it when the ending wraps it all up!
---
Great Book,
By coffee
The author really did a good job with this book. Easy read and very exciting form beginning to end. Highly recommend.
---
Hanahatchee – Trisha O'Keefe,
I started this book slowly and was soon immersed in Depression Era Georgia, a time of injustice and violence which has long since passed in our state. Her writing was mesmerizing and the story was compelling enough to keep me up late at nights. I loved the story and look forward to reading more from this author.
---
Very enjoyable,
I had not read anything by this author before and it turned out to be a very interesting mystery. Did not want to put it down. I would recommend it to friends.
---
Truth be told,
By Lois Smock
I like mysteries and this story kept me seeking the truth. The main character kept searching for the truth and risk his own life to free a black man in the south in the 1920's/'30's when there was segregation.
---
Hanahatchee,
A sad romantic mystery from the old south which incorporates a typical racial line, a war story, gambling, a sporting fix, the income inequality of the local population, the good old boy legal system and a unsolved killing spree. But it all comes together in the final pages.
---
Cinematic,
I have recently finished Hanahatchee. As a southerner, I was extremely comfortable with the entire text of this book. Locations and elements of the plot were laced with certain truths and memories of the period. The story provided an early and eerily familiar hook from the time period. The hook remains when the reading is finished, and passages and imagery replay themselves. Fresh, cinematic imagery pervades the entire work. I would like to see the film!
---
A Great Mystery Set in the South of the 1930's,
By SydneyA
This tale is well-written, a real page-turner. Through its colorful dialogue and well-developed characters, it captures the South of the early twentieth century and weaves a tale of mystery and suspense. Well-done!
---
great story!,
By Hilary Wehrle (Madison, wisconsin United States)
Story really pulls you in. Great character development, really gives you sense of time and place. Lots of twists and turns to the plot, a nice book for a fall evening in front of the fire.
---
Captures true 1930's Southern culture,
By Allen Ray
Funny, nostalgic, intriguing and poignant. I wish my Mother (a woman who embodied the real South of this era) was still alive to read this book and share her thoughts with me on it.
---
Drawn to Its Authenticity,
By georgiagirl
Trisha O'Keefe limns the Southern landscape many Southerners will find familiar, that is, anyone living before the Civil Rights movements. We remember the sudden night disappearances, the rumors of Klan activity, the whole tense climate of fear and injustice. O'Keefe has captured those times, those places, those apprehensions–for both black and white. Her command of dialect, of gesture, manner, and word shapes a fascinating portrait of a South in passing and those who fought to keep her honorable. The plot, the mysteries at its center, the characters, the settings, and above all Southern culture itself beckon the reader to immerse him or herself in another time and place. In short, Hanahatchee is a very engaging read, one that enables most any reader, Southerner or not, to live through its author's sensibilities–and they are considerable. My only reservation has to do with the epilogue, which does not appear to arise organically out of the substance of the book. The pace is too fast, the dramatic impulse buried in detail, perhaps meant to satisfy some readers' need for closure. As the book naturally ends, it should have remained so, in my opinion. All in all, though, I believe we can hail the advent of a new and superb talent on America's literary scene.
---
Hannahatchee,
By Pam M
From the very beginning I was caught. It usually takes me awhile to get into a book but Hanahatchee had me in the first few pages. If you like historical fiction you will love this one. She ties things up nicely at the end and it is a great mystery throughout.
---
The Real Deal,
By S. A. Denham
This is a real page-turner! Started reading it and couldn't put it down. For those who like mystery and suspense, this book is the real deal.