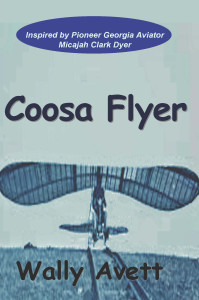 By john parker
Exciting, fast-moving as only an old newspaper writer could do it. Action starts on page 1. Deals accurately (I think) with the hardscrabble life in the South just after the Civil War. Very interesting to watch these backwoods men "logic" their way thru development of a flying machine. It may have been part-fictional but it felt so true that the reader is completely drawn in. A good fast read for any student of this period and particularly interesting to anyone with a bent for aviation. I personally enjoyed the true setting in the GA/NC Mountains where I live. Good job, Wally.
---
Coming from the same mountains where the book is based, I looked at the writings with a jaundiced eye, but to my surprise, it was gripping and madly entertaining. The concept that a relatively uneducated "hill-billy" could conceive flight would be ridiculous, except that the book is based on fact. Much to my surprise, I found I was the uneducated one. The plot was suspenseful, moving from point to another seamlessly, without pause, never letting the reader feeling let down or left out. Outstanding in its genre and has led me to seek other tales b Wally Avett. Bravo.
---
Wally Avett is pure entertainment with historical value. I have read all of his books so far — Murder in Caney Fork, Last Bigfoot in Dixie, Rebel Bushwhacker and now Coosa Flyer — and have learned something new each time, about places and events that most history books have chosen to "overlook." Dyer, the "Professor" in the book, was an ordinary guy with a gift; to be able to fix things and design things no one else could. I won't give it away, but the family is sitting on a gold mine, in more ways than one. 🙂 Get this one, get them all!
---
Entertaining, educational and inspirational. From the first sentence to the last, I was mesmerized. To know this man really lived as the Leonardo Di Vinci of North Georgia, experimenting and inventing all kinds of machines and gadgets we take for granted today, made me realize the many things he was not given credit for. So glad to know there is a memorial, a highway named after him and family who will carry on his legacy. Just think he flew BEFORE the Wright Bros.! on cornhusk wings! I recommend Coosa Flyer to everyone!