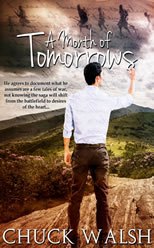 Amazon A Month of Tomorrows Reviews
 Great read
'This book is a wonderful story and heartfelt tribute to the authors uncle and all WW II vets. I would encourage readers to follow this author. He has a murder mystery in the wirks that is going to be a best seller."
---
 Highly Recommend
"Readers will truly enjoy this book. It is a great story based on true life experiences."
---
"Chuck Walsh is a new kind of disciplined writer who-unlike many of his contemporaries in the e-media age where everyone sees themselves as a writer-serves as a model of the old school where mastery of the art is the only way to earn (and truly own) the title 'writer'. Walsh is indeed a writer in the purest sense,m and a marvelous one at that, his mastery of the craft demonstrated by the ease, deftness, unpretentiousness and authority with which he tells a story."
Author and NY Times Best Selling Military Technical Adviser and Editor –  Thomas Smith, Jr.
---
– Fishpond Customer review 
A Month of Tomorrows made me think of my mother and father and what they went through during WWII. It also reinforced my belief in true love, commitment, honor and integrity. I laughed, cheered and cried, but most of all, I did not want it to end. Based on his uncle's life, I can only imagine how Walsh looks up to that man. Hat is off, hand is on my heart!
---
A story of Value and Redemption
The book is about values and redemption. The values of our mothers and fathers in the World War II era and the values of their offspring – the boomers and their children. It is a book that reminds us that some things do not necessarily progress and get better. It reminds us that family and relationships of those close to us is what life is really about. That is the secret that the generation of World War II had learned when they returned home from war and that is the secret that is relearned in this novel.
What an excellent read! A heartwarming story of two families on the surface with layers of additional meaning beneath.
---
By pgbs@sc
I really love this book. It was well written and easy to read. I was able to develop a close connection with the characters in the story. The author allowed me to feel the same emotions as the characters; I laughed, I cried, and felt connected to the lives portrayed. I wanted to shake some sense into Pete once or twice. This book would make a very successful movie. I am going to look for more books by this same author.
---
---
By cmmiller
A Month of Tomorrows is a novel that juxtaposes two very different time periods: a world of honor and romance in the 1940s where family and good food is all you need to make it through the day; and the world of a modern day writer too busy in his own universe to see much beyond the keys of his laptop. Samuel Gable the WWII veteran and dream husband and father, dying too soon from cancer (even in his old age), befriends Pete Swift, the struggling writer reluctantly taking on the task of recording Gable's story to leave as a family memento. Though reluctant to help at first, Pete is drawn into Samuel's amazing journey during the war, ensnared by the love story that follows his return, and puzzled by a dark secret in the Gable family.
A Month of Tomorrows is a tribute to soldiers and family and is a love letter to small towns and small life in Tennessee. It's a book about human transformation, love, and loss. The novel transcends literary genres and has a little something for every reader. I highly recommend this novel.
---
By Tx Rose
I wasn't sure at first, but the more I read the more I became engrossed in the story. By the end, I felt I knew the characters and their individual struggles intimately. It's a moving story, an inspiring tale of love and bravery and doing the right thing. Insightful about war horrors in the Philippines and heartwarming in its telling of family life and enduring love. The author's sensitivity and humorous touches engender a connection of spirit between reader and the book's cast of characters. Well worth anyone's time to read.
---
By L. Fields
This was such a moving story! The characters really pull you in and you feel such a connection. Chuck Walsh is a gifted story teller. You will laugh, cry, be angry, and smile. You will not be disappointed!
---
By Julie
I definitely would recommend it. New author for me. I will look for more of his books. Touching heartwarming story that people of lots of different walks of life would enjoy. Men and women both would like this.
---
What a wonderful book. Well written and very interesting. I have to say this book brought me to tears at the end. Anything that can do that is a keeper. It made me reflect on recent personal experiences with my own father. A great book.
---
By H. Goldberg
I couldn't put it down! This reminds me of Mitch Albom's Have A Little Faith with the main story line. There is history, action, and even romance. The Southern voice is genuine, like Charlaine Harris's writing style. There are times where your heart will dance in excitement on what story Sam will tell today, or laugh over the side conversations, and your heart will break in certain parts. Chuck Walsh allowed for a powerful story to be told and I can't wait until I read the next one!
---
By joy2you
Love, love, loved it! I started reading A Month of Tomorrows, and could not stop reading it. This heartwarming story was easy to read. It made me smile and laugh out loud, as well as cry. The writer is exceptional in the way he describes the characters and scenes. His humor and sensitivity make the story a fun book to read.
I look forward to reading other books from Chuck Walsh.
---
I bought this book because it told the story of a man's experience in WWII without it being a "dry" historical account. I like to read books where characters are well developed so I can relate to them and settings are descriptive enough so that I have a picture in my mind of what is taking place. This author's writing style is REAL; not contrived, over the top, or unbelievable. I felt like I was listening to conversations taking place between real people and that I was living the experience along with the characters. I couldn't put this book down once I started it. I laughed, read parts out loud to my family, cried at the end, and am rereading it after just a few weeks. I hope to see a lot more books from this author.
---
A Must Read – A Man of Great Courage and Integrity. Entertaining Uplifting and Challenging
By Nananet
A Month of Tomorrows
by Chuck Walsh
In his novel, A Month of Tomorrow, Chuck Walsh weaves an entrancing story of past and present as World War II veteran, Samuel Gable, recounts his life. Set in the beautiful hills of Tennessee the reader is quickly transported to a slower pace of life and surrounded with the beauty of mountains, streams and nature. As Samuel knows his cancer will soon take his life he has but one thing left undone and that is to leave his children the story of his life. Pete, a local author, begrudgingly makes the time to go out to the home place and meet with Samuel. Samuel's blunt mannerism, his passion to release what is in his heart and the awareness of being in the presence of a great man captivate Pete. He becomes enthralled with getting Samuel's story written.
When I first began A Month of Tomorrows I quickly misjudged and thought this was going to be just another one of those books bouncing from present to past. Chuck Walsh altered that view quickly as his presentation of this beautiful story stole not only my attention but my heart.
His characters were so well developed one could not help but want to know more about them. The storyline was gripping, exciting and at times heartbreaking. Walsh mastered the art of blending the past and present seamlessly in this writing. It flowed easily allowing the reader to quickly shift scenes as the storyteller brings us into the lives of Samuel and his family. We feel the love of a mother saying goodbye as her son leaves for war. We see the wretched environment Samuel lived in those years he was at war and as hard as it was we felt the pain and gruesome life of a soldier. We feel the excitement of falling in love. Walsh holds nothing back. Each story Samuel tells is detailed filled. It gives us life lessons and hope. And yes, it does entertain. Once a few pages in it cannot be easily put down.
I highly recommend this book to anyone who loves historical fiction, romance or strong, male role models.
---
---
By Ms. Kat
I relished this book and cannot recommend it highly enough.
Samuel Gable, a World War II veteran, only has weeks to live after suffering from a terminal illness, and he wishes to leave behind an account of his life before he goes. He enlists the help of a stranger, Pete, who is a local writer, to record his story as a legacy to Samuel's family. Pete's dream is to have his first novel published, but for the present finds work wherever he can by writing articles for various magazines and newspapers. When he originally accepts Samuel's request, he does so with the expectation that he would commit a limited amount of time and approaches the project with a decided sense of detachment. However, he quickly discovers that Samuel is an extraordinary man and has an equally extraordinary life to tell. As Samuel's health deteriorates over the course of the following weeks, Pete becomes increasingly enthralled in the details of the old man's life, and his visits for interviews evolve into friendship and respect.
The story unfolds in flashbacks beginning when Samuel was a young man. This technique of flashbacks and flash forwards, in my opinion, falters in some novels, but in this one it really works. The author is very effective in establishing time and place. The setting, with the exception of Samuel's time spent in the South Pacific during WWII, is almost exclusively in the Appalachian Mountains of Tennessee, where Samuel's life played out. Samuel is imperfect, as we all are, but the best values of his generation are brought to life in his character. Indeed throughout this book I was often reminded of my grandfather.
This novel is enthralling, and I almost felt at the end as if I were myself standing by Samuel's deathbed and could feel the passing of a great generation.
---
By Angela Shogren on July 18, 2014
What a great story. Only to find out at the end that is truly based on a real person's life! I have to admit that the main character, Pete, was less than likable for me throughout the story. The ending seemed a bit forced after his interaction with Charlie and his family. But, it kept me engaged and was definitely a page turner. I would read more by this author, it was well-written and the plot was interesting.
---
By Jeanie
A Month of Tomorrows made me think of my mother and father and what they went through during WWII. It also reinforced my belief in true love, commitment, honor and integrity. I laughed, cheered and cried, but most of all, I did not want it to end. Based on his uncle's life, I can only imagine how Walsh looks up to that man. Hat is off, hand is on my heart!
---
This is a well written book with two stories entwined. The first centers on the life of Samuel who lived and loved through the war and beyond. The second centers on Pete, a struggling writer who is charged with the task of telling Samuel`s story. The result is touching and beautiful.
---
I loved this ebook. The story kept me interested from beginning to end. I wish my husband loved me that way. Samuel was a romantic and showed it. I recommend this ebook to all who like romance stories.
---
By starlyt
I love the story and the characters. I did not want to put it down.
It gave such emotions throughout the story, I was crying at
one time. I will read his books again.
---
A great read. Well written. I very much enjoyed it as did my wife. I recommend it do all who like good story telling.
---
By CS5332
This is a book that I hated to see end. The development of characters and plot were, for the most part, excellent. There were, however, several points in the story where I felt I was reading an abridged edition because the story line jumped so quickly. It was not enough to away from my overall enjoyment of the story.
---
By Mike
When busy writer Pete Swift is asked to record the life story of dying WWII veteran, Samuel Gable, he isn't sure if he wants the job. But after meeting with Mr. Gable and hearing him begin to recount his tale, Pete feels compelled to take the offer. He throws himself into his work and can't seem to pull himself away. Samuel Gable has only a month of tomorrows left to live, and Pete wants to make sure he gets the whole story before it's too late. But at what expense? The long work hours drives a wedge into his marriage, and Pete stands to lose his family.
Meanwhile, during his long visits to the Gable home, Pete begins to feel an attraction to Samuel's daughter, who remains by her father's side to care for him in his final days, and sparks begin to fly. As the book comes to a climax, Pete realizes he's made a terrible mistake, but is it too late? As Samuel Gable helps Pete reclaim his marriage, Pete has his own ideas of reconciling the Gable family.
This was a beautifully written book, with layers of stories and emotions that kept me reading until the early hours of the morning. I especially loved how vivid the writing was, so that I almost felt like I was watching the story unfold as it happened. Chuck Walsh is a gifted writer, and I look forward to reading more of his books in the future. A Month of Tomorrows is a touching and heartwarming book that I would absolutely recommend to anyone!
---
By R. W. Green
I was completely surprised at how much I enjoyed this book! Honestly speaking, there wasn't much about my life that I could relate to when reading about Sam Gable and I think that is what has impressed me the most. Chuck Walsh's ability to convey feeling through the written word is incredible. I can't remember the last time a book grabbed me the way that this one did and elicited such emotion. Once I started reading it I had to keep reading. This is an incredibly well written book, and a very enjoyable read.
---
Great characters AND a great story. I loved this book!
I believe characterization makes a great book. Too many books revolve around the story and end up as "page turners" with no depth. Like movies filled with explosions and chase scenes, providing moments of entertainment while consuming hours of our time. Chuck Walsh laid a solid foundation with rich characters and used them to develop a very personal, very gripping plot. You really get to know these people and care about what happens to them. You feel attached and invested. When the book is over it leaves you with a pleasant poignancy. You enjoyed getting to know these folks and you miss them now that it's over. The story captures a very special time in a very special place. I miss it even though I've never been there. The book was well researched, technically accurate and written with warmth. What emerges is a passion – not a project – which provides a welcomed relief from waves of commercial knockoffs. I am excited about a new story teller. I can't wait to read the next one!
---
By Judy S. Cole
I would not normally select this book based on the synopsis but I'm very glad I took the recommendation seriously. It is well written and blends a look back at the past with the present in a way that holds the reader. I enjoyed this book and look forward to more from Mr. Walsh.
---
I thoroughly enjoyed reading this book. This author has such a talent of pulling the story together and keeping the reader interested. Once I started reading, I couldn't put it down. I can't wait for his next book.
---
Chuck Walsh is a great writer. A Month of Tomorrows is a well written southern novel that you feel like you are there and you are feeling what the characters are experiencing at that moment. I love the way that fact and fiction was woven together to become one awesome story. I have shared my paper copy with my friends and they brought my book back after two nights and said they was going home to get the ebook copy. I can't wait for the next book to come out. I am very blessed that I know Chuck Walsh and his family. Chuck keep up the good work and may God Bless you and your family beyond measure.
---
Great story – Could not put this book down!
By Mde Werdt
Wow! I could not put this book down. Samuels's story is so intriguing. He's what real southern men are made of. He experienced it all – love, war, loss, family, etc. Chuck Walsh has done an excellent job of laying this story out as to draw one in. Samuel being the main character has so much to share and Pete while reluctant at first to gather this story …well can't give away the details but Chuck's writing made me feel as if I was right there with them. I kept telling myself "Ok, (5) more pages" but I just could not stop. Thank you Chuck for sharing such a wonderful story. Can't wait for the next book!
---
Very touching and hard to put down
The characters in this story bring it to life along with the descriptive settings and emotions. I was sorry to see it end and felt sorrow and joy along with them.
---
By Robyn
This an amazingly written, engaging, real and poignant book about love, loss, and human interaction. Chuck Walsh's writing will make you laugh, cry, wince, and most importantly, realize the things that you hold closest are very rare and worth all the appreciation you so routinely and mindlessly forget. A must read!
---
---
This novel was a pleasant surprise…love war and suspense. A powerful depiction of first hand war experience survival history and love.
---
If you liked Tuesdays with Maury, You'll love A Month of Tomorrows.
A Month of Tomorrows reminded me of Tuesdays with Maury as Chuck Walsh wove his tale of a dying elderly veteran's memories as told to a writer who reluctantly agreed to interview him. The two men, thrown together by seeming happenstance, develop a deep friendship, which poignantly pulls the reader into their relationship. A well told story, difficult to set aside at the end. I look forward to reading more of Chuck Walsh's books.
---
---
The characters in this book come alive at once. You feel part of the story & become one with them. The author has written a wonderful story about family, loyalty and the price of freedom. It's amazing what tenderness he has towards his subject. I hope he publishes another book soon. I look forward to it!
---
The stories, the relationships, the revelations on my own life history, the tears – uplifting, heart smashing and life changing.
---
---
This book was a great book! The characters come to life and I found myself wanting to know more about the soldier's life and becoming impatient with the present-time story! You're foolish to not purchase and read.
---
This story really sucked me in–from start to finish I fell in love with these characters and wanted nothing but the best for all of them. It was by turns heartbreaking and sweet, full of promise and the hope for more tomorrows.
Samuel was a "man's man" who was at times almost too perfect to be believed, but his moments of humanness shone through so strongly that not only did I believe in him, I was left wishing I had known him. That is the sign of a truly gifted author who can make a reader come away from a story with the feeling they have just met real people. No person is perfect, but seen through the words painted by the man who loved her, Callie sure seemed to come close.
I thought in the beginning that this would be a story about the horrors of WWII as told by a dying man. But these stories made up a small part of Samuel's life and were there to provide the reason behind his determination to live all of his tomorrows the best he could.
The story of Caleb was unexpected and provided a very real twist to what could have been a sappy love story of surviving war and coming home to live the happily ever after. I didn't see it coming and was blown away by the power it held in the story.
Peter's was told alongside Samuel's and provides a good balance. There wasn't as much depth to his and Sarah's relationship, but this wasn't a book about them.
The setting was rich with detail without being overly done. The mountains, the fishing streams, the people, all were woven together to create a real place.
I would recommend this book to anyone, but with a warning that tissues may be needed by the end.
---
By Steff
One of the best books I have ever read! It made me think, laugh, smile and cry and I am looking forward to reading more of his books.
---
By Buckeye Gal
Chuck Walsh is a talented writer whose effortless style draws you into the characters lives with ease. I was emotionally connected by the end of the first chapter. Samuel at the end of his life and Pete trying to find his path in life are unlikely friends. Pete learned quickly that Samuel was a very complex man who led an incredible life. Samuel was a son, a brother, a husband, a father, a friend, and a hero. As Samuel shares his story with Pete, the reader goes on an emotional journey with them. I laughed at the pranks, felt the pain, fear, and horrors of the war, felt the love and devotion to family, and the heartbreak of a family that needed to heal. I could relate to this book because of my connection to Appalachian Kentucky which is very similar to the Tennessee Mountains. I also felt the WWII connection. While I was reading this book I had the honor and privilege to celebrate my great uncle's 90th birthday. Samuel reminded me a lot of my great uncle who is also a WWII veteran and one of my heroes.
There are some unexpected twists in the plot of this story but they flow smoothly and fit nicely into the story. Not all authors can pull off twists, turns, and surprises like Chuck Walsh can.
I have been blessed to get a chance to connect with Chuck Walsh and ask questions about the book and characters. It only made me love it more. I own it in print and as an e book. I have also been blessed with the opportunity to get a sneak peak at his next novel Shadows on Iron Mountain. It is going to be an amazing book with characters who are intriguing and unique. Chuck Walsh is a name you should remember. He is on his way to having a very successful career as an author. I can't wait for Shadows on Iron Mountain to be released.
---
READ THIS BOOK, NO MATTER WHAT~~~~
By lkh
This book has consumed me for 2 days, in-between tending grandchildren, and living! Every time I had to put it down, I couldn't wait to pick it back up. BEAUTIFUL story about love and war and life and choices! Taught me a lot and certainly made me stop and think about my own life and the importance of believing in and taking the time to enjoy every second we have here on earth! LOVED IT~~~~ 15 STARS
---
"…we only have so many tomorrows."
By Josie Rivers
I received an autographed copy for Christmas and honestly, after reading the back cover I stuck in my nightstand drawer… for a sleepless night. Fast forward to two weeks ago: I finally pulled it out and decided it was "the right time" to try to start to read it. I honestly wasn't too sure what to expect… like "Pete" I was skeptic… but after a few pages I was caught. The story kept bouncing in my head, making me anxious for "reading time". I laughed and cried, oh my, did I cry. It was as if I were living the story. I could relate to the characters and Samuel Gable's war stories were enlightening. I wondered if it was based on a true person, not at all amazed that it is. I would have loved to have known "Samuel", what a character! And for most of the book, though I could understand the obsession with Samuel's story and wanting to hear more, I could've beat Pete for being so…. um, foolish? 🙂
Chuck Walsh makes the story come alive. He mixes history with a bit of romance and a whole lot of humanity. Beautifully written! Very touching and definitely a worthwhile read!
---
I have known Chuck Walsh and his family since he was a young boy. I even know his extended family and his Uncle Rubin in particular. Having traveled to the Tennessee town and family home of his mom, this novel held much meaning to me. The way Chuck wove fact and fiction together to create this beautiful story is amazing. He has an uncanny ability to describe places and events. His compassion and sensitive nature make the reader feel the pain, the heartache and the joy of the characters. This book is simply a work of art. Even if I did not know Chuck, I would still rate this novel first class.
---
Where have all the heroes gone?
Reading this novel knowing "Sammy" existed made me long for a man of that caliper. I wondered where chivalry went and what it felt like to have someone fight for your honor; to be in love with a man who believed in God, country, and family values. I think Pete learned a few things from listening to that old man, and we in turn learned a thing or two from them both.
Thank you, Chuck, for giving us something worthwhile to read and for doing it so damn well. I will never forget it.
---
---
By Lillie1
Not only did I like the title of this book, but from the first chapter, I liked the feel of it. I was easily able to envision the different settings through the pictures this author painted. I found myself wishing for the best for each of the main characters. Mr. Walsh has mixed truth with the unexpected and has added wonderful humor along the way. I am looking forward to reading more from Chuck Walsh.