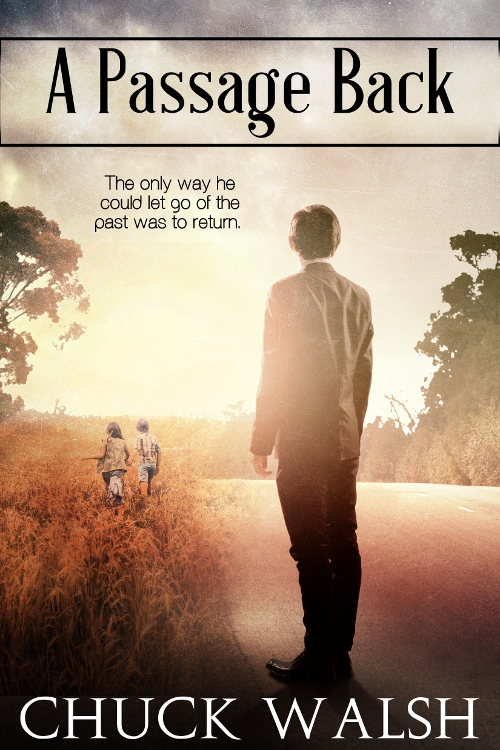 Amazon A Passge Back Reviews
A heartwarming read that makes you think "what would I do if I could go back in time?"
By Buckeye Gal
Another great book by author Chuck Walsh. A Passage Back made me think if I could go back in time what would I want to experience again without changing anything and what do I wish I could change. You can feel the author's passion and love for his family as you read each paragraph. I laughed, I shared his passion for the carefree days of his youth, and I felt the emotions of reconnecting for just a brief moment in time with those we love who are no longer with us. This is one of the best books I've read written by my favorite author.
---
"If I only knew then what I know now." How often these words have been used when thinking of days past, especially those of our childhood. Would you really go back with such knowledge even if it meant you could possibly change the winds of history? Chuck has yet again brought me to tears both with laughter and tearing heart strings. This is a story that takes him and his readers back to a time when life was a bit more simple and yet the struggles were just as real. It is easy to see how this story came from the depths of Chuck's heart when writing this for his mother. You will find yourself cheering for the team, identifying with childhood pranks (at least I did), sibling rivalry at its best and the love of a boy for his family, his hometown and of course baseball. What more could you ask for in a novel? A very moving story!! LOVE IT!!
---
A great novel. Couldn't put it down
A great novel. Couldn't put it down.
---
5.0 out of 5 starsThis is an amazing book! It really takes you back to your …
This is an amazing book! It really takes you back to your childhood as well as the author. There will be times you will laugh and times you have to wipe tears. Most definitely one of the best books I have ever read!!!!
---
This is a great book. Well written- the author transitions you back …
This is a great book. Well written- the author transitions you back in time very smoothly. This book caused me to think back at my childhood and all the things I took for granted with my family. I strongly recommend this one!
---
Awesome story. Wouldn't it be nice if we could …
Awesome story. Wouldn't it be nice if we could go back and relive that special time in your life?
---
It makes you want to go back….
Wonderful book that makes you feel exactly what "Chase" is feeling. Makes you want to relive your childhood. Love the way the family dynamic plays out. Looking forward to another thought provoking story of love.
---
---
Great book…as you can tell, I'm not a writer 🙂
5.0 out of 5 starsA Must Read for anyone who has lost a loved one and family love is 2nd to God himself
By scheartbeat
This writer continues to produce books that interest an intrigue his readers. Loved it! There's not a single person I know that wouldn't like a chance to go back in time and change something, repeat something, or see a loved one that has passed on if only for one moment. In this book, you see right away the love and passion Chuck Walsh has for his family and the neighborhood he grew up in. Everyone should have a chance to experience what he did. Neighbors treated sons and daughters like they were theirs; with love, kindness, meals and even correction if needed. A time when a kid could ride their bike for miles and parents never worried. Neighbors left their doors unlocked because there wasn't much crime and they all looked out for each other. While this rare closeness does happen in the south, this was a special time and neighborhood. Chase gets a chance to go back in time and see his mother who just passed away a few days before and relive his days as a little league baseball player where all in life was good. Now, he has to decide what things he will change; if any that could impact his future. Will he fix his fathers problem with alcohol, change their financial status because of his knowledge of sport outcomes or save a friend from a sure death? A lot of people I know struggle with life when they turn 50, this writer is no different. He realizes time is going forward whether he likes it or not. This is his chance to relive what was the greatest time of his life. I've read all this authors books and while each one is different, I am never disappointed. He pulls me in from the very beginning and makes me feel like I'm right there walking the journey with him. I will read everything he writes and recommend his books to others.
---
ByJeanie
A Passage Back makes you think about whether you would want to go back to age twelve and have a do-over…or not. What would you change, and if you could, would it adversely affect your own life and perhaps the whole world, even if it meant saving your best friend and your parents? Well written and attention grabbing on every level. Highly recommended.
—CJ Loiacono