John Brown's Body Reviews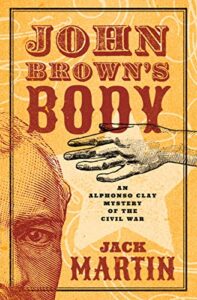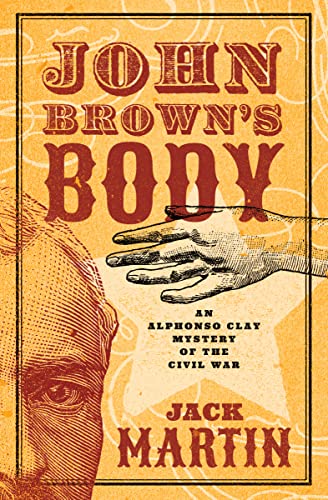 Buy This One!
By T. Graziano
Jack Martin's first book, John Brown's Body, is an excellent read both as a historical mystery and as an examination of some unusual characters.
The history and settings of the book are beautifully accurate, with only a little latitude taken where necessary to advance the story. Mr. Martin does a meticulous job of creating the Civil War era environment, but not to such an extent that the background obstructs the story. The whole book has the feel of the times, both as a setting for the action and as a reflection of the horror of the war and its effects on the people who lived it. The reader becomes a part of history as the descriptions of the times unfold.
As a mystery in which modern methods and technology are not available to the main character, Alphonso Clay, the story is suspenseful and consistent without any need for dues ex machina tricks to make up for lack of technology. The crime and its solution unfold logically, and the astute reader may pick up the clues as Clay does and begin to fit them into a solution, which is still able to surprise.
The characters are particularly interesting because many of them are not particularly likable, but rather self-centered, narrow-minded or just plain humanly irritating. Their personal quirks sometimes impede Clay's investigation, but in general, Clay perseveres and manages to focus his skills and intellect on the crime. Clay will create considerable ambivalence in the reader. He is usually a polite gentleman, but there is an undercurrent of violence that he works to suppress. His birth and early years are under a cloud having to do with a secret society originating in Europe that had a special breeding program. His young adult life and first love add to his emotional imbalance. Somewhat like Sherlock Holmes, Clay is a character who can never be "normal" but who tries to fit into society as best he can. Those around him want to use his talents for their own purposes, but seem to wish that Clay would leave swiftly after doing the job he was tasked to do.
I enjoyed this book very much and can recommend it to a wide variety of readers. Let us hope that Mr. Martin gives us more Alphonso Clay stories to expand upon the mysteries surrounding Clay himself.
***
Best Civil War book ever!
Jack Martin has you hooked from the first sentence in John Brown's Body, the first in a series of 4 Alphonso Clay mysteries. I plan on buying all of them. The first 3 are out and I cannot wait to get the other two. What a gripping story teller! What makes it so fantastic is that he uses real people and events to create this new twist in history. I could not put it down!
***
John Brown's Body is an intriguing and complex mystery that …
By pat trimmer
John Brown's Body is an intriguing and complex mystery that takes place during the Civil War. The characters, many of them of historical significance, come to life in a very real and compelling way. The historical events, as well as the life, and times of the period, are well-researched and enables the reader to "sink in" to the narrative. The main character, Alphonso, is quite appealing in a Sherlock Holmes sort of way. Overall, the book provided a satisfying read, and I hope to try another Jack Martin novel soon.
***
Fascinating Civil War Historical Fiction!
By Truthbeknown
Excellent writing and factual battles and generals of the Civil War with added unusual and unforgettable characters. I started out reading Murder on the March because I'm from GA and had come back from a summer trip to Gettysburg. However, this is the third book in the series. I loved this book so much I had to read them all. Starting with John Brown's Body (Battle of Vicksburg), this series of four books takes place after the Battle of Gettysburg. The story and writing captures you from the first and you can't put it down. The Battle Cry of Freedom is the 2nd book in the series and takes place during the Tennessee campaign. The 4th book is Battle Hymn of the Republic, which tells of an ominous plot to restart the Civil War even after Lee's surrender. Clay is a Southern Gentleman full of civility, but who is against slavery and Grant's best detective. But be forewarned, Clay has a dark side that comes out now and then. And then there's Teresa Duval, a nurse that's not what she seems to be. Colorful characters, engrossing stories, and Civil War Battles and intrigue. What more can one want in a series? Read them all!
***
John Brown's Body
By scrapmom
I enjoyed this historical mystery with the background of the Civil War. Alphonso Clay is definitely strange but strangely appealing. The writing was very believable. Ready to read the next.
***
Good One!
By Tony
This book is a different kind of mystery. The main character is strange and a little creepy, but he is the good guy. It is not possible really to like him. Still, he must succeed, so I found myself almost feeling sorry for this tragic hero as he dealt with both the critical situation he was investigating and his own nature, which he must hold in check to function in the normal society of his day.
The Civil War background is as close to perfect as the story allows. The author must be a historian to have created such a believable picture of the War. I found myself escaping the realities of today and living in the world of Alphonso Clay during the Civil War.
The only criticism I have is that the characters sometimes seem a little stiff, but this may be more a reflection of the customs of the times than a writing deficiency.
As a fan of both mystery and history, I recommend this book highly.