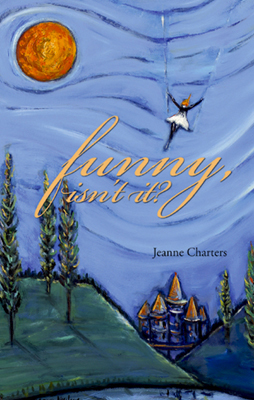 I attended both the Sweet Potato Queen's reading and Jeanne Charters' reading at Malaprops, and I think Jeanne's event drew the biggest crowd. Boy, I guess advertising in WNC Woman really works!
— L.J., Asheville
Recently, I spent a month at my mother's side as she died. I had just bought "funny, isn't it?" by Jeanne Charters. That little book helped me so much. I rationed myself to one story per night, and the humor, insight and inspiration of Jeanne's words got me through a very dark time.
— M.A., Boone
When I had to put my mom into assisted living, I was drowning in feelings of guilt and helplessness. Fortunately, I had purchased "funny, isn't it?" by Jeanne Charters. Her stuff made me laugh at times when I wanted to give up. P.C., Weaverville
My beloved dad is in hospice. Having lost my husband and son in the past three years, I am overcome with grief at this time. "funny, isn't it?" is my little ray of sunshine in an otherwise tragic time in my life.
— J.W., Winston-Salem