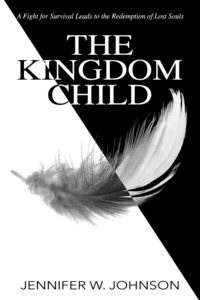 Jennifer and Rosalyn,
This is my first attempt at trying to put into words a few thoughts that I hope will encourage those reading them to take the next step and read The Kingdom Child.
In early March of 2011, I had the privilege of meeting an extraordinary young man and his amazing family. The call came to my office explaining that a thirteen-year-old boy had asked to be baptized the following Sunday, and I just happened to be the pastor scheduled to do baptisms that morning. This request came with some challenges. Jordan Allen was confined to a wheelchair and would have to be carried up two flights of stairs to our baptistery and back down. In addition, we would need assistance to carry him down into the water, as well as back out after baptism. It was a rally cry to help this young believer in Jesus Christ overcome his physical obstacles in order to fulfill a deep desire to follow Christ in believer's baptism. Two young men in our church volunteered to help make it happen. And so it did, on March 13th. If there was a dry eye in our 2,000-seat worship center after his baptism, I didn't know about it! This was a moment in time I will recall with joy and great emotion the rest of my days.
It was barely a year later that I received another call; on a rainy weekday morning, as the streets around us were flooding during an outright and relentless downpour. This message required an immediate response. I left the building, waded in knee-deep water to my car, and raced toward the Methodist Hospital in Sugar Land, Texas to meet with Jordan's family. His heroically-fought battle with brain cancer had come to an end.
The Kingdom Child is about this wonderful young man. It's also about his unconditionally loving family. Love, hope, and faith describe their often-agonizing journey through what we'd all probably agree is life at its toughest. Jordan's faith wrote this book, really. Jennifer Johnson captured the vision and put it down on paper. Jordon inspired her to tell his story in such a way as to give us a glimpse of what is and what it could be for people who live life with their hearts wide open to God's promises, even in life's most heart-wrenching circumstances.
The Kingdom Child Testimonial
by John Rushing, Pastor of Adult Ministries
Sugar Creek Baptist Church, Sugar Land, Texas www.sugarcreek.net
_____________________________________________________________________________
Jennifer, I know you were led by the Spirit because I could clearly picture in my mind what your words described, and the visions given to me were amazing. These visions were amplified by recently seeing the movie, Miracles from Heaven, especially when the young girl's out of body experience reminds her of the Monet painting she saw in the museum. I also loved the end of the book and the perfect arrangement of the Scriptures.
Jennifer Johnson, a powerful witness of the transformative power of God's love in her own life, has written an emotionally-draining, heart-wrenching, touching story, The Kingdom Child, of a family's faith journey as it has to deal with the unexpected, tragic loss of their teenage son. This book will definitely encourage you to carefully examine the foundations of your Christian faith, to make sure it is built on a firm foundation that will not be shaken when the storms of life come, and to encourage you to surrender completely to the Spirit, so the Spirit can conform you to the Image of God's Son, so God's Kingdom purposes can be achieved through you on earth as it is in heaven, so that your light will shine before men that they may see your good works and glorify your Father which is in heaven!
Blessings to you and our family Jennifer.
— Edgar H. Case
__________________________________________________________________________
I loved this book! I couldn't stop reading to find out what would happen next. Although I found the strong faith in the will of God held by Jordan's mother to be unbelievable, I completely accepted Jordan's account of encountering Jesus. It described God and the afterlife as realistically as could be imagined, and touched an elusive sense of awe that I feel from time to time in many things. This book inspired tremendous hope in me.
Kent Management Inc.
_____________________________________________________________________
Some focus on darkness, while some focus on light. What you chose to see will change your life. Jordan Allen chose the light long before physicians discovered the incurable brain tumor. That Choice unlocked the doors to Heaven giving him an unprecedented peek into the Kingdom. Jennifer Johnson shares the light that Jordan brought back from Heaven in her spirit-touching book, The Kingdom Child. The Kingdom Child melts the coldest heart and opens the blindest of eyes. If you are looking for a book that brings a message from God, you have found it.
R. H. Lewis, author of Jace, Josh, Keith, and Sarah, weaving Christ's life-changing Power into adventures, mysteries, and thrillers.
"When Jordan prayed, "God, help me be all that you need me to be," he didn't know he was asking for a brain tumor. At fourteen, it would seem he had his whole life ahead of him, and he did. Because of that prayer, God used Jordan to touch hearts and change lives through the power of His Holy Spirit. We see only a small piece of God's design. What if we could see the whole picture? Jennifer Johnson has done a beautiful job of penning Jordan's journey as a Kingdom Child and revealing such truths as "There is a life that leads to death, and a death that leads to life." A truly touching story. If it causes you to see those around you and become concerned about their fate, then God is still using Jordan."
~Diane Yates, author of Pathways of the Heart and All That Matters
This is a God-inspired, Spirit-led work. For the churched, convicting and challenging! The hard question is not only do you believe, but are you willing to live out your faith, really do and endure whatever it takes to become who God wants you to be? For the unchurched, it is a glimpse of who God is and what His promise of an abundant life looks like, both in the here and now, and thereafter. Here are possibilities of the spirit world, and that place where physical and spiritual overlap. This a cornucopia of imagery, teaching, and revelation that cries out to be read, savored, and discussed, all interwoven in the personal story of faith tested by terminal illness and what happened when a young teenager decided to let God's will for him also be his.
_____________________________________________________________________________
I have read other accounts of visiting and returning to tell — patients on operating tables, comas, drowning victims, etc. — but this explains away all the doubt. Jordan gave credit to the One whom credit must be given. You cannot say, "I don't know." You do because He lives in you and craves for you to acknowledge Him. You have purpose. It says in the book, 'Each night, he would ask God 'to help him be all that he needed to be,' hoping his prayer would reveal God's plan.' Through Jordan's suffering, he was and will continue to be what God needs him to be — a life preserver for the Lord's children… and we are all God's children.
I praise the Allen family and Jennifer Johnson for allowing us to experience through Jordan what it is like. It is with Him or without Him. I most definitely choose with Him. Fear death? Never. Romans 14:8 Whether we live or die we are with Christ.
Thank you, Jordan. You will be bringing so many to Christ!