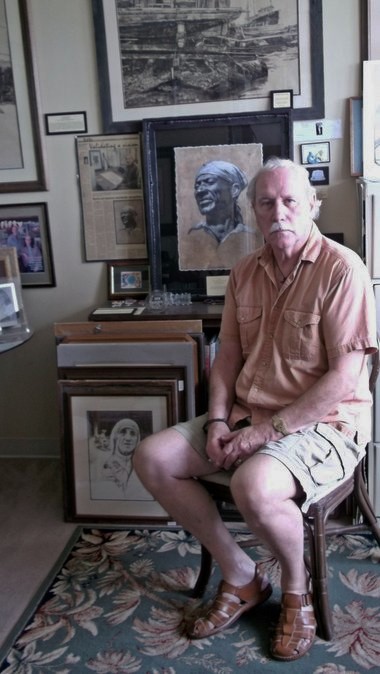 A Good Girl cover by Grady Byrd   www.gradybyrd.com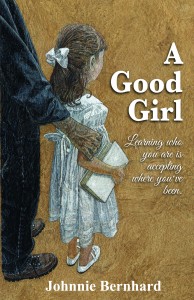 Grady Byrd of Ocean Springs is legendary in Mississippi. Originally from Bogue Chitto, Mississippi, he's has been one of the most prominent artists of the Gulf Coast since 1970. In high school, he was awarded a first place medal from the Mississippi Art Association's state wide competition, and a Mississippi College art scholarship. His most famous work, "Bogue Chitto Blues" is of a black cotton picker he worked with as a kid in the fifties. Eric Clapton has a Limited Silk-Screen Edition of Bogue Chitto Blues and a signed print was purchased by the speech coach of Will Smith and Brad Pitt. It was a top 10 finalist in the International Artist magazine in 2006.
As a Marine, Grady was a staff artist for Leatherneck magazine, and later a combat artist for the Camp Lejeune Globe.
Moving back home to Ocean Springs after service, he gained prominence by being a consistent winner in the Edgewater Plaza Annual Tri-State Art Exhibit. His oil painting, "Lill Cruso," won three awards in one show in this exhibit and was later chosen to be cast in bronze on the Biloxi Bay Bridge. His water black painting, "Sea Harvest" won most outstanding seascape in any media and was selected for the permanent collection of the Edgewater Plaza Merchant's Association.
Ocean Springs Art Associations Fine Art Show winnings include: Exceptional Portrait for his water black entitled "King of the Road," and Popular Choice Award for "Bogue Chitto Blues" in the thirty-second annual show, and the Award of Excellence for his color pencil rendering entitled "Miss Stacy" in the thirty-ninth annual show. Limited participation in local shows was requested with affiliation of major fine art galleries, such as Bryant and Nahans of New Orleans, Louisiana, and Jackson, Mississippi.
A 1984 vision of MOTHER TERESA in his mother's hospital room inspired Grady to do her portrait and with her blessings, make prints for contributions to her relief fund handled by the Biloxi Knights of Columbus. Archbishop Hannan of New Orleans was so impressed he used the image for the cover of the Mother Teresa Prayer Service for the Poor brochure held at the New Orleans Lakefront Arena on October 21, 1984. Additional prints were requested to be given as gifts to the volunteers during the visit. Prints were also delivered by the artist to Mother Teresa's National Convention in Peoria, Illinois for distribution to her thirty-four missions in the United States and Canada. Upon request the artist provided a giclée artist proof of the portrait for her center in Tijuana, Mexico.
His act of charity and faith was rewarded two years later with the discovery of one of the prints by Marken Graphics of New Orleans, who was searching an appropriate artistic style for a commemorative poster of POPE JOHN PAUL II's second pastoral visit to the United States on September, 1987. When Grady's art was viewed by Archbishop Hannan of New Orleans, he was so impressed he sent unsolicited letters of recommendation for the posters to all the archdioceses on the visit. The 30 x 40 mixed media painting is hanging in the New Orleans Archdioceses foyer and was well received by the Holy Father. Fine art appraisals Ruskin of Los Angeles valued the original at $25,000.00.
Further international exposure resulted in one of his water black originals, "Last Few Minutes" (a rendering of his mother, and young daughter sitting on her grandmother's lap) was chosen for the state departments' Art in Embassy Program, by Ambassador and Mrs. Tom Anderson, exhibited at the American Embassy in Bridgetown, Barbados for two years.
Today's Art, a trade magazine published in New York, saw Grady's work and did a featured story on his original "water-black" style. Elevating black and white acceptance with representation of prominent fine art galleries and museums, and unprecedented sale prices is the artist's proudest achievement.
Other publications include a feature story in Art Voices South, cover art and thirty-two illustrations for the book, Unnatural Resources. Prentice-Hall Publishers was so impressed with a sample of Grady's work they broke with tradition of using only staff art. Grady's illustrations have also appeared in A Banker's Daybook, Biloxi and World History, by Glen L. Swetman, Peoples Bank President; Moods of Mississippi, a collection of visual and written works of state artists with a pencil rendering entitled "Fishermen III," and a cover story for Intermission Art and Theatre Magazine of St. Louis, Missouri.
Grady's work, "Bogue Chitto Blues," was executed on handmade bark paper with pencil and has won numerous awards. The most prestigious was the top ten finalist in the people and figures contest of the International Artist magazine and was featured in the 2006 December-January issue. There were 1,600 worldwide entries. International Artist is distributed in sixty-five countries, with 80,000 copies in the United States. Grady was also the featured artist in the August-September 2007 issue of the magazine, in an eight-page article depicting eleven of his works.
"Bogue Chitto Blues" was appraised for $25,000 by Antiques and Art Appraiser Judy Eid. Five duotone silkscreen prints were selected to hang in the Museum of the Southwest in Midland, Texas, along with other renowned artists, Thomas Hart Benton, Peter Hurd and G. Harvey. The originals were sold to south Louisiana companies for their support of the Traveling Art Exhibits at the New Orleans Museum of Art.
Additional accomplishments include being one of the artists chosen to participate in the First Annual Walter Anderson Museum of Art show, "Coastal Artists Reflect on Walter Anderson." The work created for this show was a watercolor entitled "Pair of Souls."
The Mississippi Gulf Coast Community College Fine Arts Gallery's 2011 Art Show featured Grady Byrd and Emmitt Thames entitled "Keeping It Real." The show included fifty-five originals valued at over a quarter of a million dollars, earning a second title of "The Last Great Picture Show."
Grady's latest honor was the inclusion of his Dominican Republic combat art in the National Museum of the Marine Corps Combat Art Gallery in Quantico, Virginia, along with renown artists Tom Lovell, John Clymer, Charles Waterhouse, James Montgomery Flagg, Howard Terpning and Henry Casselli. The director stated that Grady's art was a valuable asset due to the fact that his was the only representation of the campaign.
gradybyrdartist@gmail.com 228-875-8097
"I don't do random, I do significant."