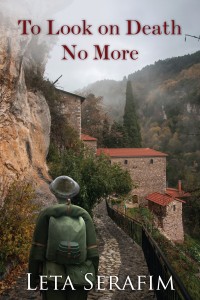 To Look on Death No More
"An impressively crafted read from beginning to end and clearly establishes author Leta Serafim as an exceptionally gifted novelist. Very highly recommended for community library General Fiction collections."
–The Midwest Book Review, Wisconsin Bookwatch
"In autumn of 1943, a lone allied soldier parachutes into Greece. His stated goal: to build an airstrip for the British. Brendon O'Malley is an Irishman, and he soon discovers that fighting the Nazis is not the same as embracing the British, who have seriously misled him about his mission. Wounded during the drop, he's set upon and robbed by a seventeen-year-old girl, Danae, and her little brother, Stefanos, who hold him captive for over six weeks, first in a cave and later in the cellar of their home in Kalavryta. A wary friendship develops between the three.
"Over time, O'Malley's relationship with the girl gradually deepens into love. Slowly O'Malley earns Danae's trust, and he stays on with her family in their house in the village. After his wounds heal, he heads up into the mountains to join the Greek soldiers, the antartes, who are suspicious of the British and slow to accept him into their ranks. O'Malley is no ordinary man, and his honesty, strength, and courage impress them and finally win the day.
"But disaster lies just ahead, and the Nazis, already a palpable presence in their lives, stage a savage attack on Kalavryta. Through it all, the love of this Irishman for his indomitable Greek muse cannot be extinguished.
"To Look on Death No More is an impressively crafted read from beginning to end and clearly establishes author Leta Serafim as an exceptionally gifted novelist. Very highly recommended for community library General Fiction collections, it should be noted for personal reading lists that To Look on Death No More is also available in a Kindle edition ($6.95)"
---
Before I read To Look on Death No More, I knew nothing of the atrocities of Greece. Nothing is taught of this in American high schools. If so, it is so flightily mentioned that it is not recalled. Horrific. I found this site in my research after I finished reading it. Kalavyrta Massacre The visions are embedded in my mind. Serafim's writing is so descriptive you feel like you are witnessing it yourself. I would recommend this be read by every teen and above as an educational addition to world history in a land rarely mentioned as desecrated by Nazis. Thank you for enlightening all of us!
BTW, I have read her first two, The Devil Takes Half and When the Devil's Idle, and they are both fabulous! All her books take place in Greece. It makes me want to go there, to those very places, especially Patmos.
---
"A painful but engrossing story…. What saves the novel from a feeling of complete despair is O'Malley's love for Danae and his growing love of her country. This aspect of the war was unknown to me before this book. It's as important as the Blitz and the occupation of Paris, and Serafim makes me want to learn more."
—Historical Novel Society
https://historicalnovelsociety.org/reviews/to-look-on-death-no-more/
---
To Look on Death No More, by Leta Serafim: An Irishman joins the Greek Resistance in WWII
http://coffeetownpress.com/to-look-on-death-no-more-by-leta-serafim-an-irishman-joins-the-greek-resistance-in-wwii/
---
To Look on Death No More
Although many historical novels have been written about the Second World War, this is the first I've read that's set in Greece, concerning the war's effect on that country. Serafim'sTo Look on Death No More tells a painful but engrossing story about Germany's assault on the Greek isles. It is told through the eyes of an outsider, Irishman Brendan O'Malley, a doctor who had enlisted in the British forces and is parachuted into Greece to create an airstrip. Wounded in his fall, he's held prisoner by Danae, a young Greek woman, and her even younger brother Stefanos.
O'Malley takes to Danae and Stefanos, and when Stefanos is witness to a German soldier's shooting in their village, Kalavyrta, the Irishman hides with the young boy among the Greek resistance, the antartes. Tragedy after tragedy befalls this group, both from in-fighting and at the hands of the Germans. The innocent villagers of Kalavyrta are the targets of the Germans' revenge on the antartes. Serafim has written devastating descriptions of the ruthless violence that is inflicted on the women, men, and children. The attitude of O'Malley's British superiors towards the carnage is as chilling as the Germans' actions. What saves the novel from a feeling of complete despair is O'Malley's love for Danae and his growing love of her country. This aspect of the war was unknown to me before this book. It's as important as the Blitz and the occupation of Paris, and Serafim makes me want to learn more.  — Historical Novel Society