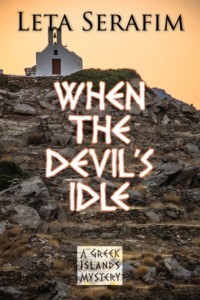 When the Deil's Idle Amazon Reviews
When the Devil's Idle is the second volume in author Leta Serafim's 'Greek Islands Mystery' series. A deftly crafted and thoroughly absorbing read from beginning to end, When the Devil's Idle is a compelling and very highly recommended addition to community library Mystery/Suspense collections. For personal reading lists it should be noted that When the Devil's Idle is also available in a Kindle edition ($6.95). Also very highly recommended is the first volume in this outstanding series The Devil Takes Half (9781603819657, $14.95 PB, $4.95 Kindle, 256pp). Appreciative readers will all be looking eagerly toward author Leta Serafim's next title in her 'Greek Island Mystery' series.
---
"Patronas, recently freed from a stifling marriage, has taken on Papa Michalis as a roommate, discovering that his enormous appetite for seafood is taking a toll on his reduced finances due to the financial crisis cutbacks to police salaries. The two form an endearing investigative team in this very enjoyable second in the Greek Island mysteries."
http://www.stopyourekillingme.com/Reviews2016.html#WhenTheDevilsIdle
---
"This classic fair-play whodunit, the excellent sequel to 2014's The Devil Takes Half (Serafim's first Greek Island mystery), takes Yiannis Patronas, the endearing chief police officer on the island of Chios, to Patmos, where someone has bashed in the skull of Walter Bechtel, a 90-year-old German, in the garden of his foster son Gunther's holiday residence–and carved a swastika on the victim's forehead. When Patronas asks Gunther about his foster father's past, Gunther becomes defensive and claims that his papa was 'just an ordinary man' and did not commit any atrocities during WWII. Serafim does an especially good job of integrating Greece's current financial struggles into the story line, and Patronas's colleagues, especially an eccentric priest with a taste for seafood, lighten what otherwise could have been a very grim tale without minimizing the underlying horror of the background to the crime."
–Publishers Weekly, August 3, 2015
---
"When The Devil's Idle is loaded with twists and turns and red herrings that will leave you guessing all the while you are flipping pages to find out what happens next. Ms. Serafim has provided us with a marvelous whodunit and I am already looking forward to the next book in the series."
—Vic's Media Room
https://vicsmediaroom.wordpress.com/2015/07/29/book-review-when-the-devils-idle-by-leta-serafim/
---
4 Stars: "The pairing of cynical Patronas and optimistic Michalis injects some humor in an otherwise moderately paced procedural. Serafim expertly creates the beauty of Greece. However, the real draws of this book are the fully developed, complex characters, and the facts on Greek culture and history. Book two in the Greek Islands Mystery series is sure to satisfy."
Serafim does a great job with knitting together the past and present, and does not allow you to see who did what until the very end. Magnificent writing! More!
---
"This novel's attraction lies in Serafim's portrayal of life in modern Greece and the complex relationships between Yiannis and those around him. Serafim deftly weaves Greece's debt crisis into the plot, and provides readers with fully-developed, complex characters. She lightens a grim plotline with the interactions between Yiannis and Papa Michalis."
–Mark Lardas, The Galveston County Daily News