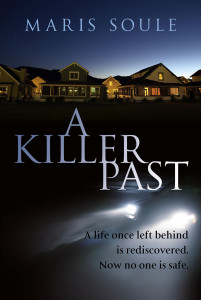 A delight! Makes me proud to be a senior with …
A delight! Makes me proud to be a senior with a brown belt! Great plot. I shoulda seen it coming but I didn't. Thanks, Maris Soule. I haven't read a really good book with an active, assertive female senior lead character since Elizabeth Moon wrote "Remnant Population" in 1997.
---
Twisted, Fairly Unique Thriller
By MSEreads
Mary Harrington appears to be just a quiet widow in her 70s. But looks can be deceiving. She works out a lot at the gym to stay in shape mostly because it makes her feel better. There are other, long seated reasons that few people, not even her family, know about.
Mary's quiet suburban neighborhood is slowly being encroached upon by drug dealing, violent gangs. Her car breaks down a block from home where two teenagers are hanging out. They think she will be an easy target but, again, looks can be deceiving. They didn't expect her to fight back. A local Sergeant, Jack Rossini, ends up investigating the mugging. Jack has been around the crime force a long time and senses there are facts that Mary is hiding. He warns her to expect retaliation by the gang but she thinks she can handle it.
Sure enough it is not long before the danger heats up with an attack on her house. The day of the attack a friend from 40 years in her past shows up on her doorstep. Mary has to explain to Jack and her own family that David is a friend from her youthful days exploring Europe – a time before she settled in this community, met and married her sweet husband. Jack thinks the man looks very dangerous and Mary's family suspect he may be trying to con her out of money. David brings news of another danger to Mary so now she has to cope with two lines of threats.
Ms. Soule does a lovely job building tension and giving the story some good twists. The primary characters are well developed, showing their sharp minds, strengths, determination and a few flaws. The description of the deterioration of the once nice suburban community and how that impacts the residents, especially the aging members, was insightful. The story was just a tad slow in the beginning but it did pick up. There were also some back history details that seemed repeated unnecessarily. Still, the twists made this an engaging story and I appreciated that the story had a different character history – which I can't reveal or it would be a spoiler.
I would be interested to try other stories by this author. I recommend this to readers who enjoy their mystery/crime thriller with some good twists.
---
A not so cozy, easy reading mystery
I was drawn to A Killer Past for numerous reasons, the title, the cover, the blurb and the location, Michigan. I love to read books that are in a location I am familiar with and I know a bit about Michigan. This is not your comfy, cozy mystery.
Sergeant Jack Rossini had been called to a scene where two gang members claimed to be beaten up by a little old woman. After they arrived at the hospital, they changed their story to ninjas, ending with they fell.
That little old lady is Mary Harrington, who is 74 and looked like easy prey. Boy were they wrong. She kicked their ass, but that created a big problem for her, exposure. Now, not only is she in danger, but also those close to her. How far would they go to keep the past buried?
I knew the premise of the story was a forgone conclusion, but I was looking forward to some twists and turns that would entertain me. The first one was Mary Harrington.
I mean…a 74 year old woman is the main character and her hidden past forces her to go on the offensive. Even though it had been years since she had used martial arts, actions were done by reflex. All her training had paid off.
Even after being warned, Jack does not let the mystery lie. He wants answers. Will he get them? Will he wish he had left well enough alone? We shall see.
Seeing I am no spring chicken myself, it was hard to buy into her kicking ass and taking a few kicks herself, then walking away. I know surprise was on her side, so I'll give it to her. I don't know what is missing in A Killer Past, but I did not feel a sense of urgency. I knew the gang members would retaliate, I mean, they are gang members, after all. Isn't that what they do? It took me three days to read it. It lacks that something extra that makes it unputdownable. Nevertheless, A Killer Past was worth reading and I did enjoy it. I would recommend this as a not so cozy, easy reading mystery.
I received A Killer Past by Maris Soule in return for an honest and unbiased review.
---
By janie
Well written book, great dialog. Author has clearly done her research well, the characters and actions are believable.
Am usually able to figure out who did it but, couldn't with this book. The book is full of surprises. you will like it. Have read it twice already.
---
By Diane
Wow. All I can say about this book is WOW. Since reviews should include more, I'll say "Criminals, watch out for Mary Harrington. She will take you down." Looks are deceiving. Two gang members find out the hard way that 74-year-old Mary can kick butt. When Detective Jack Rossini probes into the situation with the injured gang members, Mary's hidden past is about to be revealed.
The outstanding pace of this thriller made me read way into the night. Mary's character, though flawed, is very believable. Her son's overprotectiveness, Jack's bulldog determination, her granddaughter's enthusiasm for adventure add depth to the story, making the characters come alive. The setting is very well done. Although the town of Rivershore, Michigan is fictitious, the reader is grounded by references to real places. Well done, Maris Soule.
---
A Must Read for Lovers of Suspense!
It's been a long time since I've come across a book I'm compelled to read straight through, and A KILLER PAST is one of those books. I did have to put it down to go to bed, but I picked it up first thing the next morning and finished it that day.
This book piques your interest from the beginning and continues to hold your interest until the very end. I had to know what Mary Harrington's (formerly Mary Smith) secret was, and Maris Soule does not disappoint.
This is a must read book for those of you who like a good mystery. The book is filled with suspense, humor and is extremely well written. A KILLER PAST gets a 5 Star Review from The Authors' Cafe!
---
I liked both and felt their emotions throughout the novel
A very enjoyable detective novel with a very unusual detective. A page turner with a young and older character for everyone to identify with ie grandma and granddaughter. I liked both and felt their emotions throughout the novel. A fun read for the beach or plane.
---
Watch Out for the little old lady with a Kick-Ass Past….
By Wil A. Emerson, crime and suspense reviewer
Car Trouble in the small town of Rivershore, Michigan shouldn't be a source of concern. Seventy-four year-old Mary Harrington has to walk only two blocks to reach safety. But, too many houses have been abandoned by the economic downturn. Gangs and drug dealers have staked a claim. Author Maris Soule doesn't make the short walk easy for her captivating, wily protagonist. Mary uses skills she acquired in her youth to sidetrack her assailants. Rushed to the hospital with their tails between their legs, they are too ashamed to admit an old lady kicked their asses. Suspicians arise when Sergeant Jack Rossini responds to the call about gang violence. He'd like to nail the gang members to the wal but Mary won't cooperate. Mary likes her relative peace and she can keep it that way with her kubotan, nunchucks and stealth killer tools. Her best kept secrets.
In A Killer Past, author Soule doesn't pull any punches. She acknowledges Mary's strengths and weaknesses. Thus, you can never be quite sure if the cautious Mary can outwit her assailants no matter how much she lifts weights or practices her defense moves. When a co-worker from the chilling past arrives on the scene, Mary is doubly troubled. Her cover might be blown so Soule takes the story to another level of intrigue. Did the government have a role in Mary's killer past? If so, Mary might meet her maker sooner than she'd like.
The pace is ideal for a cozy mystery but the suspense is on the run. You won't know who or why until Mary and Sergeant Rossini end up on a long dark trail. Who can you trust? For sure it's Maris Soule who writes a well-developed story. A Killer Past is her best to date.
---
Not your granny's cozy mystery
The name Mary Harrington should be synonymous with James Bond or even Jason Bourne. Of course, if you knew Mary's real name, she'd have to kill you. Then she'd bake some cookies for her granddaughter. Don't let Mary's age lull you into thinking "A Killer Past" is your grandmother's brand of cozy mystery, this book is a thriller right down to the bone. Expertly crafted and well-written AKP touches on weighty subjects like the realities of aging, urban decay, casual racism, a life often glamorous but seldom pretty, and the effect one tragic mistake from the past can have on the future. Mary might be ready to spill the secrets of her killer past, but I hope this isn't the last we hear from her.
---
A Killer Past is a well-written, fast-paced novel. …
A Killer Past is a well-written, fast-paced novel. May Harrington is one tough cookie, then and now. Maris Soule did a marvelous job. Must read all her works.