Book Signings and events for Heroes Beneath the Waves: True Submarine Stories of the Twentieth Century by Mary Nida Smith
2018
Mary Nida Smith, author of Heroes Beneath the Waves – Submarine Stories of the 20th Century, to be on Liberty Watch Radio with Charles Heller!
On Sunday, April 8, 2018 Mary Nida Smith, author of Heroes Beneath the Waves – Submarine Stories of the 20th Century, and I will be on our Tucson radio station KVOI, AM 1030, a Salem Radio Network station, noon local time. We do not go to "Savings Time" here so it is equivalent to noon Pacific Daylight Time. There is no top-of-the-hour news so tune in early. We will be celebrating 118th birthday of our U.S. Submarine Service on April 11th . It is a one hour show titled America Armed and Free hosted by Charles Heller. You can find KVOI's web-site (kvoi.com), click listen live and stream it live, or go to libertywatchradio.com, go to the current shows, locate it and download or stream it from there (sometime after the show gets uploaded to the web). Listen live and call in if you would like. (520) 790-2040. Tell others about this program.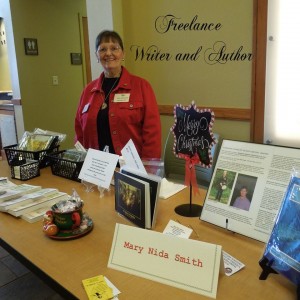 2016
Event for Mary Nida Smith
Date:

May 15, 2016    12:00AM — May 15, 2016    03:00PM

RSVP by:
February 11, 2016    03:43PM
Venue:
The Crescent Hotel,

75 Prospect Avenue

,

Eureka Springs

,

AR

,

US

Type:
author appearance
Website:
http://booksinbloom.org  http://booksinbloom.org/event-author/mary-nida-smith/
---
2015
Author Book Sale and Signing Holiday Event
Date: 12/5/2015
When: 1:00 PM – 4:00 PM
Location: Donald W. Reynolds Library Serving Baxter County – Knox Rooms A+B+ Great Hall
The Library will showcase authors at this holiday book sale and signing event. Meet neighbors who are authors and have them autograph your purchases. Books make great gifts, so shop locally and support talented authors! http://submarinestories.blogspot.com marynida@suddenlink.net http://marynidasmith.blogspot.com
http://marynidasmithbooks.blogspot.com  http://creativewritersandillusrators.blogspot.com
Represented by Loiacono Literary Agency www.loiaconoliteraryagency.com
Skyhorse Publishing www.skyhorsepublishing.com
LODGE
BOOK SIGNING: FRIDAY AFTERNOON, DECEMBER 18-(2-5)
HEROES BENEATH THE WAVES: SUBMARINE STORIES OF THE TWENTIETH CENTURY
By Mary Nida Smith
USSVI Submarine Veterans Base of Mountain Home, founded by Robert Buschbacker, provides histories and pictures, plus many others across America share war and peace time stories, of how it was, and is, to live below the sea, encountering the unknown. Few people know what a huge part the USS Submarine Service plays in protecting us and our freedom.
Smith's husband CPO Melvin Smith, served sixteen years in submarines and five years in anti-submarine helicopters. He served, starting at seventeen, in WWII, Korea and Viet Nam. http://submarinestories.blogspot.com marynida@suddenlink.net
http://marynidasmith.blogspot.com  http://marynidasmithbooks.blogspot.com
http://creativewritersandillusrators.blogspot.com
Represented by Loiacono Literary Agency www.loiaconoliteraryagency.com
Skyhorse Publishing www.skyhorsepublishing.com
Mary Nida Smith is a freelance writer, poet, artist, photographer and lifetime member USSVI Subvettes, Ladies of U.S. Subvets, several artist clubs, Ozarks Regional Arts Council Historian, Ozarks Writers League, Friends of the Library and founder of the Twin Lakes Writers. http://marynidasmith.blogspot.com
Location map at www.retiretoriverbend.com/contact us
Information 1-870-471-0064 – Coffee while we visit