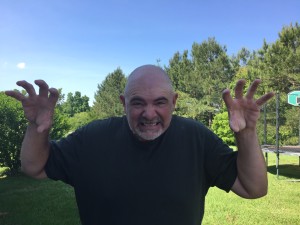 Represented by Jeanie Loiacono exclusively for the following:
Michael Infinito  www.wizardofotin.blogspot.com Infinito Media  Facebook  Twitter  GoodReads
Michael Infinito has been hailed as the next Stephen King. A novelist and short story writer, he grew up in New Jersey but now resides under the clear, blue skies of Eastern North Carolina. With a life-long passion for the literary arts, his goal has always been to create compelling stories people won't want to put down. His list of published works includes: A Wish to Die For, The Hanging Tree, XXXtreme Discretion, The Colby Ghost and Hour of the Serpent (all published by Black Opal Books) with more to come.
Remember – a patriotic poem, lest we forget, will pull at your heartstrings.
---
XXXtreme Discretion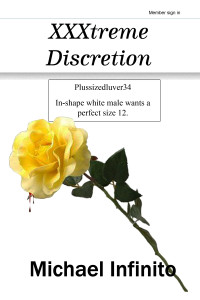 Published by Black Opal Books
Amazon  B&N   Smashwords  Angus & Robertson  KOBO  All Romance Books  Black Opal Books  Scribed  BookWorld  Google Play  Goodreads  Powell's Books  Scribed  Amazon CA  Amazon AU  Amazon UK  Amazon Germany  Amazon Italy  Amazon France  Amazon Spain  Amazon Japan  HPB  Hudson Books  BAM  FishPond  Waterstones  IndieBound  Book Depository  Copia  Wheelers
XXXtreme Discretion shows us just how dangerous the world of casual internet dating can be. Non-stop suspense, a touch of supernatural involvement, and unexpected twists every step of the way, A shocking, raw, and powerful juggernaut that puts a new twist on common abduction tales.
In the dictionary, under the definition of the word 'psychopath', there should be a picture of Dwight Barnes, a self-made business man whose success was born out of his twisted desire to fulfill a secret promise to a lost loved one.
When Roxbury, New Jersey detectives, Monica Ross and Mike D'Tavio, discover their case involving a missing woman might be linked to three others in the nearby area, all traceable to a casual affair dating site known as "XXXtreme Discretion," they try to fit the puzzle pieces together with little success….Until Ross spirals into what appears to be a hopeless situation of pain and suffering, leading to an unexpected ending that will keep everyone on the edge of their seats.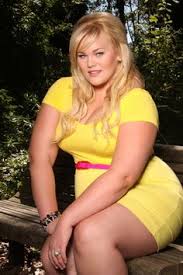 ---
A Wish to Die For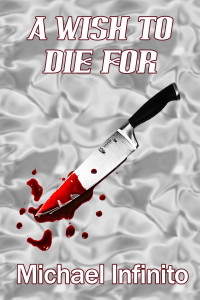 Published by Black Opal Books
Amazon  Amazon CA  Amazon AU  Amazon UK  Amazon Germany  Amazon Italy  Amazon France  Amazon Spain  Amazon Japan  HPB  Hudson Books  B&N  BAM FishPond  Waterstones  IndieBound  Smashwords  Book Depository  Powell's Books  Wheelers  GooglePlay  KOBO  GoodReads
Throughout history, people have sold their souls to the dark side in order to make their selfish wishes come true. With the dawn of the computer age, the ritual continued. Rock stars, race car drivers, and even politicians found their fame and fortune with the help of a new and mesmerizing evil website. The only price they paid for the use of its services was a gruesome death, which occurred one year to the day after they had made their requests.
When Carrie, a frustrated housewife, logs in to the website and enters her under-duress wish of, If you want to make my life better then you should just kill my husband, a chain of events begins to unfold that no one could have ever predicted. She is the only one who has put two-and-two together; trying to contact other bloggers to explain and to warn them before it is too late for all of them.
---
The Hanging Tree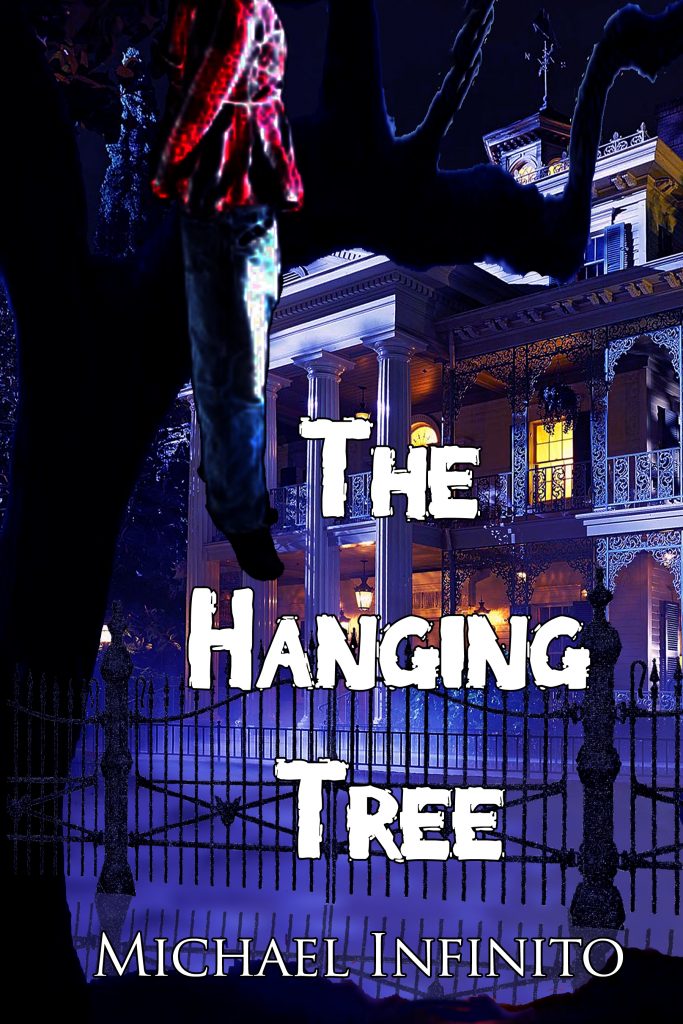 Published by Black Opal Books
Amazon  B&N  Smashwords  KOBO  Black Opal Books  iTunes  Scribd  Amazon AU  Amazon CA  Amazon UK  Amazon Germany  Amazon Italy  Amazon France  Amazon Spain  Amazon Japan  Amazon India  HPB  Hudson Books  Angus & Robertson  BAM  FishPond  IndieBound  KOBO  Waterstone Marketplace  GoodReads
The Hanging Tree is a fast-paced ghost story that chronicles the histories of two post-Civil War American families and their struggle to break free from the stigma of slavery. Divided by race, their separate journeys, over several generations, are thrilling, suspenseful, triumphant, and sometimes tragic.
Infinito has you crying and cheering at the same time, and may just cause you to sleep with a light or two on at night.
When South Carolina Plantation owner Samuel Worthington liberates his slaves, he offers them some land in exchange for their continued service. His best worker, Jeffrey, accepts the deal and begins building a life for his freed family.
Upon Samuel's death, everything changes. His son, Jake, alters the agreement, setting in motion a destructive pendulum that swings relentlessly for generations to come. Inhabited by ghosts of a dead rice plantation, the fertile land serves as a battleground in the war between greedy, ruthless men, and the spirits of its rightful owners. You's on my land.
Two plantation families, both torn apart by injustice and bigotry, branch out away from their roots and struggle to make it into the early twentieth century. Through World War I, Prohibition, and the modernization of America, the South Carolina land and its ghosts remain common ground in a prolonged chess match between the two clans. Unfortunately, neither family can ever fully prosper unless all the stray pieces find their rightful place and balance is restored, but justice proves elusive in the shadow of America's darkest social blemish.
---
The Colby Ghost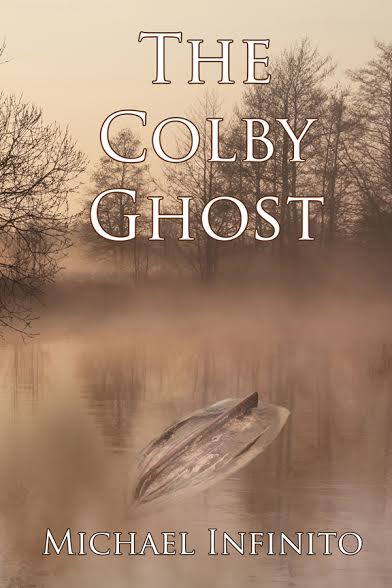 Published by Black Opal Books
Amazon  Amazon AU  Amazon CA  Amazon UK  Amazon DE  Amazon FR  Amazon IT  Amazon ES Amazon IN  Amazon JP  HPB  BAM  B&N  Waterstones Marketplace  Waterstones  IndieBound Hudson Books  FishPond  Smashwords  KOBO  Wheelers  Scribed  GoodReads  Book Depository  Powells
Everyone has their own identity, but after an unexpected encounter with a forest girl named Diane at his parent's summer lake retreat, sixteen-year-old Miles Hanson realizes he might just have two of them. Intrigued by the impossible past of which she speaks, their love blossoms quickly, as does the mystery surrounding her presence.
After some investigation alongside his father, a lifelong lake visitor who had also encountered his own version of Diane as a child, Miles soon learns about a local mystery involving The Colby Ghost. The tale centers around a young couple who had disappeared three decades earlier. Their names—Miles and Diane.
Pulled away from Oak Lake for good, a result of family issues, Miles must fight his way back there in order to learn the hidden truths about the missing couple, as well as some shocking revelations concerning his own life. But will Celia Walton, a new love at home, complicate things, or is her involvement all part of Diane's master plan? In the end, Miles must make an emotional decision that will affect his future in ways unimaginable, and one girl will be heartbroken. Or will she?
____________________________________________________________________________
Hour of the Serpent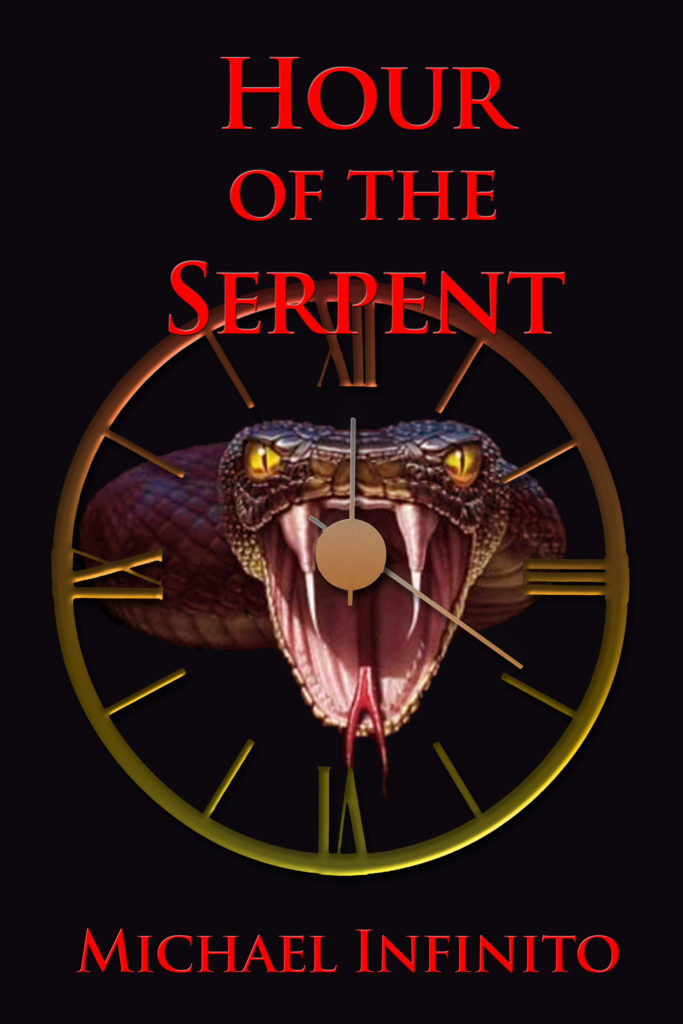 Published by Black Opal Books
Amazon  Amazon CA  Amazon AU  Amazon MX  Amazon UK  Amazon DE  Amazon ES  Amazon IT  Amazon FR  Amazon IN  Amazon JP  HPB  B&N  BAM  Powell's  IndieBound  Scribed  FishPond  A&R  Hudson Books  Smashwords  KOBO  Book Depository  Waterstones Marketplace  Waterstones  Goodreads
Violet and Johnny Dotson pull up stakes and relocate to the beautiful countryside near Asheville, North Carolina in an attempt at starting over after a series of miscarriages that Violet has attributed to the presence of an evil snake. Unbeknownst to them they have actually been summoned there by an evil entity.
Locked away in a mountaintop mental institution, J.C., a mysterious survivor found at the scene of a brutal murder/suicide, will only utter six words: "I am the son of God."
Strange events centered around the unknown patient spur Detective Tom Drayton and his partner to connect several other bizarre deaths to the time of 12:19.
Armed with an old priest's advice and a touch of new found faith, Tom follows a path that could very well lead him to the destruction of all mankind. But is he doing God's bidding or could he in fact be the dreaded serpent himself?
12:19…The clock is ticking….
Loiacono Literary Agency is not responsible for the scheduling of authors, negotiations, or fees associated with the speaking engagements. You may contact the author directly to check availability Michael @ michaelinfinito@gmail.com .