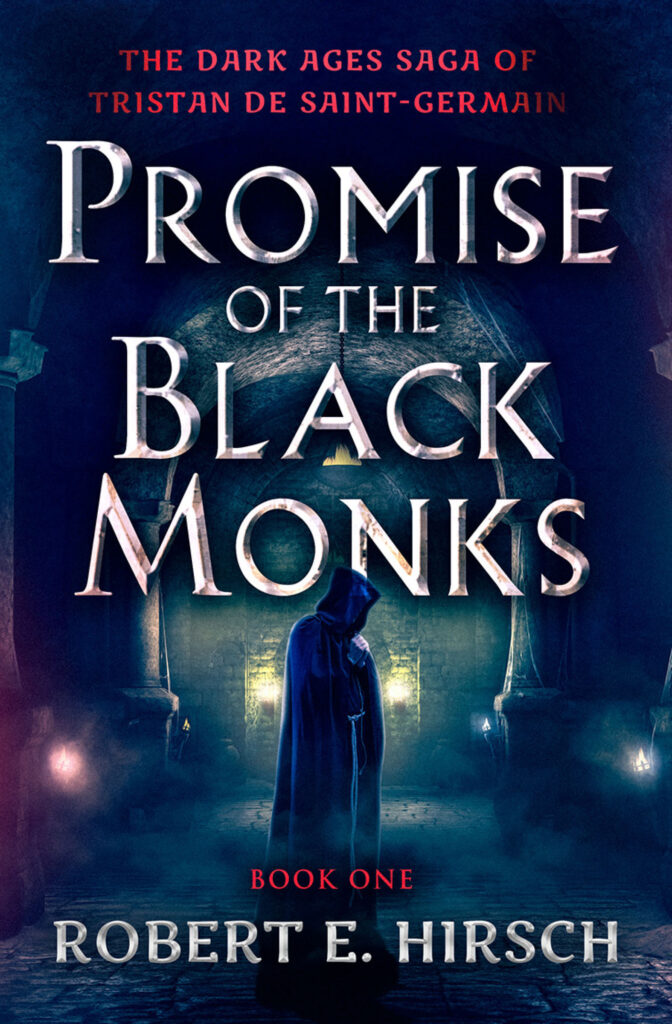 Published by Open Road Integrated Media (release 12/20/22)
Promise of the Black Monks Amazon Reviews
Our book club read Promise of the Black Monks for the October meeting. I thought you would like to know the thoughts of the club. Overall, those who were able to finish the book in the allotted time generally liked the book and enjoyed reading it. Those who started it, but hadn't finished, enjoyed what they read thus far and planned to finish it.
All were in agreement that the foreshadowing was a strong point and they liked the character development actually developing over time and not all at once. Many members had their favorite character, but overall a favorite was Heidi.  All members would have liked to have had a family tree diagrammed in the book, as well as a map of the setting area to follow along for a visual clue. Also desired was a flow chart, so to speak, of real characters and fictional characters, as well as which stories were true vs. fictional or embellished with creative license.
Thank you again for the complimentary copies of the book and we all wish you the best of luck with the saga!
Warm regards,
Sondra Chalupa
---
Midwest Book Review
James A. Cox, Editor-in-Chief
Promise of the Black Monks
"Promise of the Black Monks" by Robert E. Hirsch is the riveting story of a young man who is predestined to be the catalyst of war. Torn between his heart and his church, he knows one to be his true love and the other a farce. Impressively well written, this deftly crafted saga of a novel is very highly recommended for community library Historical Fiction collections. For personal reading lists it should be noted that "Promise of the Black Monks" is also available in a Kindle edition ($4.99).
---
Better than The Thornbirds!
Fabulous writing that draws you in. I was compelled to find out what was to happen to Tristan and his little brother. I would get up and grab my coffee and the book to start my day. Had to! I went to bed worried about them and the Danes. I can't wait to read the sequel, Hammer of God!
---
By gayle pace
This is a wonderful piece of writing that grabs hold of you from the first page. You become so a part of the characters, especially Tristan and his younger brother. Two young boys, father executed for treason and abandoned by mother after she remarries and goes to England. The boys end up in Benedictine Black Monks monastery in Cluny, France. Tristen is a gifted prodigy whose talents will be used by the Benedictines as well as Rome. He soon finds himself in a struggle between pope Gregory VII and Emperor Heinrich IV. Read and find out what title he is given at the ripe old age of twelve.
The author, Robert E. Hirsch wrote a historical correct novel that will take you back in time to another day, another world. The descriptions of the characters and what they go through will place you right there among the black monks. I would recommend this book to anyone who is fond of the Dark Ages and what went on at that time. I'm not usually into books of this kind, but this one was different. I think it was partly because of Tristen and his little brother.
---
5.0 out of 5 starsFantastic read
By A Customer
You will fall in love with the characters and their paths cross so well in this historically accurate novel. So very proud of Robert Hirsch for bringing these characters to life!!