Rochelle Wisoff-Fields-Addicted to Purple
http://www.rochellewisoff.com/art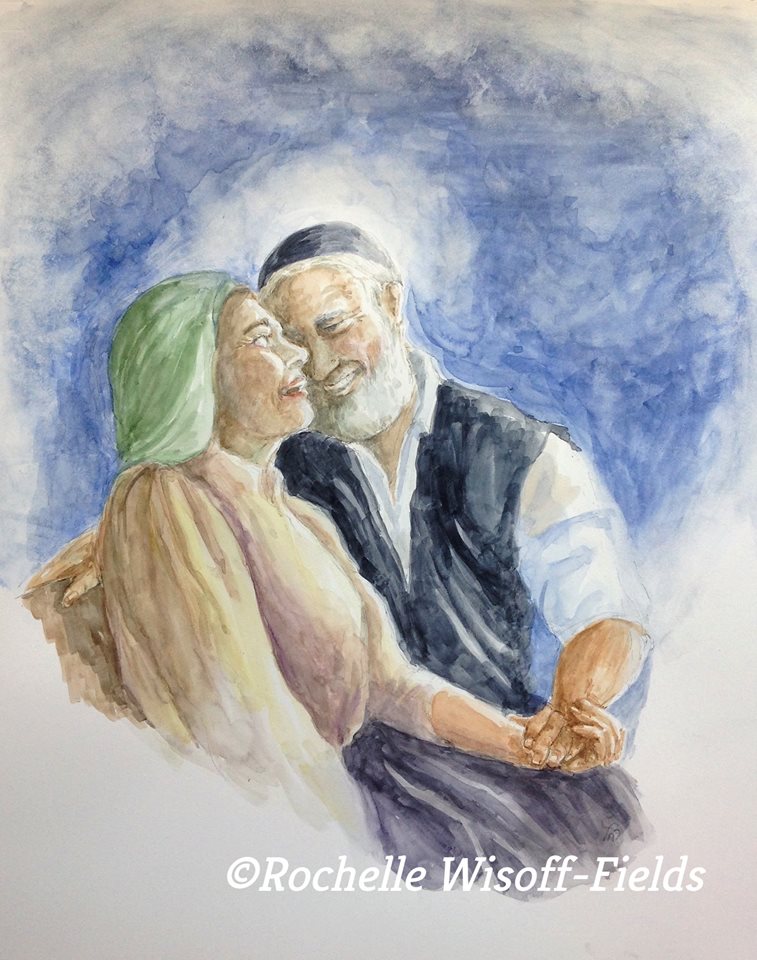 Soulmate Yussel and Fruma Ya'el's Proposal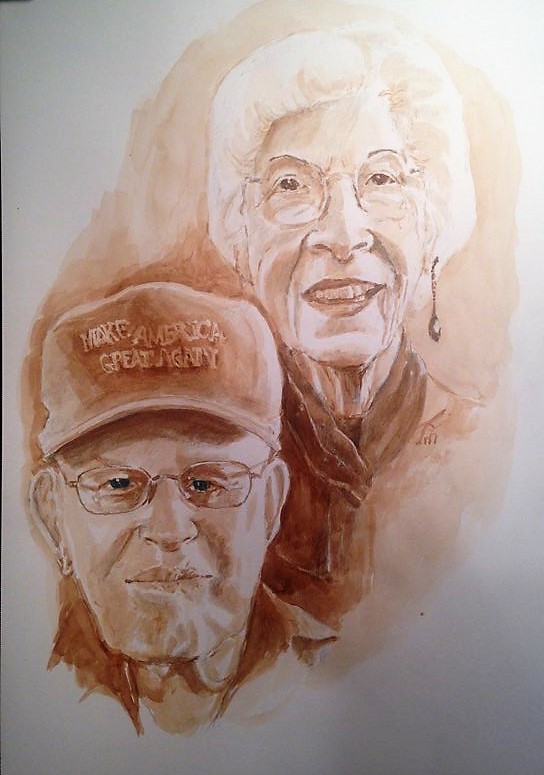 WWII veteran, Otis Hart, 98 years young, and Marie Worden, 2017 They have known each other since she was 11. War, spouses, children, grands, and life in general, and now they have each other.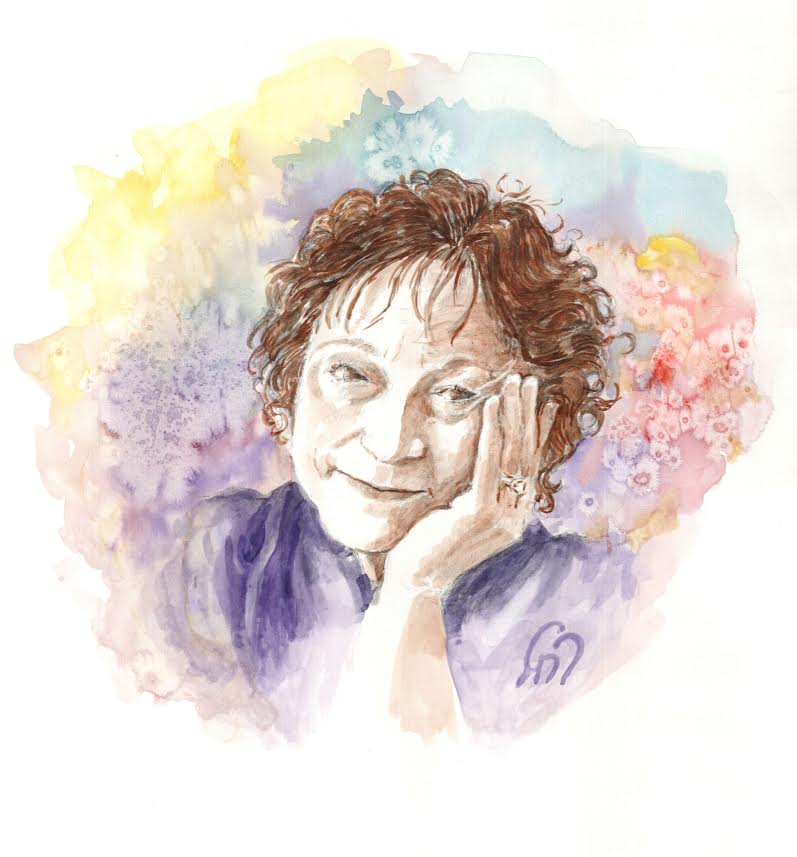 Rochelle – self portrait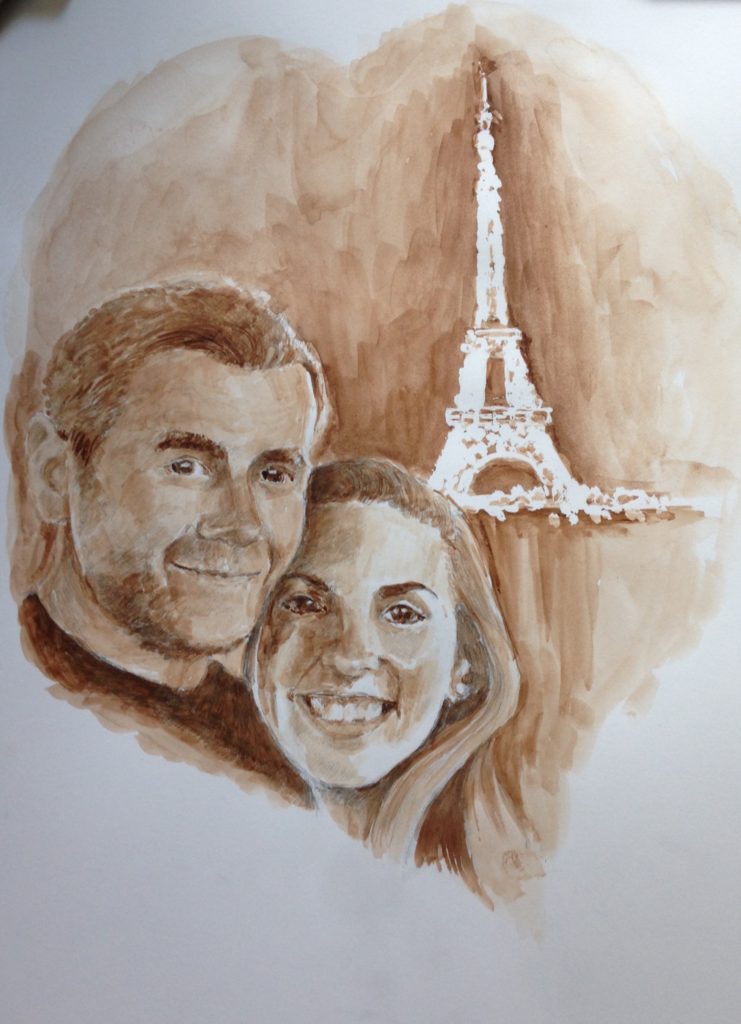 Jeff and Megan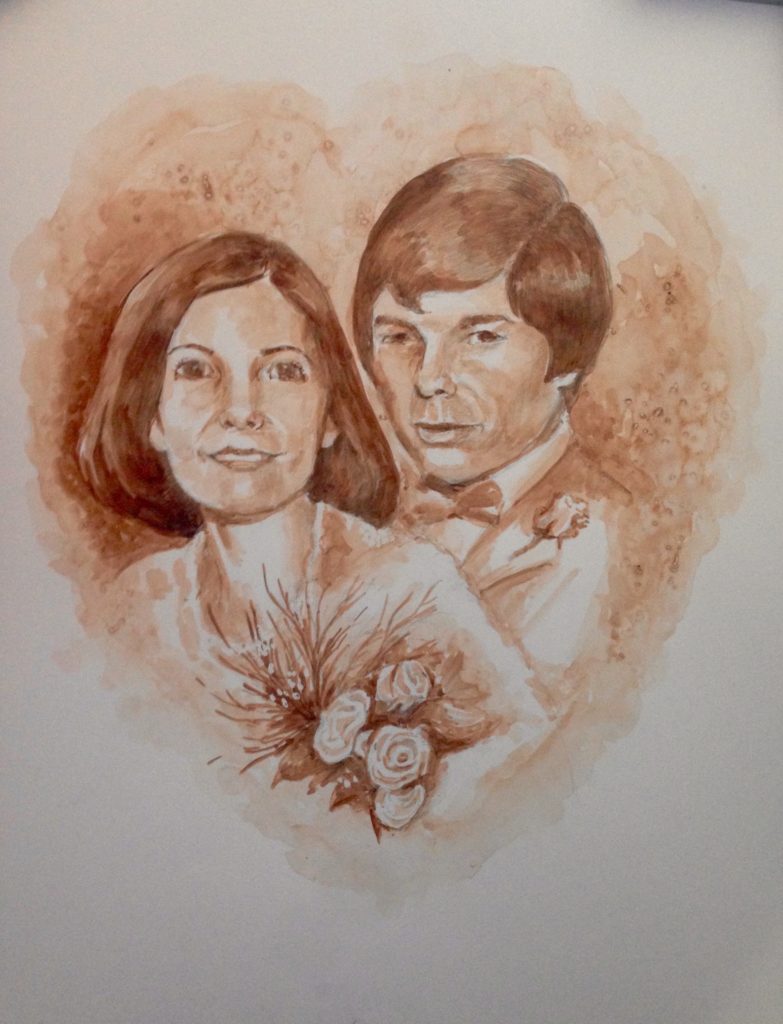 Bob and Joan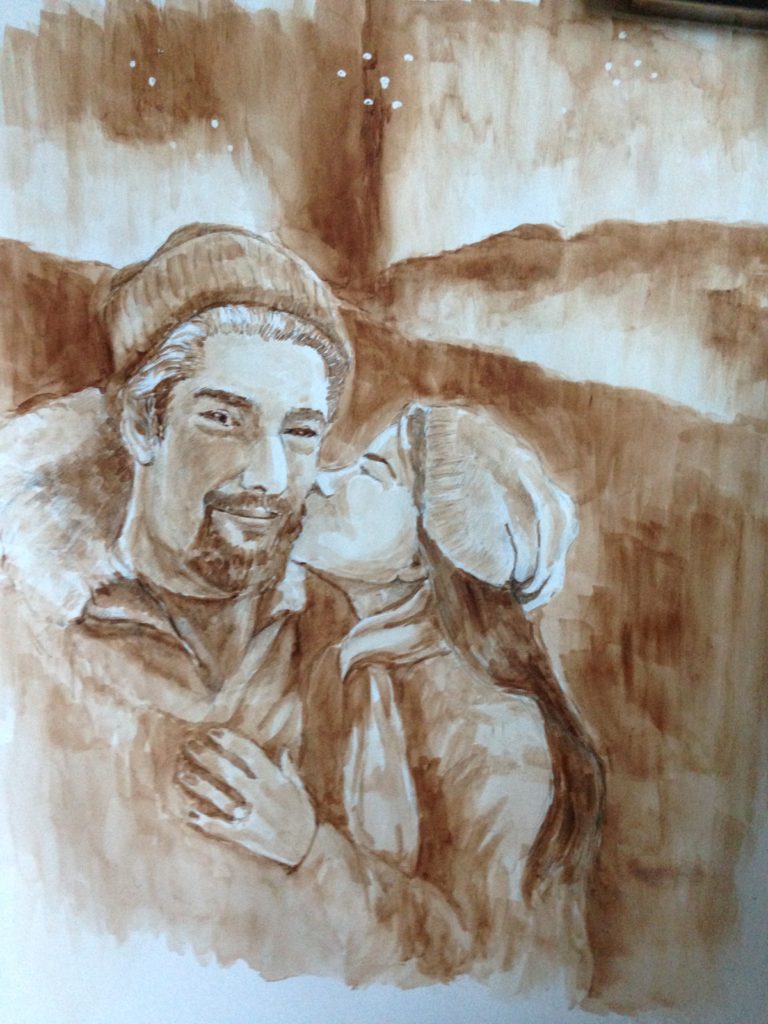 Edwardo and Claudia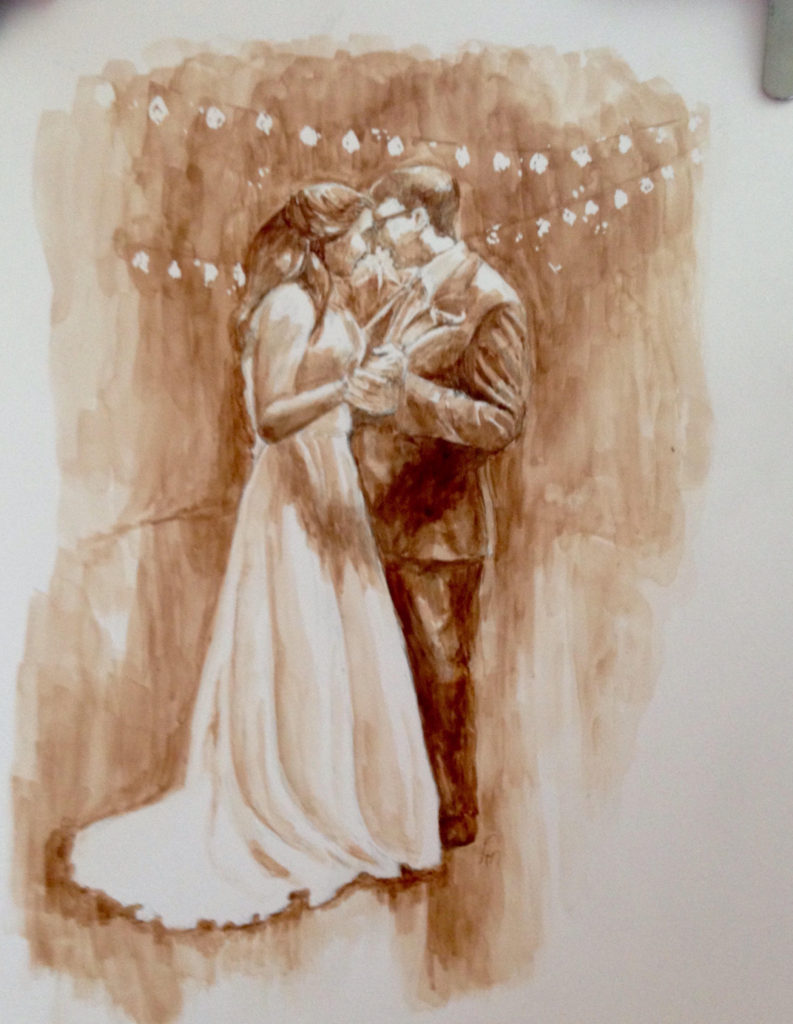 Elena and Brandon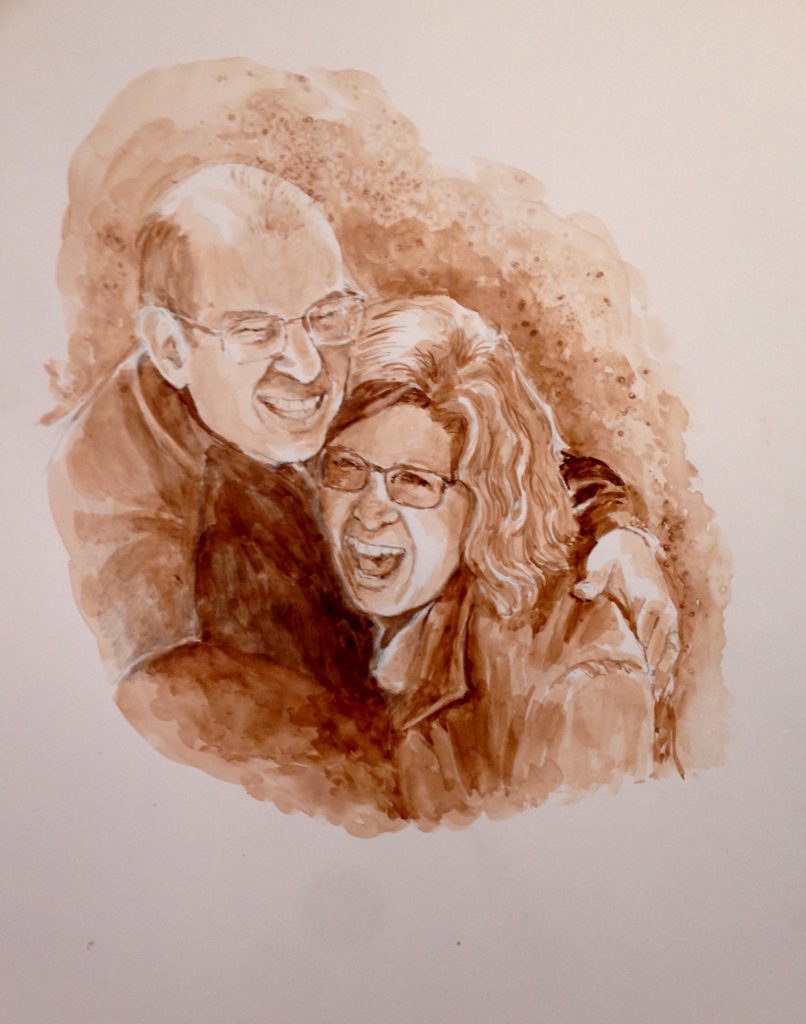 Scott and Doreen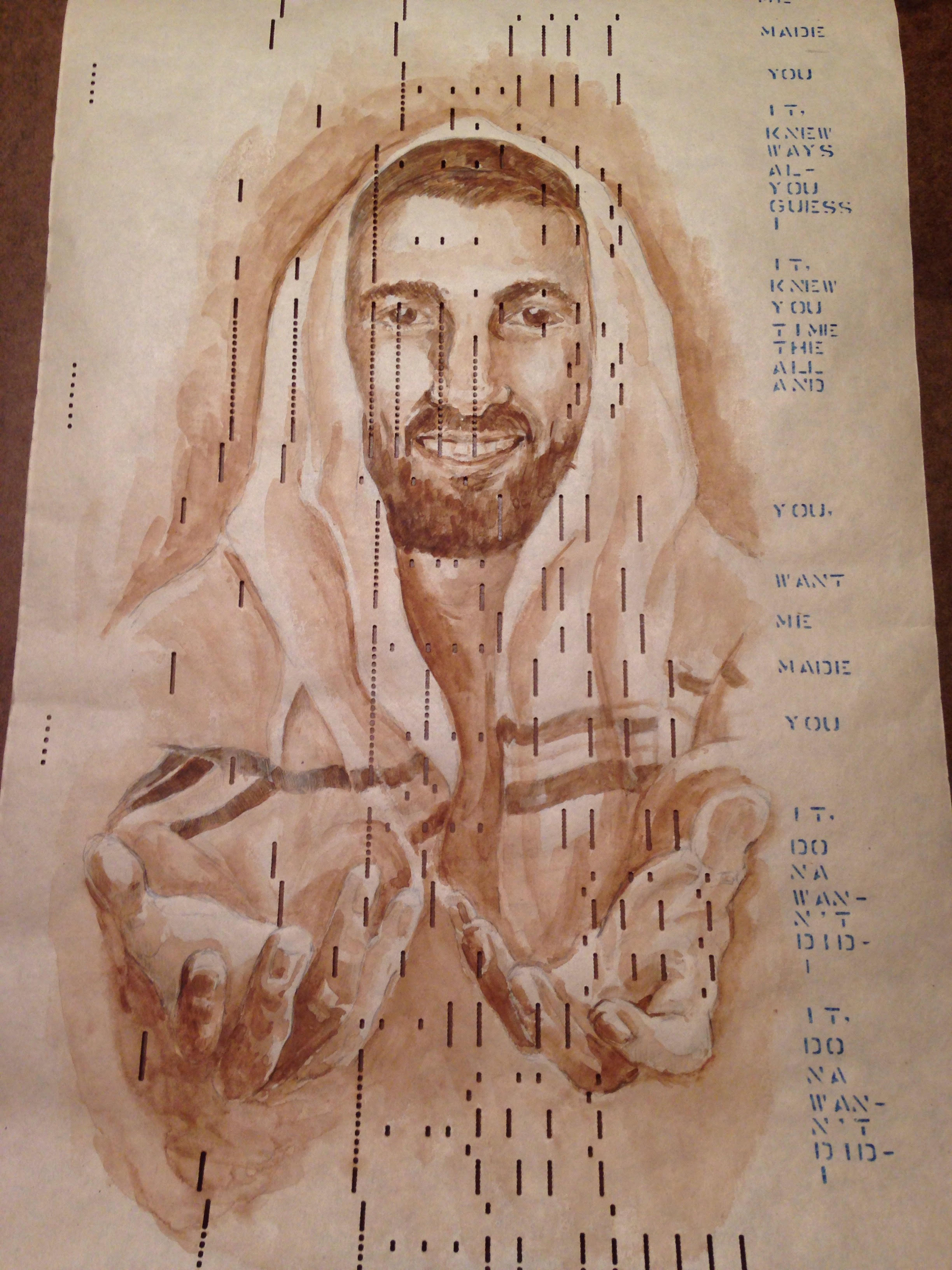 Yeshua (Jesus) on scroll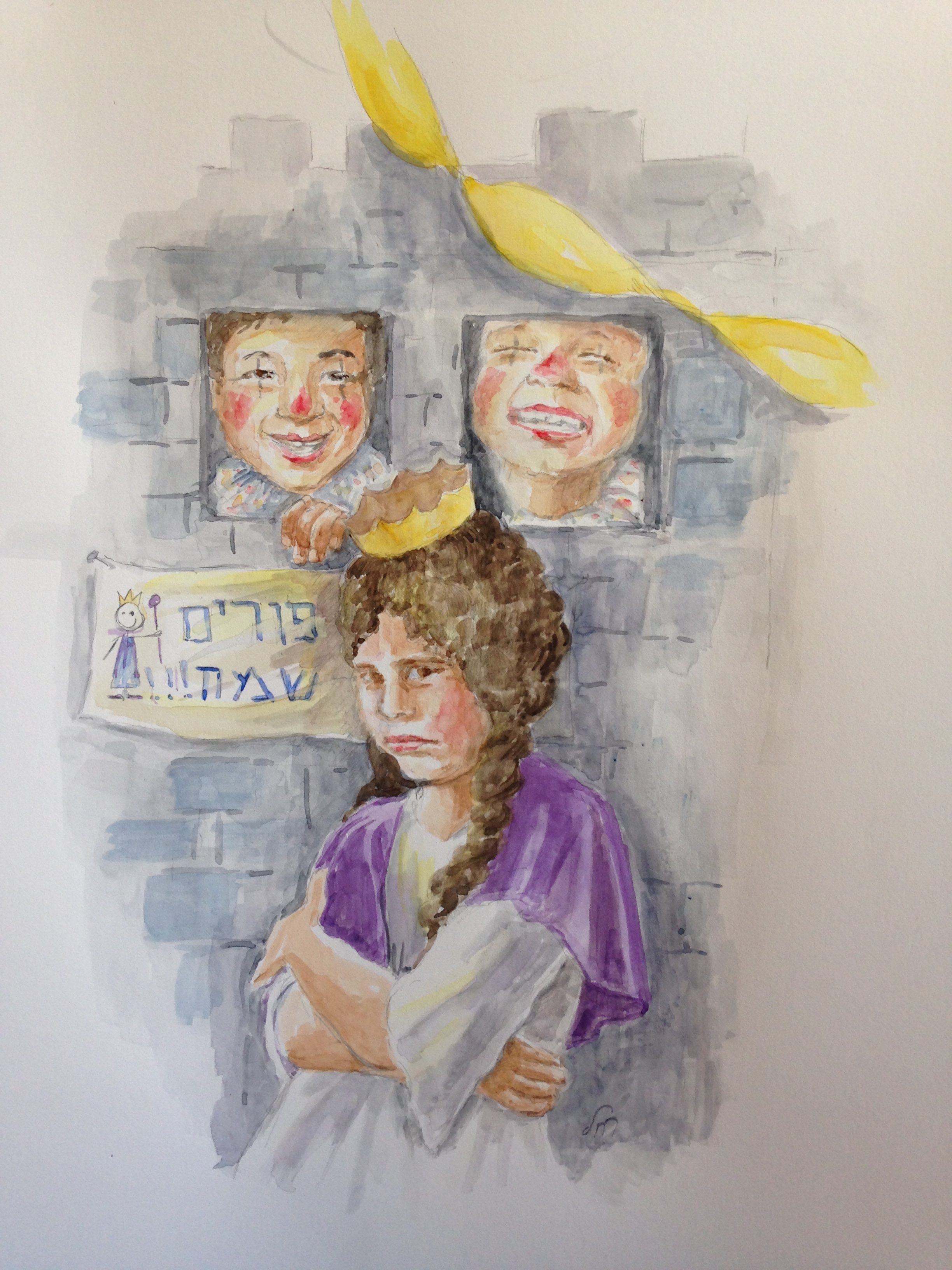 Purim Spiel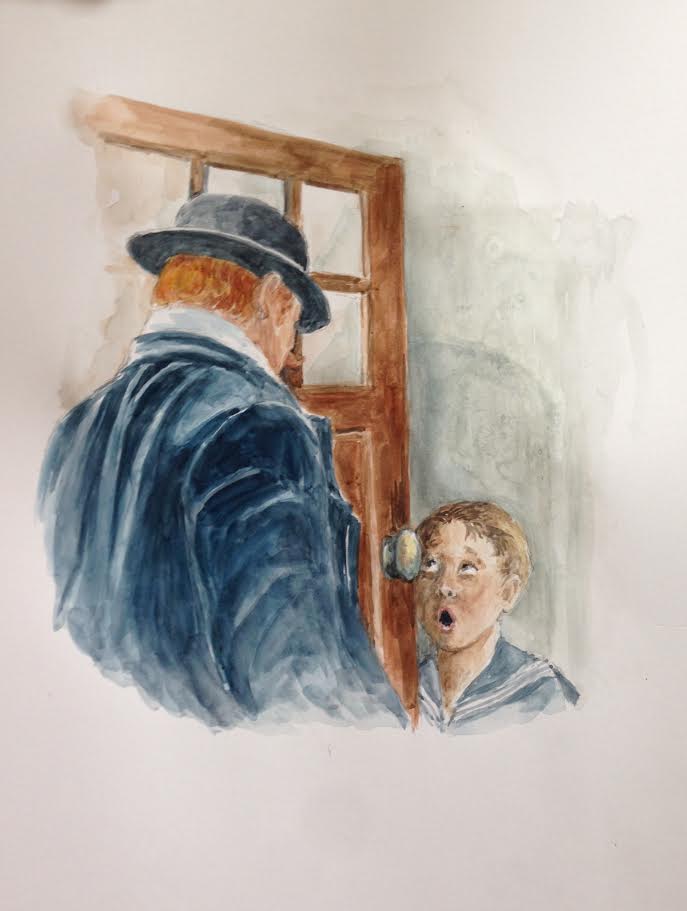 Elijah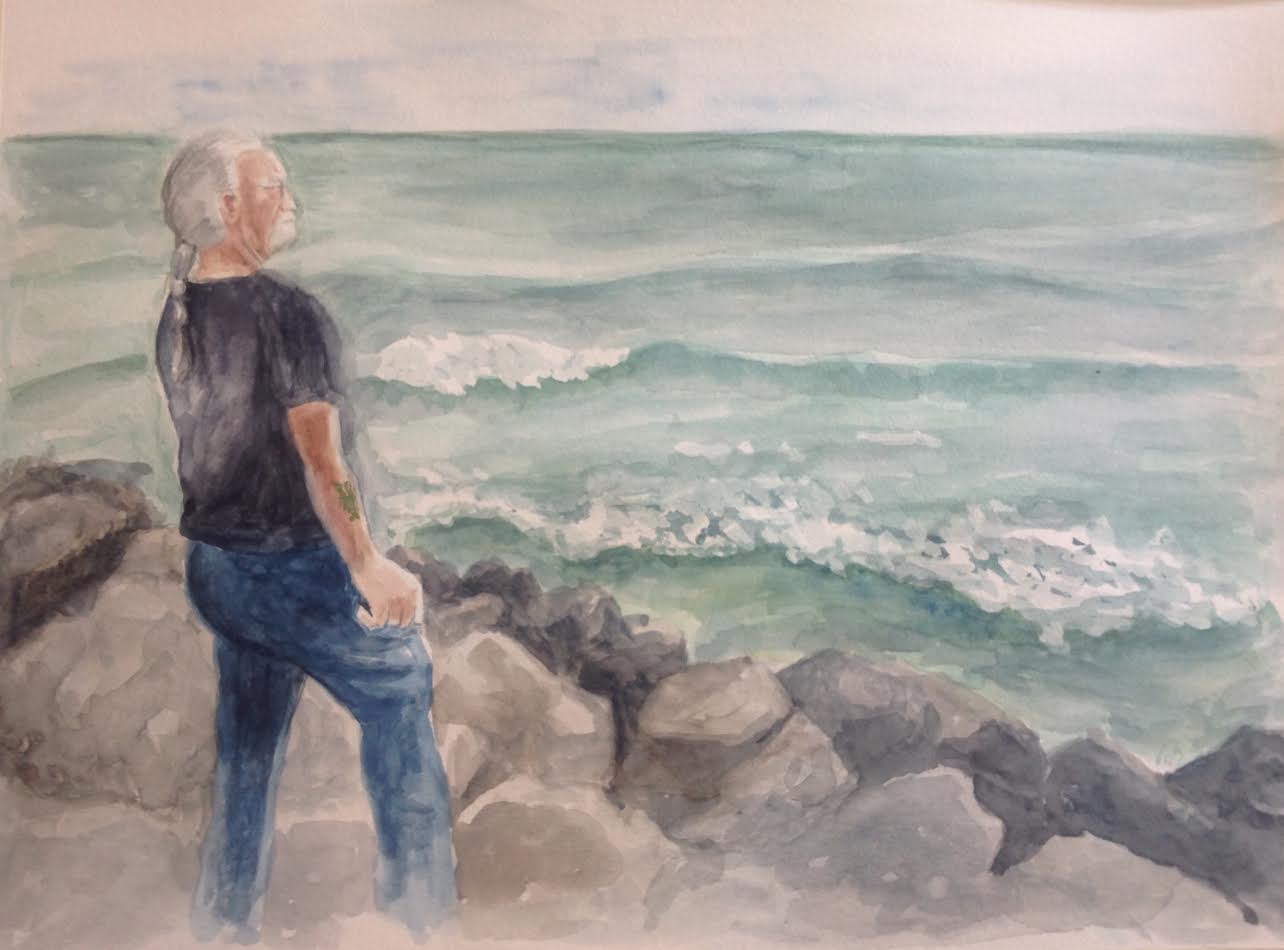 Jan Fields for Father's Day 2017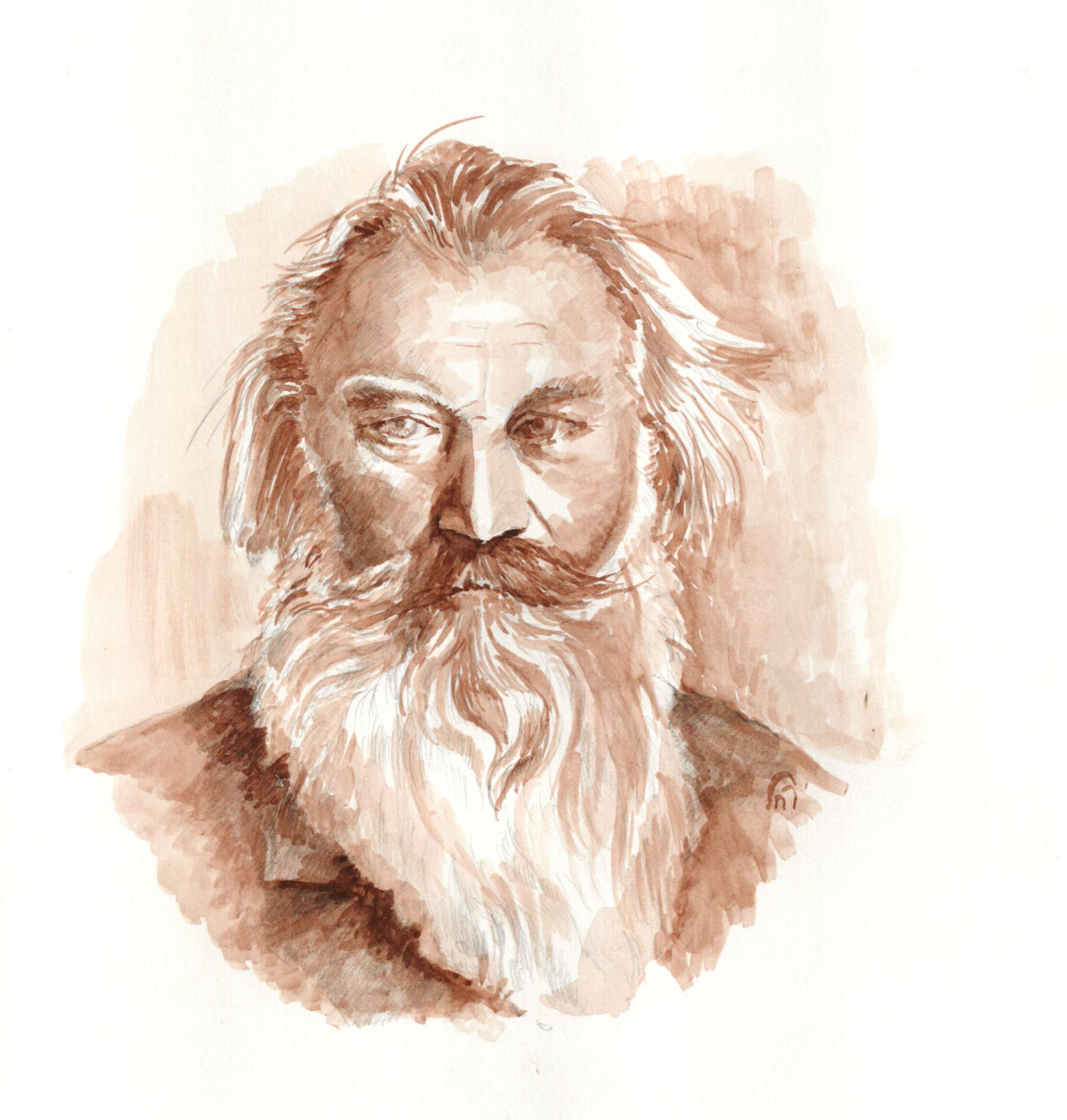 Johannes Brahms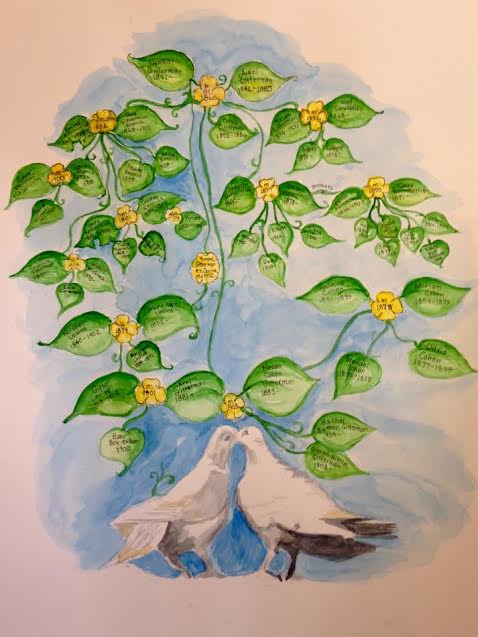 Havah's family tree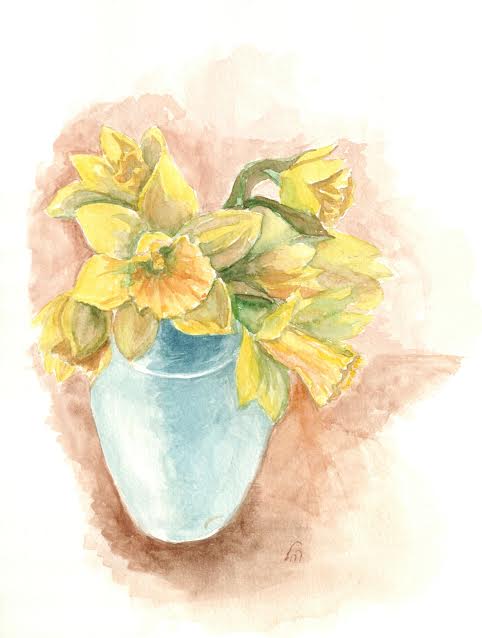 Daffodils in Spring 2017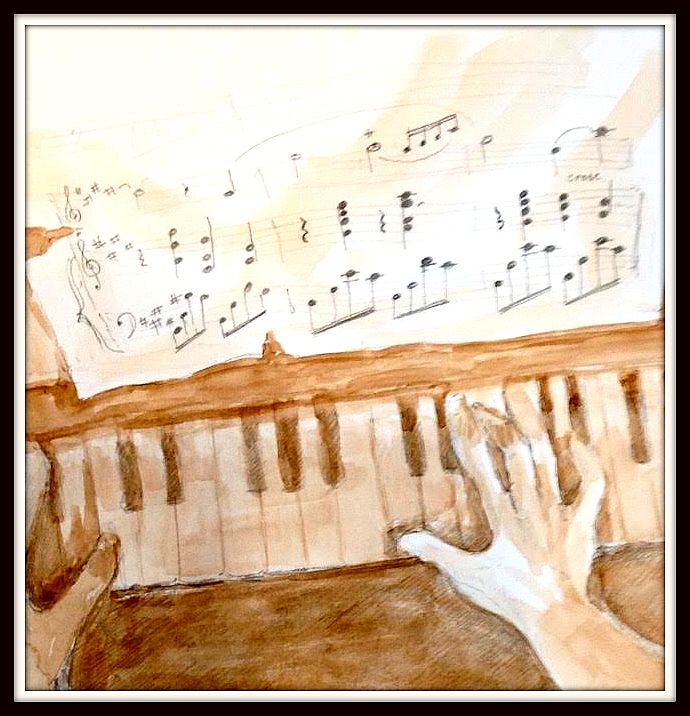 Hands on piano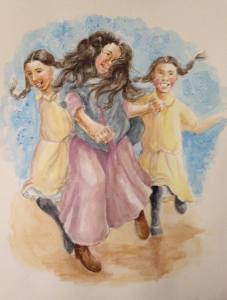 Ruth, Havah, and Rukhel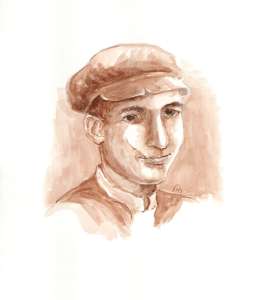 Lev Resnick Gitterman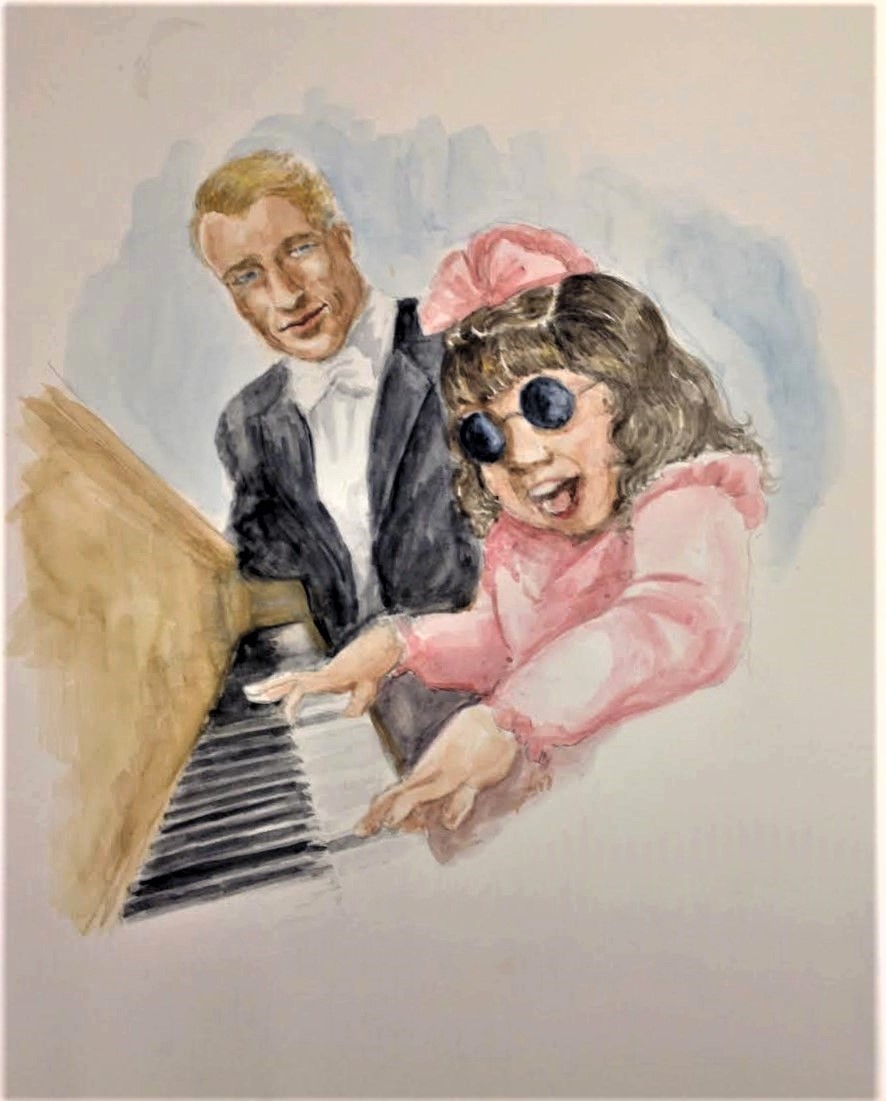 Ulrich and Rachel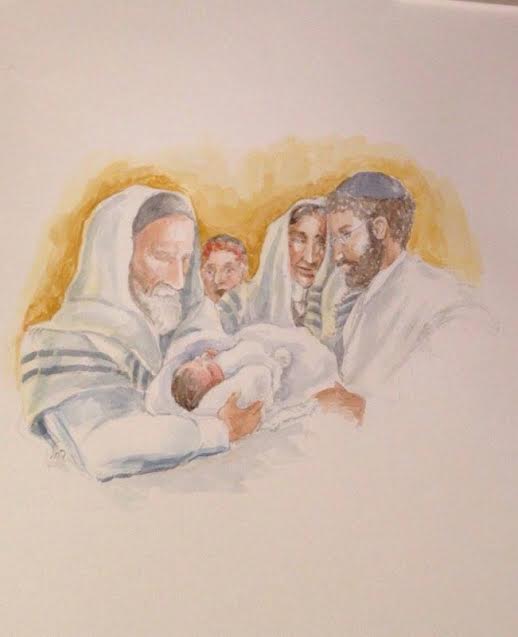 Simon's bris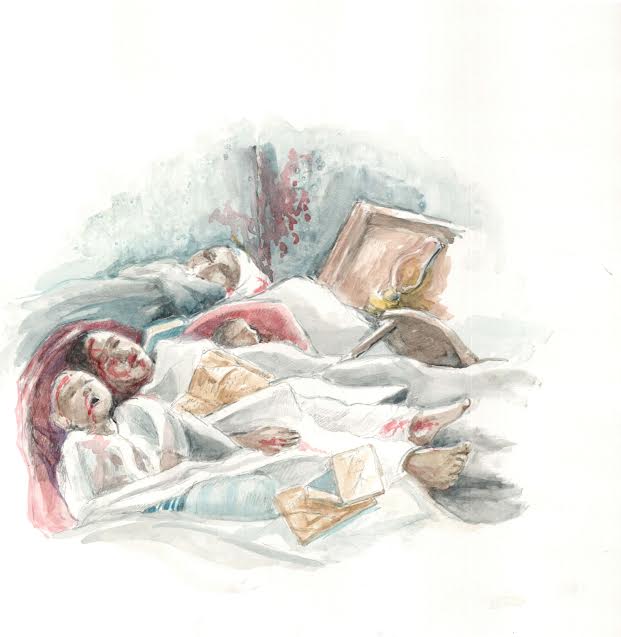 Slaughtered children of Kishnev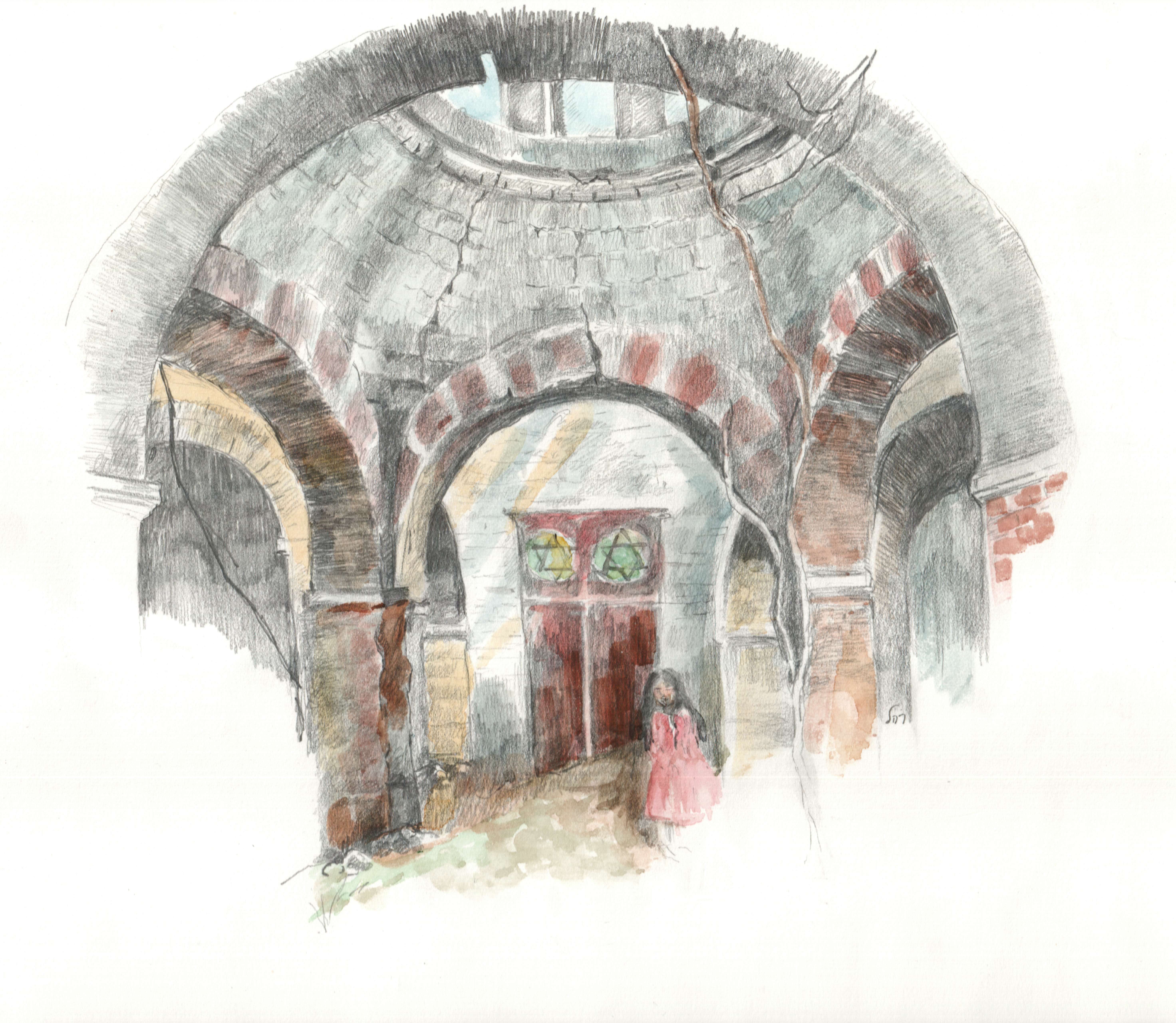 Kishnev Synagogue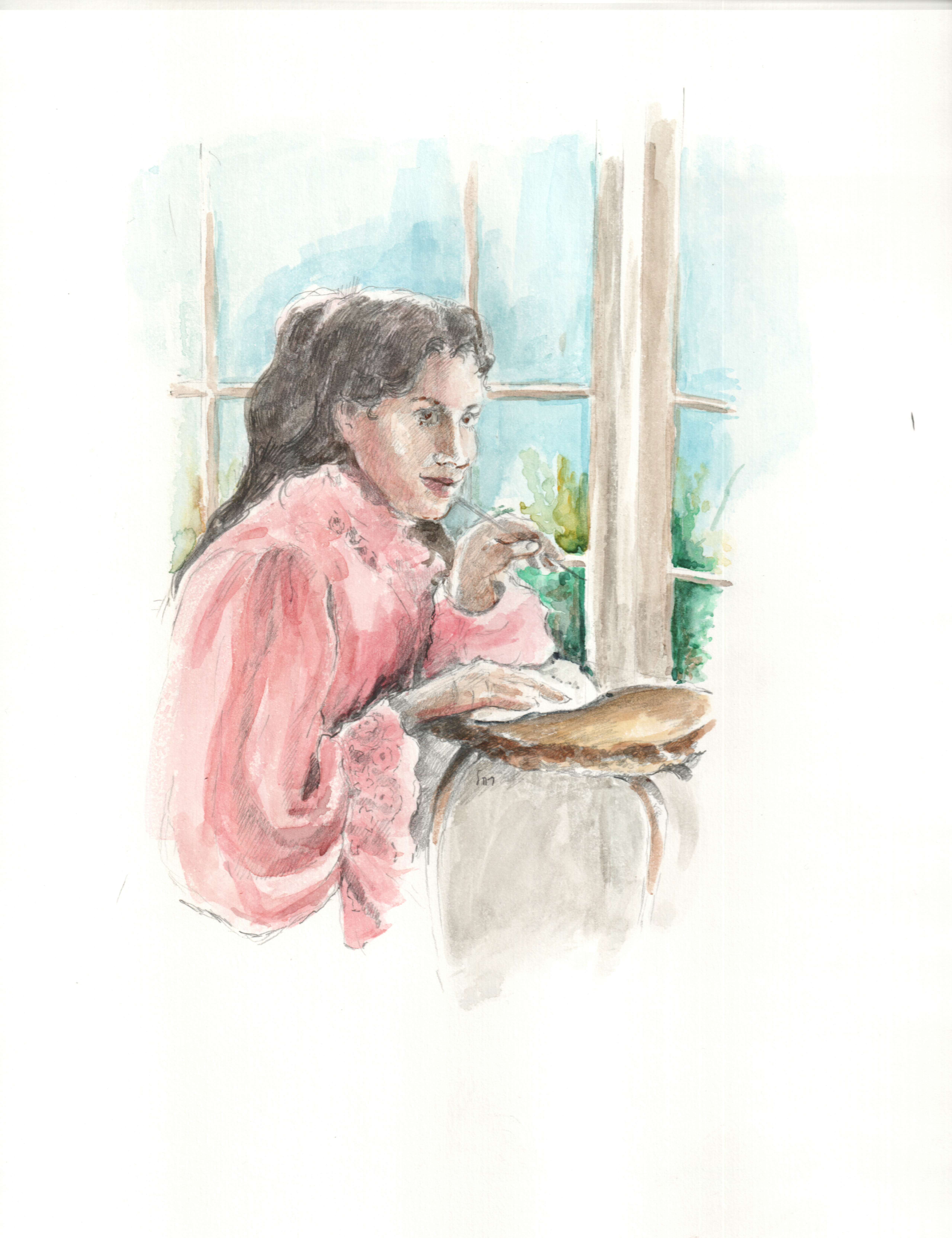 Havah writing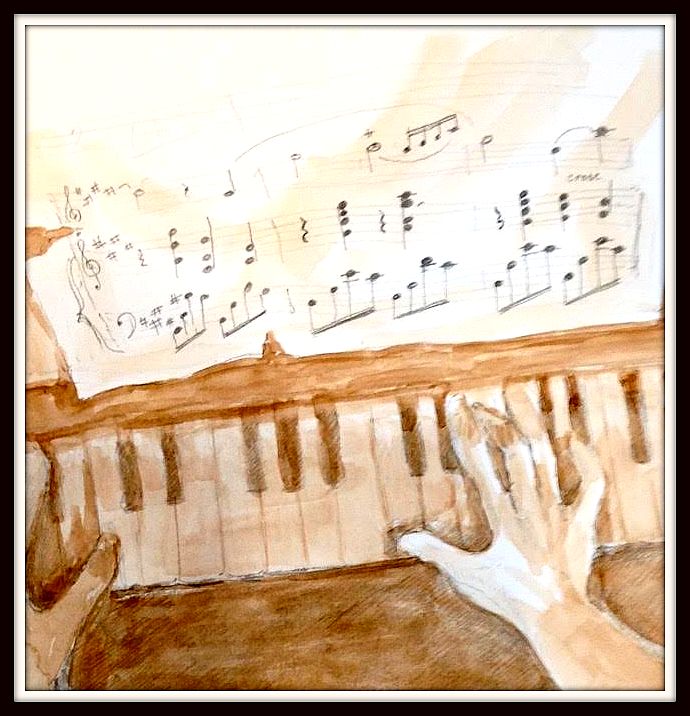 Havah's hands on the piano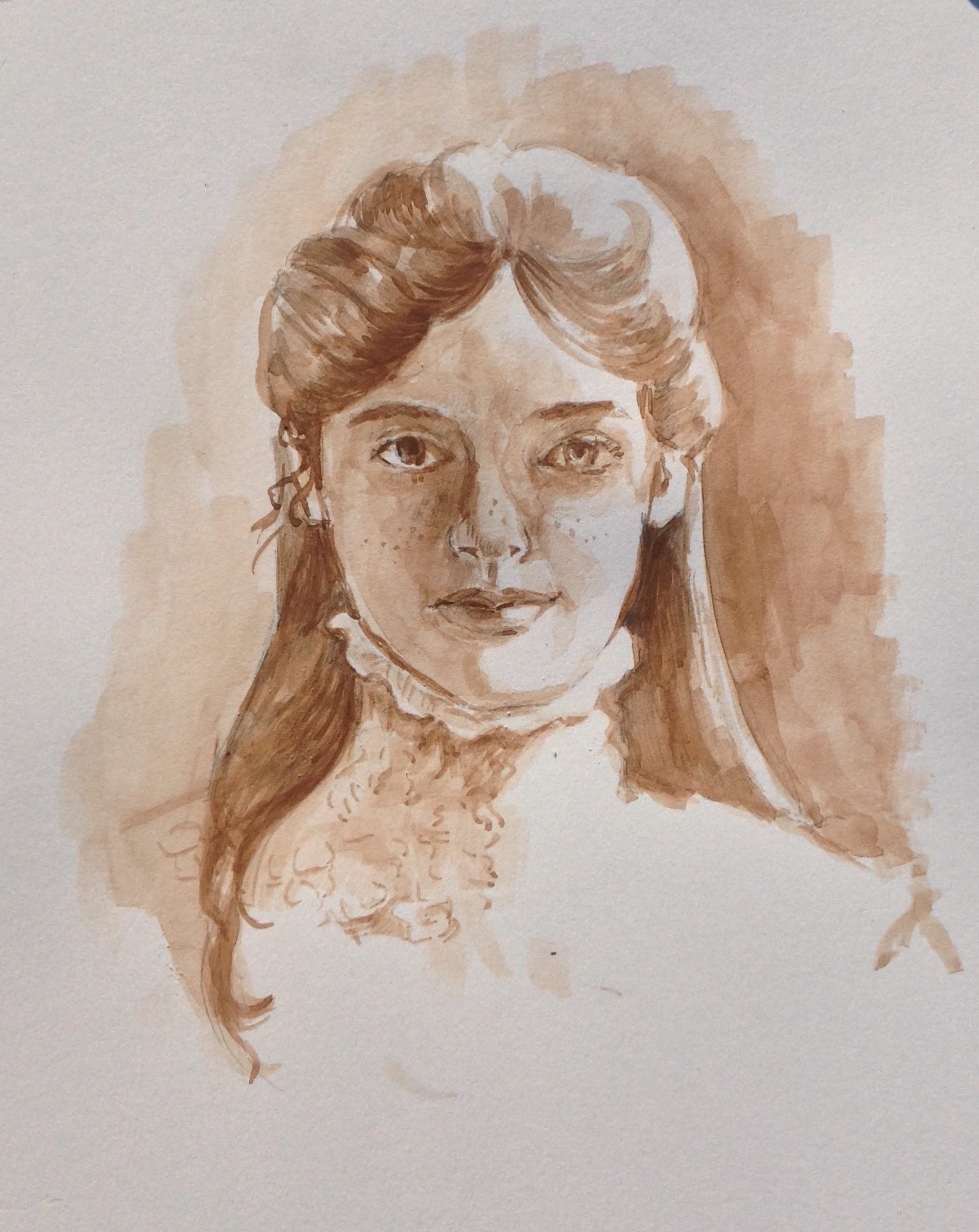 Gittel
Framed Hershel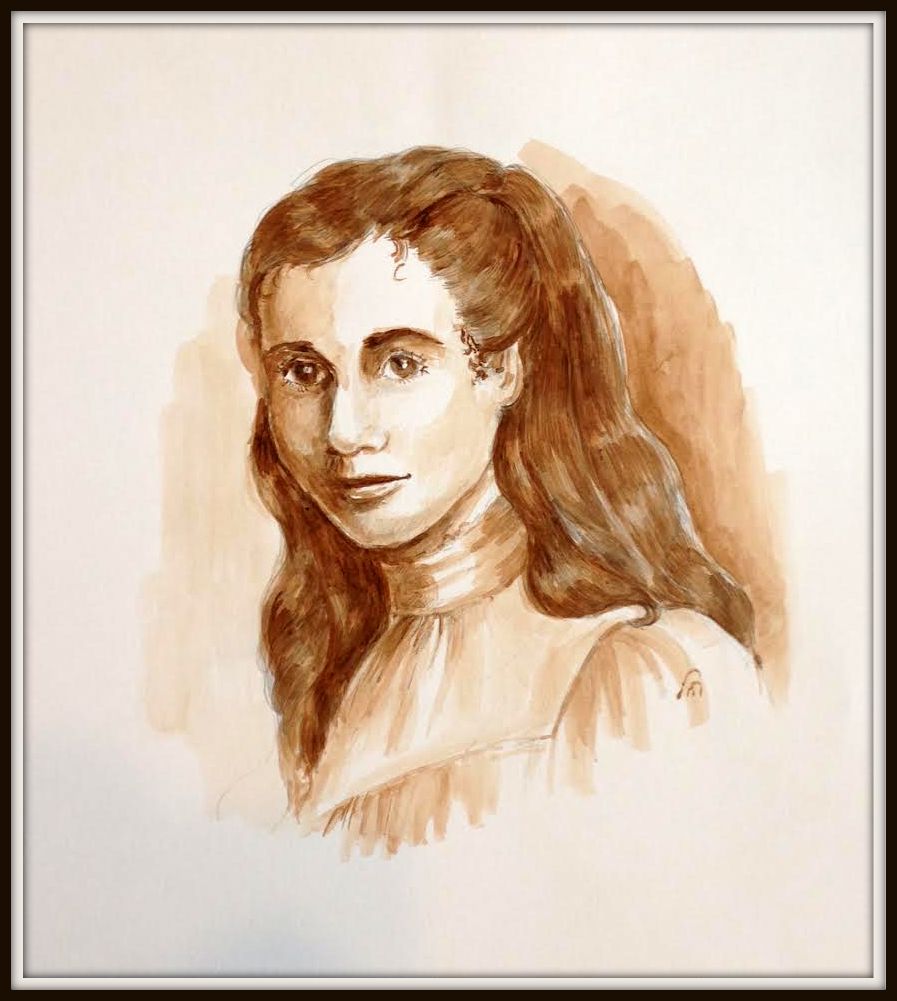 Havah at sixteen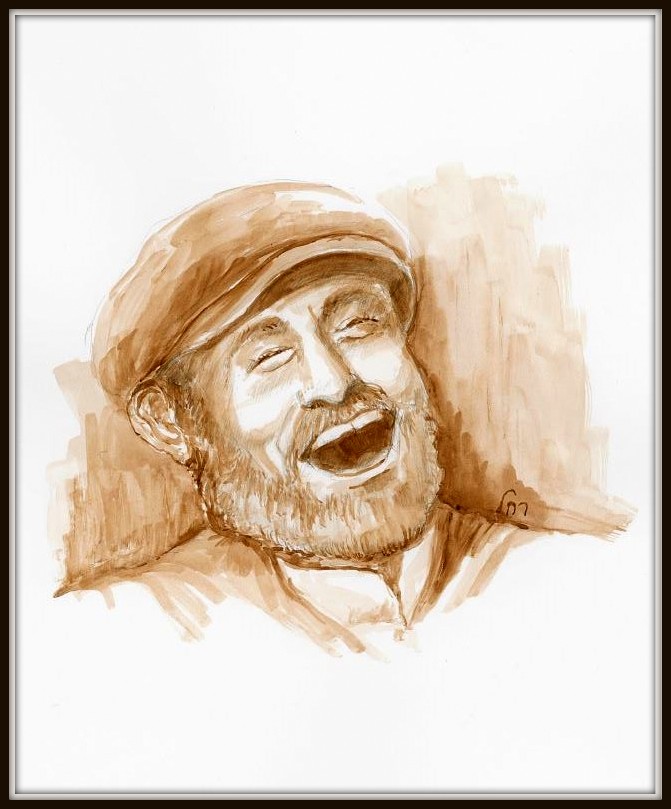 and Gravel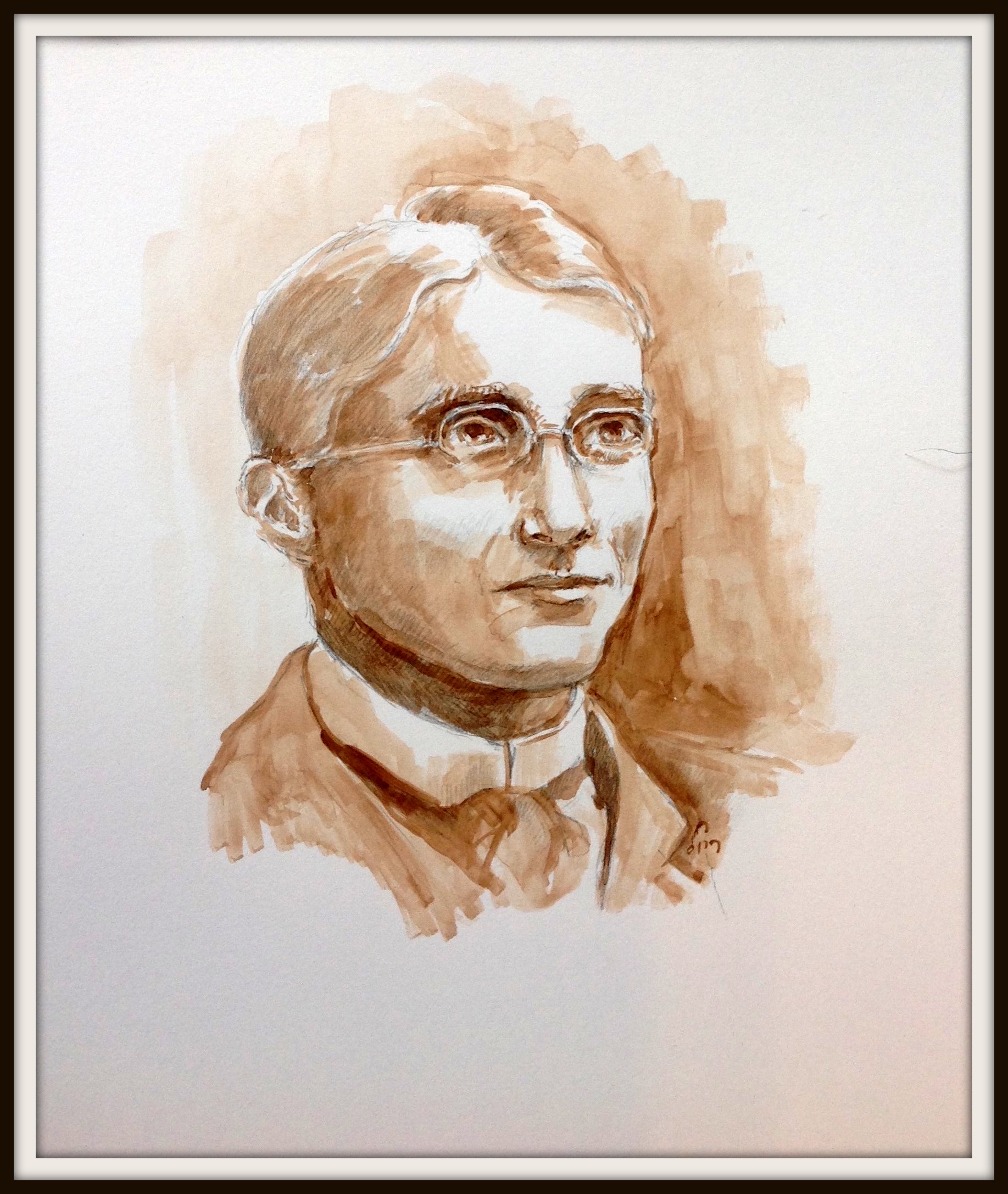 Framed Dr. Nikolai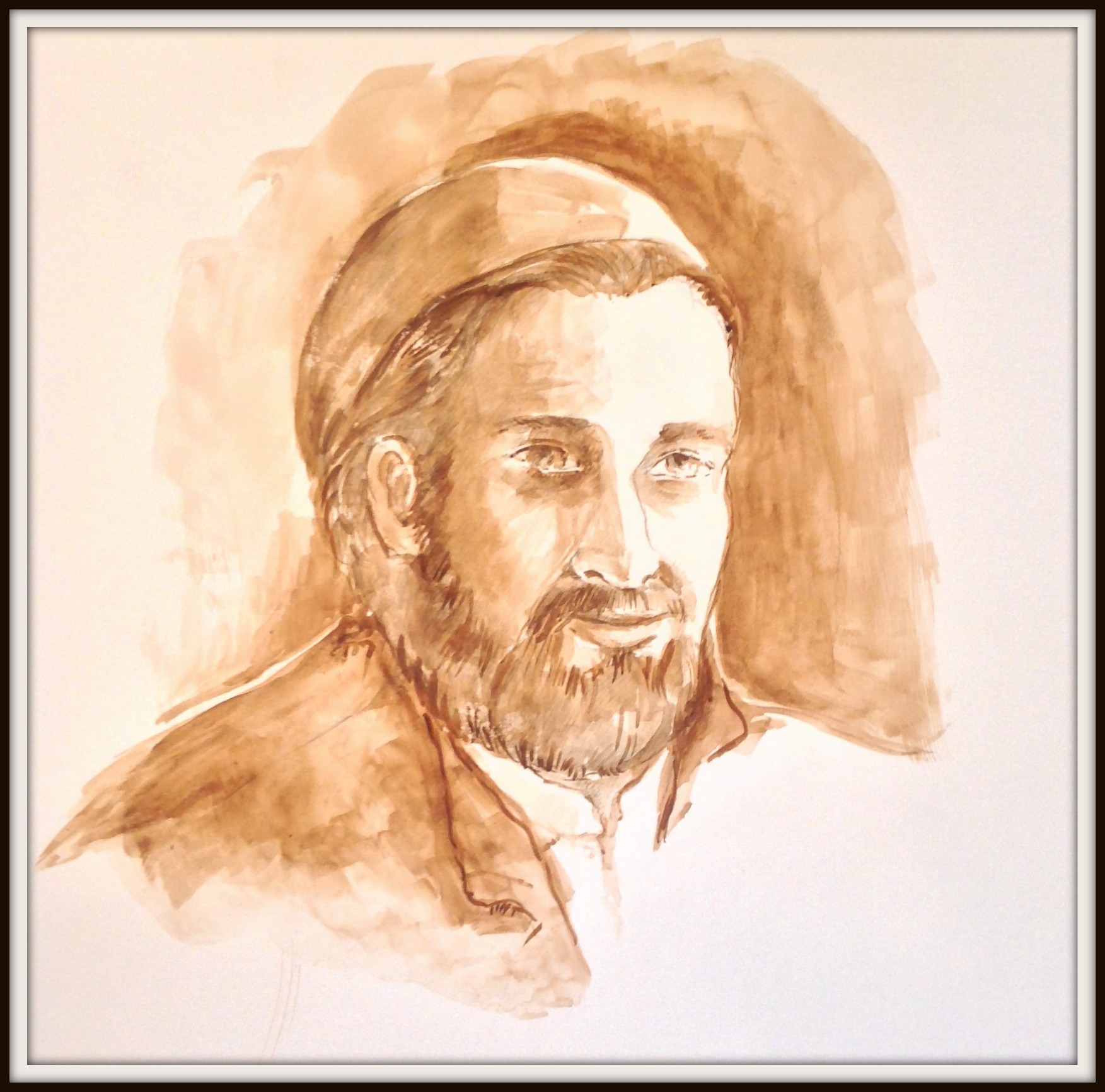 Framed Arel in Kishnev
Framed Arel in Svechka as a young man and older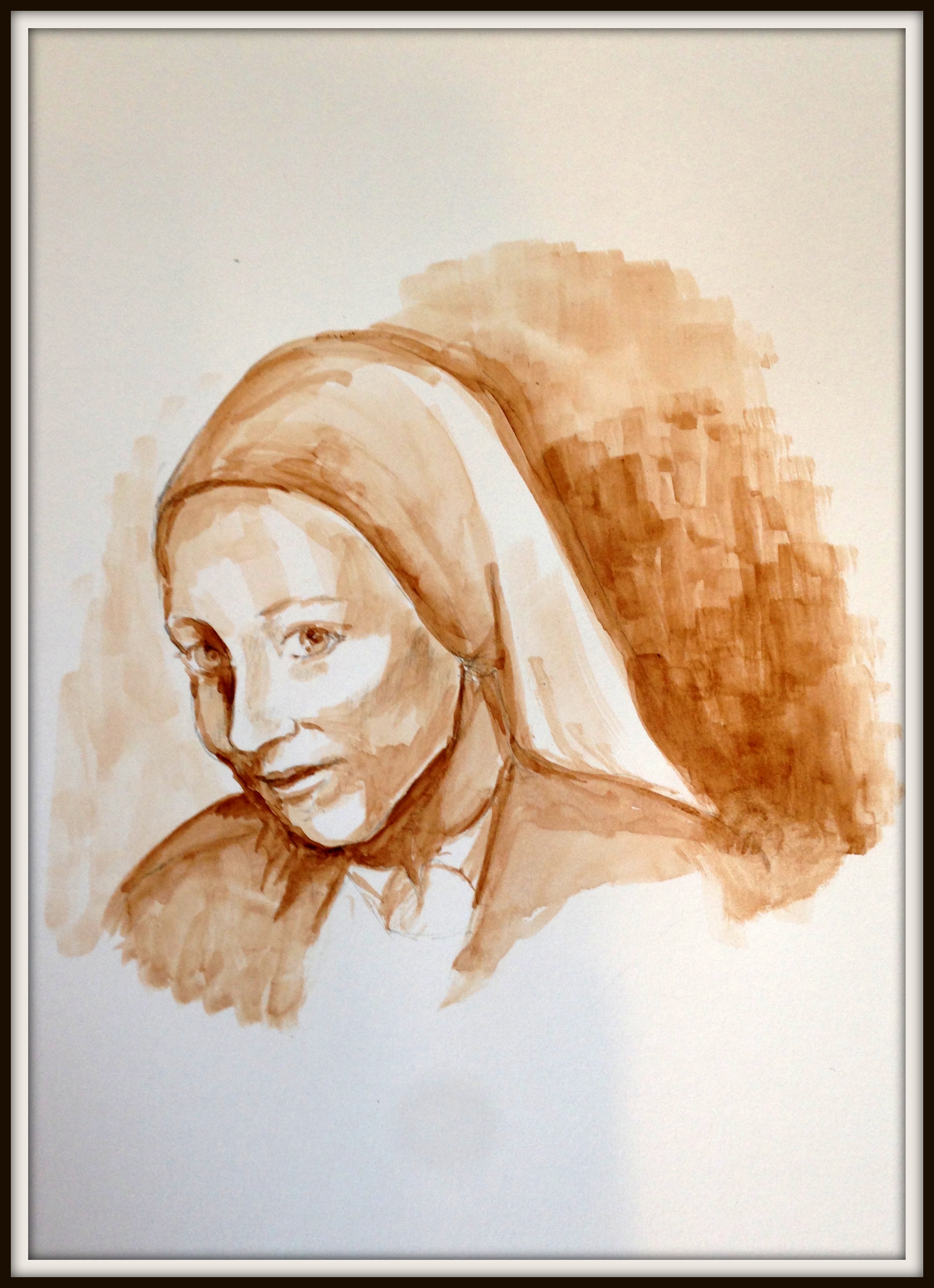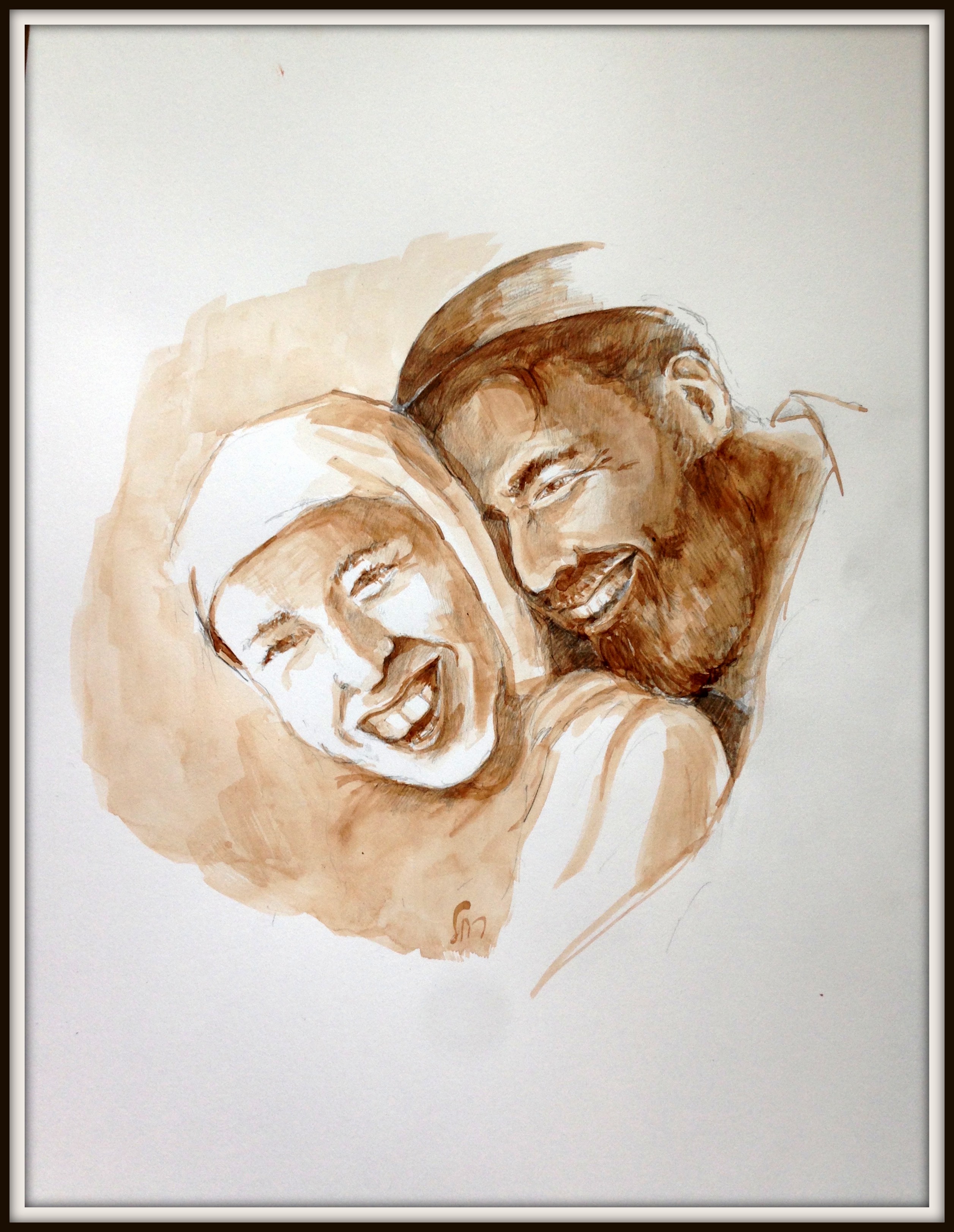 Framed Abromoviches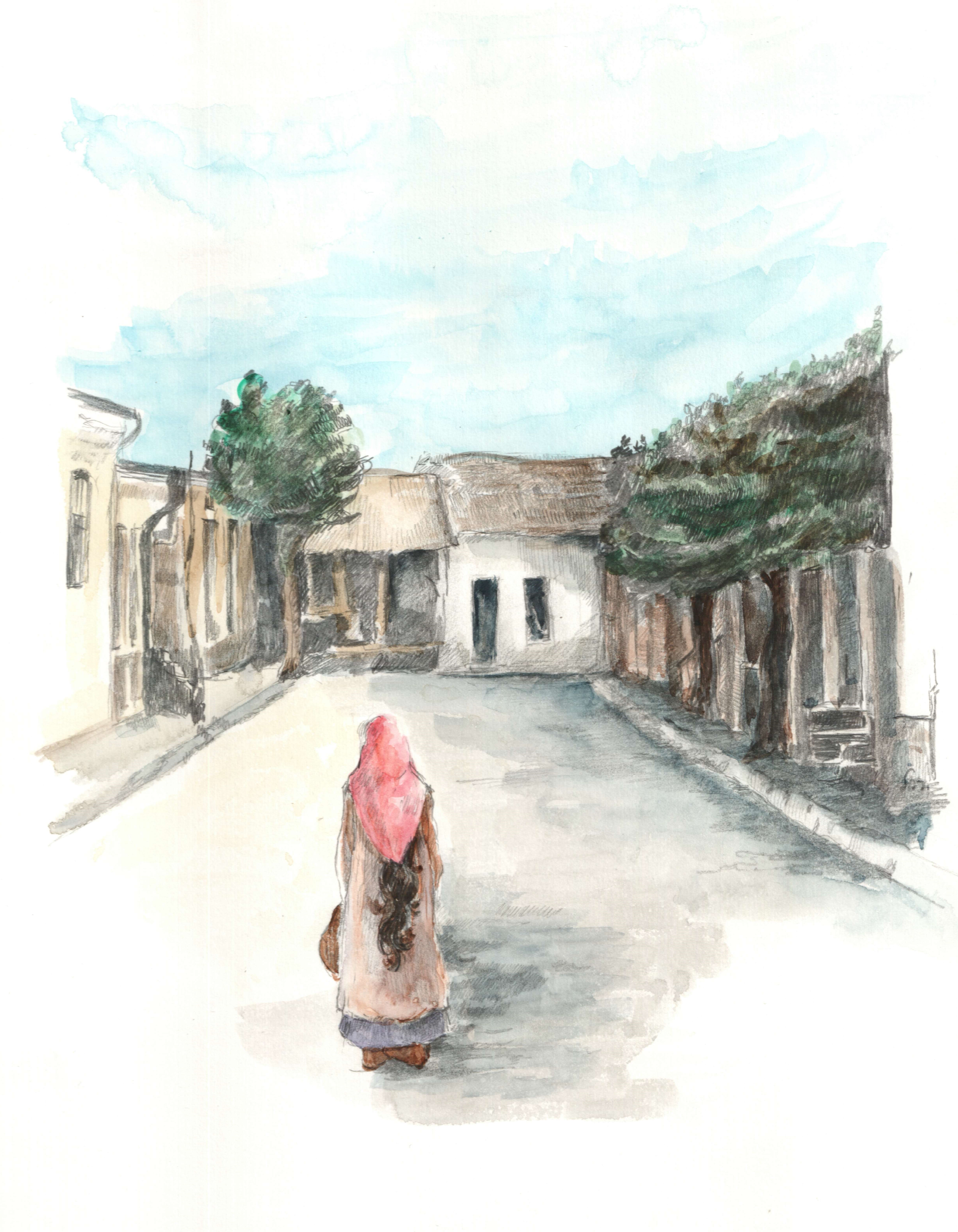 Kishnev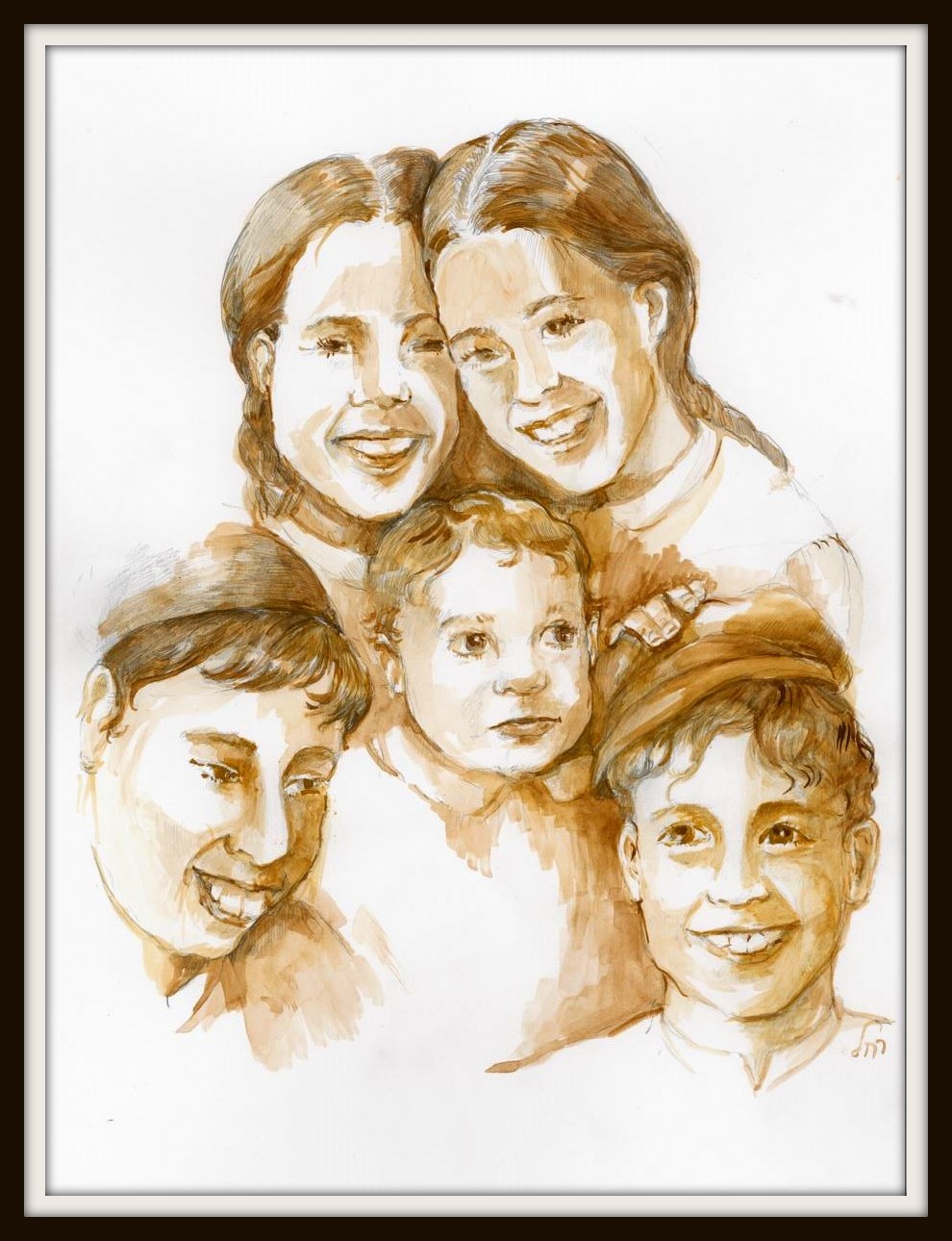 Abromovich children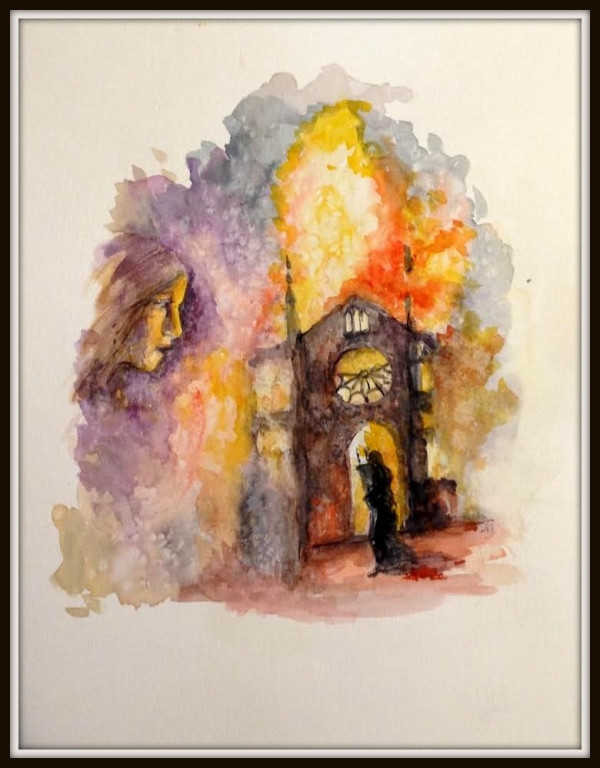 Shul Burning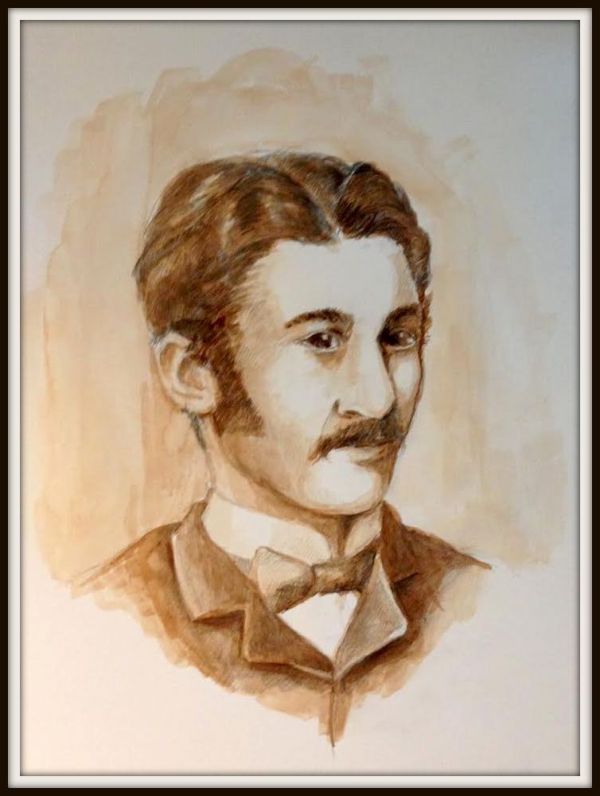 Dr. Rosenthal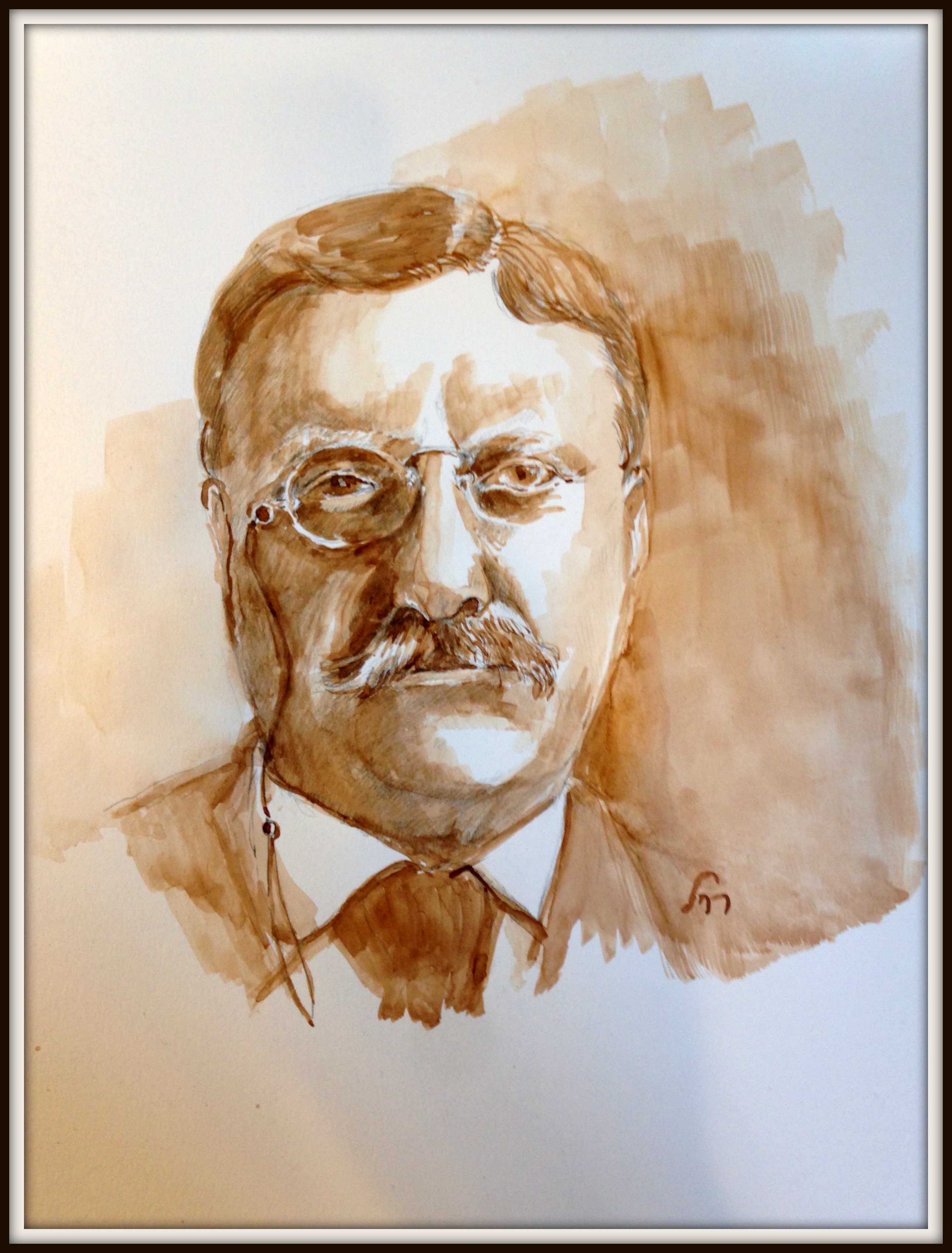 President Roosevelt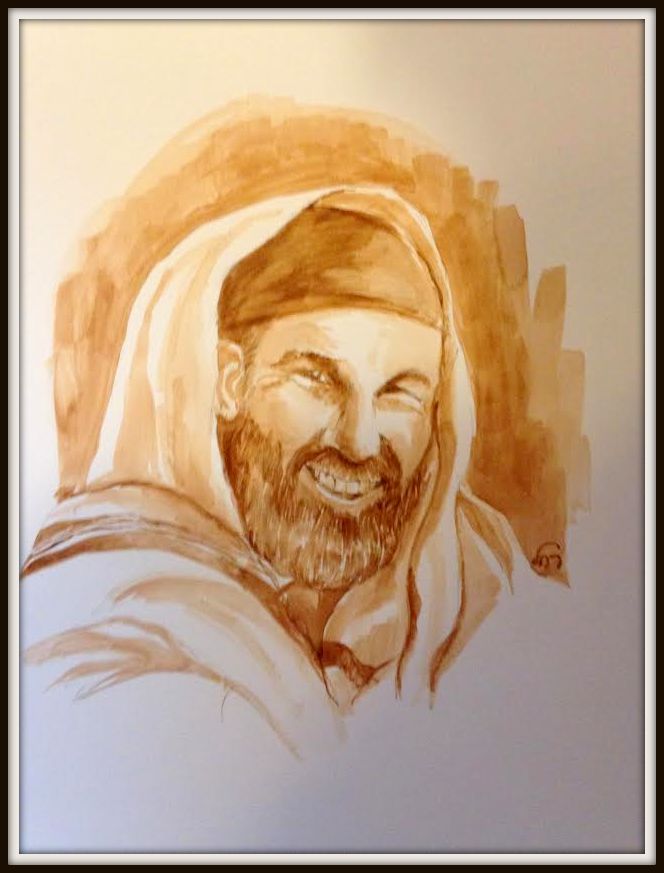 Rabbi Shimon Cohen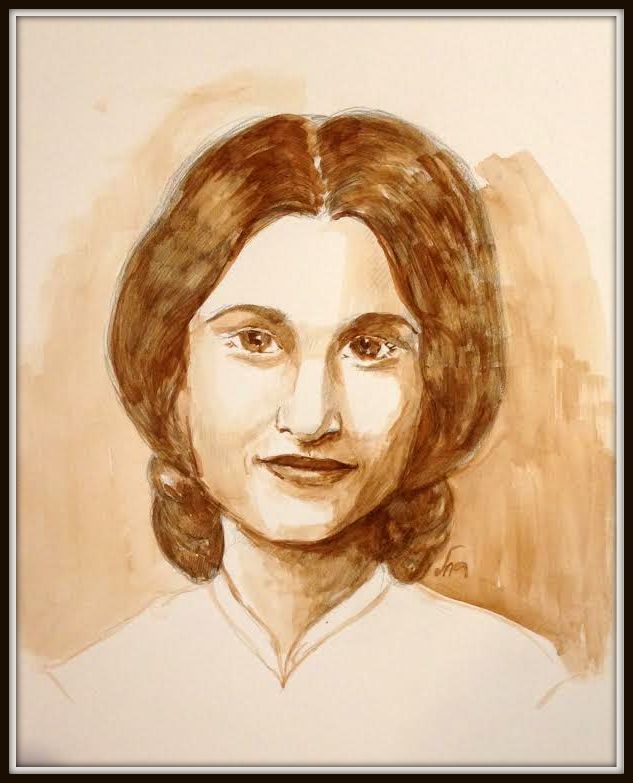 Miriam Cohen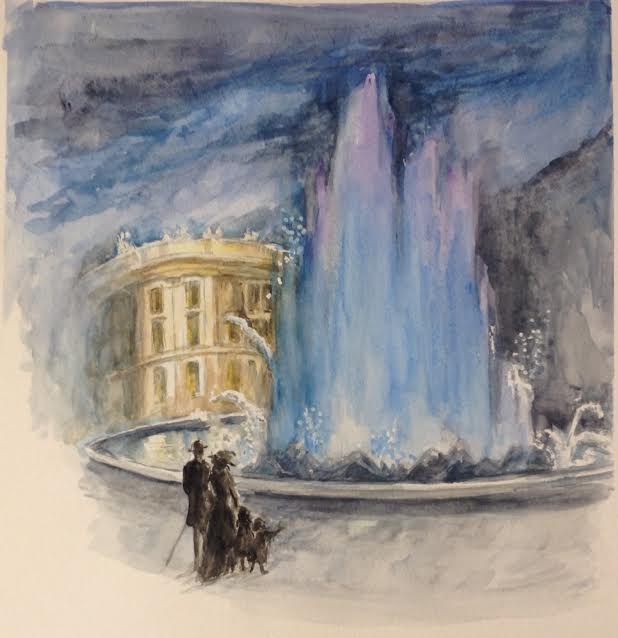 Ulrich and Catherine at the Hochstrahlbrunnen fountain in Vienna in As One Must, One Can.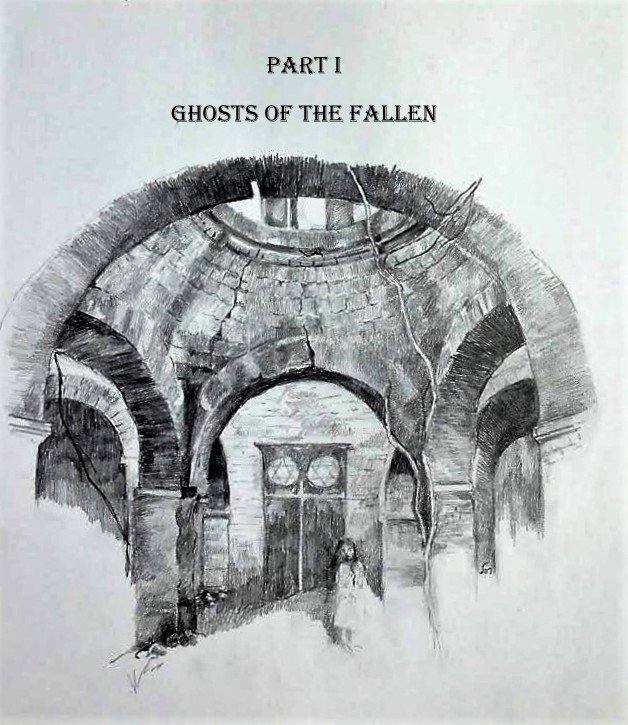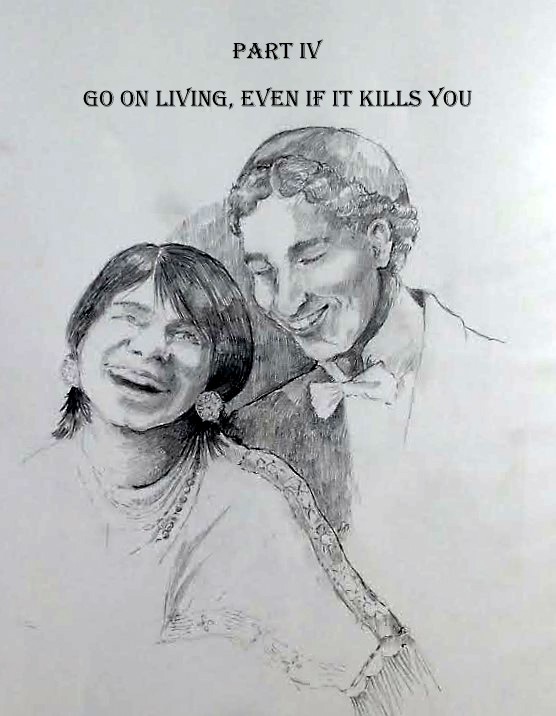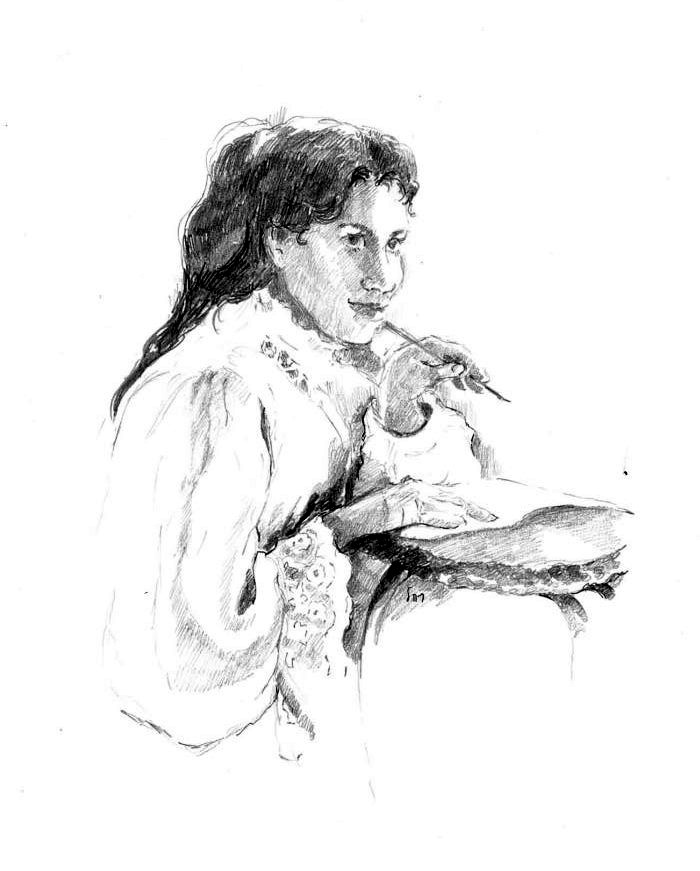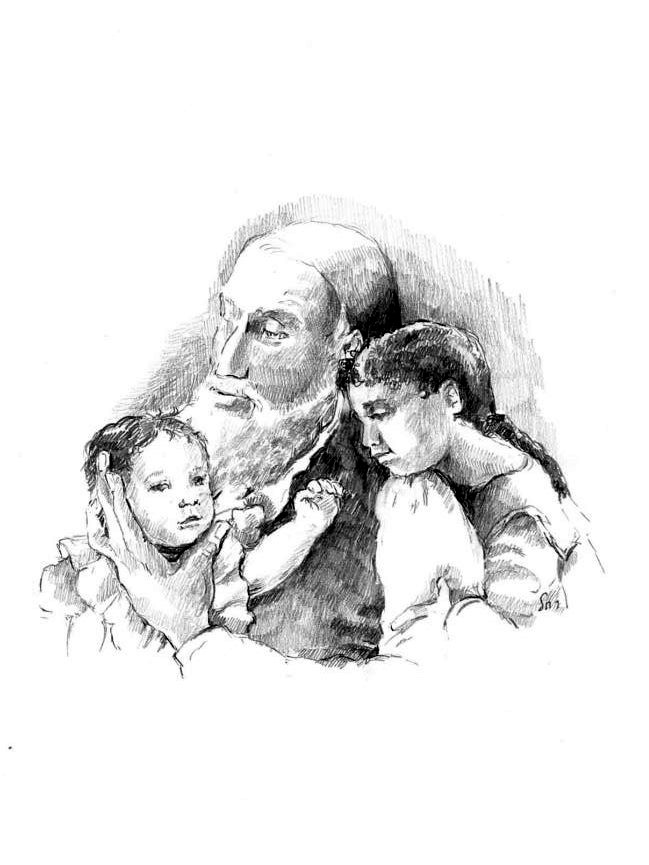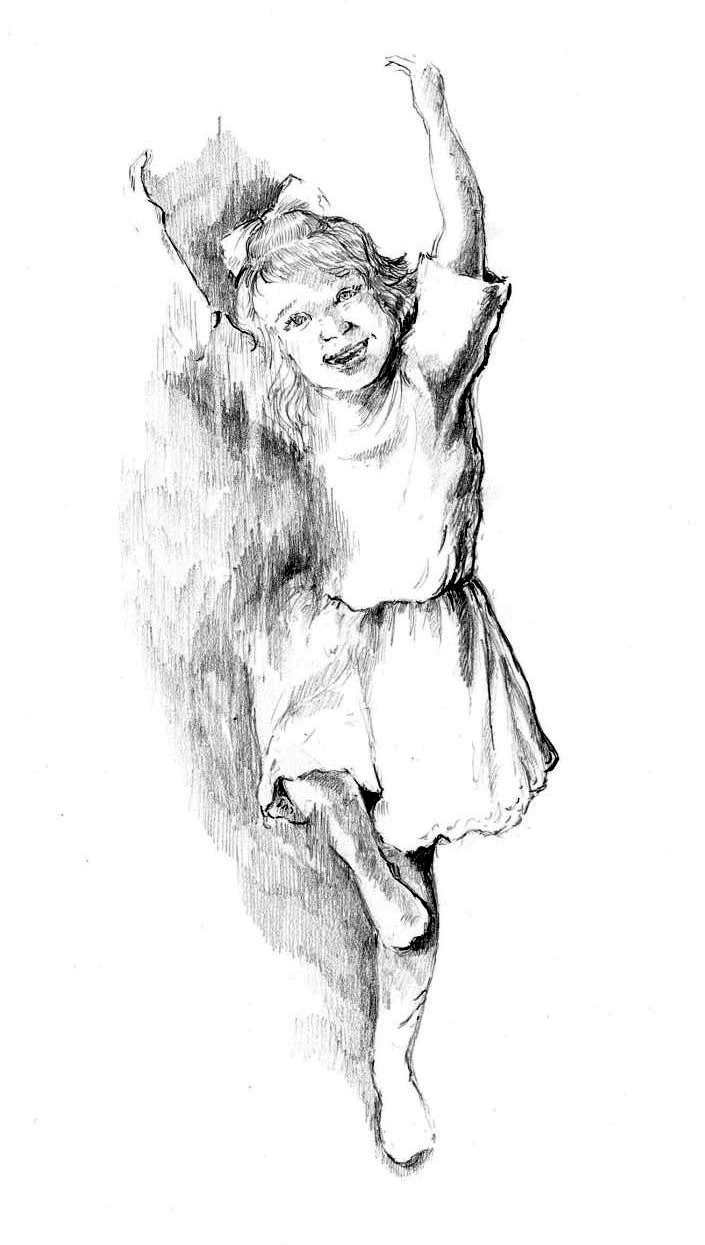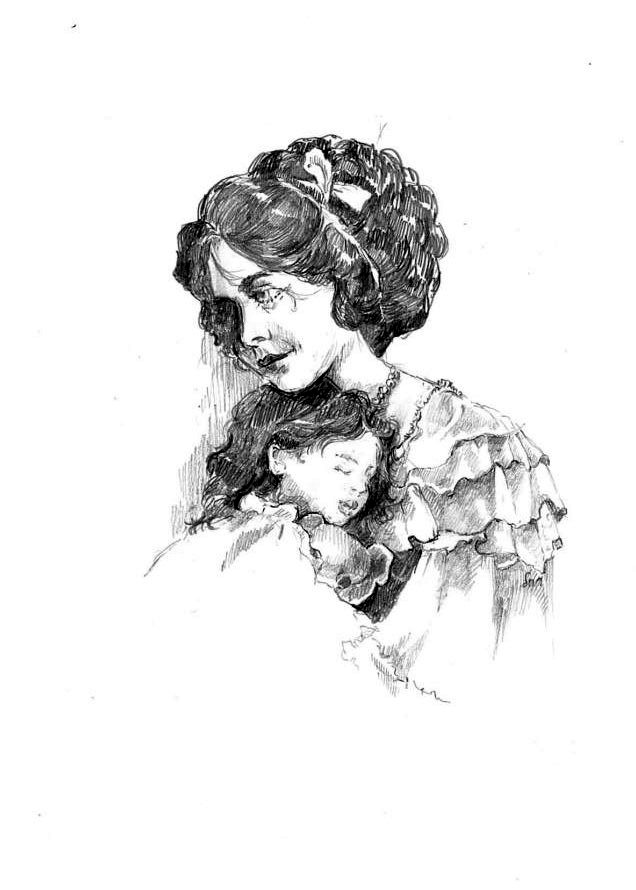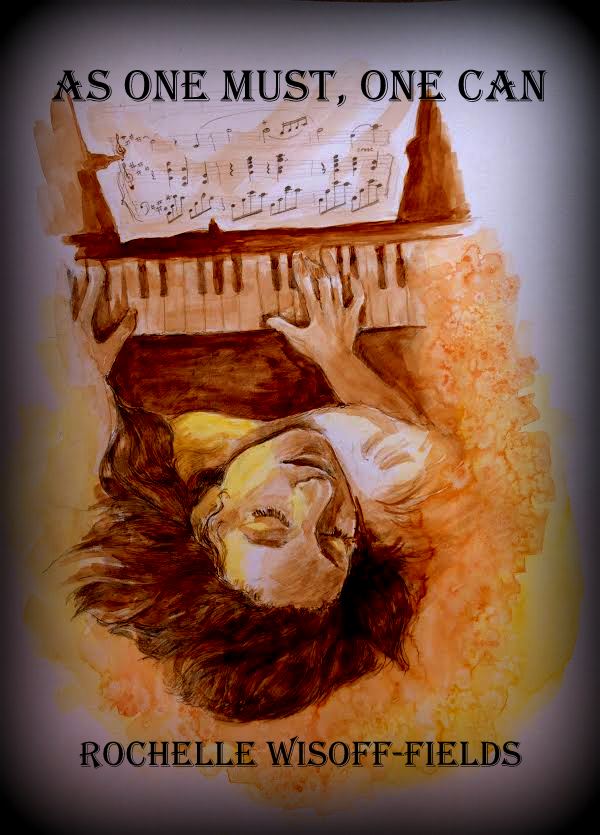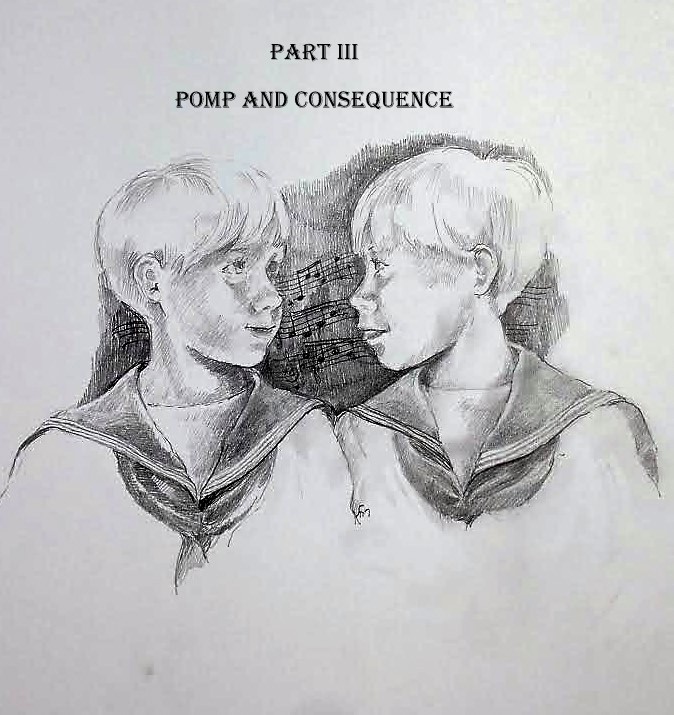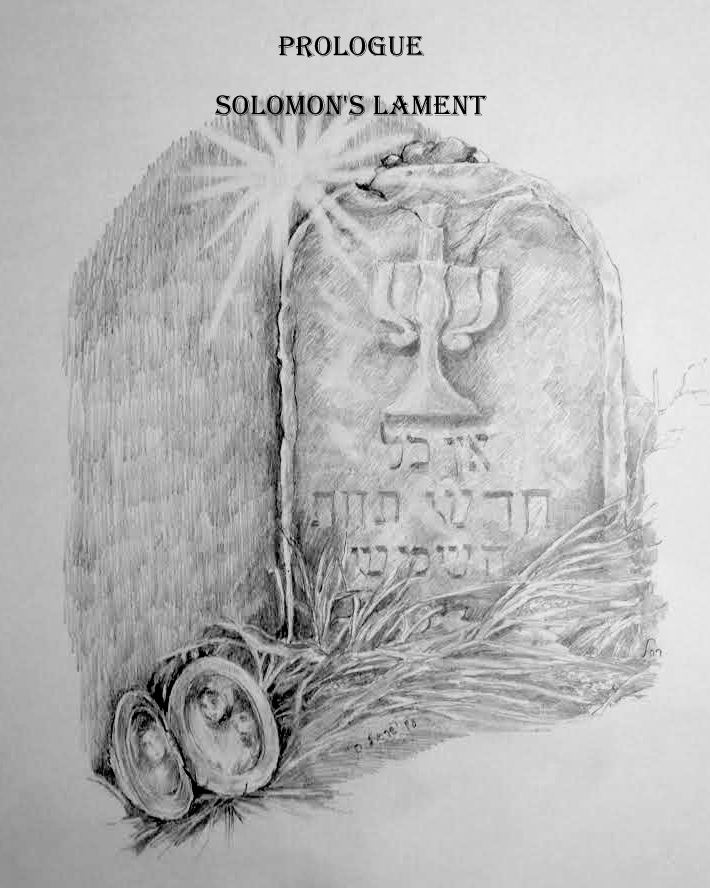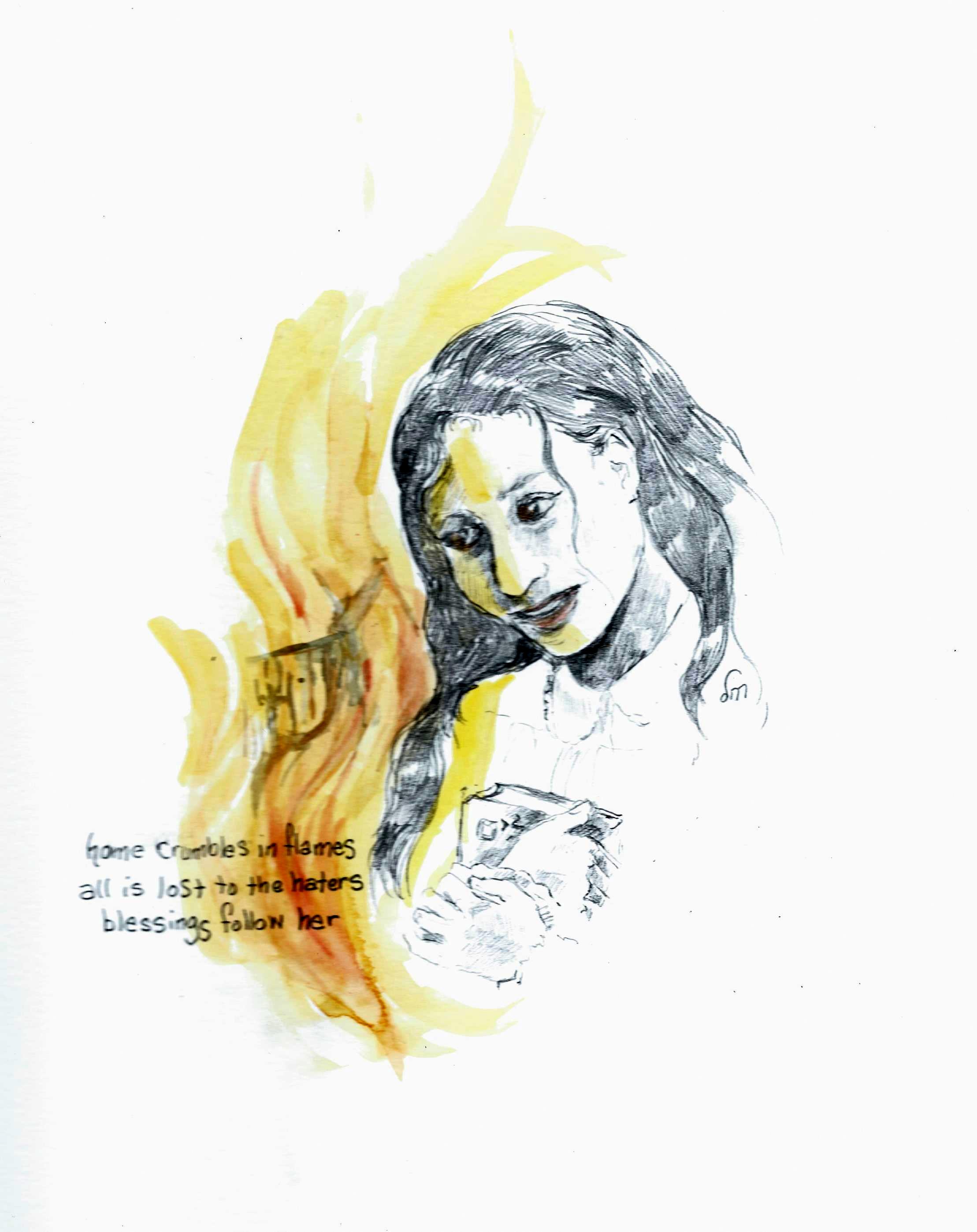 Please Say Kaddish for Me
home crumbles in flames
all is lost to the haters
blessings follow her
At a recent haiku workshop we were challenged to capture the essence of a chapter or book in haiku, a Japanese poetry form usually written in seventeen syllables. The presenter called this the ultimate elevator pitch. Accepting the challenge, I wrote my haiku to encapsulate Please Say Kaddish for Me, which opens with Havah losing home and family. Everyone and everything she has ever known goes up in smoke and is consumed by flames. These heinous acts were carried out by those who hated the Jews, yet Havah is a survivor who learns to find blessings or light in the darkness.
Shalom,
Rochelle
---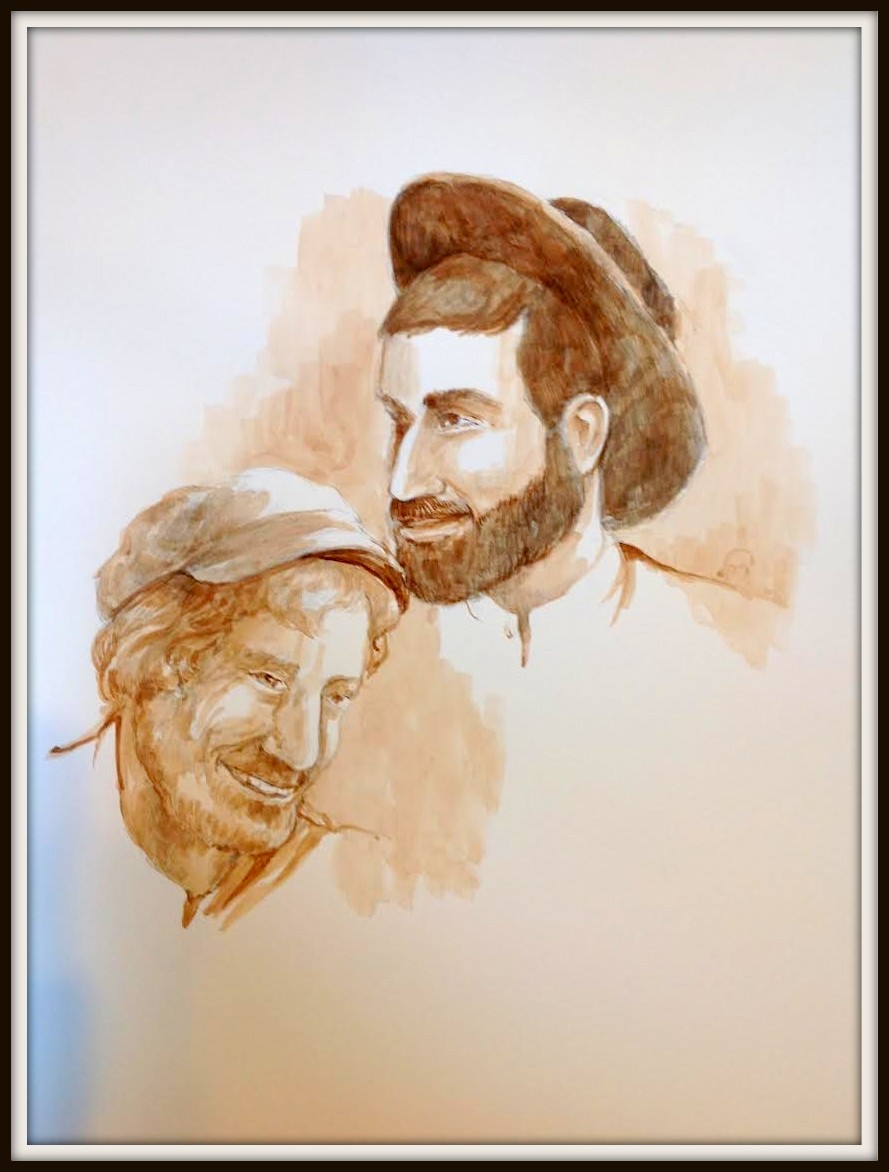 Character Study—Mendel and David Cohen—Please Say Kaddish For Me by Rochelle Wisoff-Fields
Although Havah's older brothers, Mendel and David Cohen, perished at the beginning of Please Say Kaddish for Me, they are ever alive in her heart. Two very different personalities, Havah adored them both. Her memories of them are a constant thread throughout Please Say Kaddish for Me, From Silt and Ashes, and the imminent third novel in the trilogy, As One Must One Can.
Her eldest brother, Mendel, eight years her senior, wanted to follow in his father's footsteps as a rabbi.
***
By the tender age of twelve, Havah had developed the attributes of a young woman. Despite her disappointed protests, her father agreed with her teacher that her Heder education should come to an end. The boys would never learn Holy writ with such a comely distraction.
Her brother Mendel became her lamed, her teacher. While she missed her classmates' challenges, she enjoyed mornings with Mendel and flourished under his tutelage. A strict teacher, he never allowed her any leeway because of her gender or kinship.
~~Taken from From Silt and Ashes
***
David, who was two years younger than Mendel, was a gifted artist. In Please Say Kaddish for Me, Havah tells Shayndel that he could paint a flower so real that you would swear you could smell its fragrance.
David was the mischievous brother who mercilessly teased his little sister. She regrets that shortly before his murder, they had quarreled.
***
With a suppressed sigh she covered the braided loaves with clean towels and set them on the back of the stove to rise. "The last time I baked Hollah, I couldn't put raisins in it because my brother David ate all of them. I wish I hadn't gotten so mad. I said horrid things."
"Were they the last words you spoke to him?" Fruma Ya'el unfolded a linen tablecloth snapping it so it billowed and dropped to cover the table.
"No." Gathering the bowls and utensils, Havah hobbled to the sink. "I can still see him with Mama's clean dish towel over his head, walking bent over. He sang all raspy like an old lady, too. 'Little Bubbe Fuss Bucket. All astir over a raisin. A raisin. A shriveled little raisin. Oy, yoy, yoy.'"
She took a kettle of hot water from the stove and poured it over the dishes. "I could never stay mad at him. If only I'd known—"
Gittel grabbed a dish towel. "Would you have done anything differently?"
A soap bubble floated up from the water. Havah popped it with her finger. "No."
~~Taken from Please Say Kaddish for Me
***
Each night of Hanukkah, Havah and her brothers took turns lighting the candles. Papa led the recitation of the blessings. To this day, when she heard distant thunder Havah swore it was Papa's resonant voice chanting prayers in heaven.
One year, her brother David, then twelve, ate so many macaroons he spent half the night in the outhouse. The next morning, fourteen-year-old Mendel, always the teacher, seized the opportunity to expound on the evils of gluttony. David's green-tinged cheeks flushed while six-year-old Havah giggled into her napkin.
~~Taken from As One Must One Can
---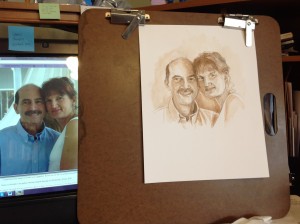 Robert (CFO LLA) and Jeanie Loiacono (CEO LLA)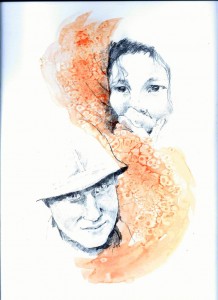 COLLATERAL ORANGE DAMAGE
"Farewell, Rob." I laid my battered dog tags on his grave.
Prostate cancer took him. Doctors say I'm next.
Please try to understand. We were soldiers following orders.
"A little defoliating agent to clear the jungle and expose the enemy." Our commanding officers assured us. "Nothing that will harm a human."
I had to go back and see for myself.
Last night I visited a children's hospital in Ho Chi Minh City where the fruits of our labors languish with twisted or missing limbs and eyes that bulge from enlarged skulls.
We have exposed the enemy, and he is us.
---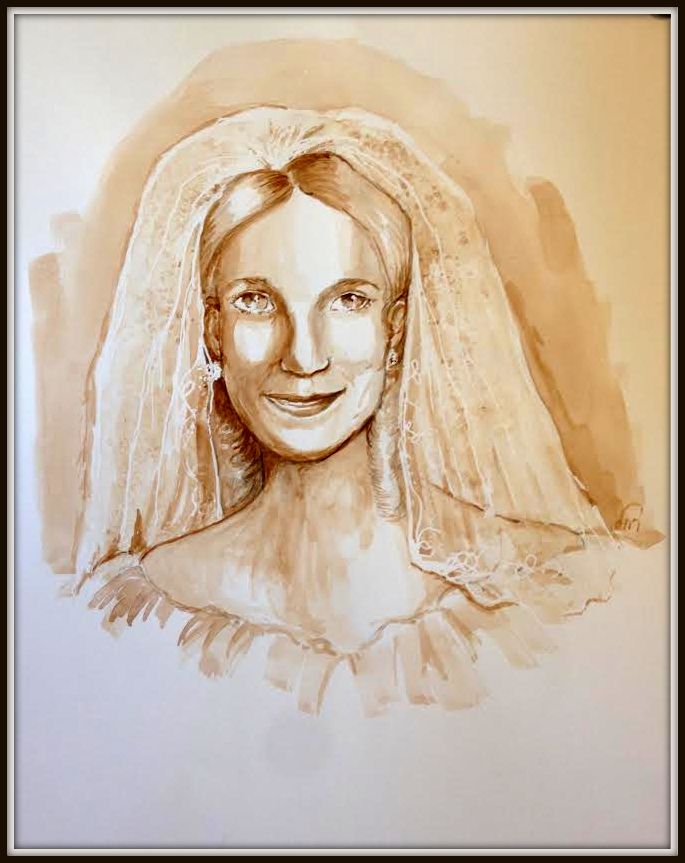 Valerica Dietrich
Although she [Havah] had dusted it many times, a faded photograph in a silver frame caught her attention. A woman with pale curls around her face smiled at her from under a lace bridal veil. She lifted the picture from the table beside the piano.
"What was she like?"
"My Valerica."  He took the picture from her. Then, holding it to his chest, he propped an elbow on the piano and rested his head on his hand. "Kolyah introduced us."
"Dr. Nikolai?"
"She was his wife's best friend. Do you believe in love at first sight, Havah?"
Not waiting for an answer, he continued. His spirit seemed to travel to a distant time and place. Tears shimmered in his eyes. "Valerica Dietrich. She was always the picture of fashion. But, if you ask me, she could've worn flour sacks and still have turned heads.
~~From Please Say Kaddish for Me
"Have you heard from your professor?"
"I got a letter this morning." Havah took an envelope from her pocket. "How is he?"
"He's so lonesome. Oh, he doesn't say so, but I can tell by the way he talks about his wife and how much he misses her. She's been gone thirteen years. It's a pity he never remarried."
~~From From Silt and Ashes
It was for his Romanian wife, Valerica that Ulrich moved to Kishinev, Moldova. Her death in childbirth dealt him a terrible blow from which he has never recovered. In Please Say Kaddish for Me, to keep her memory alive, Ulrich still has all of her belongings and refuses to sell the house they shared.
However, after experiencing anti-Semitic oppression and the carnage of the pogrom, he can no longer bear to remain in Kishinev.
As From Silt and Ashes opens he has sold the house and moved to London where he teaches at the Royal Academy of Music. Valerica's wedding photo is ever by his piano for, as he's told Havah, "She had music in her eyes."
---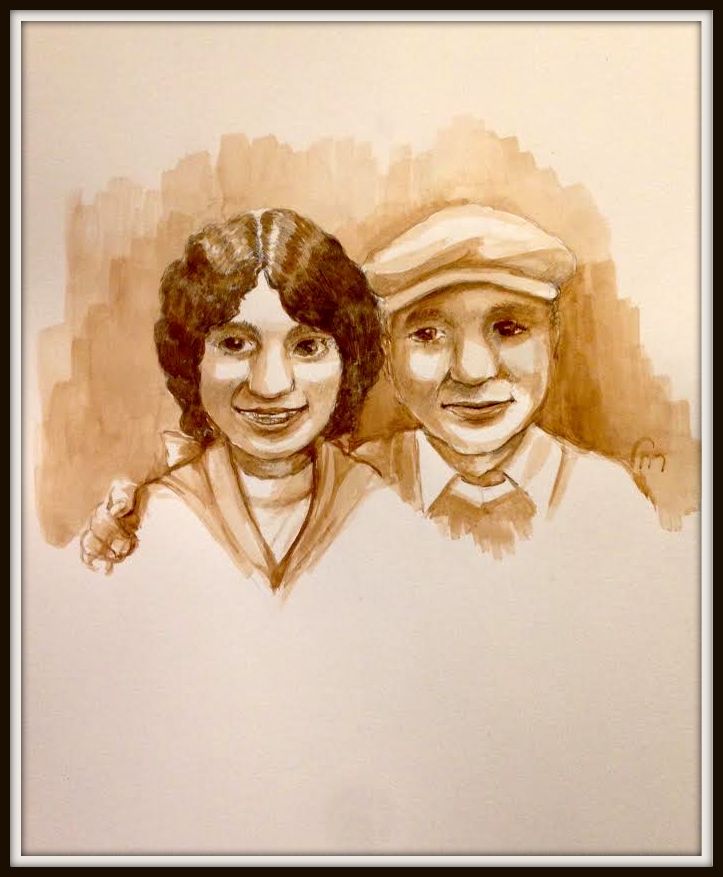 Evalyne and Jeffrey Tulschinsky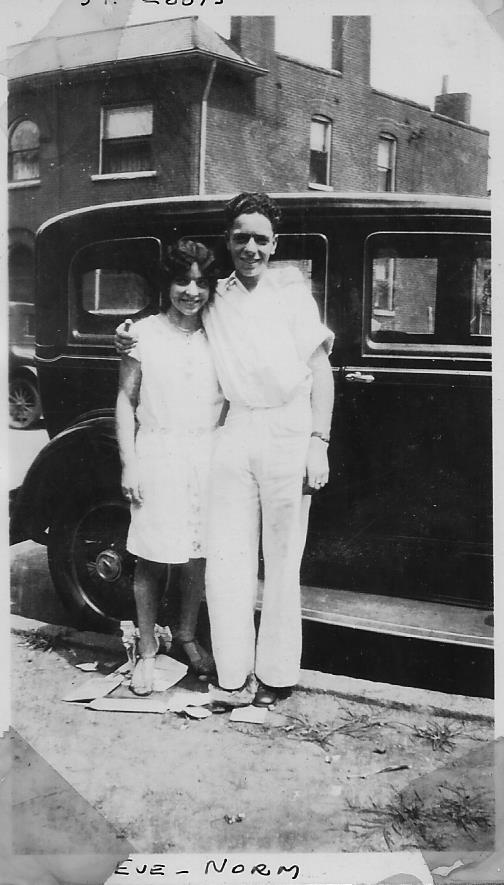 Twins on their 15th birthday
"Mama, Jeffrey took my doll and hid it. Make him tell me where it is!"
"Mama, Jeffrey took my doll and hid it. Make him tell me where it is!"
"Tattletale!"
Frustrated by her children's constant bickering, Sarah Tulschinsky stood and hurled her sewing basket to the floor. "Can't you two play nice? Don't you know how good you have it?"
Eyes wide, twins Jeffrey and Evalyne backed away from her. Sarah wished she could take back her harsh words. She had always made it a point never to raise her voice to them. After all, they were only four. How could she expect them to understand?
While they were outside playing tag and climbing trees, the postman delivered a letter from Arel that had been lost for almost two months. His detailed account tore her heart into pieces.
Before she could explain to her son and daughter what had happened to those poor children in Kishinev, the front door opened, and Wolf stepped over the threshold. Evalyne and Jeffrey raced to him. He scooped them up, one on each arm and spun them around.
"Papa, the lights comed back on today and we gots water, too!" Evalyne always had to be the first to share whatever she knew.
~~Taken from Please Say Kaddish for Me
________________
"Do you miss those boys and girls in Kishinev, Auntie?" Evalyne's round eyes, brimming with curiosity, seemed to pop out of her slender face.
"Would you miss your nose if it fell off?" asked Havah.
Sarah held her finger to her lips. "Evie, you'll wear Auntie out with your questions." "How else will she learn? She can never ask me too many questions."
                                                   ~~Taken from From Silt and Ashes
Evalyne and Jeffrey Tulschinsky are Sarah and Wolf's twin children. In the excerpt from Please Say Kaddish for Me they are five-years-old when Sarah receives a lost letter from Arel telling her about the Kishinev pogrom (massacre).
The excerpt from From Silt and Ashes takes place a few months later, after Arel and Havah have settled in Kansas City.
Evalyne is the more outgoing of the two children. Although Havah loves both children, she is drawn to the precocious little girl who is constantly asking questions.
Jeffrey doesn't share his sister's enthusiasm for the written word. He would be more than happy to let his sister go to Hebrew school in his place and doesn't mind living in her shadow.
Not a particularly pretty child, Evalyne makes up for it with her zest for learning, a trait Havah can't resist.
Wolf Tulschinsky – From Silt and Ashes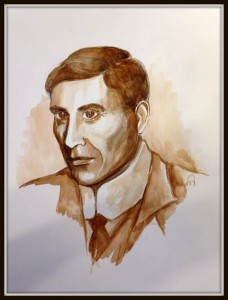 After one last draw on his pipe, Wolf emptied it into an ashtray on the end table. He leaned back on the sofa and stretched his lanky arms over his head and his long legs out in front of him.
"Public school is a wonderful thing," he said. "The twins will learn to read and write like American children. There's talk at the synagogue of starting a Talmud Torah class as well. It will be like heder in the old country, so Jeffrey will learn Hebrew, too."
"What about me?" Evalyne sat up straight. "Talmud Torah classes are for boys, sweetheart."
"Auntie Havah reads the Torah in Hebrew, doesn't she?" Evalyne stuck out her lower lip.
"Yes, I do. Is this not America? Why shouldn't Evie know what her brother does?"
Havah rose and arched her back in an attempt to find some relief.
"Are you saying we should be without tradition like the gentiles?" asked Wolf with a growl in his voice as he stood.
"I'm saying, our traditions should include women and girls."
"Then your tradition contradicts Talmud!"
"My papa used to say the Talmud is just a bunch of rabbinic opinions."
"They're damn good ones at that, and I'll thank you to keep your ideas to yourself where my daughter's concerned."
~~Taken From From Silt and Ashes by Rochelle Wisoff-Fields
Wolf Tulschinsky is a self-made man. He met and fell in love with Sarah Gitterman on the way to America. Together they've forged a good life for themselves and their twins, Jeffrey and Evalyne. He's a good husband and a loving father. While Wolf prides himself on his trade as a tailor and a modern American, his ideas concerning Jewish tradition are very much old world. Although it's clear in both Please Say Kaddish for Me and From Silt and Ashes he admires Havah's courage and strength, he disagrees with her radical stance on women and education.
---
Sarah Tulschinsky – From Silt and Ashes by Rochelle Wisoff-Fields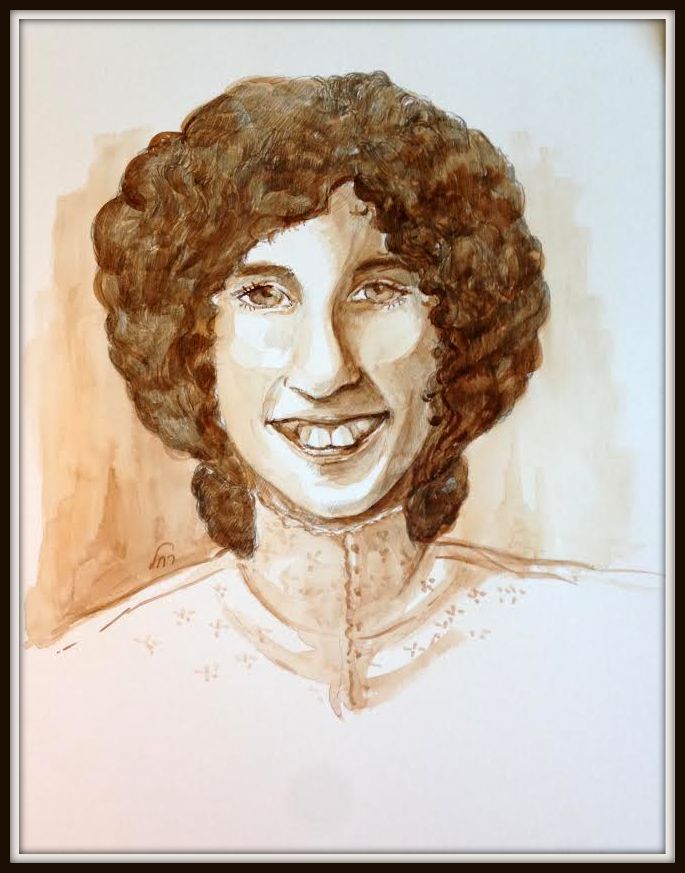 Character study – Sarah Tulschinsky – From Silt and Ashes by Rochelle Wisoff-Fields
Sarah Tulschinsky,, Arel's older sister, fascinated Havah. Her crooked-toothed smile eclipsed her hollow cheeks. Skinny, with a thatch of kinky black hair and round eyes, she lacked Shayndel's physical attributes.
Arel said he could not recall ever hearing Sarah raise her voice, until seven years ago. Always the dutiful daughter, she did whatever she was told until her father arranged for her to marry a man twice her age. With shrieks of rage that shocked everyone, she stuffed her few belongings into a carpetbag and left home. The few kopeks she had scrimped together from mending clothes paid her passage to America.
Amid stench and disease in the ship's steerage, she met her beloved Wolf. Married soon after their arrival in New York, they followed their dreams to Kansas City where they lived in a flea-infested shack among the impoverished unwashed in a settlement known as McClure Flats. Side-by-side, she and Wolf established his tailor shop. Within two years, they saved enough money to move from the slums into a two-story home.
McClure Flats, Kansas City, Missouri 1911
~~Taken from From Silt and Ashes by Rochelle Wisoff-Fields
Sarah Tulschinsky is a gentle presence in both Please Say Kaddish for Me and From Silt and Ashes. In the first book, the family in Svechka looks forward to her letters telling of her life in America, although Yussel, who feels that he drove her away, wrestles with his guilt and worries that she hasn't forgiven him.
Sarah is the first to welcome Havah to Kansas City. However, when she sees how Yussel dotes on Havah, she feels twinges of jealousy. In the end a close bond forms between the two women.
---
Arel Cohen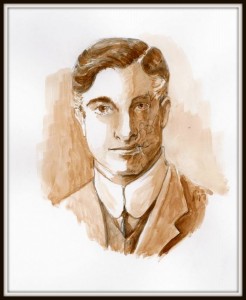 The neighbor's mouth puckered between her weathered cheeks. She glared at Arel and thrust a spear like finger in his direction. "I'm telling you, Officer, I hear this commotion almost every night. That beast is beating up on this poor helpless gal. It's a crying shame, her being in a family way and crippled besides. Why he oughta be horsewhipped! Just look at them scars, any dang fool can tell he's a brawler."
Arel's gray eyes turned black. He tugged his nightcap trying to hide the scars that trailed from his forehead to his chin. His thin lips tightened over his clamped teeth.
Havah's chest buzzed like an angry hornet. How dare this wicked woman make such accusations! Clenching her good hand into a fist, Havah tripped toward her, but Arel's fingers tightened around her shoulder.
Taken from From Silt and Ashes by Rochelle Wisoff-Fields
Raised to walk in his father's footsteps as a rabbi in the Old Country, Arel Gitterman turned from his vocation when his first wife, Gittel, died in childbirth. He felt unworthy to teach Torah since he had been unfaithful in his heart and mind; for, in the midst of his arranged marriage to the sweet young woman, he still longed for Havah.
Like Havah, Arel sustained both physical and emotional injuries in the Kishinev pogrom. Scars from a nearly fatal beating obscure half of his face.
Adapting to his new life as an American, he works as a tailor in his brother-in-law's shop, a job that fits him like a well-made suit.
The birth of a less than perfect child puts a strain on Arel and Havah's marriage. After all they have been through together, he's not sure he's up to the challenge.
As the family faces another tragedy, Arel learns that God's light shines brightest in times of darkness.
---
Havah Cohen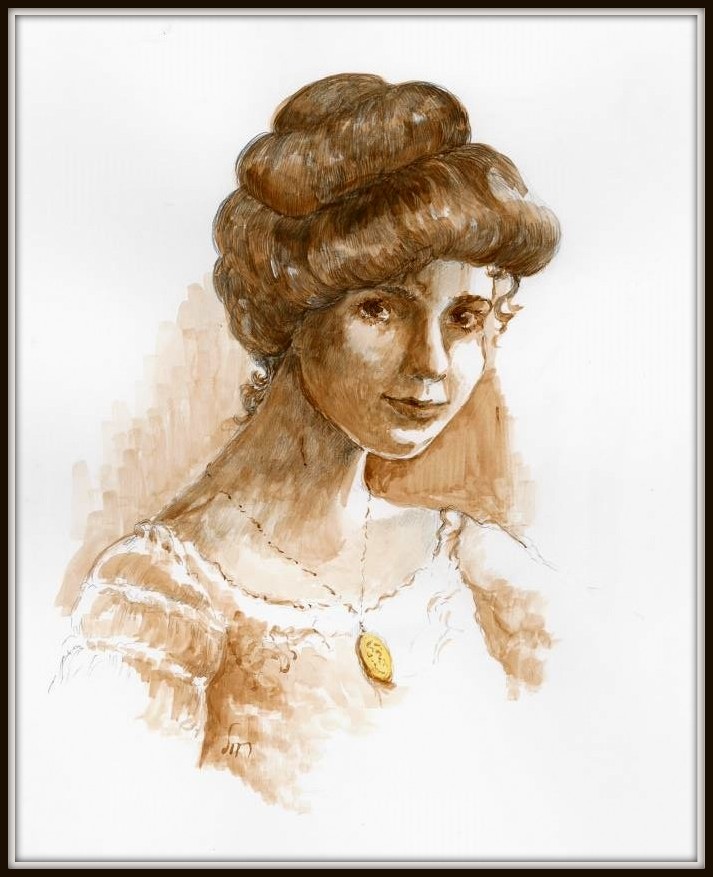 Picking up a letter from his desk, Ulrich held it to his nose and breathed in the aroma of rose water. He pictured Havah sitting at the kitchen table, pen in hand, munching raisins, black waves cascading over her shoulders.
Nikolai walked to the desk, picked up the envelope and squinted. "'Kansas City, Missouri. U.S.A.'"
"The postman delivered it yesterday afternoon."
"What does she have to say?"
"Here, I'll read it to you.
Friday, 29 January, 1904
     Dearest Ulrich, my angel and friend,
 I am hoping happiness for you. You, above all people, deserve it.
 I miss hearing you play. Perhaps one day you will come here for a concert. Can you understand it, my writing?"
For a moment he stopped to study her even letters. The memory of her battle with her knife-slashed hand still pained him. No longer able to perform simple tasks such as writing or even holding a spoon, she forced her left hand, with unyielding diligence, into submission. After all of that, she still had impeccable penmanship.
Taken from From Silt and Ashes by Rochelle Wisoff-Fields
Following tearful goodbyes to Ulrich and Nikolai, Arel, Havah and Arel's family immigrated to Kansas City. Ulrich, who had already secured a teaching position at the Royal Academy of Music in London, talked Nikolai into joining him.
At the beginning of From Silt and Ashes Havah maintains her friendship with Ulrich through letters. Thanks to Arel's income as a tailor, Arel and Havah have purchased a new house and are adapting to American life as they anticipate the birth of their first child.
Although she's comfortable in her new home, Havah suffers from Post-Traumatic Stress and worsening physical disability. No longer an adolescent, she's a young married woman who faces challenge after challenge with tenacity and courage.
---
Gavrel Wolinsky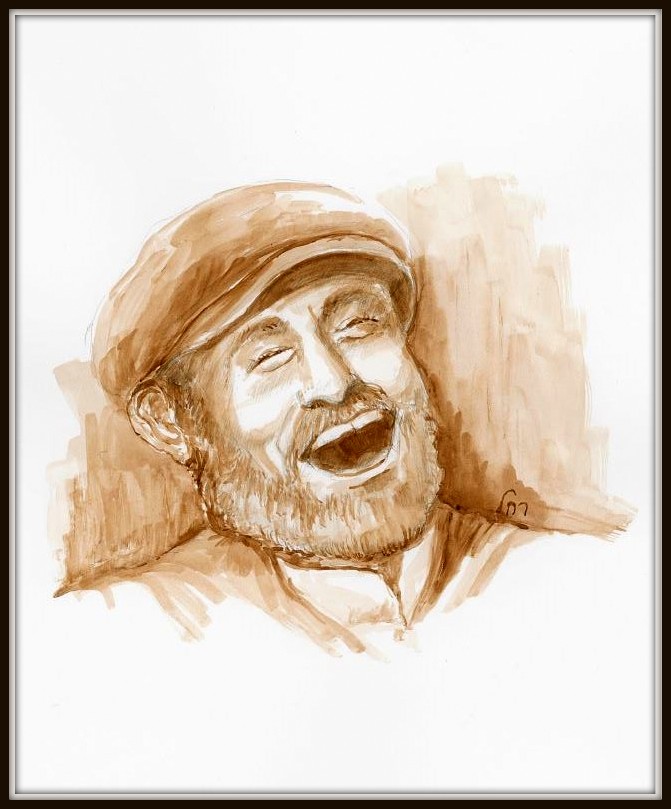 Leah Wolinsky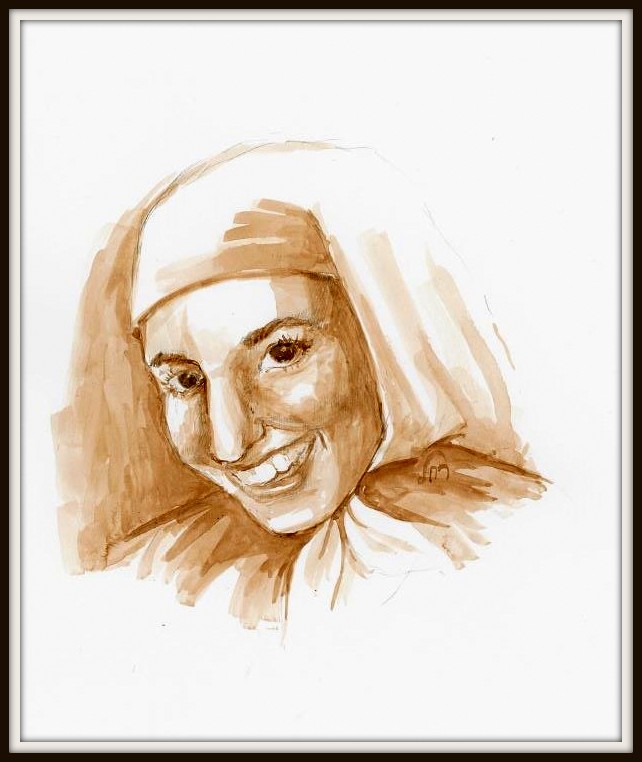 Steam rose from the dish pan. Sweat beaded Leah's forehead and soaked her kerchief. Gavrel's chest ached with yearning and remorse. She deserved better. He circled his arms around her waist.
"A perfect fit."
Turning in his embrace, she planted a wet kiss on his cheek. "Spoken like a shoemaker."
"How else should I speak? It's what I am. We may not be wealthy, but our children will never go barefoot in winter."
"Remember how angry Havah was at our betrothal. She even accused Mama of selling me into slavery."
"As I recall, you weren't too happy about it either. After all, I am old enough to be your father."
He surveyed their cramped apartment. With a front room that doubled as a kitchen and three cramped bedrooms, it was much too small for a family of six. Despite Leah's efforts to keep it tidy, it was always cluttered.
"Maybe Havah was right and your mother did sell you into slavery."
"Don't be ridiculous." After another kiss, Leah turned back to the dishes. "I'm happy with my life."
~~Taken from From Silt and Ashes by Rochelle Wisoff-Fields
In Please Say Kaddish for Me Arel's sister Tova betrothed her sixteen-year-old daughter Leah to Gavrel Wolinsky the shoemaker who was twice Leah's age. An angry Havah accused poverty-stricken Tova of selling her daughter for a pair of shoes.
Gavrel's first wife died of a fever during their first year of marriage leaving him a childless widower. Since Tova's untimely passing, Gavrel has assumed the role of father for Leah's younger siblings as well as their own daughter. Nothing makes him happier than being Papa.
In From Silt and Ashes Gavrel and Leah have moved their family to Odessa, Ukraine, where another vicious pogrom looms on the horizon. As Jewish university students amass weapons to defend themselves Gavrel's only desire is peace in his home. As this becomes increasingly difficult he saves to take his wife and children to live with their family in Kansas City.
---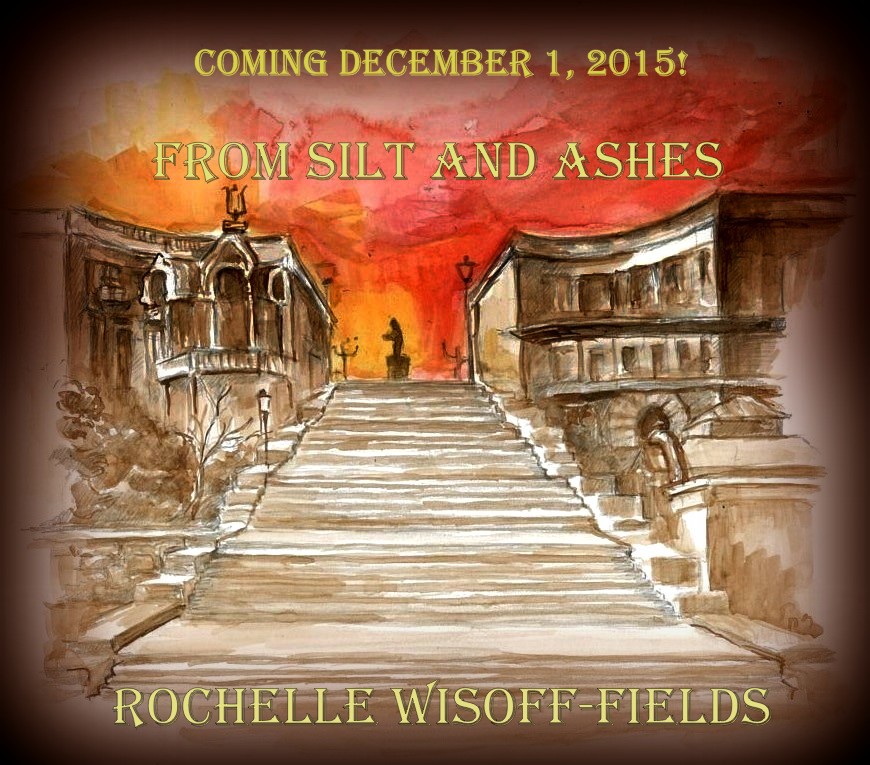 Lafayette A. Tillman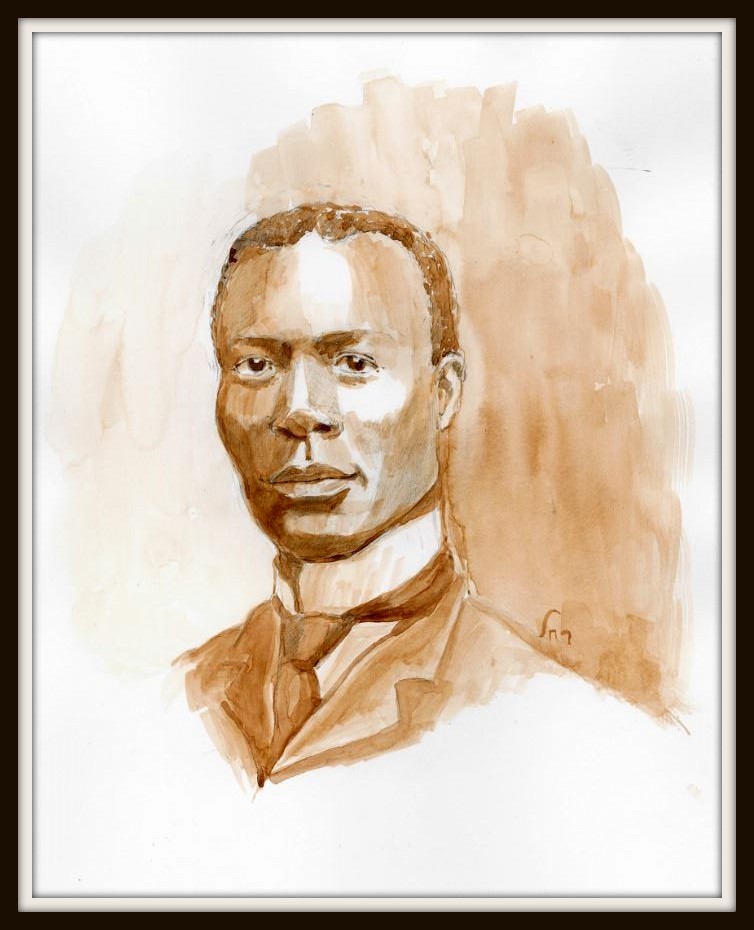 Her neighbor and the policemen filed into the living room. She (Havah) shut the door behind them. The taller officer, an imposing presence with dark skin, fascinated her. Although she had read about them in Professor Dietrich's books about Africa and American history, she had never met a Negro face to face.
At once, his kind expression and gentle manners allayed her deepest fears. He bowed at the waist. "Please excuse our rudeness, ma'am. I'm Officer Lafayette Tillman and this is my partner, Pat Mulligan."
~~Taken from From Silt and Ashes by Rochelle Wisoff-Fields
As From Silt and Ashes, the sequel to Please Say Kaddish for Me, opens, Havah and Arel Gitterman have been in Kansas City for only five months. Plagued with post-traumatic stress, Havah suffers vivid nightmares of Kishinev. In this first chapter, Havah dreams she is fighting off pogromists and, in the process, screams and breaks her front window. Their next door neighbor, who is certain that Arel is beating his wife, calls the police.
One of the officers who shows up at the door is Lafayette A. Tillman, who actually lived in Kansas City.
Born in Indiana in 1859, he studied music at Oberlin College in Ohio and attended Wayland Seminary in Washington D.C.  He moved to Kansas City with his wife Amy in the 1880's where he opened a barber shop and they raised three children, Lon, Portia and Junne.  During the Spanish-American War he joined the volunteer infantry where he was appointed the rank of first lieutenant in a black regiment. When he returned, some influential white citizens who appreciated his loyalty and patriotism secured him a position on the police force.
Havah finds an unexpected ally in Officer Tillman who can't believe what she and Arel have suffered at the hands of so-called Christians. More than once he proves himself to be a true friend to the Gitterman family.
---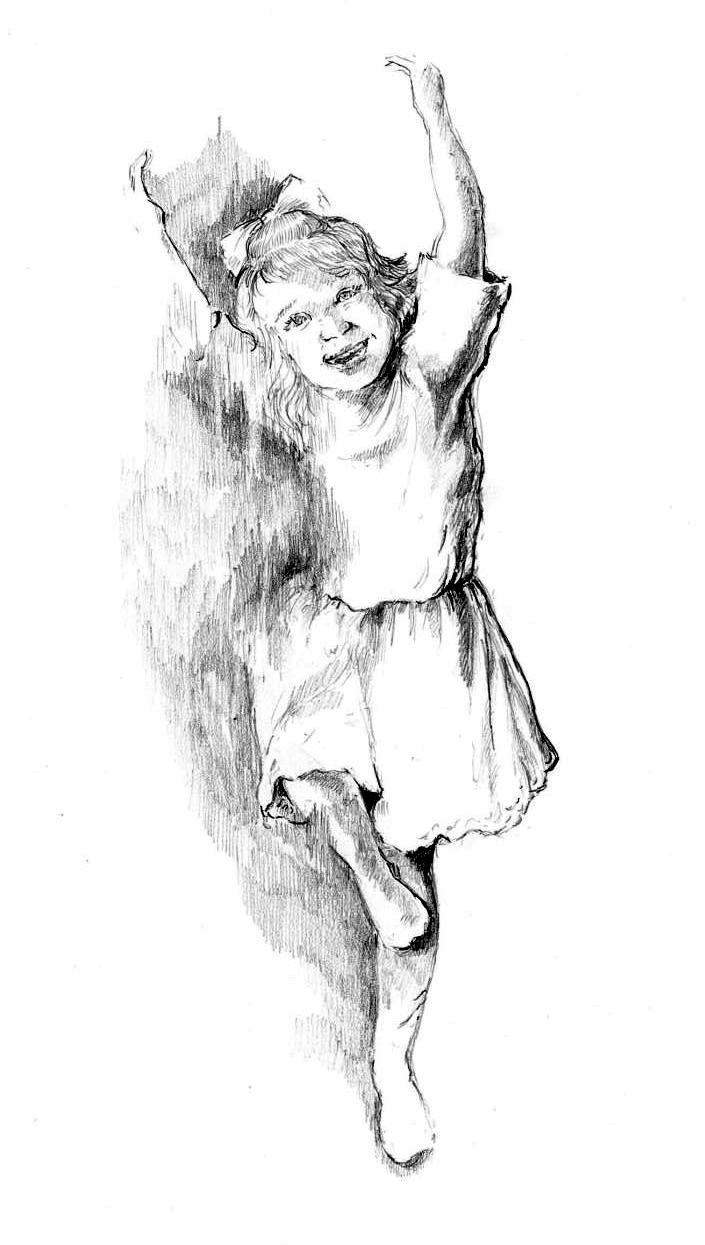 Night of Madness – From Silt and Ashes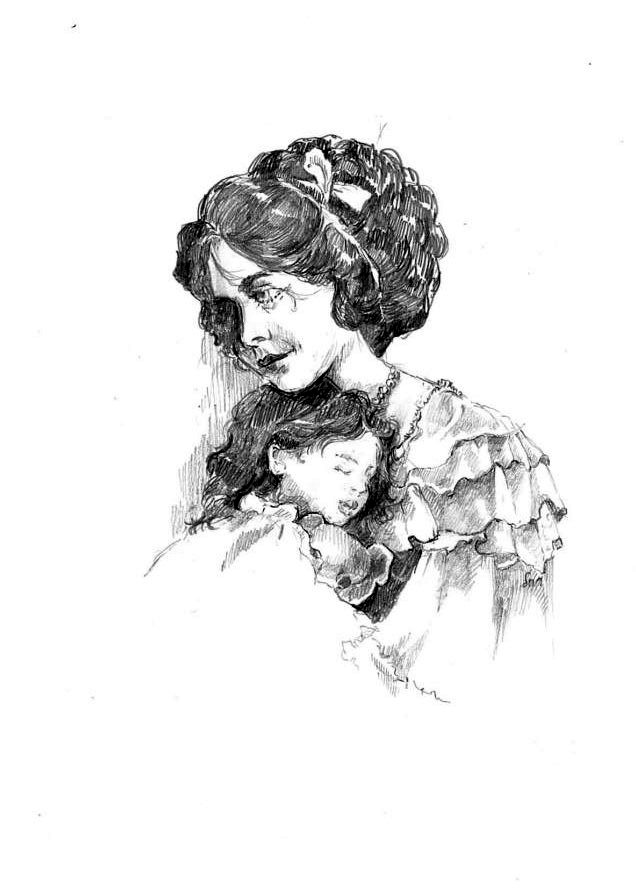 SHALOM ALAYNU, PEACE ON US – From Silt and Ashes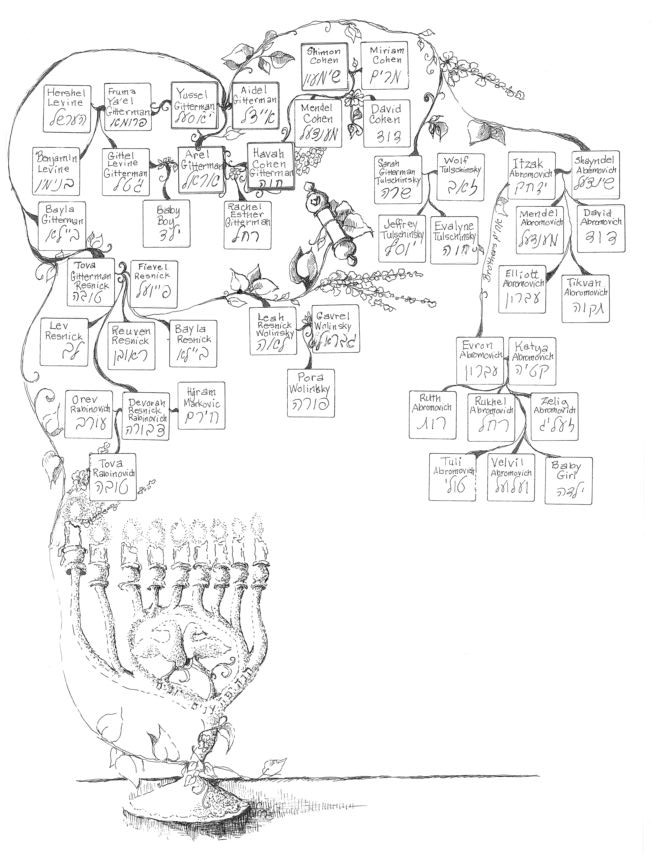 Gitterman Family Tree – From Silt and Ashes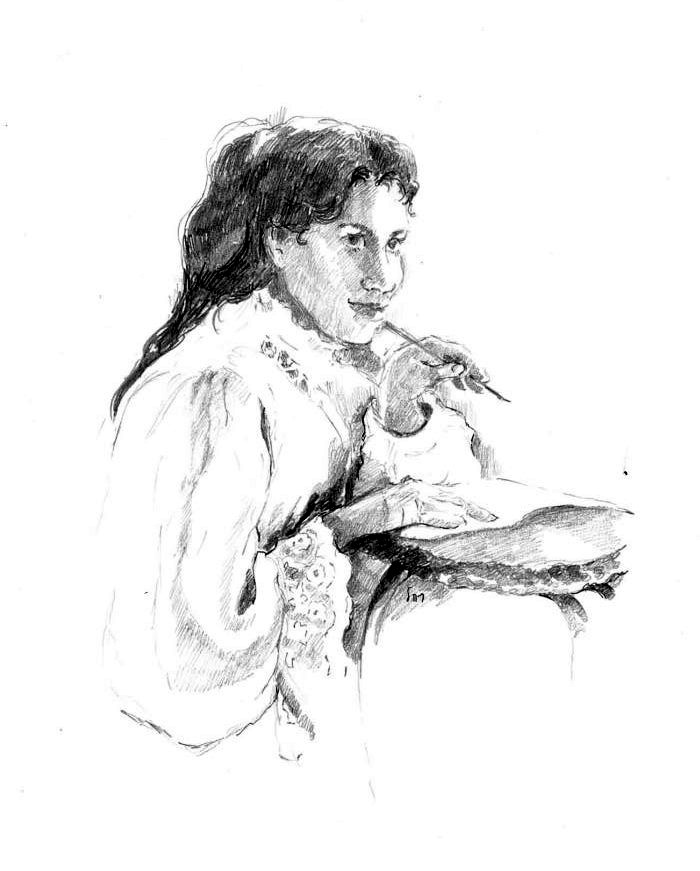 Life after Death – From Silt and Ashes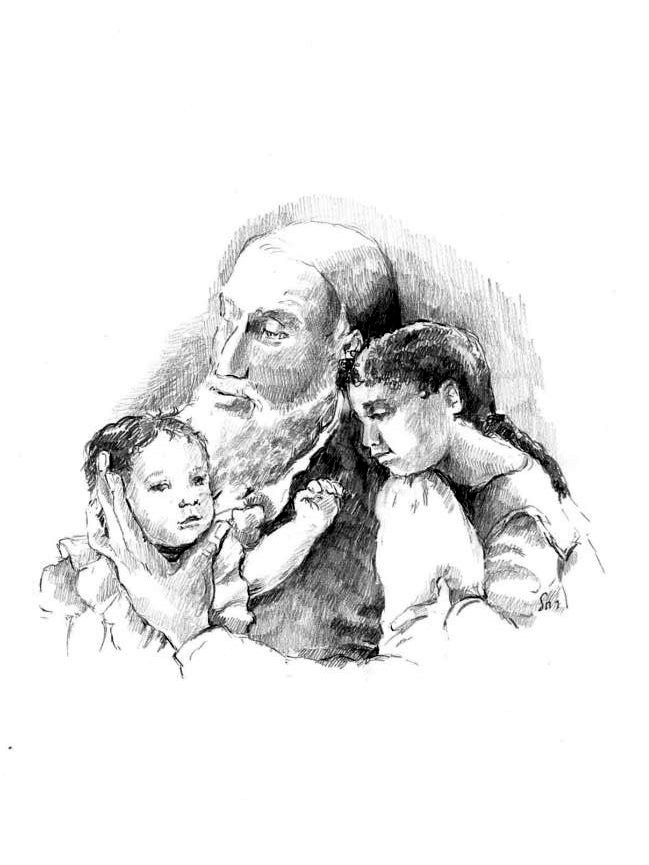 Blind Men See – From Silt and Ashes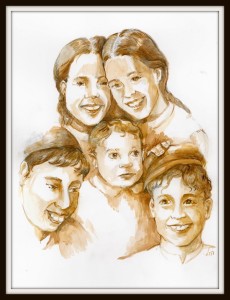 Adoration for his children radiated from Evron's dark eyes. "Who wants to read the first line of tonight's psalm?"
Tuli slid off Havah's lap. He hopped up and down. "I do! I do!"
Hoisting him onto his lap, Evron held the book for him. "Our little rooster always reads first. He just started Heder and hasn't learned to read as many words as the rest of us. The first line of the psalm is usually the shortest."
After Tuli sounded out three words Zelig read his portion. Ruth and Rukhel read the next two lines together. Their pronunciation of the Hebrew words and understanding amazed Arel. "Your daughters read the Holy Books?"
Evron, beaming with pride, kissed each of his children before they returned to their places on the floor. "Why not? The Almighty has blessed them with sharp minds. Why shouldn't they have the same opportunities as their brothers?"
~~Taken from Please Say Kaddish for Me by Rochelle Wisoff-Fields
Character Study – Abromovich Children
            Soon after Havah comes to live with Evron, Katya and their four children Havah's skill as a midwife is tested when Katya gives birth to her fifth child.
Identical twins, Ruth and Rukhel, the eldest of the Abromovich clan, had hoped for a little sister but are delighted with their new brother Velvil. They are bright, happy girls who are prone to finish each other's sentences.  Shayndel observes, "It's as if Adoshem gave those girls two bodies and one heart."
Zelig is a studious boy who one day would like to become a rabbi. Old for his age, he prefers reading to playing games. His noisy sisters and brothers often test his patience.
Tuli is at once Havah's favorite. He's an affectionate imaginative child who loves to draw and read.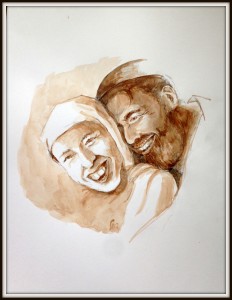 Katya and Evron Abromovich – Please Say Kaddish For Me by Rochelle Wisoff-Fields
"Evron, open up. It's your baby brother!"  Itzak pounded his fist on a wooden door that looked like it might split in half at the slightest touch.
While she waited between Gittel and Shayndel for someone to answer, Havah rubbed her sore neck. She had slept in the wagon most of the way to Kishinev, in a most uncomfortable position.
Finally the door swung open and a man who looked like Itzak, only taller, beckoned; his laughter even sounded like Itzak's. "You we've been expecting, Little Brother, but we had no idea you'd be bringing all of Svechka with you."
Havah followed Gittel and Arel over the threshold into the small house. Although not much larger or better constructed than Tova's shack, it was warm and welcoming. Garlic and onion aromas made her stomach grumble.
After the brothers embraced and exchanged back slaps, Evron pulled back and winked at Shayndel. "We haven't seen your lovely wife since she was a little girl with yellow braids. And now look at her, she's a rose in full bloom."
Evron's wife Katya, a bony woman with buckteeth, slits for eyes and beak-like nose, hugged her blushing sister-in-law. "Never is a woman more beautiful than when she carries life inside."
~~Taken from Please Say Kaddish for Me by Rochelle Wisoff-Fields
When Evron signed the marriage contract with Katya, Itzak Abromovich felt sorry for his brother who was forced to marry such a homely woman. But he never needed to waste his pity, for Evron sees only Katya's inner beauty, and is deeply in love with her.
Their tiny house is already full of children—two girls and two boys—and there hardly seems to be enough space for them, let alone five houseguests. Havah soon learns that Katya and Evron always have room for friends and family.
When Gittel introduces Havah as an orphan, Katya embraces Havah and says, "I don't see any orphans. Do you? I see only mishpokha, family."
Havah finds love, hope and a safe haven in Katya and Evron's humble Kishinev home.
The Family Tree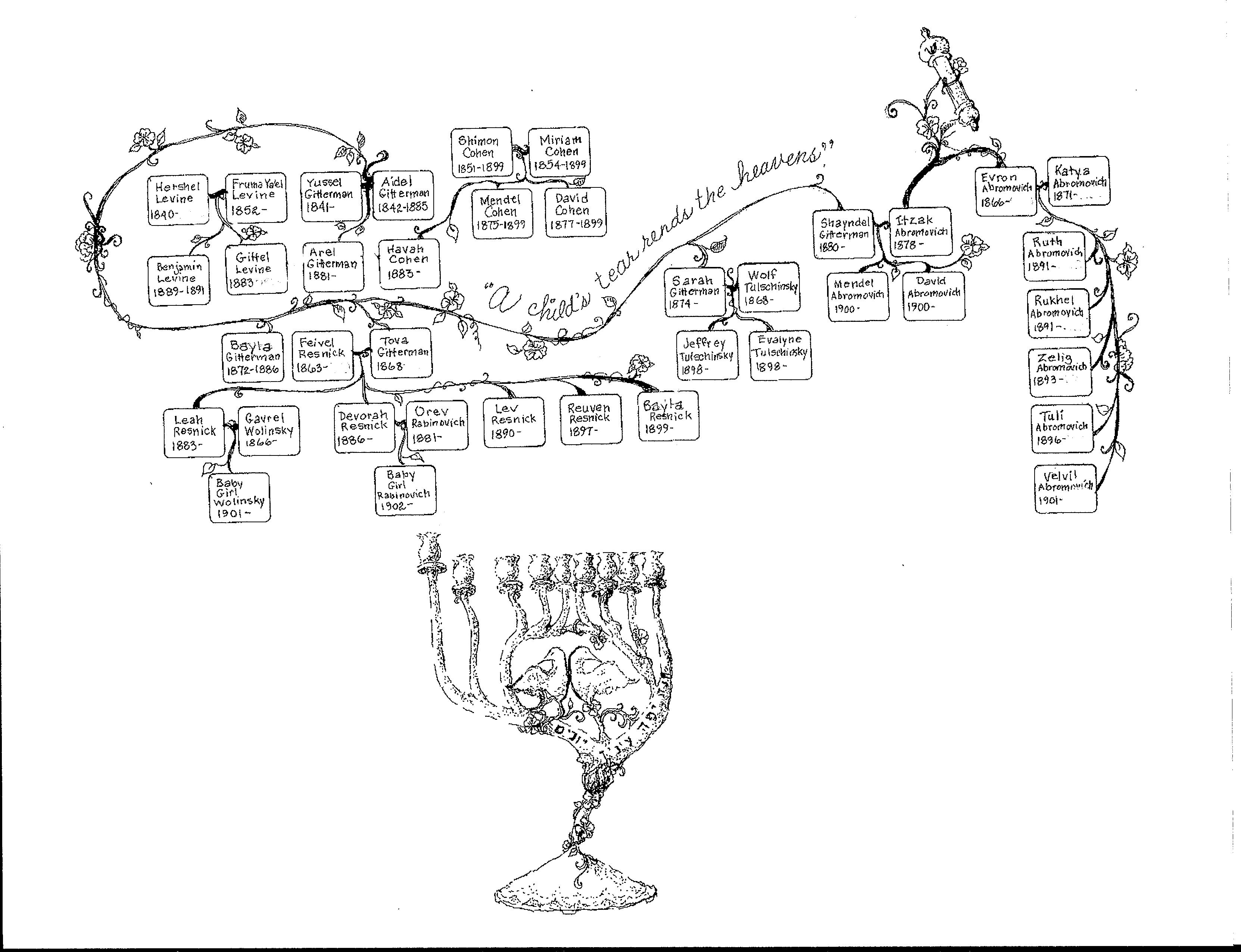 ANZYA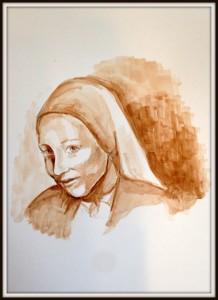 "'Stir the stew every ten minutes, Princess. Don't let it burn.' With a threatening scowl Anzya shoved past her nearly upsetting the laundry. Her mouth made a thin line under her narrow nose. She secured a black shawl over her kerchief.
The sour woman seldom spoke and never smiled. Perhaps she had no teeth. When Havah asked Ulrich about her he said she was as much of a mystery as when she first came to work for him a year ago.
~~Taken from PLEASE SAY KADDISH FOR ME by Rochelle Wisoff-Fields
Ulrich's kitchen is completely Kosher because he's given his Jewish cook, Anzya, free rein. For reasons Havah, doesn't understand, he is compassionate toward the bitter woman even though she returns his caring with animosity.
Anzya regards Havah with disdain and sarcastically calls her Princess.
At one point in the story, in a fit of anger she asks Havah, "How can you be so friendly to him? How can you let him touch you?"
"Ulrich? Why don't you like him?"
"He's a goy. Isn't that reason enough?"
Anzya will soon understand that Ulrich isn't just another gentile, nor is Havah a pampered princess.
---
"A thin stream of smoke issued through Hershel's pursed lips. 'Practical wisdom is one thing, Rebbe, but study of the Holy Writings is quite another. Some things are not meant to be. I ask you, if we start sending our daughters to Heder, who will cook and take care of the home?' He wagged his finger under Arel's nose. 'Would you want your wife studying at your side instead of raising your children?'"
~~taken from Please Say Kaddish for Me by Rochelle Wisoff-Fields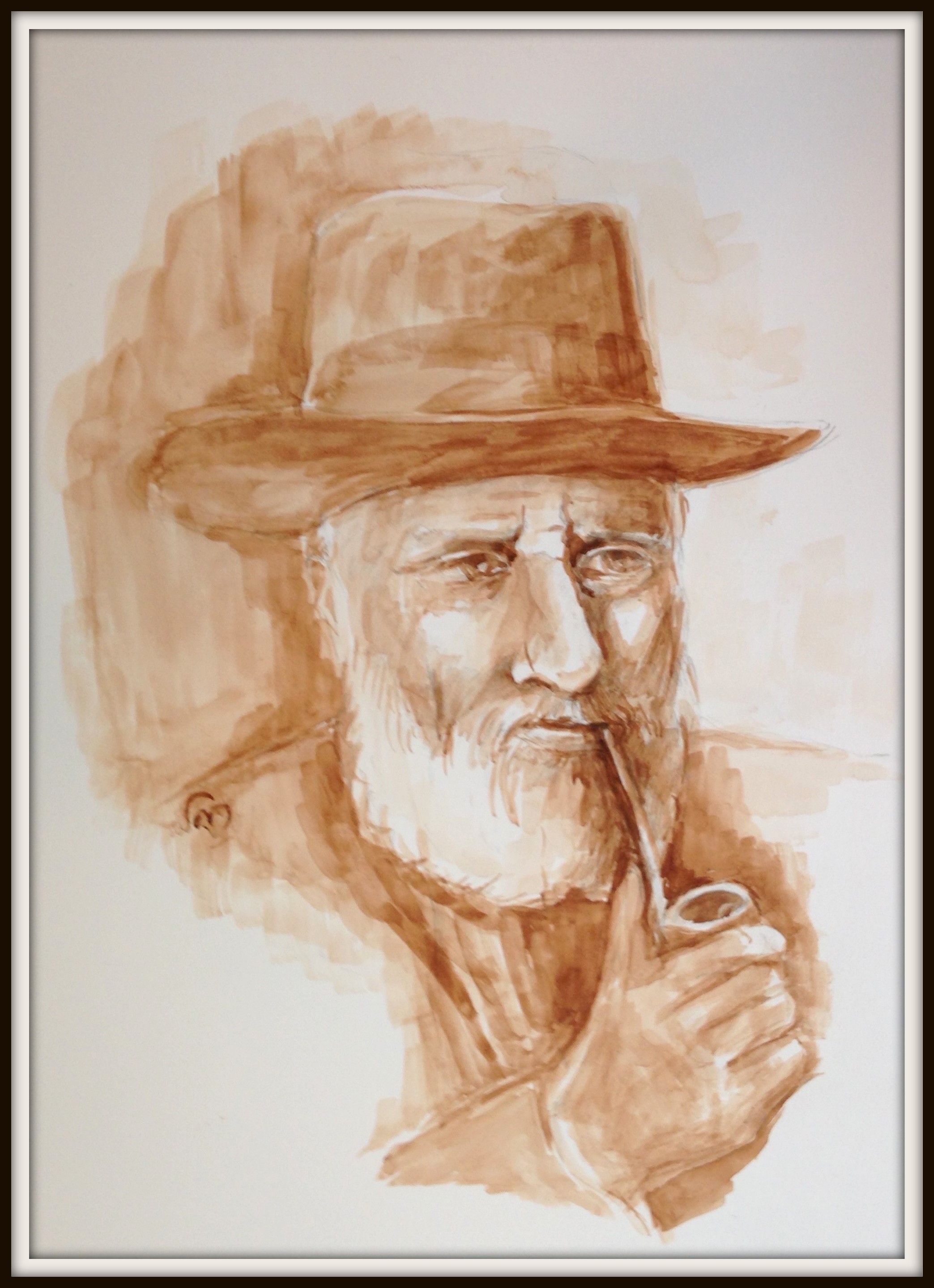 In the beginning of the story, Cantor Hershel Levine's ideas about women seem rigid and traditional. While his arranged marriage to Fruma Ya'el is a union of mutual tolerance, the demons from his past keep it from being a happy one. He finds his greatest joy and treasure in their daughter, Gittel whom he refers to as the sweetest of flittering birds.
As a firm believer in tzedakah, religious and moral obligation, he readily takes on the role of Havah's legal guardian. Nothing like Gittel, Havah challenges his convictions and eventually wins his heart.
---
"Itzak reminded her [Havah] of a bear cub, short and stout with black, curly hair. His beard seemed to be as unruly as the young man himself. His dark eyes shimmered like midnight stars."
~~taken from Please Say Kaddish for Me by Rochelle Wisoff-Fields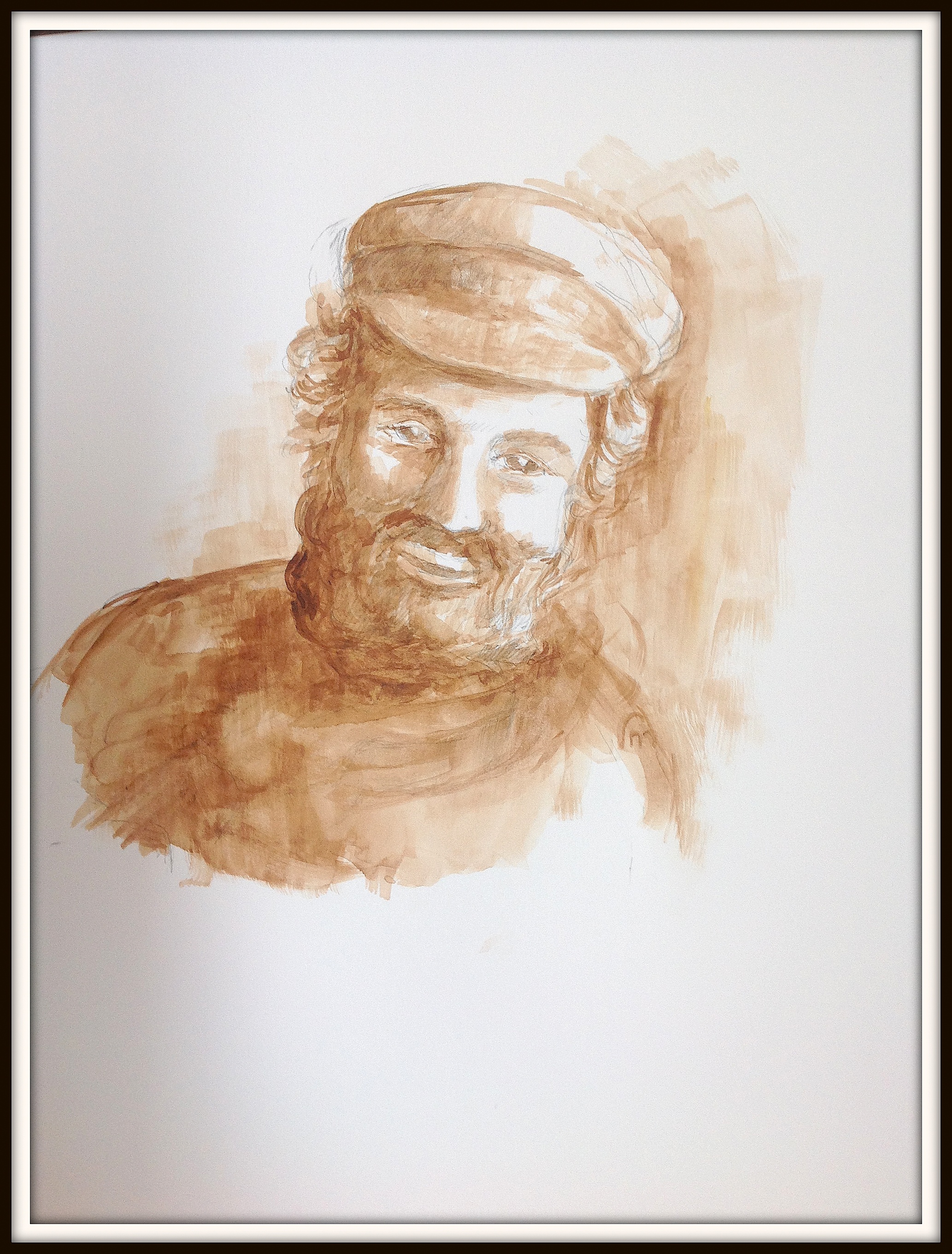 Itzak Abromovich is a cabinetmaker by trade who is also a gifted woodcarver. Because his uniquely crafted furniture is sought after by certain Kishinev aristocrats Itzak has been issued official papers granting him permission to travel beyond the boundaries of the Svechka.
He's not only a skilled craftsman but a talented fiddler as well, which endears him to Ulrich Dietrich, the pianist. Often furniture deliveries will end with an evening of music in the wealthy German professor's mansion.
At first meeting, Havah points out that Itzak is the embodiment of his name, pronounced in Hebrew 'yitz-khak' which literally translates, 'he will laugh.' In nearly any given situation, no matter how bleak, he can find a kernel of humor.
---
"Finally Havah raised her head to glare at the other woman. Under different circumstances she would have pitied her. At thirty-one, Tova looked closer to fifty. Years of abuse had worn lines into her face. Childbearing had left its mark on her slight frame, curving her spine and bowing her shoulders."
~~taken from Please Say Kaddish for Me by Rochelle Wisoff-Fields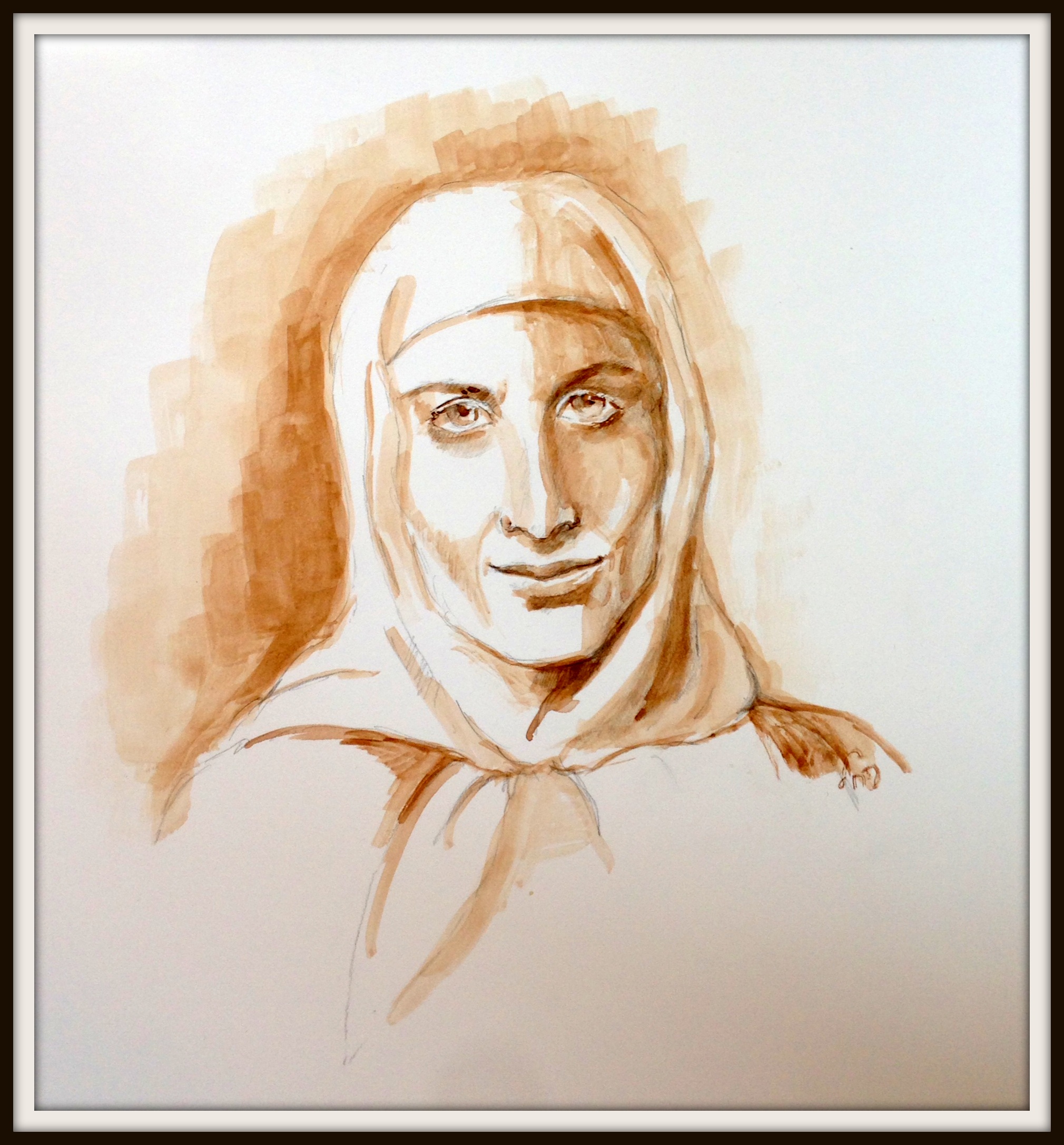 At the age of fourteen, Arel's sister Tova Gitterman, Yussel's second eldest child, was a dark haired, grey eyed beauty. Feivel Resnick, then seventeen, fancied himself in love with her and begged the rabbi for her hand. However Yussel informed him that she was already promised. Not to be refused, Feivel stalked her until the day he cornered her doing laundry at the river.
When Tova was found to be pregnant with Feivel's child it rendered her betrothal agreement null and void. Rabbi Yussel felt he had no choice but to sanction the marriage for honor's sake.
Instead of the fulfillment of his dreams, Feivel feels trapped. He is an abusive drunkard who squanders his meager earnings on drink and takes out his frustrations on Tova. As Please Say Kaddish for Me opens, Tova is pregnant with their fifth child.
After the baby's birth, Tova signs an agreement for her eldest to marry the shoemaker who is twice the girl's age. Havah is indignant and accuses Tova of selling her daughter into slavery for a pair of shoes.
As time passes, Havah learns that life isn't always a simple matter of right and wrong. While she may never agree with Tova's decision she does come to respect the woman's inner strength.
---
"Shayndel's knee length hair shone like honey in the sun and her round cheeks glowed. Havah felt shriveled and pale next to her."
~~Taken from Please Say Kaddish for Me by Rochelle Wisoff-Fields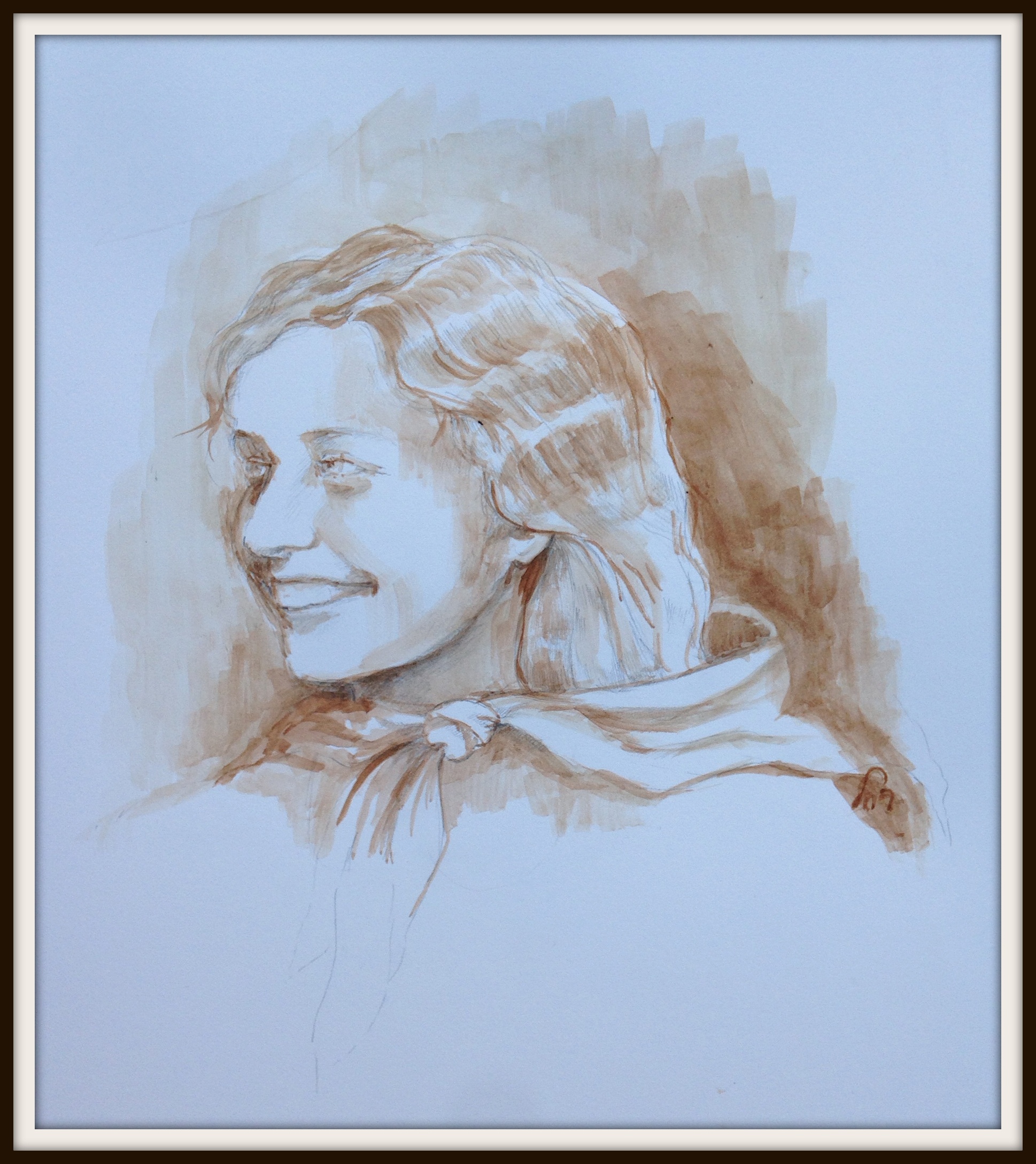 Shayndel Gitterman Abromovich's marriage to Itzak the cabinetmaker was arranged when they were still children and, as Itzak tells Arel, "it was meant to be." Like her brother, Shayndel has never questioned the traditional roles of Jewish men and women within the shtetl. In Itzak, Shayndel has found her beshert, her soulmate.
Although Havah sees Shayndel as being too accepting and Shayndel sees Havah as rebellious, an unbreakable bond forms between them.  
---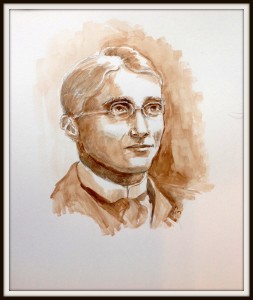 "I hope Ulrich and that doctor person like chicken sandwiches." She [Havah] limped to the icebox and pulled out a plate of leftover chicken.
After she set the plate on the table she searched the many drawers for a knife. Before she could cut into the crusty bread on the counter, a masculine hand reached around her and took the knife. "Allow me. You're liable to slice off your fingers."
"Must you always be so rude?" She whirled around and glared at Dr. Nikolai.
With surgical precision he cut the bread into even slices and stacked them on a platter. He peered at her over his spectacles with one raised eyebrow. "Or so gentile?"
~~Taken from Please Say Kaddish for Me by Rochelle Wisoff-Fields
Havah dislikes the dispassionate Russian, Dr. Nikolai Derevenko, Ulrich's housemate. Nikolai returns her feelings and makes it clear to her that he has little patience for most people, women in particular.
As the story unfolds she learns that he's an accomplished flautist who chose medicine over music and his aloof demeanor masks the grieving heart of a father who's lost his only child.
In Dr. Nikolai, Havah will find a true friend and champion.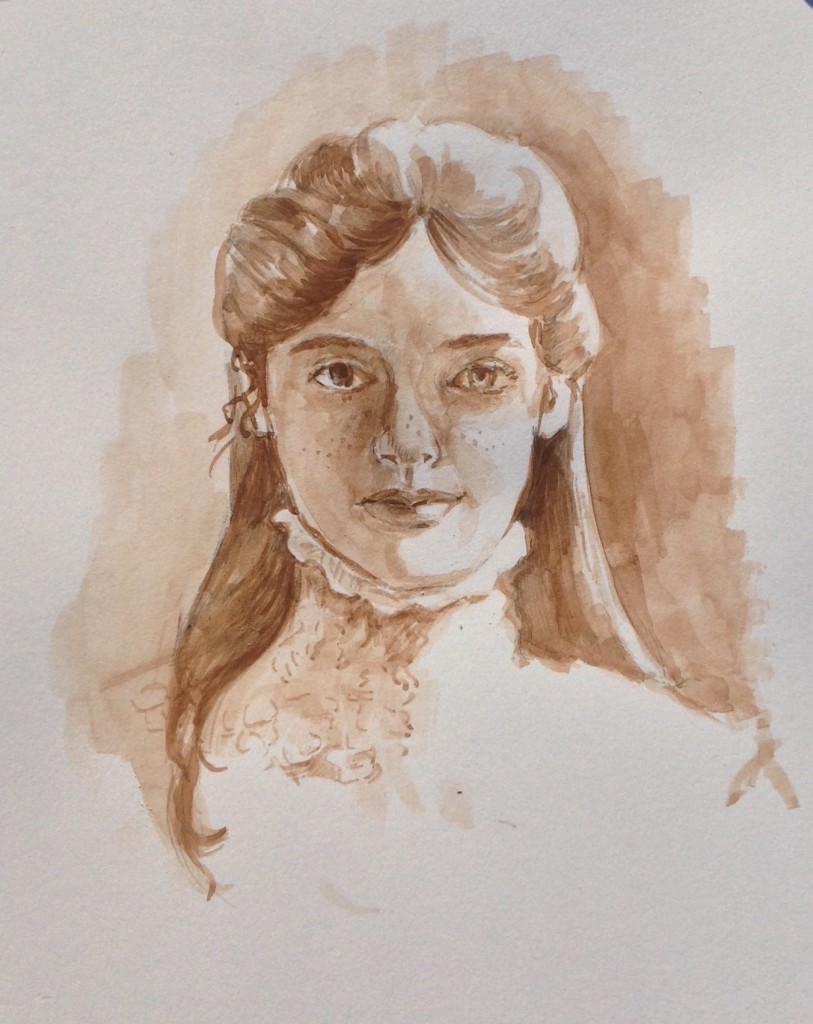 Gittel is Fruma Ya'el's daughter with Cantor Levine. At first, grief-stricken and in severe physical pain, Havah, wants nothing to do with the talkative girl. Gittel, who tends to look for the good in people, accepts Havah's insults with gentle compassion. It's not long before Gittel wins her over.
The girls, who are both sixteen, become confidantes, friends and sisters. The only wedge between them is Arel.
"Words refused to come from Arel's mouth. His feet felt like stones. Diverting his gaze to Gittel, his intended since he was thirteen, his mind swirled like leaves on the wind. Tall and slender, she had an innocent beauty that emanated from the depths of a tender soul. Her auburn hair made a silken cape around her slim shoulders. He had, heretofore, enjoyed the prospect of making her his wife."
~~Taken from Please Say Kaddish for Me by Rochelle Wisoff-Fields, W&B publishers (2015) Represented by Loiacono Literary Agency
---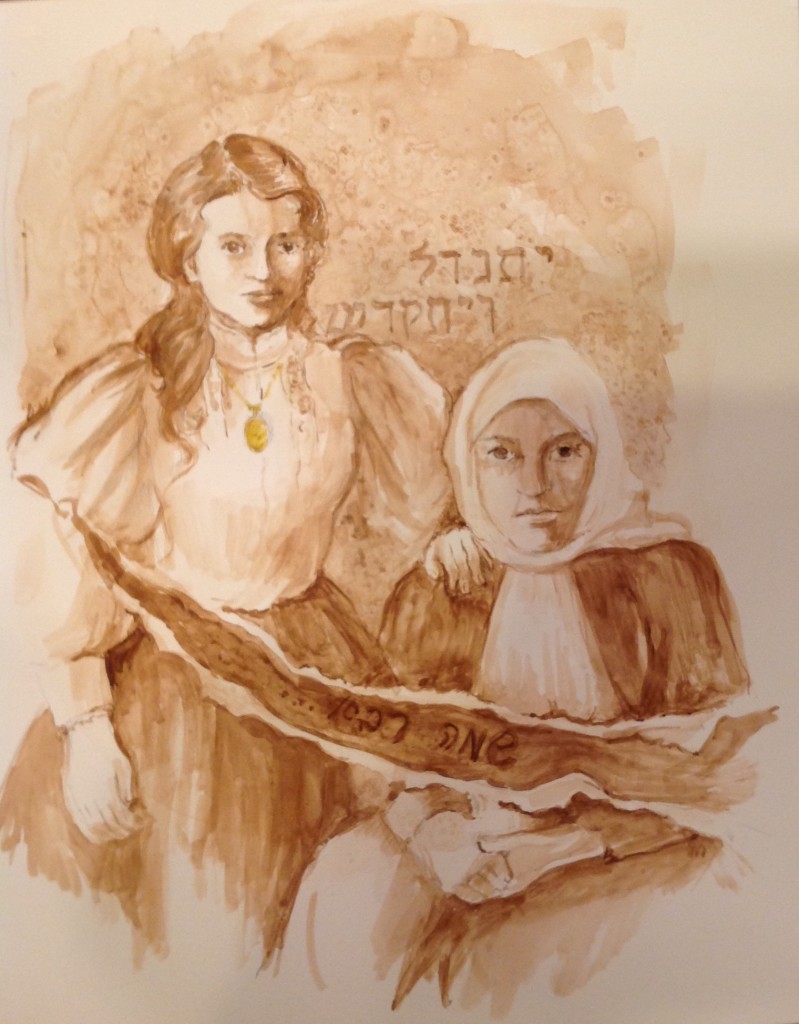 Havah and Fruma Ya'el
Please Say Kaddish For Me book trailer
The most dramatic operation she [Fruma Ya'el] had done in twenty years was to extract a well-deserved bullet from Pinkas Rabinovich's backside after a tavern brawl. Never did she imagine she would be called upon to perform such grisly surgery as she had on a poor orphan. She wiped the amputation blade with her rag and laid it in the mahogany case between a pair of scissors and a scalpel. What else could she have done? Sometimes life left one no choices.
Taken from PLEASE SAY KADDISH FOR ME by Rochelle Wisoff-Fields
Although Havah's introduction to Fruma Ya'el is a painful one, she will become one of the most important people in the girl's life.
Fruma Ya'el Levine, the cantor's wife, is a one of Svechka's most beloved citizens for she is the village midwife. She is proud of the fact that she's seen most of the babies' faces before their own mothers. Her great love of children has earned her the title of Auntie Fruma.
In her youth she had the opportunity to immigrate to America to study medicine, but tragic circumstances barred the way. Trapped in an arranged and empty marriage, she pours her love into her only living child, Gittel.
Fruma Ya'el sees in Havah the passionately intelligent girl she used to be. Little by little an ironclad bond forms between them.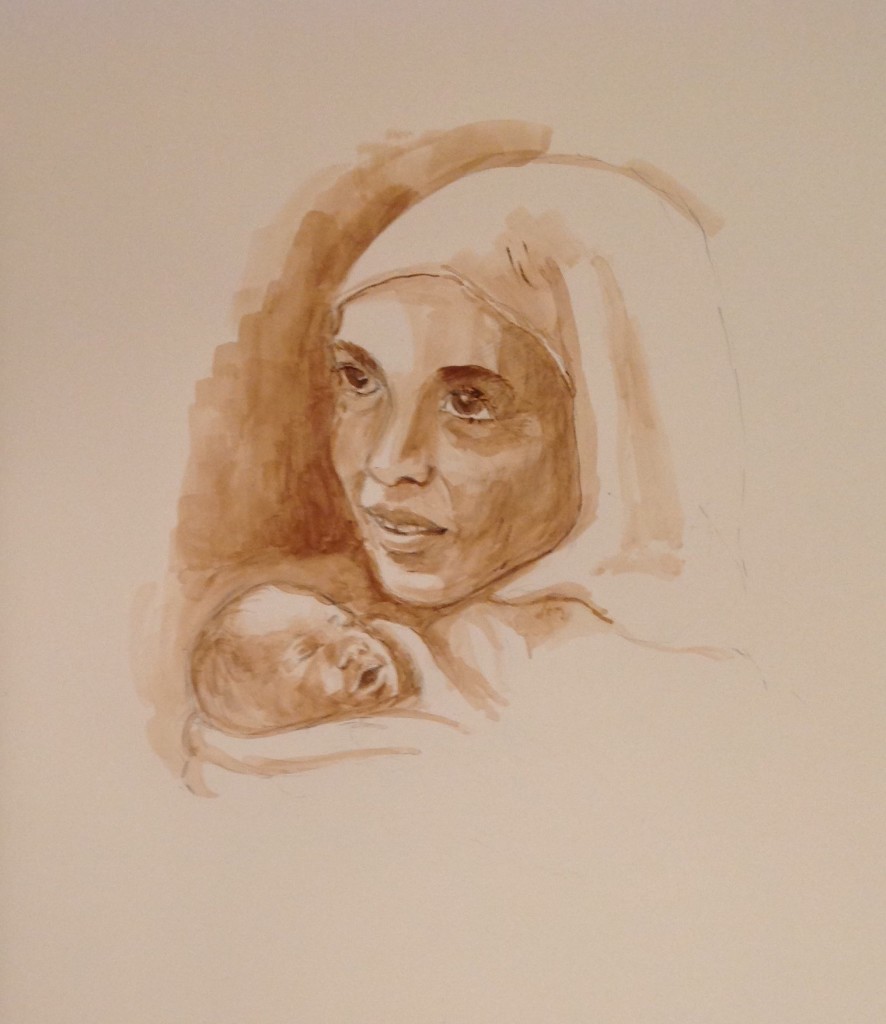 Fruma Ya'el by Rochelle Wisoff-Fields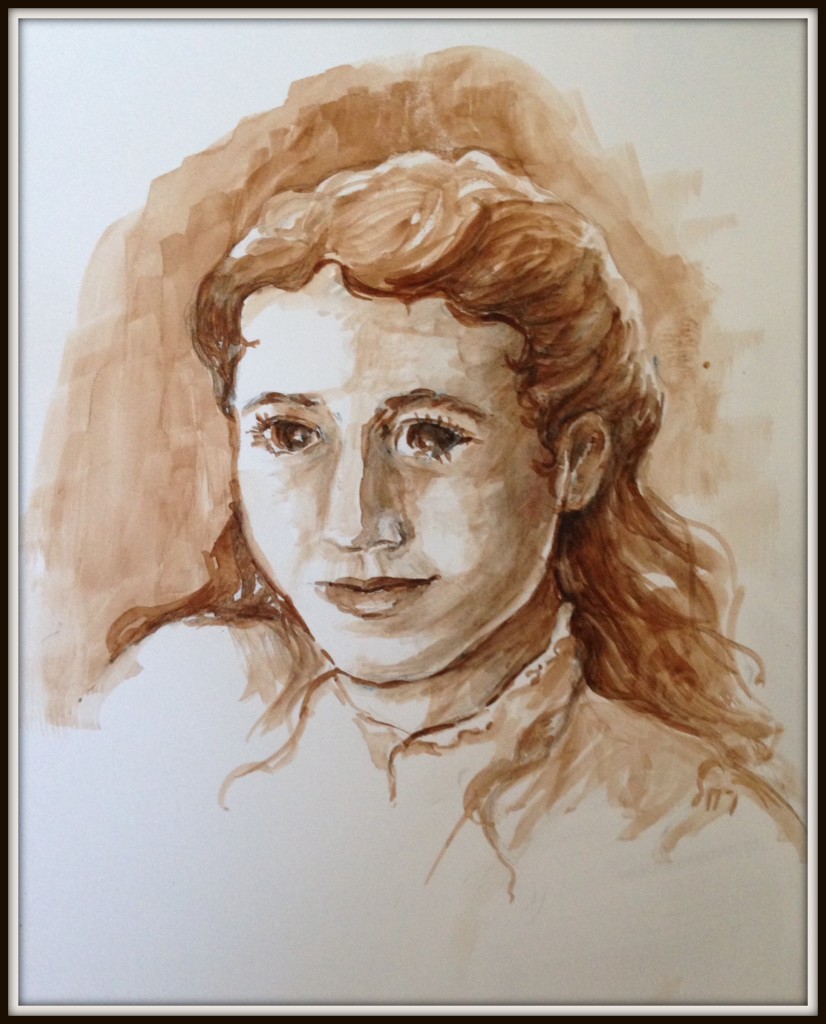 If one advances confidently in the direction of his dreams, and endeavors to live the life which he has imagined, he will meet with a success unexpected in common hours.
–Henry David Thoreau
Friday morning as I decorated cakes at work, a text message and an email from my agent Jeanie that began with, "I hope you're sitting down," turned my world upside down. With several hours left to my work day I tried to keep focused on tasks at hand while vacillating between smiles and tears.
A nine-year-old dream that began with a story and nascent writing skill is about to come true.
***
Barefoot, wearing only a nightgown, Havah Cohen escapes the brutal massacre that takes her parents and two brothers on a frigid November night in 1899. To keep her mind off her razed village as she runs through the woods in search of safety, she recites the Kaddish, the prayer said in memory of the dead. Who else will perform this mitzvah, blessing, for them? Just before sunrise she collapses on the synagogue steps in a nearby village called Svechka, Moldavia.
Havah is the daughter of a free thinking rabbi who saw nothing wrong with women having the same education as men. To avoid the inevitable disapproval in her new surroundings, Havah tries to keep her knowledge a secret. However, Arel, Rabbi Gitterman's son finds her irresistible because of it. If only Arel wasn't betrothed to Gittel, Havah's adopted sister.
Both PLEASE SAY KADDISH FOR ME and FROM SILT AND ASHES revolve around Havah, her life, her loves and her challenges which she faces with stubborn passion. Although she has a strong faith in God, she pushes the boundaries of religion and traditions.
---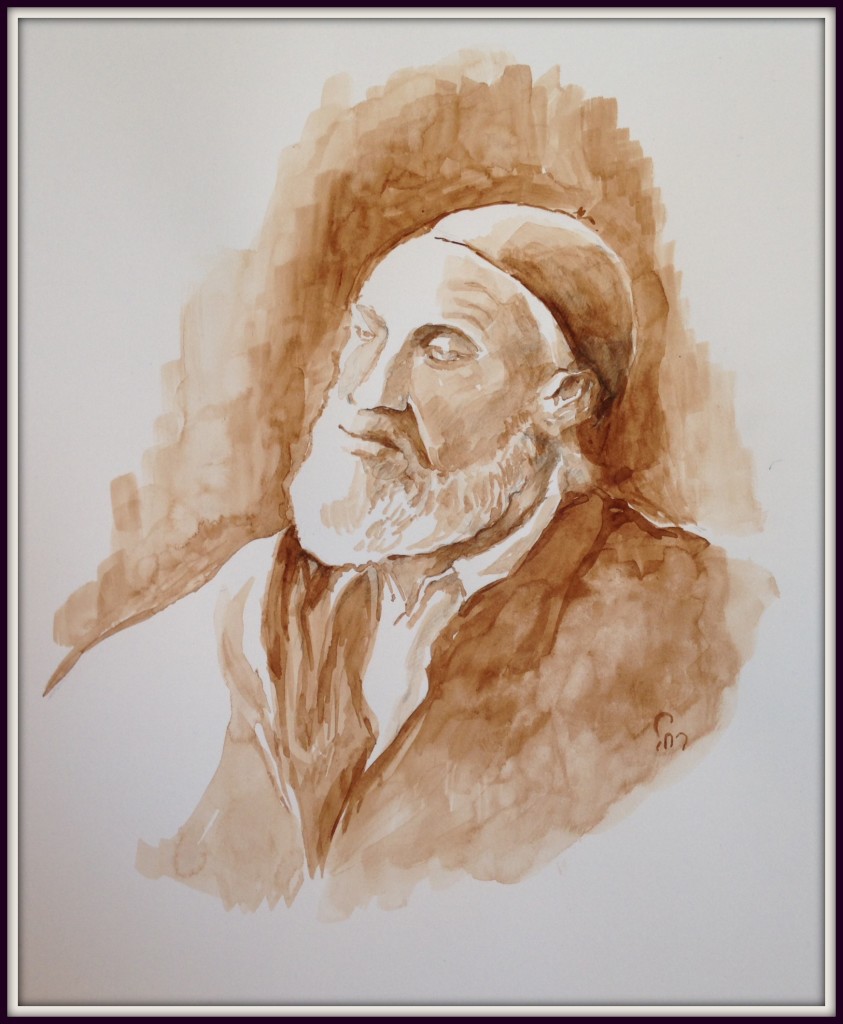 In both PLEASE SAY KADDISH FOR ME and FROM SILT AND ASHES, Havah's greatest ally and father figure after the murder of her own father is Rabbi Yussel Gitterman.
Although he's blind from a bout of brain fever years before, he sees more than most. With assistance from his son, Arel, Yussel has continued to read and study the Holy Books on a daily basis. He still leads and teaches in the synagogue in Svechka, Moldova.
Yussel is immediately drawn to Havah, whose father was also a rabbi who taught his daughter more than women were allowed to know in the 1800's.
As the father of five children Yussel has many regrets which include forcing his pregnant daughter to marry an abusive alcoholic, alienating another daughter who immigrates to America, and betrothing his only son to a woman he doesn't love. Over the course of the novels, some of these mistakes will be resolved while others will continue to haunt him.
When I began my research for PSKFM I read many firsthand accounts from shtetls in the Jewish Pale of Settlement. One woman spoke of an uncle who lived with her family. He'd lost his sight while still in his 40's and continued to study well into his old age. I was intrigued and from this account Yussel was born.
My earliest manuscript includes a prologue that takes place in Yussel's early childhood. His father, Arel, is a rabbi and an artist who crafts a Hanukkah menorah that becomes a character of sorts. While it's no longer the presence I originally intended it's a recurring symbol of survival and will follow the family from Eastern Europe to Kansas City, Missouri.
The following story, based on my former prologue has been published in my short story anthology THIS, THAT AND SOMETIMES THE OTHER published by High Hill Press.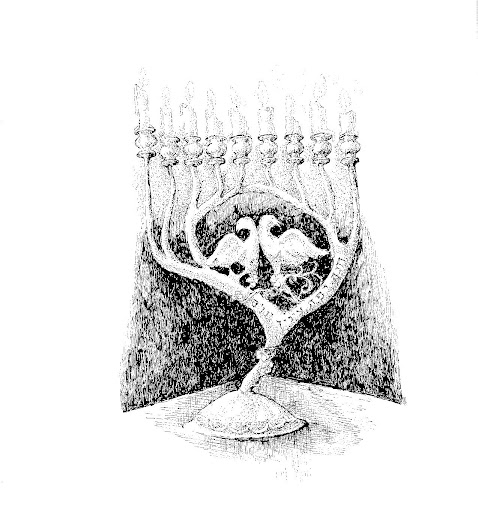 SURI'S HEART
Kishinev, Moldavia
A House in the Jewish Quarter
December 1846
 "Yussel!" Papa pounded the table with his fist. "Speak to me! A brokh tsu dir! Damn you!"
Startled, five-year-old Yussel flinched and spilled hot tea in his lap. He winced at the sting. Swallowing his moans, he stared up into his father's rage-red face. He held his breath and waited for a spanking.
Instead, Papa whisked the boy up into his arms and tore off his clothes. "I'm sorry. So sorry."
He slathered the child's skin with butter and wrapped soft rags around his blistering thighs.
"You're making me meshuggenah, crazy. Won't you please say something for me? Three words? I'd even settle for two."
Yussel clamped his lips together and wagged his head from side to side. Why should he speak? Had the Almighty listened to him? No! Not even one word.
Papa sank into the rocking chair in a corner of the parlor, cradling the boy on his lap. Yussel laid his head on his father's chest. Papa's rapid thup-thup-thup heartbeat slowed to a soothing ka-thump-thump.
Tucking his finger under his son's chin, Papa forced his head to tilt upward. His coffee-brown eyes glistened behind his spectacles. "Silence won't bring her back. If it would, I'd cut out my own tongue."
The boy recoiled and slid off his lap. He stomped to his bed, threw himself down and buried his face in his pillow. Papa's gentle footfalls neared. The wardrobe door opened and shut. The mattress listed and Papa's hand warmed Yussel's naked back.
"I have something special to show you. I was saving it for a Hanukkah surprise but it's only two nights away."
Curiosity bested him, so Yussel rolled over and snatched his clothes from Papa. He dressed and watched his father disappear into the next room. Buttoning his shirt, he followed.
Papa opened the top bureau drawer. Yussel rose on tiptoe and glimpsed over the edge. It was where Mama kept her valuables—a  necklace, a pair of earrings and a silver broach Papa made for her during their betrothal. These things she wore as a bride and afterward saved them for special occasions.
Papa grinned and pulled out a velvet bag the size of Yussel's head. "Purple. Her favorite color."
Yussel brushed his fingers over the soft cloth. His lower lip quivered. He snatched the bag and held it against his cheek. The fabric still bore her scent.
Papa's lips stretched into a taut line. "Would you rather someone else should wear your Mama's prized Sabbath cape? I don't think she'd mind my cutting it up for this. You see this is a gift for her."
He opened the bag. "The Festival of Lights, how she loved it!"
With a dramatic flourish, he set a Hanukkah menorah on the dresser. The silver shone in the afternoon light. It looked like a poplar tree with nine branches. The one on the far left was higher than the rest. It would hold the shamash, the helper candle used to light the other eight. Below the candlestick-branches and just above the trunk was an oval-shaped space. In the middle of it sat a pair of doves, breast to breast, faces turned from each other like shy lovers.
A vine with flowers twined around the trunk. On the lower curve of the oval Papa had engraved a verse from Song of Songs. Yussel skimmed his finger over the Hebrew letters.
Papa picked up the menorah and squatted beside him. "Go on, Son, read it. I know you can."
In his mind's ear, even after a year's passing, Yussel could still hear her boast. "My Yosi reads better than boys twice his age. And only four he is. Someday he'll be a rabbi like my Arel. Brilliant. Who knows? Perhaps he's the Messiah." In silence he bit his lower lip.
With a disappointed sigh, Papa stood and set the menorah on the dresser. He scooped the boy up into his arms. "Have it your way, I'll read it. 'Heenakh yafah, aynayeekh yoneem…Behold you are lovely, your eyes are like doves.'"
He pointed to the mirror. "I see her in your eyes."
Sabbath came. As usual the day was spent in shul, the synagogue. Papa, the small congregation's rabbi, taught the lesson.
"Judah Maccabee and his followers seized back the temple from their enemies. Talmud tells us there was only enough sacred oil in the temple menorah to burn for one day. But Adoshem made a miracle happen. The oil burned for eight days until more could be prepared."
"Rabbi!" Mendel, the blacksmith, jumped to his feet and waved his boulder-size fist. "Where was Adoshem when my son and your wife were slaughtered in the street like cattle?"
Another man leaped from his chair, upsetting the desk in front of him. "So many times they hit my David in the head, his mind is porridge."
Yet another cried out. "How many massacres until our miracle comes?"
Services disintegrated into a shouting match. Wives added their comments from the balcony. Husbands yelled at them to shut their mouths. Babies, awakened from morning naps, squawked their indignation.
Papa smacked the podium. "The end! Good Shabbes. Dismissed!"
Monday's sunset heralded the first night of Hanukkah. Papa lit the candles and chanted the blessings from his frayed prayer book. "'Blessed are you, Adoshem our Lord, King of the Universe Who has preserved our lives, caused us to persevere and enabled us to arrive at this season.'"
His voice sounded flat and hollow. Dinner tasted like sand. Dense silence settled like dust in the corners. Yussel's ears throbbed with it.
Crawling into bed an hour later, he snuggled against his father and counted the stars through the window. Had Mama turned into one? Surely she was the brightest in the heavens.
The next morning the sweet aromas or sponge cake, frying eggs and tea woke him. Pots clattered in the kitchen. Papa still slept, one arm covering his face.
Yussel threw off the blankets and scooted off the bed.  Peering around the corner, he saw a woman at the cast iron stove, her crystalline-gray eyes sparkling.
She held out her arms. "Yosi."
He trembled and his knees chattered. Even a five-year-old knows death's blow is final. The bag he'd clutched since Friday slipped from his sopping hand. Riveted by terror and longing, he waited for her to disappear. With his next breath he would wake up next to Papa.
She came toward him, even lovelier than he remembered. Her unlined face shone like the rose and cream colored china dishes she kept in the cupboard for Passover. She wore no kerchief to cover her head as mothers did, the way she used to. Instead her slate-black hair gleamed past her waist
He sniffed. Rose water tickled his nose. The rough floor chilled and scraped his bare feet. Never had a dream been so vivid.
Foreign to his own ears, his voice rumbled in his throat. It started as a whisper and ended with a squeal.
"Papa, Papa, Papa, come quick!"
Papa charged from the bedroom and swept Yussel up into his arms. He spun three times, laughing and shouting. "Adoshem, be thanked. My son's found his voice."
"Ari." Her wisp-gentle voice lilted like a song on a cloud.
"Suri?" In mid-spin, he gasped and dropped to his knees. Yussel toppled to the floor.
She sank down beside them and gathered Yussel onto her lap. "Yes, my love."
"What cruel trick is this?" Papa's outstretched arms shook and his trembling fingertips reached for her cheeks. "The horses…they…they trampled you…her. You…she died in my arms."
Grasping his hands, she kissed his palms and held them against her face. "If I'm not Suri then how do I know about the butterfly-shaped freckle on your left hip? And what about—?"
His face turned scarlet and he hissed through pursed lips. "Suri. The boy."
Yussel wrapped his arms around her waist. She felt like Mama, warm and soft. She sounded like Mama. She even smelled like Mama. Who else could she be?
He pressed his ear against her breast and listened for the sound that used to lull him to sleep. A faint melody, like tinkling bells and whispered prayers, was all he heard. He drew a deep breath and let it out in puffs. "Where's your heart, Mama?"
"Right here in my arms." She brushed her hand across his legs and unwound the makeshift bandages.
The stinging ceased. He stared at his thighs and dropped open his mouth. The blisters popped and melted like bubbles in a brook.
She kissed his forehead and patted his behind. "Get dressed, Little Yosi. I need to talk to Papa."
On the way to his room a glance over his shoulder showed his parents walking hand in hand toward their bedroom. Papa leaned over and whispered something. She giggled. The door shut behind them.
At breakfast, Papa's cheeks glowed and his gaze never left her. "This is the best meal I've ever eaten."
She returned his gaze. "How would you know, Ari? You haven't taken a single bite."
Yussel gulped down a second piece of sponge cake. "Wait 'til I tell everyone Mama's back."
Her brows knit together, her eyes blazed and she held her index finger to her lips. "No! You mustn't tell anyone. Not a soul, do you hear?"
Someone knocked on the front door. Papa jumped from his chair and rushed to answer. Yussel followed. A frigid gust blew through his muslin shirt. He peeked around Papa at the blacksmith.
"Rabbi, please forgive my outburst the other day."
"Forgiven." Papa smiled, nodded and swung the door to shut it.
Mendel slid his massive foot over the threshold. "Rebbe, please, my wife sends me to invite you to dinner this evening. To tell the truth, she wants to match you up with her cousin, Rayna."
Yussel squeezed Papa's knees. "But…but…what about Mama? She says—"
Papa slapped his hand over the boy's mouth. "Thank your good wife for us, but we've made other plans."
He fished a folded slip of paper from his pocket with his other hand and shoved the note into Mendel's coat pocket so hard the man staggered backward.
"Would you pass this note to Reb Shmuel, our Yeshiva student? Tell him I'd be honored if he'd share his wisdom and knowledge in my absence this next Sabbath."
Mendel did not seem to notice the shove or the note. He stared, open-mouthed, at Yussel. "Your son, Rabbi. He spoke!"
"Did he now? I didn't notice. Yom tov! Good day!" Papa slammed and bolted the door.
For the next seven days, Papa and Yussel left the house only to visit the outhouse. Mama fried latkes, potato pancakes, every day. The house swelled with fragrance and laughter.
Every morning Mama and Papa emerged from the bedroom with radiant smiles. After breakfast, Papa studied the holy books with Yussel. She swayed back and forth in the rocking chair by the parlor window, humming and knitting. A huge ball of royal-blue yarn lay in the basket beside her.
On the last night of Hanukkah, the lit menorah illuminated her face. When she picked up her son and held him close, her eyes were sad.
"Goodnight, my Yosi, my heart."
The next morning he leaped from his bed and skipped to the kitchen. Papa sat alone at the table polishing the menorah.
Yussel blinked and rubbed sleep-grit from his eyes. "Where is she?"
"The Garden of Eden."
"Was she really Mama or was she an angel?"
Papa wrapped a blue scarf around Yussel's neck and a matching one around his own. He kissed the yarn fringes.
"Yes."
---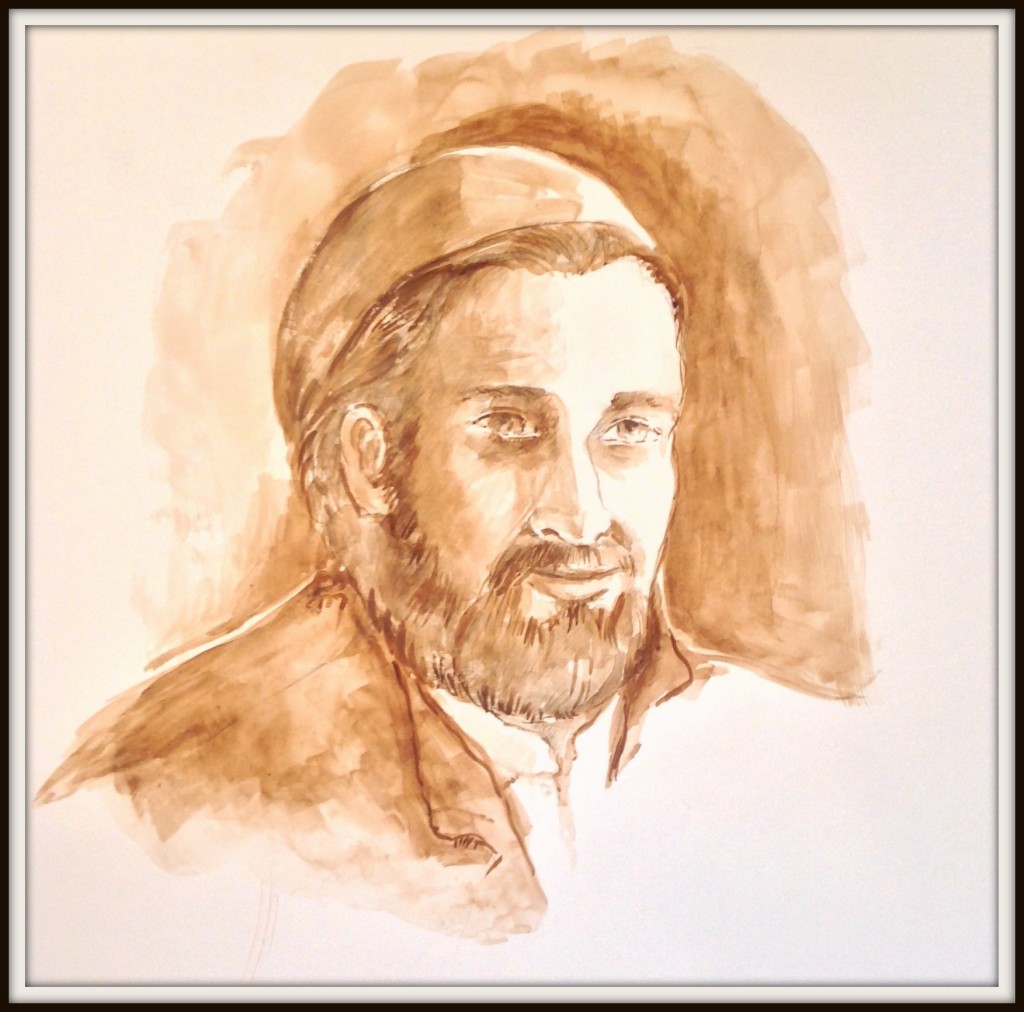 A character study of Arel
Havah saw him as if in a dream remembered long ago. His hair and beard, inky shadows, framed a face as pale as dawn. Like silver-gray clouds, his prolific eyes spoke with silent words.
Arel. A strong name. Lion of God.
— taken from PLEASE SAY KADDISH FOR ME by Rochelle Wisoff-Fields
Arel Gitterman is the youngest of Yussel's five children and his only son. Arel was five-years-old when brain fever killed his mother and took his father's sight. A gifted child, he became Yussel's eyes for reading.
He's always been an obedient son, groomed to follow in his father's footsteps as the next rabbi. At the age of thirteen he was betrothed to Gittel Levine, the cantor's* daughter.
Arel never questioned his role in life—until the day of Havah's dramatic arrival in Svechka. For both he and Havah it was love at first sight.
Much to her chagrin, he's a man of his word and he refuses to break his covenant with Gittel, Havah's adopted sister.
https://www.youtube.com/watch?v=_e50J2VpW48
*The cantor sings or chants prayers in synagogue service.  
---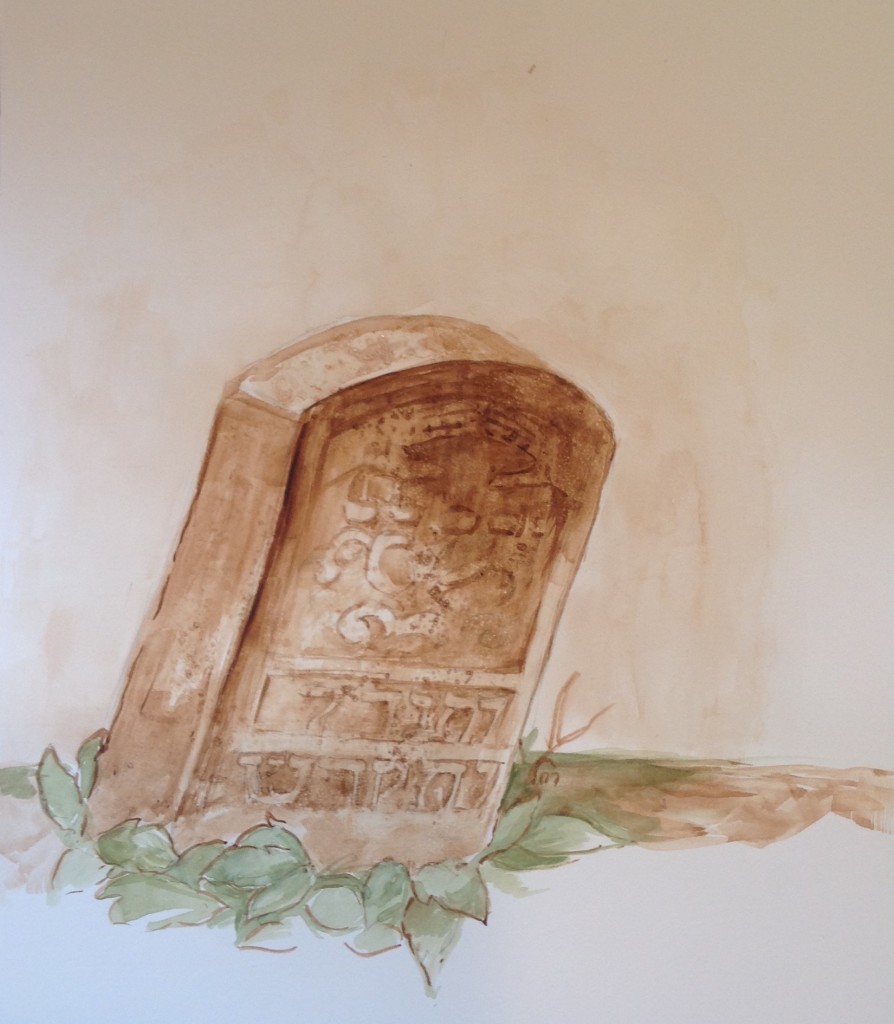 Kaddish Headstone
Ulrich Deitrich
"Although he could well afford to have his suits tailored by the Czar's clothier, Ulrich Dietrich would have none of the aristocracy. The wealthy heir of a German banker, and a successful musician in his own right, he baffled his colleagues by choosing to enlist the services of a poor Jewish tailor. When criticized, he would merely shrug and thank the critic to mind his or her own business."
~~From Please Say Kaddish for Me by Rochelle Wisoff-Fields
When circumstances force Havah to leave Svechka for Kishinev, Ulrich who is a lonely widower, hires her to be his housemaid. She quickly becomes more than that to him. Impressed by her aptitude and talent, he takes her under his wing as a student in both English and music.
Havah, in turn, finds herself attracted to this Christian man's sense of humor and admiration of her people. Little by little she allows herself to forget Arel and fall in love with Ulrich.
---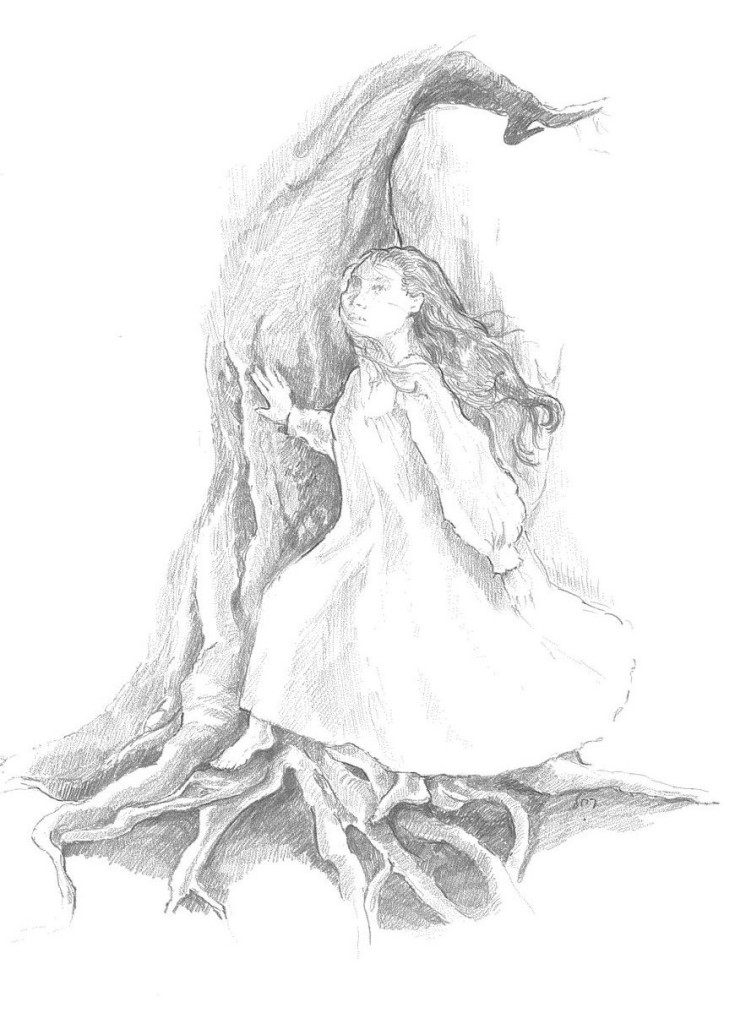 Part I is Cast from her father's house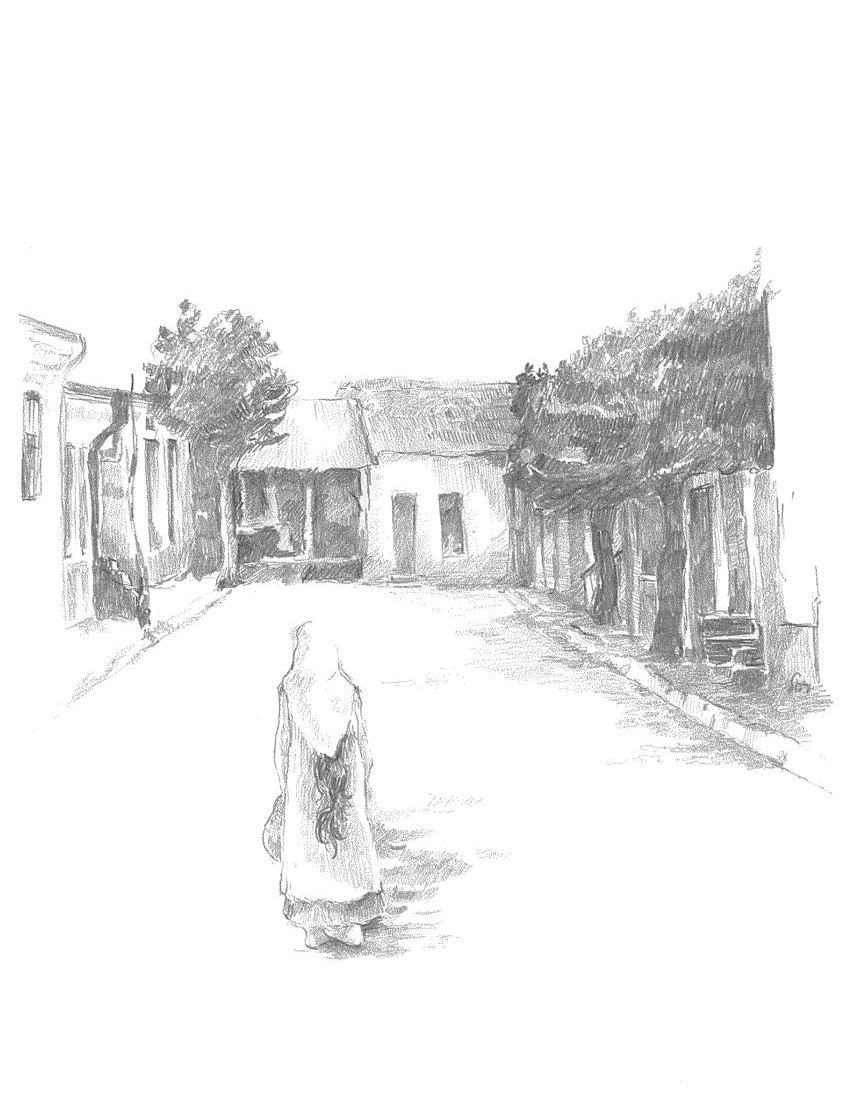 Part II Exile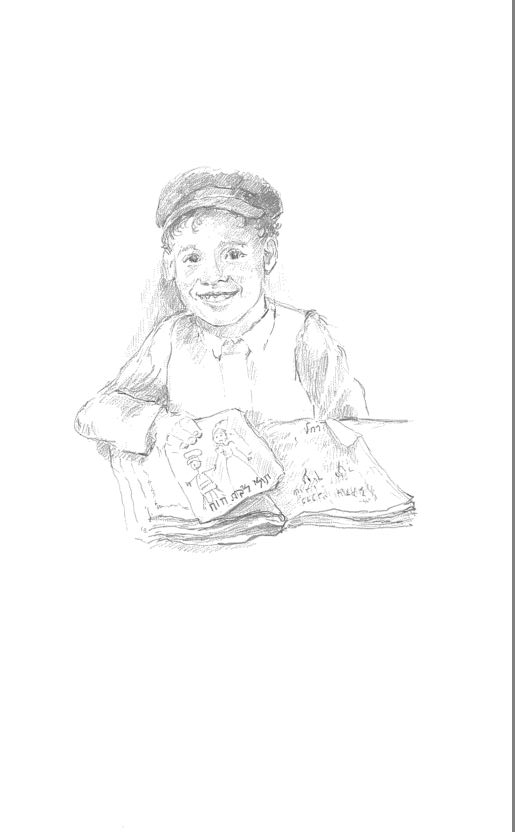 Part III Marry Me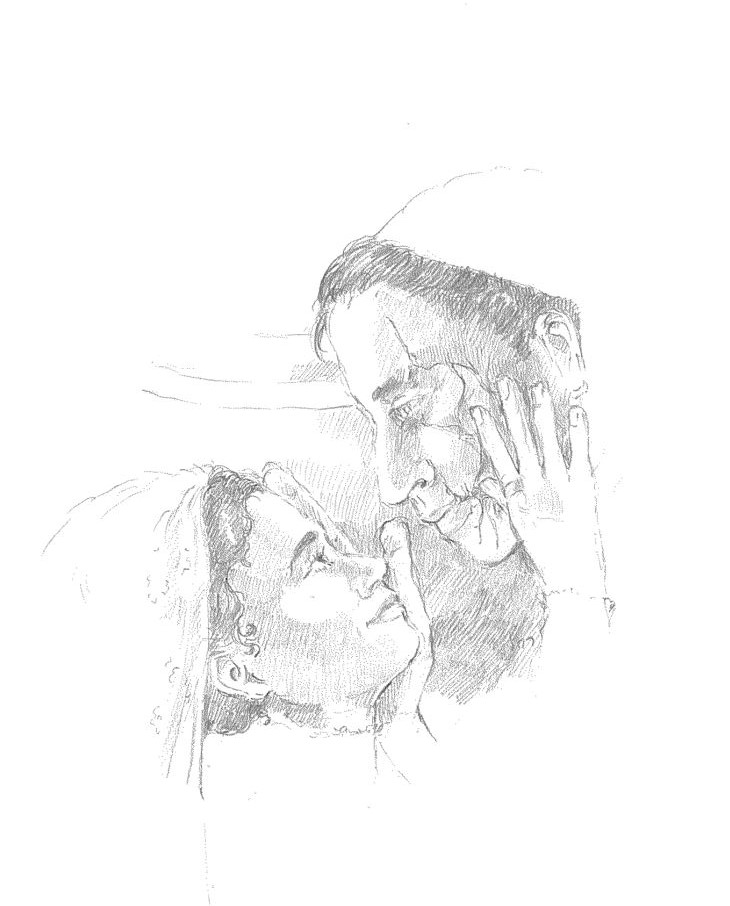 Part IV Live and Remember
---