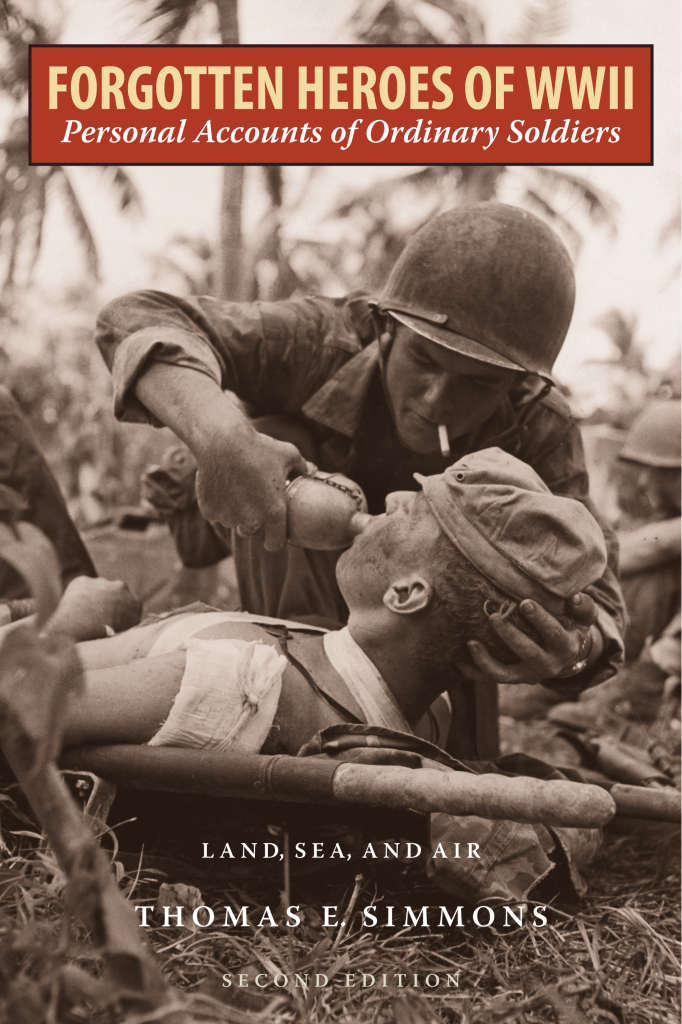 Forgotten Heroes of WWII Amazon Reviews
Remembering Our Precious WWII Heroes https://loiaconoliteraryagency.com/remembering-our-precious-wwii-heroes/ http://www.renewamerica.com/columns/miller/170921
By Gina Miller
It was a chance encounter at our neighbors' annual summer party in which I was fortunate to meet Thomas E. Simmons. I learned that he's the author of several books, including, "Forgotten Heroes of WWII, Personal Accounts of Ordinary Soldiers, Second Edition."  It's a compilation of the stories of fifteen World War II veterans in the European and Pacific theaters, land, sea and air.
This is not a new book. It was first published in 2002, with the second edition out in 2014, and Mr. Simmons told me that all but a few of the men featured have since passed away. I cannot adequately express how deeply moved I was in reading this book and how strongly I recommend it. With each man's story, I cried. It's an excellent, though brutal, book, and one I wish every American would read, especially the young, who aren't being properly taught our history anymore.
Like many, if not most, war veterans, these men didn't want to talk about their horrific experiences, but as Mr. Simmons wrote in his prologue:
"At first, without exception, these men refused to talk about the war… All made similar statements: 'There's really not much to tell. I was just there like everyone else. All I wanted to do was get home.' Each was uncomfortable at being singled out to speak of experiences he felt were common to so many others. Each professed, 'It was so long ago I don't remember much.'
"I was gently persistent, beginning with simple questions. In each case a strange thing happened. Speaking quietly, shyly, honestly, and often painfully, vivid experiences began to flood from bottled-up memories that had been locked away decades ago, locked away because they were painful and because those who were not there, including loved ones, could surely never understand. Once memory's gate was opened, each man spoke with clear recall in remarkable detail."
Each chapter is one man's account, and one chapter is of two men on the same islands in the Pacific. One chapter features entries from the diary of a medic in Japan's imperial army on Saipan. The entries are from the last few terrible and desperate weeks of his life as the Allied forces closed in, and as Mr. Simmons notes, they illustrate, "America faced a determined, fierce, and fanatical enemy on the islands of the Pacific."
Mr. Simmons seamlessly interposes each man's firsthand account with his own extensively researched narrative, which provides context and a great deal of educational and incidental information. While this is a history book, it's unlike any history book I've read. In reading the personal stories these men recount, it's as if we're sitting in the living room with our father or grandfather listening as he transports us with vivid descriptions into the center of the awful action. Those of us who've not seen war cannot remotely comprehend the hell on earth these men and boys endured.
While the men featured in this book are mostly from areas on or near the Mississippi Gulf Coast, there are countless untold stories just like them from World War II veterans all across our nation. These are the tales of the common men and boys who were thrust into the last great and terrible war the United States and her allies entered and won with decisive force. The book is a precious reminder of the dreadfully dear cost of our freedom, freedom that far too many today don't regard – or worse, aggressively work to stifle.
At the very least, we owe these men our remembrance, to learn their stories and thank God Almighty for the mercy He granted to our nation in giving us the victory in World War II. In his epilogue of "Forgotten Heroes of WWII, Personal Accounts of Ordinary Soldiers, Second Edition," Mr. Simmons writes:
"Old men now, the surviving veterans of World War II are dying at a rate of more than three hundred thousand a year. Let us not forget what they did, how hard it was for them daily – the physical discomfort, fear, pain and mortal danger – and that they somehow found the strength and courage to prevail in the face of it all. Every American, regardless of age or station in life, and each generation that follows has an obligation, individually and collectively, to make certain that the leadership of America, however imperfect in this imperfect world, nonetheless maintains our nation's strength, moral character, courage, and determination to remain a free republic founded upon individual liberty. We owe nothing less to that quietly departing generation as we ride the freedom they preserved for us into the twenty-first century."
I urge you to order a copy of this book, and read it. Get gift copies for your friends and family. You'll be glad you did.
_______________________________________________________________________________
From a reader:
"You hit a home run on this.  The History Channel should put together a "Forgotten Hero's of WWII with each episode dedicated to one of your stories."
---
New review of Forgotten Heroes of World War II: Personal Accounts of Ordinary Soldiers Land, Sea and Air from France…
Tom, Ca va sans dire…..David
David,
Please tell  Tom that one of your friends said that his book on Heroes of WWII is truly a great read, especially "There are no foxholes in the sky" and the typhoon story of 1942 in the Pacific—not to mention the Normandy landing and the B – 17 raids on Germany in daylight.  I don' t see how those men kept their sanity. Also the Battle of the Bulge.
---
I had the honor and privilege to meet three of the men in this book: Oscar Russell, Harry Bell and Jerry O'Keefe at the book launch in Biloxi, Mississippi in November. I felt like I was hugging my dad. He, too, was a WWII vet, William H. Collins, but he died at age 69. Reading this book, I realized how much time I wasted and how I should have listened to him more. Harry Bell was a POW in a Nazi camp and swore to keep his men alive until they were rescued. He did just that, saluting the commander as they rolled in with the tanks, "All men here and accounted for, sir." Brings tears to my eyes. Oscar Russell served in both the European and Pacific theaters. Amazing man! Jerry O'Keefe is a living legend in Biloxi. What an incredible pilot and honorable man.
All the men and women who ever served are heroes, and so are their families. I salute them all.
---
Required reading for all those who cherish freedom…
Being prior service and the daughter of an honored Air Force Tech Sgt., I am always drawn to testimonials of service men/women. I cannot recall ever reading such a varied compilation of true stories as found in Forgotten Heroes of World War II Personal Accounts of Ordinary Soldiers Land, Sea and Air by Thomas E. Simmons. I knew nothing of the heroics of the glider pilots nor the Merchant Marine men. And although both sides of my family fought in the war, none would ever willingly speak of the atrocities/horrors of living it. I learned what I did by eavesdropping or actually being able to stay in the house while adults were speaking. Reading this book put some of the pieces together. My father fought in the England and in Philippines, so the stories of both theaters touched my heart deeply. Now I know why he had such horrendous nightmares (what we today call PTSD) and why my mother (who was born and raised in Germany) could not bear to watch war movies.
I think this book should be required reading for all students from Middle to High School since it tells the truth through the eyes of those who lived it. I highly recommend this for all. I hope it get published in every language there is.
—CJ Loiacono
---
Anthony R. Buccino (Nutley, NJ United States)
A quick search of books about World War II on Amazon.com lists 11,982 titles. Forgotten Heroes of World War II – Personal Accounts of Ordinary Soldiers by Thomas E. Simmons is the one book you should not miss.
As someone who never served in the military – or in war, to me, these personal accounts by a dozen 'ordinary soldiers' many times make the ordinary seem surreal.
Simmons captures the mundane routines and retells the edge-of-your-seat dramatic tension that makes you stop reading, look up and say to yourself, 'I'm glad I'm only reading this.'
Sometimes these scenes trigger your willing suspension of disbelief and you simply credit Simmons with craftily bringing the ordinary soldier into the big picture with a well-told scene-painting or technical description (such as a battleship refueling a destroyer in rough seas), or by weaving facts of the outside war into the events at hand.
Each story is more engrossing than the last, pulling you in deeper and deeper to these nearly lost accounts of 'ordinary soldiers'
Bruce Creekmur at Pearl Harbor – tapping to locate survivors of USS Oklahoma, a "turned turtle." He first cut a small hole into the hull and pumped in fresh air … hauled eight men out.
A detail of the "rainbow colored tears" makes these men stand out, but it could be the editor's interpretation.
Edward Anderson, who ended up in the Navy as part of an April Fools' joke, commands Tugboat LT-430, the first of several that are shot out from under him in the South Pacific.
Anderson's mission is simple: to rescue shipwrecked seamen and downed Allied pilots, and put coast-watchers on "certain islands." He learned by doing whether or not the islands were occupied.
You have Oswald Smith the merchant marine stranded in one of Stalin's labor camps somewhere above the Arctic Circle. And his perilous return across 900 miles of hostile territory.
The tales are well told of Fred Koval the B-17 pilot, Fred Moyce the D-Day artillery spotter and pilot Mike Kelly towing gliders on D-Day.
Ensign Owen Palmer is aboard the ship that rescues pilot George Bush; then refuels (or tries to) in a typhoon. Even big ships such as destroyers are susceptible to the weather, as 800 perish in the storm.
Harry Bell and Knox White live through different sagas at the Battle of the Bulge. Bell survives a Nazi prison camp at Bad Orb returning to humanity at 90 pounds. White's recon unit helped defend Saint-Vith which delayed the Germans' attack on Bastogne.
Bomber pilot Amos Pollard's shot up plane survives to fight another day saved by the timely appearance of the Red Tails – Tuskeegee Airmen, "We gonna take care of Fritz." And they do.
Marines "Dee" Hamilton and Joseph Urby fight their way across the South Pacific islands.
And for effect, and a different view of the fighting, Simmons includes excerpts from the diary of a Jap medic Tarao Kawaguch who picks up a gun for defense.
These soldiers' tales – and all the services (even the Merchant Marines) are covered – easily absorb the reader into the action. You sense a closeness with the teller of the tale, as he's revealing unspoken memories to you alone.
Simmons brings you close up to this war. Maybe closer than you've ever wanted to be, but you remember Forgotten Heroes, long after you've put away the book.
---
Midwest Book Review (Oregon, WI USA)
Compiled and edited by Thomas E. Simmons, Forgotten Heroes Of World War II: Personal Accounts Of Ordinary Soldiers offers contemporary readers with fourteen intensely personal perspectives of individual rank-and-file soldiers, aviators, and seamen who were quite ordinary people thrown into the extraordinary and often horrific demands of World War II combat. Of special interest is "The Diary Of Tarao Kawaguchi" which relates the perspective of a Japanese soldier stationed in Saipan during 1944. Also of interest is concluding chapter "The Home Front." Their strength and valor are commemorated in this moving, compelling, informative, and highly recommended contribution to the growing library of World War II military histories.
---
Brilliant! A heartfelt show of respect to those who willingly gave so much for all of us. A must read!
In Forgotten Heroes, Thomas E. Simmons has crafted a stunning monument to those common men who fought for freedom during World War II. Often referred to as 'The Greatest Generation', these barely adult soldiers thwarted tyranny of the greatest magnitude, crushing threats on not one, but two distant shores. Simmons brings some of those young men into our mind's eye, letting us see them today as more than just unfamiliar names inscribed upon a memorial wall.
From Navy man, Bruce Creekmur's chilling recollection of the Attack on Pearl Harbor, to PFC Knox White's harrowing experience during The Battle Of The Bulge, and the horror of bloody Iwo Jima as told through the words of  machine gunner, Joe Irby, and rifleman, E.D Hamilton, Forgotten Heroes packs an emotional wallop. The epic collection includes many more tales of sacrifice and bravery, and even delves into the battlefield perspective of an enemy soldier.
As time marches on, the recent past turns into the distant past, leaving the heroic efforts of common men in its wake. Thank goodness for writers like Thomas E. Simmons who endeavor to remind us all of their greatness. I was honored to read Forgotten Heroes.
In the immortal words of Winston Churchill regarding the efforts of World War II fighting men: "Never in the field of human conflict has so much been owed by so many to so few."
* Michael Infinito, author of 12:19, The Death Wish, XXXtreme Descretion and The Hanging Tree
---
Telling their stories
WWII veterans open up, some for first time, to Gulfport author
By Gary Pettus gpettus@clarionledger.com
Thomas Simmons knew they held the stories close, like a compress on a bleeding wound.
The trick was getting them to let go.
He spent months, years, coaxing out their trust. Once he got it, "their stories would pour out," he says.
"This happened to them 50 years ago, and yet you could look at them and see that it was startling to them all over again. You could see their eyes following the action.
"It was as if we were riding in a bus looking out a window. Then the bus would stop and they would get off and step right into it, back into the past. As if they had been watching a newsreel and then walked right into it.
"All of a sudden they were right there."
And Simmons was with them, the man they trusted to get their stories right, to put some life into history by writing about death, to offer them a bit of peace by getting them to talk about war.
Published in October by Cumberland House, Forgotten Heroes of World War II is Simmons' third book.
The Gulfport writer is enthralled by personal accounts of military men, especially men who are members of the conquerors of fascism and the Great Depression.
"They were all raised as good men, honest and straightforward," Simmons says. "I think that can be said in general about their whole generation.
"They understood what their country meant to them. And I think they had sense enough to know what was at stake, Individual freedom was at stake."
Simmons is an old Army man himself, but, at age 66, part of a generation that served between the Korean and Vietnam wars. Men who felt an obligation to serve, in part to pay back those before them who won World War II.
"It was a debt," Simmons says. That's why he wanted to write this book C to bring to light some of the soldiers who had not been remembered by name, if at all.
---
By Michael OConnor TOP 500 REVIEWER
Sadly, as more and more Second World War veterans pass on, their memories of those long-ago, momentous times die with them. That's why books such as Thomas Simmons' FORGOTTEN HEROES OF WWII, PERSONAL ACCOUNTS OF ORDINARY SOLDIERS – LAND, SEA AND AIR are so important. The 16 stories collected in this second edition provide evocative, I-was-there remembrances of times past.
The first edition of Simmons' book published in 2002 ran to 256 pages; this second editions tops off at 311. The book presents a wide-ranging collection of compelling accounts including that of a USMC Corsair ace, a Pearl Harbor survivor who helped salvage the Arizona and Oklahoma, a Battle of the Bulge infantryman captured by the Germans, an artilleryman who landed by glider on the night of 5/6 June 1944, a 15th AF B-24 pilot, two Marines who fought on several islands including Saipan, Tinian and Iwo Jima, a merchantmen seaman who survived Atlantic ocean runs only to end up in a Russian gulag, a 9th AF C-47 pilot and so on.
The accounts found in FORGOTTEN HEROES OF WWII are uniformly interesting and informative. The book is a great read and a wonderful tribute to all the men and women who experienced the defining event of the 20th Century. Recommended.
---
By jean Solana
Honest telling of regular soldiers stories
Good overview of Europe and the Pacific…
Short vignettes that are easy to digest…
By jdp
When you are reading the lives of senior military leaders and are frankly appalled at how inept they were at their jobs . Pick up this book and read one or two of the vignettes about ordinary boys and men who did their jobs and went back home. Yes, there were heroes and many of them. Some, a far higher percentage of officers than enlisted, received medals. Pilots got the medals and gunners got the wounds in the air force and it was a rare academy grad who failed to medal during WW2. Heroes maybe, notable certainly, our citizen army, air force and navy got it done. An easy read but worthwhile read.