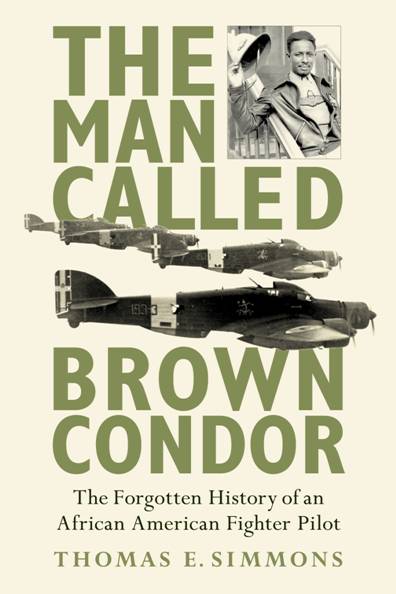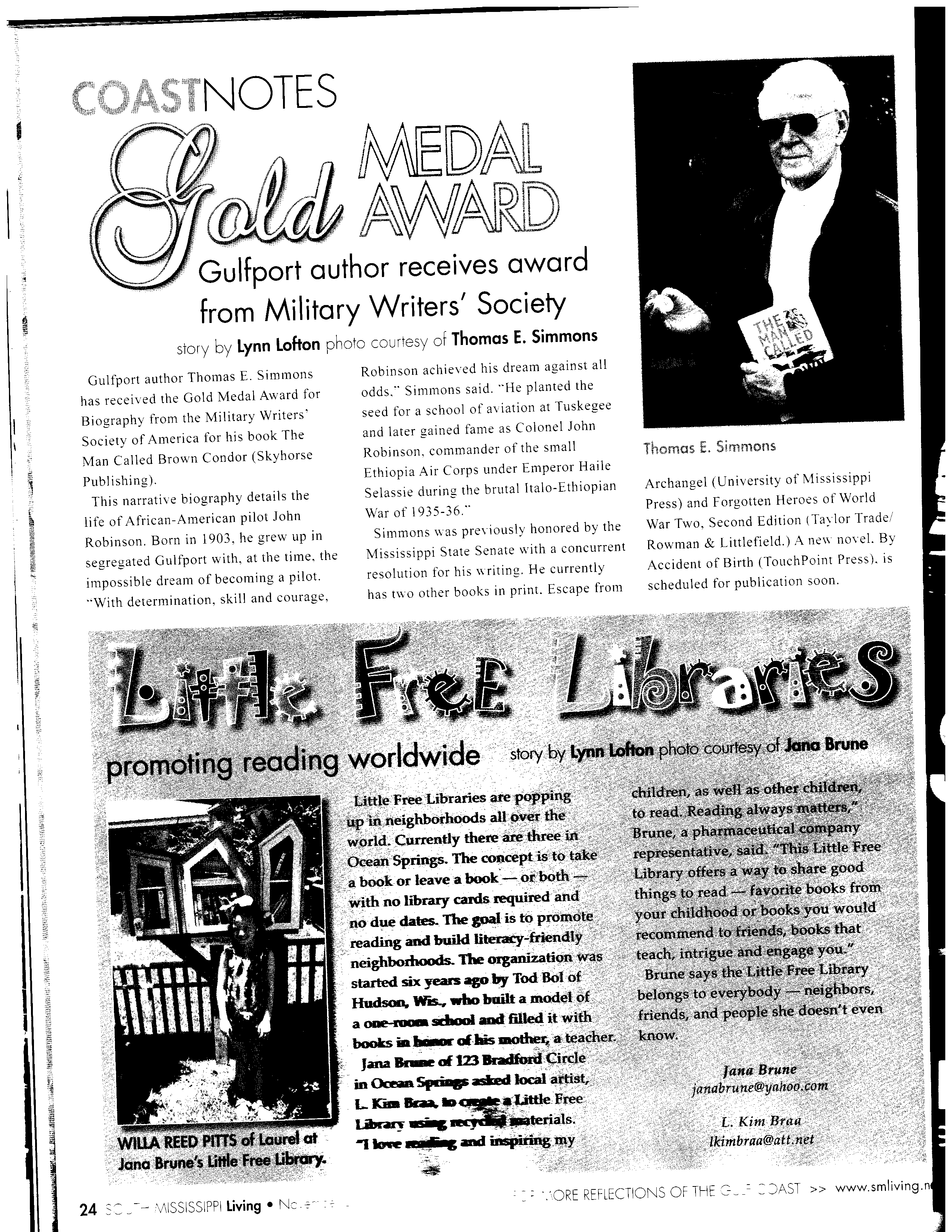 Military Writer's Society of America Gold Medal Winner, Thomas E. Simmons for The Man Called Brown Condor – Biographies
Dear Mr. Simmons-
I just finished the book about John Robinson.
I thoroughly enjoyed it.
I am a pilot (PPL,IR) with a modest number of hours, but my whole life I have liked airplanes.
I am also an enthusiast of African history, especially the last 150 years and during the world wars.
I was Peace Corps volunteer in Tanzania 96-98 so that is how my interest started.
I love hidden stories like the one in your book.
I was lucky to have found it- the book was for sale at the Milwaukee public library in 2016.  I can't believe a book like this would not stay in circulation.
I hope someone would make a movie about John Robinson.
I also with they could find his staggerwing and restore it to look like the paint scheme he was flying with the roundel etc- or find another one and paint it up.
Thank you for this fascinating book.
Jeremy Juern
***
MWSA Review
Author Thomas E. Simmons has delivered a fascinating account of Colonel John C. Robinson's life and accomplishments in his new book, The Man Called Brown Condor.  I found this book well written and easy to read. The biography of Robinson is quite interesting. In an era when black men were given very few opportunities to succeed, he taught himself to fly, fix, and even build airplanes. He started his own flying school near Chicago to help other blacks learn how to fly. He helped create, train, and then commanded the Ethiopian Air Force when that country was invaded by the Italians under Mussolini. Here in the U.S., Robinson has to be considered one of the pioneers of black aviation and definitely helped spearhead the acceptance of black pilots into the US military.  I spent nearly thirty years in the air force and went to the Air Force Academy. In reading the book, it surprised me that I had never heard of him. Hopefully, today's air force is a little more enlightened, and this book is appropriately displayed at the Academy library. I recommend this book to anyone who is interested in the history of aviation and in the integration of blacks into military aviation.
Reviewed by: Bob Doerr
---
A fantastic "thank you" and review of The Man Called Brown Condor by Thomas E. Simmons!
Dear Tom:
Greetings from Ohio. It was a great pleasure to read your wonderful book The Man Called Brown Condor. As an Ethiopian by birth and a proud naturalized citizen of the United States, I found this book to be a master piece of history. I learned a great deal about so many things relevant to my own history as well as to the lives of my children: History of racism and segregation in the U.S., history of the aviation industry globally, history of my own forefathers and the battle with the Mussolini and fascist Italians. Overall, what a master piece! While all these are pertinent to any reader, to me every chapter had something to relate to my own life in a reverse analogous way.
Born in Addis Ababa from a former military telegraphist father who spent time in the Korean War (relating to yours), I was trained as a veterinarian who practiced in the remotest area in Southern Ethiopia, committed my life to serve the people of Ethiopia initially, migrated to the U.S. in the mid-1990s and served the U.S. in North Carolina and now in Ohio. I established a link back to home in Ethiopia and eastern Africa and am currently leading one of the major contemporary global issues—infectious diseases—via a Global One Health program training young scientists in Ethiopia in a building capacity. All the ups and downs I have been through. While by no means am I close to the extent of the humble heroism Colonel John Robinson's exhibited, the book just reminds me life's up and downs, the struggle and commitment for success.
This has been a wonderful reading during the Christmas and New Year break. Thank you, thank you, thank you. You are now my hero!!!!
Best regards,
Wondwossen
Wondwossen A. Gebreyes DVM, PhD, DACVPM
Professor, Molecular Epidemiology; Director, Global Health Programs
College of Veterinary Medicine
The Man Called Brown Condor
Published by Sky Horse Publishing www.skyhorsepublishing.com
Amazon B&N Wal Mart Indie Bound Fish Pond The Book Depository BAM Indie Bound
Google Play Kobo Powell's Books COPIA IDreamBooks
---
By James N. Berry "Millennium Review" This review is from: The Man Called Brown Condor: The Forgotten History of an African American Fighter Pilot (Hardcover)
This is an important book about an extraordinary individual. It's been said that victors write history, but even being on the winning side isn't always enough. As Senior Editor of World Book, I revised the encyclopedia's Civil War article to include what had been an important omission: that there were more freed slaves in the Union Army by war's end than soldiers in the entire Confederate militia. That factor played a decisive role in the war's outcome.
Similarly, John C. Robinson was a great American aviator – internationally acclaimed in his lifetime – but as a black Mississippian, he's been largely forgotten. If not for author Thomas Simmons' excellent research – much of it derived through personal interviews – Robinson's achievements might continue to go unnoticed.
Yet much of what this man did looms all the brighter when we consider the racial barriers he surmounted. When an aviation school denied him admission, Robinson took a janitorial job there and audited classes broom-in-hand. He built his own plane, started his own flying school – even helped create a black airport when white ones refused to refuel his plane.
Robinson's pushed for an aviation program at Tuskegee Institute to train other black pilots, giving rise to the famous Tuskegee airmen who performed so bravely as the Red Tail squadron in World War Two. Not waiting for the US to enter that war, Robinson began fighting fascism in 1935 when Mussolini attacked Ethiopia. The Brown Condor led the Ethiopian air force, being twice wounded and also gassed. And after the war, he helped establish an Ethiopian airline.
— Newton Berry
---
Amazing man, outstanding story, exemplary writing!
By Jeanie This review is from: The Man Called Brown Condor: The Forgotten History of an African American Fighter Pilot (Hardcover)
Whenever I read a true story of someone who has done extraordinary things and never received the recognition deserved, I stand in ovation as it finally happens. Tom Simmons has brought to light the life of John Robinson, a man who never used the word 'can't' and gave his whole life to flying and teaching others, especially those underdogs who would not have had the opportunity, to fly. I cried as I read how he became a janitor so he could eavesdrop on the classes he needed to take to get his pilot's license (which he was not allowed to take because he was black). Who, in our time, do you see that breaks through barriers like that? I would love to see Denzel Washington play him in the movie! He would be perfect for it!
My hat is off to Tom Simmons! Oh, and did you see this book was presented to the President of Ethiopia? Holy smokes! What an honor!
---
THE MAN CALLED BROWN CONDOR by T. E. Simmons, is an exciting and wonderfully written book on historical facts.
By Dr. Stephan Deimel This review is from: The Man Called Brown Condor: The Forgotten History of an African American Fighter Pilot (Hardcover)
THE MAN CALLED BROWN CONDOR by Thomas E. Simmons, is a wonderfully written book on historical facts which accommodates all tastes in reading.
Contrary to my greatest fear of being overwhelmed with early aviation jargon, I found myself captured under the spell of the author's talent of bringing life into the depths of history between three continents, Africa, Europe and America. Simmons seems to place himself in the time and place of each episode to capture the essence of those characters caught up in the era's intrigues and resulting haunting political failures, leading into what became known as the world's Second Great War, World War II.
The mind's eye followed the young boy as he joyously ran on the sand beach of Gulfport, Mississippi, enthralled in the excitement of seeing an airplane for the very first time in his young life. John Charles Robinson had found the path of life on which he was compelled to take. He would walk in the shoes of one of the world's best airplane pilots. And so began my journey with the Brown Condor. From the long tail of Johnny's kite onto the wings of a red WACO-9 next to Johnny, sitting in the front cockpit, I learned to feel the wind as it must have felt when he began to see his dreams come true. From there the winds grew unpredictable in a segregated society, as I followed the young Mississippian through many ups and downs. I also shared the joy as he ultimately become the owner of America's first school of aviation for men and women of color.
When Haile Selassie, the Emperor of Abyssinia, appealed to the League of Nations to help deescalate incursions of the Fascist government of Italy, his pleas were not heard and a clear view of a dark period in history began to unfold. The Emperor began a desperate rush to save his people of the small African country, known today as Ethiopia. John Charles Robinson was no stranger to the Emperor who regarded the aviation prowess of the young American, to be most outstanding and greatly needed to help delay the destruction of his people and beloved country.
Stresses of intrigue and war develop within the pages showing Italy's dictator, Mussolini, turning to cruel and deadly methods of winning his war against a very poor and the only unconquered, African Country at any and all costs. I dared be in the middle of it all; safe, on the wings of Johnny's plane.
As for my fear of aviation jargon: the thrill of turning the pages held me spellbound while learning some very interesting points on the history of aviation, the development of airplanes and engines, and how to survive in the mountains of Ethiopia.
This is a successfully written book about a great American of color, a historical work, a true life novel if I may so classify it. Thomas E. Simmons has an extraordinary way of writing!
* Dr. Raeschelle Potter-Deimel
---
Great book of a story never told,
By David Gower (FREDERICKSBURG, VA, US) This review is from: The Man Called Brown Condor: The Forgotten History of an African American Fighter Pilot (Kindle Edition)
Great book about a great man. I am a big fan of minority success stories. I have heard of the Tuskegee Airman, and as Paul Harvey used to say, "…now you know the rest of the story…"
---
unheralded history3
By Ellis L. Kinzer (Anchorage, AK USA) This review is from: The Man Called Brown Condor: The Forgotten History of an African American Fighter Pilot (Hardcover)
Early on an African American made his dream come true, against incredible odds, one of the rare stories revealed, he felt about planes early on, like I did about trains when I was young. Great story
---
Hidden Story Revealed,
By Conservative shopper This review is from: The Man Called Brown Condor: The Forgotten History of an African American Fighter Pilot (Kindle Edition)
Well researched and authoritatively written by a pilot historian, author Simmons solidly maintains readers' interest throughout this intriguing hero's life, yielding a powerful account of this amazing black flyer.
---
Informative and interesting historical book about a Black Aviator
By Compguy This review is from: The Man Called Brown Condor: The Forgotten History of an African American Fighter Pilot (Kindle Edition)
A very good account of a pioneering black aviator who made significant contributions to aviation. Covers the very early days up to
after WWII
---
Against All Odds4
By Harry Simpkins This review is from: The Man Called Brown Condor: The Forgotten History of an African American Fighter Pilot (Hardcover)
Excellent true story of the perseverance of a young man who had all the odds against him to learn to fly and how he overcame those odds and became an American hero. I know the author and lived most of my life in Gulfport where the young man grew up during the time of segregation.
---
Excellent book about an unknown hero3
By Nobleman "nobleman" (Gulfport, MS) This review is from: The Man Called Brown Condor: The Forgotten History of an African American Fighter Pilot (Hardcover)
We live on the Mississippi Gulf Coast, right where the hero of this book began his adventures. Our small book club claims members from Gulfport, Biloxi, and Long Beach, so we decided to take a long shot and invite the author to our meeting where we had read and were to discuss THE BROWN CONDOR. I called him up two days before our meeting, right after a book signing and TV piece, but he came anyway and was most gracious with his time and explanations. I'm also happy to say that his book, boosted by the efforts of some of our members, will hopefully lead to a memorial placed on this hero's family home in Gulfport. The book is a fascinating biography of a man with high ability and supreme perseverance which Tom Simmons has singlehandedly resurrected from obscurity to in-the-spotlight.
---
An Inspiring Story2013
By Lovee (Mississippi) This review is from: The Man Called Brown Condor: The Forgotten History of an African American Fighter Pilot (Kindle Edition)
This is an inspiring story of a man who worked hard to realize his dream of flying. John Robinson did not take no for an answer from those who said it couldn't be done. He overcame many obstacles and he didn't wait for anyone to make things easier for him. He was a real go-getter.
I gave it five stars, because it is highly readable which makes it accessible to most young readers. This book would motivate most readers to do something they've dreamed of doing.
---
Five Stars
By Amazon Customer "Kelvinator" (Columbia, Maryland) This review is from: The Man Called Brown Condor: The Forgotten History of an African American Fighter Pilot (Kindle Edition)
A great account of a forgotten historical figure.
---
A great book makes you think you are in Ethiopa
By DR BOb This review is from: The Man Called Brown Condor: The Forgotten History of an African American Fighter Pilot (Kindle Edition)
Outstanding write up of the Ethiopian struggle and the early history of Black pilots or aviators. Lucid and entertaining
---