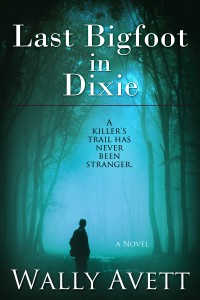 From start to finish, Wally Avett has your undivided attention in his new novel, Last Bigfoot in Dixie (BelleBooks), as he weaves a complex story in a town as docile a Mayberry. I will not spoil the suspense, but I will say there are bears shredding people, a Viking-horned-helmet-wearing Indian, an albino savant and one scary druggie. FIVE STARS! Highly recommended!
—CJ Loiacono
---
By Steve White
One of my pet peeves on reading a story set in the South is the overuse of stereotypes. This whole story is driven around nothing but stereotypes. From the overuse of the Southern slang (except by the main character who is perceived to be smarter than everyone else), the character names, and the settings (trailers). Then you couple that with interspersed racism that doesn't really have a bearing on the story. Finally, you pull it all together with no resolution of the original mystery. What this really turns out to be is a collection of barber shop jokes and coffee shop stories that have been merged into a cohesive story. I will drop one spoiler here, there is no Bigfoot (Yeti, Sasquatch, whatever). This is a story without a goal. Instead, it is a rambling tale that serves to perplex more than to culminate.
---
A huge, killer bear, crazy drug dealer, down home stories and a dash of romance makes this one terrific read!
By Bill Baker
A huge, killer bear, crazy drug dealer, gold coins from the 1800s,down home stories and a dash of romance makes this another absolutely terrific read.
Wade, deputized for his marksmanship and hunting skills, tracks a 600 bear that has mauled and partially eaten a little girl, hunts illegal pot fields for the sheriff, and falls in love with a new woman in town, and she is looking for her real parents.
Intrigue, humor, and a little loving make this a rich read – you should jump on this one and sit down and relish suspense, humor and some characters you'll want to sit down and have some coffee with in the morning!
---
By Lee Crews
I'm a resident of Western North Carolina and this book is true to the depiction of the time in which it was written. I have purchased four of these books to issue out as presents. Wally Avett is one of our times finest authors around, the way his stories flow and keep you interested is exactly what we need more of!! Another excellent adventure Mr. Avett.