A review of the biography, The Man Called Brown Condor, by Thomas E. Simmons
By Carolyn Vance Smith, Natchez, Miss.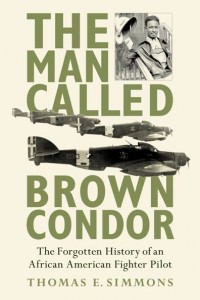 If William Faulkner (1897-1962) had known John Charles Robinson (1903-1954), he would have embraced him. These two Mississippians lived more than 300 miles apart and never met, yet they shared the same philosophy of life.
Faulkner, a white man in Oxford in north Mississippi, and Robinson, an African-American man in Gulfport in south Mississippi, strongly believed in Faulkner's 1950 Nobel Prize-winning remarks: "Man will not merely endure: he will prevail."
Robinson definitely prevailed over extreme hardships throughout his life, beginning with widespread racism and prejudice in the Deep South, in Detroit and Chicago, onboard the German ship "Europa" and throughout the world.
No matter. At the height of his career in aviation, he was commander of the Imperial Ethiopian Air Force during the Italo-Ethiopian War of 1935.
Robinson's story is told by Thomas E. Simmons of Gulfport, Miss., in a new biography called The Man Called Brown Condor: The Forgotten History of an African American Fighter Pilot. Simmons spent 30 years researching the amazing story of this overlooked American hero.
The book is an exciting ride. Beginning with Robinson's childhood spent in a three-room school, he was an exceptional student who was fascinated by all things mechanical, especially airplanes. He saw his first aircraft at age 7 and was immediately captured.
His loving and supportive mother cautioned him by saying, "A black man has no business fooling around with airplanes."
However, Robinson's goal was set. By driving a truck and shining shoes, he earned money to attend Tuskegee Institute in Alabama, where he received a degree in automotive technology.
After college, with few options for work in Gulfport and against impossible odds, Robinson left for Detroit and his dream of working in automobile science. After many months with little money, his career took off, first as a mechanic for a fleet of taxis and trucks.
That work led him to work in aviation, first on airplane engines and then as a pilot.
He moved to Chicago to apply to the Curtiss-Wright School of Aviation, but he was turned down. The field of aviation was growing, but Blacks were almost never allowed access. Despite rejection and by sheer determination, Robinson and a friend, Cornelius Coffey, actually built an airplane and flew it.
There was no stopping Robinson after that. He was finally admitted to Curtiss-Wright, was a star student and was later an instructor at the school. He earned his pilot's license in 1927 and set about establishing a school of aviation at Tuskegee, known in World War II for its famed Tuskegee Airmen.
Through coincidence, Robinson's renown as an expert aviator eventually reached Haile Selassie, emperor of Ethiopia, a country which in 1935 was facing an invasion by Fascist Italy. Selassie, desperately needing pilots, invited Robinson to serve in the Imperial Ethiopian Air Corps.
Robinson immediately accepted, especially as a way to prove that Black pilots were capable of performing professionally.
More than half the book is devoted to Robinson's time in Africa, where he built a cadre of Black pilots who carried messages from the front lines to Addis Ababa, the capital city of Ethiopia. His heroic exploits are detailed in the book, which reads like a novel.
The Italians did capture Ethiopia, but only for a while. During this period Selassie sought refuge in England. Robinson returned home.
Word of his success reached newspapers in the United States. Upon his return to Chicago, he was greeted by a crowd of 20,000 supporters. "The Chicago Defender" wrote, "There has never been such a demonstration as was accorded to the 31-year-old aviator who left the United States 13 months ago and literally covered himself in glory trying to preserve the independence of the last African empire."
Robinson's claim to fame was overshadowed by the coming of World War II. After the war, Selassie invited Robinson back to Ethiopia to rebuild his air force and create Ethiopian Airlines.
Robinson died at age 51, perhaps never knowing that William Faulkner said something else that Robinson likely agreed with: "Always dream and shoot higher than you know you can do. Do not bother just to be better than your contemporaries or predecessors. Try to be better than yourself."
#