Argus Publishing acquires Amanda Matti's prequel to A Foreign Affair, Voicing the Eagle! What a grand way to celebrate Memorial Day!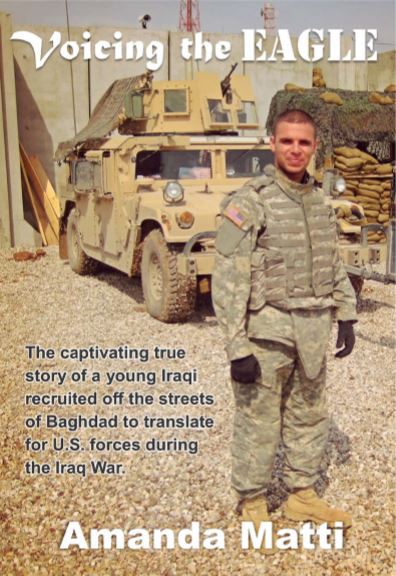 The extraordinary true story of Fahdi Matti, a young Iraqi translator, who served as an interpreter for the U.S. military throughout the course of the Iraq War. In his own words, Fahdi recounts his experiences of going from life as a twenty-one-year-old, upper-middle-class student at the University of Baghdad to being recruited right off his neighborhood street to serve as an interpreter for a U.S. Army unit just days after the fall of Saddam Hussein's regime.
Over the next three years, Fahdi goes on to translate for U.S. drill sergeants training new Iraqi Army recruits in Ramadi, serves alongside the Marines during the Battle of Fallujah, and eventually lands a position as a linguist with Iraq's newly formed national intelligence agency in Baghdad. Along the way, he suffers combat injuries, faces the challenges of integrating with American military members while living on U.S. bases, and eventually falls in love with an American service member. A de facto prequel to Matti's Iraq War memoir, A Foreign Affair, Voicing the Eagle is a unique, firsthand perspective on one of the United States' most controversial foreign conflicts.
Amanda Matti holds a Bachelor's Degree in Political Science from Wilmington College of Ohio and is currently pursuing a Master's in International Relations. She began a career in journalism following her separation from the military in 2006 and returned to the Middle East where she documented the lives and experiences of Iraqi and Lebanese refugees living in Jordan who escaped the turmoil in their respective countries. Her memoir, A Foreign Affair, chronicles her voluntary deployment to Iraq, falling in love and working with Fahdi, their subsequent fabricated false charges of espionage and treason, and how faith, hope, and Love conquer all. Voicing the Eagle is Fahdi's harrowing, heroic, and patriotic journey leading up to his meeting Amanda, now his wife and mother of his two beautiful daughters.
Represented by Loiacono Literary Agency   Published by Argus Publishing