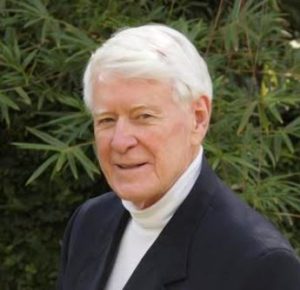 Thomas E. Simmons, 85, of Gulfport MS has taken the last flight West in the company of his family on March 16, 2022.
Represented by Jeanie Loiacono
Thomas E. Simmons  Amazon Author Central   Simmons Events  Simmons Media
Facebook  LinkedIn  YouTube  Meet the Author – Thomas E. Simmons
Thomas E. Simmons grew up in Gulfport, Mississippi, attended Marion Military Institute, the U. S. Naval Academy, the University of Southern Mississippi, and the University of Alabama. Tom was once the commercial captain of a seventy-foot sailing vessel, has been a pilot since the age of sixteen, (3000 plus hours in the air), has flown professionally, and participated in air shows flying aerobatics in open-cockpit bi-planes. In the late 1950s, he served as an artillery officer in Korea. He is the author of The Man Called Brown Condor, Forgotten Heroes of World War II: Personal Accounts of Ordinary Soldiers Land, Sea and Air, Escape from Archangel, and The Quinn Saga: By Accident of Birth, The Last Quinn Standing, and No Promise for Tomorrow. He has also written numerous magazine articles, an example of which, "Growing Up with Mr. Faulkner," was published in The Oxford American, a literary magazine founded by John Grisham.
---
From the Civil War to the Cuban independence movement to WWI, this historical epic follows the incredible life of a woman tragically bound to bloodshed.
War brings about many strange events, but none stranger than the bullet that impregnated sixteen-year-old Annielise Quinn at the Battle of Vicksburg in 1863. After passing through the groin of a Confederate soldier, the bullet lodged itself in her pelvis. Such was the portentous beginning of Beverly Bethany Quinn, the "bullet baby" whose life was fated never to escape the perils of war.
By 1915, Bethany thinks she has finally found peace, until a call from the British Crown brings a shocking revelation. To aid the Allies in the Great War overseas, England would like to purchase a cache of rifles owned by her family's sugar mill in Cuba—a cache that Bethany never knew existed. Years ago, Bethany and her uncle Jonathan supplied guns to the Cuban rebels against Spain. Has her uncle doomed her from beyond the grave to take part in slaughter once again?
In preparation for the journey of her "special cargo," Bethany sits down with her mother's old diary, returning to that fateful day in 1863, and unfolding an epic journey of war, survival, love, and betrayal spanning decades and nations.
BUY NOW FROM
---
A young man journeys from rural Mississippi to the battlefields of WWI to discover his family's bloody legacy in this sequel to By Accident of Birth.
On May 7, 1915, the passenger ship RMS Lusitania was sunk by a German U-Boat. Among the many casualties was Beverly Bethany Quinn, an American woman whose entire life was marked by the forces of bloodshed. For Ansel Quinn, the single event holds a grim double meaning. With his beloved aunt gone, he is the last of his family line. And now his country is on the brink of joining the war overseas.
When Ansel discovers his Aunt Bethany's diary, the shocking revelations within set him on an epic quest for family honor and self-discovery. President Wilson had vowed to keep America out of another war. Ansel had sworn to serve his country. Fate's cards trumped them all. From the American South to the trenches of Verdun, nothing will ever be the same again.
BUY NOW FROM
_________________________________________________________________________________________________
In the third volume of the Quinn family saga, Ansel Quinn is caught in an international scandal with reverberations across two world wars.
In 1916, the world waits with bated breath to see if the United States will enter the Great War raging in Europe. Meanwhile, President Wilson campaigns for reelection on his record of keeping America out of the fray. Caught in the middle is Maj. Ansel Quinn of Mississippi, assigned to the French army headquarters in Paris as a neutral observer.
At home, Ansel's wife, Isabel, has been left to manage the family's cotton plantation in Mississippi as well as their sugar plantation in Cuba. It is a trial to be without her husband, but only the beginning of the hardships she will face. When Ansel is wounded on the frontlines of the Somme—far from where any neutral observer should be—it sets off international intrigue that could change the course of history.
In No Promise for Tomorrow, the Quinn family struggles across the decades between World War I and World War II—a period that includes the influenza epidemic, the Roaring Twenties, prohibition, and the Great Depression.
BUY NOW FROM
---
The Man Called Brown Condor  –  Gold Medal Winner Military Writers Society of America (MWSA) 2015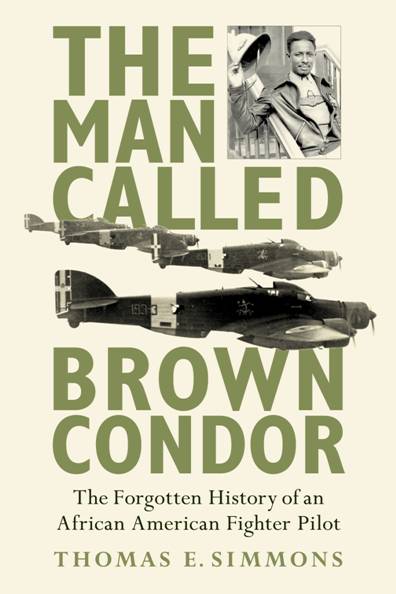 Published by Skyhorse Publishing
Amazon  Amazon UK  B&N  Wal Mart  Indie Bound  Fish Pond  Amazon CA  Amazon Japan  Amazon India The Book Depository  BAM    Amazon France  Amazon AU  Amazon Germany  Amazon Italy  Amazon Spain Google Play  Kobo  Powell's Books  HPB  Hudson Books  COPIA  IDreamBooks  Waterstones  WH Smith  Angus & Robertson  Wheelers  Wordery  Scribd  Waterstones Marketplace  GoodReads
The Man Called Brown Condor Reviews
The Man Called Brown Condor is the biography of John Charles Robinson, known in the media of the 1930s as The Brown Condor of Ethiopia. This is the true story of Robinson's struggles to overcome the racial prejudice that all but closed the field of aviation to Blacks. His outstanding success in accomplishing his dream of flying, his influence toward the establishment of a school of aviation at Tuskegee Institute (there would have been no Tuskegee Airmen without him) and his courageous wartime service in Ethiopia during the Italian invasion in 1935 are brought to life.
It was during Robinson's service to Ethiopia that he took to the air in opposition to the first Fascist invasion of what would become World War II. This remarkable American Hero may have been the first American to oppose Fascism in combat.
---
Forgotten Heroes of World War II: Personal Accounts of Ordinary Soldiers Land, Sea and Air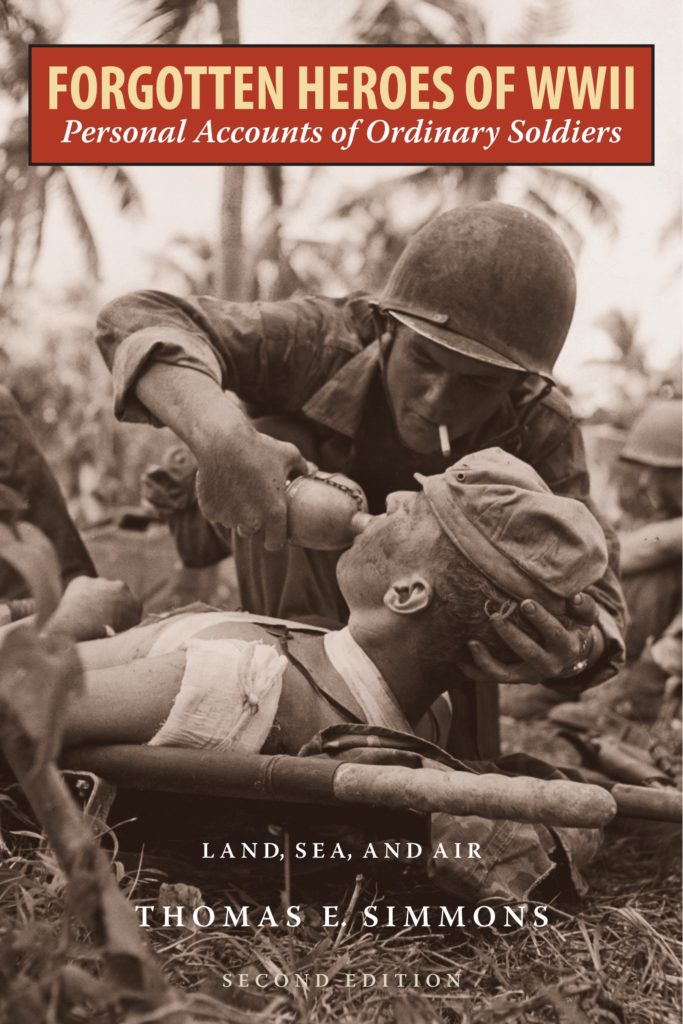 Published by Taylor Trade/Rowman and Littlefield Publishing
Amazon  BAM   B&N  Waterstones  COPIA  IndieBound  Powell's Books  Amazon France Amazon AU  Amazon Germany  Amazon Italy The Book Depository  WalMart  IDreamBooks    Ebay UK  Google Books  Abe Books  WH Smith  Amazon Spain  Amazon CA  Amazon UK  Amazon Japan  Amazon India  HPB  Hudson Books  WH Smith  GooglePlay  KOBO Waterstones Marketplace  GoodReads
Forgotten Heroes Reviews   MWSA Dispatches Magazine Winter 2017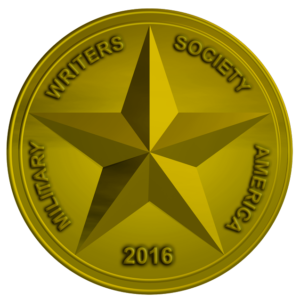 Congratulations to the 2016 MWSA Book Awards Winners!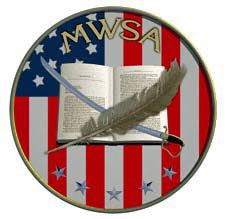 Nonfiction
History
Stay the Rising Sun – Phil Keith – BRONZE
Forgotten Heroes of World War II: Personal Accounts of Ordinary Soldiers Land, Sea and Air – Tom Simmons – GOLD
Military Writers Society of American Gold Medal Winner 2016
This is a 'must have' book. Available everywhere books are sold.
Forgotten heroes, they truly are. Men of honor, integrity, and perseverance, love of God, country, and family who fought on many fronts and survived to tell their stories – stories of horrors seen which live on forever in their minds and hearts. These veterans are slowly "crossing to the other side" to be greeted by those who have long been there – welcomed with open arms. Men and women you share combat and service time with, you never forget, especially those you see take their last breath. These are the personal accounts that will live with you till the end of time.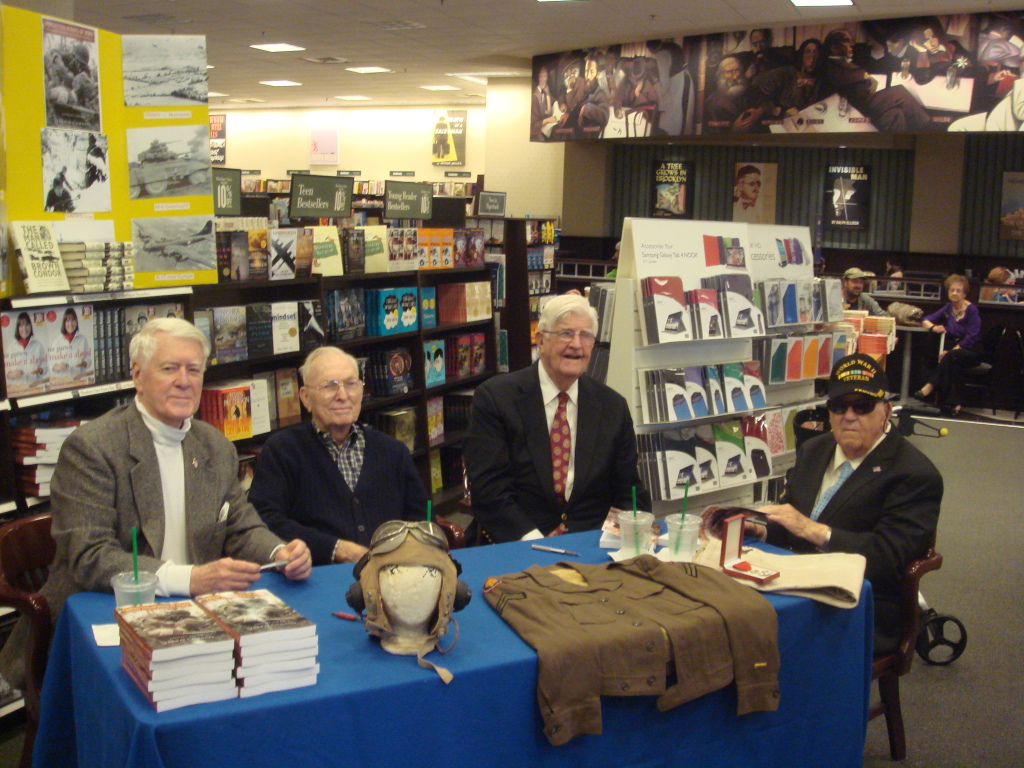 Author, Thomas E. Simmons and the last three remaining contributors to Forgotten Heroes of World War II: Personal Accounts of Ordinary Soldiers Land, Sea and Air
Harry Bell – "Present and Accounted For," story #9 fought the Battle of the Bulge.  He was taken prisoner by the Germans and marched 60 miles without food in freezing weather to a rail junction. Men who fell out were shot.  When he was liberated by U. S. troops he weighed just 90 pounds, but had nursed his prison squad through the ordeal making sure meager rations were shared and blankets loaned to the sick.  Too weak to walk, Harry crawled out to the U.S. tank commander who knocked down the prison gate, was helped to his feet, saluted and proudly reported his entire prison squad, "All present and accounted for."
Jerry O'Keefe – "A Long Way to Okinawa," story #15 wanted to fly fighters. He enlisted in the Marines, was finally accepted for flight training only to be assigned to transports.  Risking courts-martial, he used every trick in the book to finally get assigned to fighters, first to Wild Cats for training and then worked his way into a new Corsair squadron.  He was sent to the Pacific in time to participate in the invasion of Okinawa. Nothing was easy on the long path to become a fighter pilot.  Jerry proved his worth becoming a Marine Fighter Ace.
and Oscar Russell – "The Amphib Sailor," story #7 was one of the very few who served in both the landings on D-day at Omaha Beach, Normandy, France and then in the Pacific for support of landings on Okinawa and anti-Kamikaze picket duty.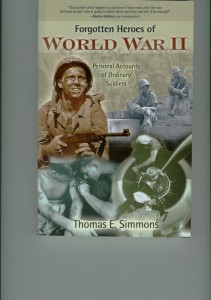 Amazon new and used of the original edition
---
Escape from Archangel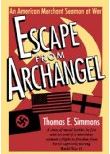 (Featured story in Forgotten Heroes of World War II: Personal Accounts of Ordinary Soldiers Land, Sea and Air)
Published by University Press of Mississippi   Amazon Reviews for Escape from Archangel
Amazon  Fish Pond  The Book Depository  BAM  B&N  Waterstones  Waterstones Indie Bound  Google Play  Kobo  Powell's Books  WH Smith  Amazon Spain Amazon AU  Amazon UK  Amazon Germany  Amazon Italy  Amazon France  Amazon CA  Amazon Japan  Amazon India  HPB  Hudson Books  Angus & Robertson  Book Depository  Copia  Wheelers  Scribd
During World War II, merchant marine tankers in convoys plied the frozen North Atlantic through the flaming wreckage of torpedoed ships. Working to keep sea lanes open, valiant merchant seamen supplied food, fuel, and goods to the Allies in the last pockets of European resistance to the Nazis.
This exciting book acknowledges that the merchant marines, all volunteers, are among the unsung heroes of the war. One of these was Jac Smith, an ordinary seamen on the Cedar Creek, a new civilian tanker lend-leased to the U.S.S.R. and in the merchantman convoy running from Scotland to Murmansk. Smith's riveting adventures at sea and in the frozen taigas and tundra are a story of valor that underlines the essential role of merchant marines in the war against the Axis powers.
This gripping narrative tells of a cruel blow that fate dealt Smith when, after volunteering to serve on the tanker headed for Murmansk, he was arrested and interned in a Soviet work camp near Arkhangelsk.
Escape from Archangel recounts how this American happened to be imprisoned in an Allied country and how he planned and managed his escape. In his arduous 900-mile trek to freedom, he encountered the remarkable Laplanders of the far north and brave Norwegian resistance fighters. While telling this astonishing story of Jac Smith and of the awesome dangers merchant seamen endured while keeping commerce alive on the seascape of war, Escape from Archangel brings long-deserved attention to the role of the merchant marine and their sacrifices during wartime.
---
"Lord Do You Listen When A Warrior Prays?"
© 2005 Thomas E. Simmons
I 'm a U.S. soldier twenty-four seven
I worry can a warrior get to heaven?
I'm far from home and scared most days.
Lord, do you listen when a warrior prays
Back home, I'm told, not many are sure
that what we are doing is worth this tour.
Some say it's our fault this land's ablaze
Lord, do you listen when a warrior prays
Some say we fight for a peoples' freedom
Others that it's all for political reason
But the children greet us with hope in their gaze
Lord, do you listen when a warrior prays
I'm trained to kill and kill I do
But the boy beside me is bleeding too
I tell him help's just a little ways
Lord, do you listen when a warrior prays
I hold him, try to smile but he's all bloody
Don't leave me, don't leave me, you're my buddy
But his eyes don't focus, he's in a daze
Lord, do you listen when a warrior prays
I hand him over to a combat medic
They are the heroes, deserve all the credit
Back to the fight, my rifle I raise
Lord, do you listen when a warrior prays
They volunteered to serve the U.S.A.
As long as they're needed they're gonna' stay
It's always young soldiers that lead the way
Please Lord listen when our warriors pray.
Loiacono Literary Agency is not responsible for the scheduling of authors, negotiations, or fees associated with the speaking engagements. You may contact Tom @ tesim@bellsouth.net to schedule events.