Loiacono Literary Agency takes on Carl Watson's mid-grade novel, Moonstones!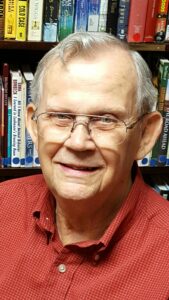 When a carnival arrives in town, thirteen-year-old Pat and Chris, his fourteen-year-old uncle, go check it out. They have their fortunes told, visit a hypnotist, and become involved in a perplexing mystery in which they must save themselves, the carnival, and the town from the domination of an ancient, malevolent spirit.
This story, set in an imaginary town near the mountains of New Mexico, was mildly influenced by Bradbury's novel, Something Wicked This Way Comes.
A fortune-teller warns the boys of danger because Pat's birthday, June 21st, is not only occurring on the summer solstice but also a full moon. Chris' birthday, December 21st, is on winter solstice, which gives them synchronistic powers. Giving them a pair of moonstones, she instructs them not to take them off until after the solstice for protection from the Bjshe, an evil spirit that dominates the carnival.
The boys share their experiences with Chris's parents/Pat's grandparents. Chris's father, Dr. Mac, is a retired history professor. He researches the legends of Mexico and tells them that the Bjshe is described as an ancient spirit that existed to terrorize and dominate humans.
Chris and Pat don't understand what ability they have that is desired by the Bjshe, but they have the perseverance and determination to confront adversity. With a strong reliance on each other, and with the help of the moonstones, they learn how knowledge can blunt the edge of fear and that a strong bond of friendship, love, and determination can defeat a lonely, evil spirit.
Carl Watson is the author of Kid Clay (W & B Publishers), the young adult, award-winning (Texas Authors Historical Fiction YA 2018) novel of his grandfather's adventures of running away from home as a teen to become a real cowboy in the late 1800s, and soon-to-be-released Silent Journey (Red Chair Press, 2020), the story of a deaf boy's dream of a stable home life and happiness after the death of his mother.
Watson is a former regional adviser for the North Texas Chapter of the Society of Children's Book Writers and Illustrators where he received the SCBWI Haynes Award. An outstanding educator, having earned his master degree in education administration from Texas Wesleyan University, he received a Fellowship from the Fort Worth National Bank to continue studies in creative writing. He has also organized children's book writers' conferences, taught creative writing in public schools, and published articles and stories in juvenile magazines. On top of all that, he's volunteered on both national and local levels with the Boy Scouts of America and has traveled extensively on their behalf. https://carlwatsontx.com/