Now available Matthew Sherman's Picture Yourself Shooting Pool Like a Pro! This book instructs and shows how players of any skill level may improve in pool via clear, systematic instructions with helpful color illustrations.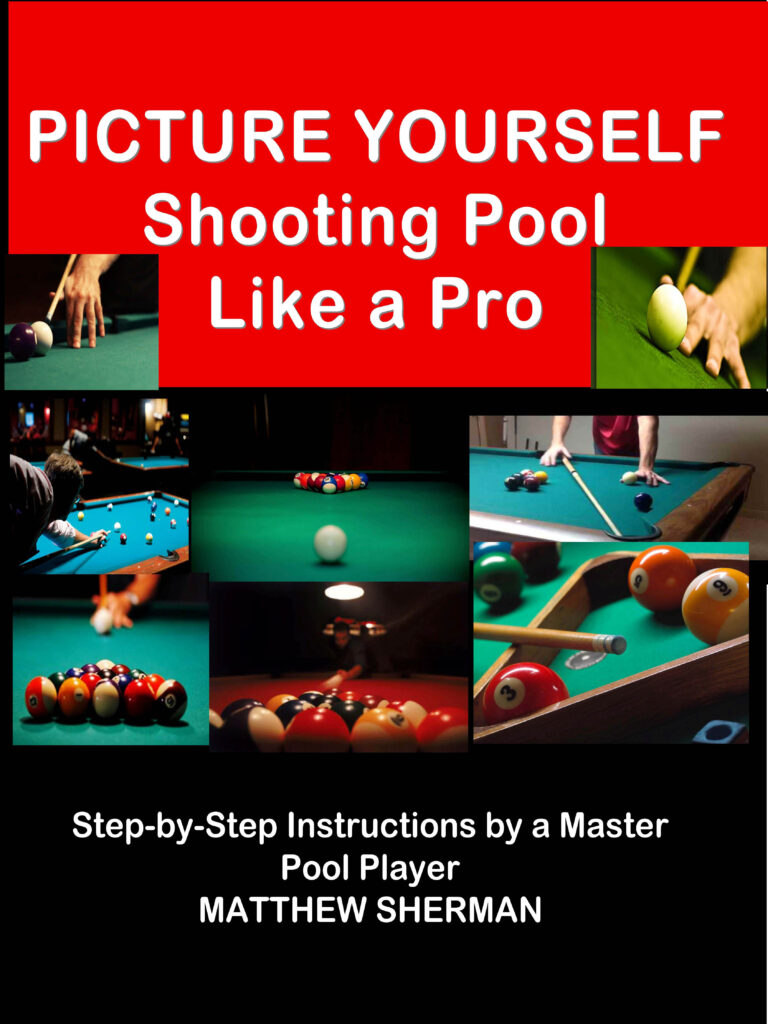 "Go from rank beginner to semi-pro with tools in one sequential book. The first-ever billiards book designed like an easy-to-read college textbook." — Matt Sherman
Picture yourself dazzling your friends with your new and improved pool skills as you master the cue ball's movements and hone your aiming and shooting techniques. Picture Yourself Shooting Pool Like a Pro provides practical and accessible pool theory and instruction to everyone from beginners up to skilled players. Filled with full-color images and step-by-step instruction on each new skill and strategy, the book walks you through each step of the tactics presented and also includes bonus tricks and special pool shots.
Beginning with the basics, you'll learn how to select your equipment, including the proper cue stick for you. You'll then cover how to grip and guide the cue and how to best align the body with the pool table. The book moves on to specific cue strokes for various shots and even offers instruction on pro stick moves to incorporate into your game. Master how to guide the cue ball and get an understanding of various ball impacts as you learn the key shots of the game. Strategy and tips on how to read the table, as well as basic rules for different pool games, table etiquette, and even information on how to purchase and maintain a personal cue stick and table are also covered.
Matt Sherman's experience writing technical subjects for lay audiences and giving pool lessons and seminars for all levels of player from rank beginner to touring professional has made him the go-to expert for pool/billiards. Picture Yourself Shooting Pool Like a Pro has been handy for instructing newer to intermediate players and has served as a college-level textbook for billiards courses. Sherman has attended pro tournaments as a ringside commentator and performed at conferences, conventions, classes, and trick shot shows. As an established professional speaker and entertainer, having done James Bond tours all over the world, conferences, and speaking engagements, his extensive background and platform enables him to educate and enlighten.
Sherman is the author of several books: The Laws of Attraction: Myths & Facts About Christian Pickups, Dating, And Relationships, (CreateSpace, 2011), and James Bond's Cuisine: 007's Every Last Meal (CreateSpace, 2014) . He edited: The Last Days Calendar (WinePress Publishing, 2003) Vic Flick, Guitarman: From James Bond to The Beatles and Beyond (Bear Manor Media, 2008) License Expired: The Unauthorized James Bond (ChiDunnit, 2005) The Little Girl's Tales (CreateSpace, 2016) Dear Younger Me, Victim to Victor (CreateSpace, 2018). Represented by Loiacono Literary Agency Published by W&B Publishing Matt Sherman