Hirsch's mastery of the word captures a love that spans space and time… against all odds.
Robert E. Hirsch's five epic novels in the The Dark Ages Saga of Tristan de Saint-Germain — Promise of the Black Monks, Hammer of God, A Horde of Fools, God's Scarlet Fury, and Cup of Blood…Bread of Salvation — vividly unearth the political, spiritual, and military chaos of Europe during the end of the 11th Century. Beginning with the Investiture War between Pope Gregory VII and Emperor Heinrich IV of Germany, and ending with the capture of Jerusalem during the First Holy Crusade, the series precisely and accurately dissects the exploitive, unforgiving struggle for power between Church and Crown to control territory, hoard wealth, and claim dominion over the populace.
Medieval life and warfare, Benedictine monastery culture, and Church political intrigue erupt with searing action and heart-throttling emotion during history's blackest age of brutality, ignorance, and superstition. The Gregorian Church battles to establish independence from Emperor Heinrich IV, but in the shadows, it also begins to set an intractable course toward holy war against Islam—the Crusades.
Behold, in the middle of chaos there lies hope…
Born of French nobility in 1066, seven-year-old Tristan de Saint-Germain's father is executed for treason against William the Conqueror. Abandoned, Tristan is cast into the rigid, monastic world of the Benedictine Order. Under the tutelage of Grand Prior Odo de Lagery, Tristan's frightening intelligence and perception turn him into an academic and linguistic prodigy by age twelve. With time, Tristan's rise makes him vital to Benedictine intrigue and the Gregorian papacy, forcing him into the visceral power struggle between Pope Gregory VII and Emperor Heinrich IV to claim supremacy over Europe.
Even as Tristan matures and the fate of Church and Crown waver in the balance, he has never forgotten Mala the Romani, a fleeing gypsy girl of mysterious origins he met by chance at age seven as he was being sent to Burgundy and the Black Monks. From the moment of that first encounter, though both were but children, each felt in the other a shared dispossession and loneliness; one that had been forced upon them by an unforgiving world driven by power and privilege. Trapped in childhood and adolescence by thrashing political currents beyond their ability to repulse, as adults the two struggle to survive in their own respective spheres; never surrendering, never losing hope, nor ever abandoning love of the other despite damnation by Church law, cultural intolerance, and war.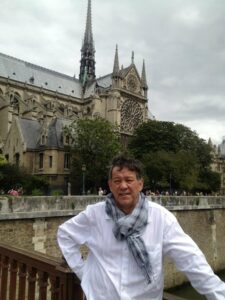 Robert E. Hirsch retired in 2012 as the Superintendent of the Ocean Springs School District along the Mississippi Gulf Coast where he now resides with his wife, Melissa. After forty years in education (both public and private), he chose to realize his college dream: writing historical fiction erupting with action and intrigue while also unearthing readers' deepest emotions and personal angst as concerns the human heart.
Having experienced his own adversities concerning racial stigmas, nationality, and Catholic doctrine, Hirsch writes with distinct accuracy of the walled façade individuals construct to insulate themselves against others and the terrors of life no less formidable than those constructed by powerful and established institutions. According to Hirsch, "We are all caught, at times, in raging currents that strip us of our ability to fight or overcome circumstance. Does one then surrender, or take on a battle beyond all odds… leaving hope as the sole and final ally?"
Hirsch's first novel, Contrition (JournalStone, 2012), sparked his authoring of the five-book series, all published by Open Road Integrated Media and represented by Loiacono Literary Agency. The audio version of Promise of the Black Monks can be found on Audible, narrated by Joshua Young.